Abstract
Neotropical rainforests are global biodiversity hotspots and are challenging to restore. A core part of this challenge is the very long recovery trajectory of the system: recovery of structure can take 20–190 years, species composition 60–500 years, and reestablishment of rare/endemic species thousands of years. Passive recovery may be fraught with instances of arrested succession, disclimax or emergence of novel ecosystems. In these cases, active restoration methods are essential to speed recovery and set a desired restoration trajectory. Tree plantation is the most common active approach to reestablish a high density of native tree species and facilitate understory regeneration. While this approach may speed the successional trajectory, it may not achieve, and possibly inhibit, a long-term restoration trajectory towards the high species diversity characteristic of these forests. A range of nucleation techniques (e.g., tree island planting) are important restoration options: although they may not speed recovery of structure as quickly as plantations, their emphasis on natural regeneration processes may enable greater and more natural patterns of diversity to develop. While more work needs to be done to compare forest restoration techniques in different environmental contexts, it appears that nucleation and, at times, passive restoration may best preserve the diverse legacy of these forested systems (both with lower costs). An integrated approach using both plantation productivity but also the natural functions associated with nucleation may develop composition and diversity trajectory desired in Neotropical conservation efforts.
Access options
Buy single article
Instant access to the full article PDF.
US$ 39.95
Tax calculation will be finalised during checkout.
Subscribe to journal
Immediate online access to all issues from 2019. Subscription will auto renew annually.
US$ 119
Tax calculation will be finalised during checkout.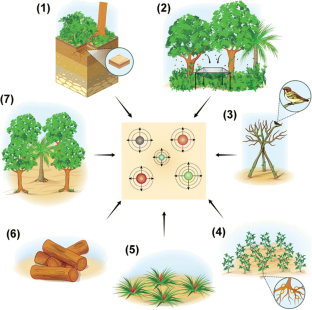 References
Aide TM, Zimmerman JK, Pascarella JB, Rivera L, Marcano-Vega H (2000) Forest regeneration in a chronosequence of tropical abandoned pastures: implications for restoration ecology. Restor Ecol 8:328–338

Arroyo-Mora JP, Sánchez-Azofeifa GA, Rivard B, Calvo JC, Janzen DH (2005) Dynamics in landscape structure and composition for the Chorotega region, Costa Rica from 1960 to 2000. Agric Ecosyst Environ 106:27–39

Asner GP, Rudel TK, Aide TM, Defries R, Emerson R (2009) A contemporary assessment of change in humid tropical forests. Conserv Biol 23:1386–1395

Bechara FC, Campos Filho EM, Barretto KD, Gabriel VA, Antunes AZ, Reis A (2007) Unidades demonstrativas de restauração ecológica através de técnicas nucleadoras de biodiversidade. Rev Bras Biocienc 5:9–11 (in Portuguese)

Boanares D, Azevedo CS (2014) The use of nucleation techniques to restore the environment: a bibliometric analysis. Braz J Nat Conserv 12:93–98

Bowen EM, McAlpine CA, House APN, Smith GC (2007) Regrowth forests on abandoned agricultural land: a review of their habitat values for recovering forest fauna. Biol Conserv 140:273–296

Brancalion PHS, Rodrigues RR, Gandolfi S et al (2010) Legal instruments can enhance high-diversity tropical forest restoration. Rev Árvore 34:455–470

Brook BW, Bradshaw CJA, Koh LP, Sodhi NS (2006) Momentum drives the crash: mass extinction in the tropics. Biotropica 38:302–305

Brown S, Lugo AE (1990) Tropical secondary forests. J Trop Ecol 6:1–32

Brudvig LA (2011) The restoration of biodiversity: where has research been and where does it need to go? Am J Bot 98:549–558

Bullock JM, Aronson J, Newton AC, Pywell RF, Rey-Benayas JM (2011) Restoration of ecosystem services and biodiversity: conflicts and opportunities. Trends Ecol Evol 26:541–549

Bush MB, Colinvaux PA (1994) Tropical forest disturbance: paleoecological records from Darien, Panama. Ecology 75:1761–1768

Butler R, Montagnini F, Arroyo P (2008) Woody understory plant diversity in pure and mixed native tree plantations at La Selva Biological Station, Costa Rica. For Ecol Manag 255:2251–2263

Carnevale N, Montagnini F (2002) Facilitating regeneration of secondary forests with the use of mixed and pure plantations of indigenous tree species. For Ecol Manag 163:217–227

Carpenter SR, Mooney HA, Agard J et al (2009) Science for managing ecosystem services: beyond the Millennium Ecosystem Assessment. Proc Natl Acad Sci USA 106:1305–1312

Celentano D, Zahawi RA, Finegan B et al (2011) Litterfall dynamics under different tropical forest restoration strategies in Costa Rica. Biotropica 43:279–287

Chapman CA, Chapman LJ (1999) Forest restoration in abandoned agricultural land: a case study from East Africa. Conserv Biol 13:1301–1311

Chazdon RL (2003) Tropical forest recovery: legacies of human impact and natural disturbances. Perspect Plant Ecol Evol Syst 6:51–71

Chazdon RL (2008a) Beyond deforestation: restoring forests and ecosystem services on degraded lands. Science 320:1458–1460

Chazdon RL (2008b) Chance and determinism in tropical forest succession. In: Carson WP, Schnitzer SA (eds) Tropical forest community ecology. Wiley-Blackwell, Oxford, pp 384–408

Chazdon RL (2012) Tropical forest regeneration. Bol Mus Para Emílio Goeldi Cienc Nat 7:195–218

Chazdon RL (2013) Making tropical succession and landscape reforestation successful. J Sustain For 32:649–658

Chazdon RL (2014) Second growth: the promise of tropical forest regeneration in an age of deforestation. University of Chicago Press, Chicago

Clewell A, McDonald T (2009) Relevance of natural recovery to ecological restoration. Ecol Restor 27:122–124

Cole RJ, Holl KD, Zahawi RA (2010) Seed rain under tree islands planted to restore degraded lands in a tropical agricultural landscape. Ecol Appl 20:1255–1269

Corbin JD, Holl KD (2012) Applied nucleation as a forest restoration strategy. For Ecol Manag 265:37–64

Corlett RT (1995) Tropical secondary forests. Prog Phys Geogr 19:159–172

Cusack D, Montagnini F (2004) The role of native species plantations in recovery of understorey woody diversity in degraded pasturelands of Costa Rica. For Ecol Manag 188:1–15

Dent DH, DeWalt SJ, Denslow JS (2012) Secondary forests of central Panama increase in similarity to old-growth forest over time in shade tolerance but not species composition. J Veg Sci 24:530–542

Díaz S, Fargione J, Chapin FS III, Tilman D (2006) Biodiversity loss threatens human well-being. PLoS Biol 4:1300–1305

Dixon KW (2009) Pollination and restoration. Science 325:571–573

Duarte LS, Dos-Santos MMG, Hartz SM, Pillar VD (2006) Role of nurse plants in Araucaria forest expansion over grassland in south Brazil. Austral Ecol 31:520–528

Durigan G, Engel VL, Torezan JM et al (2010) Legal rules for ecological restoration: an additional barrier to hinder the success of initiatives? Rev Árvore 34:471–485

Elliott S, Blakesley D, Hardwick K (2013) Restoring tropical forests: a practical guide. Royal Botanical Garden, Kew

FAO—Food and Agriculture Organization of the United Nations (2010) Global forest resources assessment. FAO, Rome

Fine PVA, Ree RH, Burnham RJ (2008) The disparity in tree species richness among tropical, temperate and boreal biomes: the geographic area and age hypothesis. In: Carson WP, Schnitzer SA (eds) Tropical forest community ecology. Wiley-Blackwell, Oxford, pp 31–45

Fink RD, Lindell CA, Morrison EB, Zahawi RA, Holl KD (2009) Patch size and tree species influence the number and duration of bird visits in forest restoration plots in southern Costa Rica. Restor Ecol 17:479–486

Gentry AH (1988) Tree species richness of upper Amazonian forests. Proc Natl Acad Sci USA 85:156–159

Gentry AH, Dodson C (1987) Contribution of nontrees to species richness of a tropical rain forest. Biotropica 19:149–156

Gibson L, Lee TM, Koh LP et al (2011) Primary forests are irreplaceable for sustaining tropical biodiversity. Nature 478:378–383

Goldsmith GR, Comita LS, Chua SC (2011) Evidence for arrested succession within a tropical forest fragment in Singapore. J Trop Ecol 27:323–326

Gómez-Pompa A, Vázquez-Yanes C, Guevara S (1972) The tropical rain forest: a nonrenewable resource. Science 177:762–765

Guariguata MR, Ostertag R (2001) Neotropical secondary forest succession: changes in structural and functional characteristics. For Ecol Manag 148:185–206

Guariguata MR, Rheingans R, Montagnini F (1995) Early woody invasion under tree plantations in Costa Rica: implications for forest restoration. Restor Ecol 3:252–261

Harrington CA (1999) Forests planted for ecosystem restoration or conservation. New For 17:175–190

Hobbs RJ, Norton DA (1996) Towards a conceptual framework for restoration ecology. Restor Ecol 4:93–110

Hobbs RJ, Arico S, Aronson J et al (2006) Novel ecosystems: theoretical and management aspects of the new ecological world order. Glob Ecol Biogeogr 15:1–7

Holl KD (2007) Old field vegetation succession in the Neotropics. In: Hobbs RJ, Cramer VA (eds) Old fields: dynamics and restoration of abandoned farmland. Island Press, Washington DC, pp 93–117

Holl KD (2012) Tropical forest restoration. In: van Andel J, Aronson J (eds) Restoration ecology. Blackwell Publishing, Malden, pp 103–114

Holl KD, Aide TM (2011) When and where to actively restore ecosystems? For Ecol Manag 261:1558–1563

Holl KD, Cairns J Jr (2002) Monitoring and appraisal. In: Perrow MR, Davy AJ (eds) Handbook of ecological restoration. Cambridge University Press, Cambridge, pp 411–432

Holl KD, Loik ME, Lin EHV, Samuels IA (2000) Tropical Montane forest restoration in Costa Rica: overcoming barriers to dispersal and establishment. Restor Ecol 8:339–349

Holl KD, Zahawi RA, Cole RJ, Ostertag R, Cordell S (2011) Planting seedlings in tree islands versus plantations as a large-scale tropical forest restoration strategy. Restor Ecol 19:470–479

Holl KD, Stout VM, Reid JL, Zahawi RA (2013) Testing heterogeneity-diversity relationships in tropical forest restoration. Oecologia 173:569–578

Hooper E, Legendre P, Condit R (2005) Barriers to forest regeneration of deforested and abandoned land in Panama. J Appl Ecol 42:1165–1174

Ivanauskas NM, Rodrigues RR, Souza VC (2007) The importance of regional floristic diversity for the forest restoration successfulness. In: Rodrigues RR (ed) High diversity forest restoration in degraded areas: methods and projects in Brazil. Nova Science Publishers, New York, pp 63–77

Janzen D (1988) Management of habitat fragments in a tropical dry forest: growth. Ann Mo Bot Gard 75:105–116

Kaimowitz D, Sheil D (2007) Conserving what and for whom? Why conservation should help meet basic human needs in the tropics. Biotropica 39:567–574

King EG, Hobbs RJ (2006) Identifying linkages among conceptual models of ecosystem degradation and restoration: towards an integrative framework. Restor Ecol 14:369–378

Klein RM (1980) Ecologia da flora e vegetação do Vale do Itajaí. Sellowia 32:9–389 (in Portuguese)

Lamb D (2011) Regreening the Bare Hills: tropical forest restoration in the Asia-Pacfic region. Springer, Dordrecht

Lamb D, Erskine PD, Parrotta JA (2005) Restoration of degraded tropical forest landscapes. Science 310:1628–1632

Laurance WF, Nascimento HEM, Laurance SG et al (2006) Rain forest fragmentation and the proliferation of successional trees. Ecology 87:469–482

Lepsch-Cunha N, Gascon C, Kageyama PY (2001) The genetics of rare tropical forests: implications for conservation of a demographically heterogeneous group. In: Bierregaard RO, Gascon C, Lovejoy TE, Mesquita RCG (eds) Lessons from Amazônia: the ecology and conservation of a fragmented forest. Yale University Press, New Haven, pp 79–95

Letcher SG, Chazdon RL (2009) Rapid recovery of biomass, species richness, and species composition in a forest chronosequence in Northeastern Costa Rica. Biotropica 41:608–617

Liebsch D, Marques MCM, Goldenberg R (2008) How long does the Atlantic rainforest take to recover after a disturbance? Changes in species composition and ecological features during secondary succession. Biol Conserv 141:1717–1725

Lindell CA, Thurston GM (2013) Bird pollinator visitation is equivalent in island and plantation planting designs in tropical forest restoration sites. Sustainability 5:1177–1187

Lugo AE (1992) Comparison of tropical tree plantations with secondary forests of similar age. Ecol Monogr 62:1–41

Manning AD, Fischer J, Lindenmayer DB (2006) Scattered trees are keystone structures—implications for conservation. Biol Conserv 132:311–321

Marín-Spiotta E, Ostertag R, Silver WL (2007) Long-term patterns in tropical reforestation: plant community composition and aboveground biomass accumulation. Ecol Appl 17:828–839

Martínez-Garza C, Howe HF (2003) Restoring tropical diversity: beating the time tax on species loss. J Appl Ecol 40:423–429

McKay JK, Christian CE, Harrison S, Rice KJ (2005) How local is local? A review of practical and conceptual issues in the genetics of restoration. Restor Ecol 13:432–440

Montagnini F (2001) Strategies for the recovery of degraded ecosystems: experiences from Latin America. Interciencia 26:498–503

Morrison EB, Lindell CA (2012) Birds and bats reduce insect biomass and leaf damage in tropical forest restoration sites. Ecol Appl 22:1526–1534

Mouillot D, Bellwood DR, Baraloto C et al (2013) Rare species support vulnerable functions in high-diversity ecosystems. PLoS Biol 11:1–11

Murcia C (1997) Evaluation of Andean alder as a catalyst for the recovery of tropical cloud forests in Colombia. For Ecol Manag 99:163–170

Nepstad DC, Uhl C, Serrão EAS (1991) Recuperation of a degraded Amazonian landscape: forest recovery and agricultural restoration. Ambio 20:248–255

Norden N, Chazdon RL, Chao A, Jiang Y, Vílchez-Alvarado B (2009) Resilience of tropical rain forests: tree community reassembly in secondary forests. Ecol Lett 12:385–394

Odum HT (1962) Man and the ecosystem. Conn Agric Exp Stn Bull 652:57–75. http://www.ct.gov/caes/lib/caes/documents/publications/bulletins/b652.pdf. Accessed 27 Mar 2016

Ortega-Pieck A, López-Barrera F, Ramírez-Marcial N, García-Franco JG (2011) Early seedling establishment of two tropical montane cloud forest tree species: the role of native and exotic grasses. For Ecol Manag 261:1336–1343

Palmer MA, Ambrose RF, Poff NL (1997) Ecological theory and community. Restor Ecol 5:291–300

Pardini R, Bueno AD, Gardner TA, Prado PI, Metzger JP (2010) Beyond the fragmentation threshold hypothesis: regime shifts in biodiversity across fragmented landscapes. PLoS One 5:1–10

Parrotta JA, Turnbull JW, Jones N (1997) Catalyzing native forest regeneration on degraded tropical lands. For Ecol Manag 99:1–7

Pascarella JB, Aide TM, Serrano MI, Zimmerman JK (2000) Land-use history and forest regeneration in the Cayey Mountains, Puerto Rico. Ecosystems 3:217–228

Peña-Domene M, Martínez-Garza C, Palmas-Pérez S, Rivas-Alonso E, Howe HF (2014) Roles of birds and bats in early tropical-forest restoration. PLoS One 9:1–6

Peterson CJ, Carson WP (2008) Processes constraining woody species succession on abandoned pastures in the tropics: on the relevance of temperate models of succession. In: Carson WP, Schnitzer SA (eds) Tropical forest community ecology. Wiley-Blackwell, Oxford, pp 366–383

Peterson CJ, Dosch JJ, Carson WP (2014) Pasture succession in the neotropics: extending the nucleation hypothesis into a matrix discontinuity hypothesis. Oecologia 175:1325–1335

Pinotti BT, Pagotto CP, Pardini R (2012) Habitat structure and food resources for wildlife across successional stages in a tropical forest. For Ecol Manag 283:119–127

Pitman NCA, Cerón CE, Reyes CI, Thurber M, Arellano J (2005) Catastrophic natural origin of a species-poor tree community in the world's richest forest. J Trop Ecol 21:559–568

Potts MD, Ashton PS, Kaufman LS, Plotkin JB (2002) Habitat patterns in tropical rain forests: a comparison of 105 plots in Northwest Borneo. Ecology 83:2782–2797

Prach K, Hobbs RJ (2008) Spontaneous succession versus technical reclamation in the restoration of disturbed sites. Restor Ecol 16:363–366

Putz FE, Redford KH (2010) The importance of defining 'forest': tropical forest degradation, deforestation, long-term phase shifts, and further transitions. Biotropica 42:10–20

Reid JL, Mendenhall CD, Rosales JA, Zahawi RA, Holl KD (2014) Landscape context mediates avian habitat choice in tropical forest restoration. PLoS One 9:1–8

Reis A, Bechara FC, Espindola MB, Vieira NK, Souza LL (2003) Restoration of damaged land areas: using nucleation to improve successional processes. Nat Conserv 1:85–92

Reis A, Bechara FC, Tres DR (2010) Nucleation in tropical ecological restoration. Sci Agric 67:244–250

Rey Benayas JM, Bullock JM, Newton AC (2008) Creating woodland islets to reconcile ecological restoration, conservation, and agricultural land use. Front Ecol Environ 6:329–336

Rey Benayas JM, Newton AC, Diaz A, Bullock JM (2009) Enhancement of biodiversity and ecosystem services by ecological restoration: a meta-analysis. Science 325:1121–1124

Robinson GR, Handel SN (2000) Directing spatial patterns of recruitment during an experimental urban woodland reclamation. Ecol Appl 10:174–188

Rodrigues RR, Lima RAF, Gandolfi S, Nave AG (2009) On the restoration of high diversity forests: 30 years of experience in the Brazilian Atlantic Forest. Biol Conserv 142:1242–1251

Rodrigues RR, Gandolfi S, Nave AG et al (2011) Large-scale ecological restoration of high-diversity tropical forests in SE Brazil. For Ecol Manag 261:1605–1613

Ruiz-Jaen MC, Aide TM (2005) Restoration success: how is it being measured? Restor Ecol 13:569–577

Saldarriaga JG, West DC, Tharp ML, Uhl C (1988) Long-term chronosequence of forest succession in the upper Rio Negro of Colombia and Venezuela. J Ecol 76:938–958

Sampaio AB, Holl KD, Scariot A (2007) Does restoration enhance regeneration of seasonal deciduous forests in pastures in central Brazil? Restor Ecol 15:462–471

Schilling AC, Batista JLF (2008) Species accumulation curve and sampling sufficiency in tropical forests. Rev Bras Bot 31:179–187

Schlawin JR, Zahawi RA (2008) 'Nucleating' succession in recovering Neotropical wet forests: the legacy of remnant trees. J Veg Sci 19:485–492

Scott TA, Wehtje W, Wehtje M (2001) The need for strategic planning in passive restoration of wildlife populations. Restor Ecol 9:262–271

Sim JWS, Tan HTW, Turner IM (1992) Adinandra belukar: an anthropogenic heath forest in Singapore. Vegetatio 102:125–137

Siminski A, Fantini AC, Guries RP, Ruschel AR, Reis MR (2011) Secondary forest succession in the Mata Atlântica, Brazil: floristic and phytosociological trends. ISRN Ecol 2011:1–19

Slocum MG (2001) How tree species differ as recruitment foci in a tropical pasture. Ecology 82:2547–2559

Souza FM, Batista JLF (2004) Restoration of seasonal semideciduous forests in Brazil: influence of age and restoration design on forest structure. For Ecol Manag 191:185–200

Stanturf JA, Palik BJ, Dumroese RK (2014) Contemporary forest restoration: a review emphasizing function. For Ecol Manag 331:292–323

Suding KN (2011) Toward an era of restoration in Ecology: successes, failures, and opportunities ahead. Annu Rev Ecol Evol Syst 42:465–487

Suding KN, Hobbs RJ (2009) Threshold models in restoration and conservation: a developing framework. Trends Ecol Evol 24:271–279

Suding KN, Gross KL, Houseman GR (2004) Alternative states and positive feedbacks in restoration ecology. Trends Ecol Evol 19:46–53

Suganuma MS, Durigan G (2015) Indicators of restoration success in riparian tropical forests using multiple reference ecosystems. Restor Ecol 23:238–251

Terborgh J (1992) Diversity and the tropical rain forest. Scientific American Library, New York

Thomas WW, Carvalho AMV, Amorim AMA, Hanks JG, Santos TS (2008) Diversity of woody plants in the Atlantic coastal forest of Southern Bahia, Brazil. Mem NY Bot Gard 100:21–66

Uhl C, Buschbachertt R, Serrao EAS (1988) Abandoned pastures in eastern Amazônia. I. Patterns of plant succession. J Ecol 76:663–681

Vogel HF, Campos JB, Bechara FC (2015) Early bird assemblages under different subtropical forest restoration strategies in Brazil: passive, nucleation and high diversity plantation. Trop Conserv Sci 8:912–939

Vogel HF, Spotswood E, Campos JB, Bechara FC (2016) Annual changes in a bird assembly on artificial perches: implications for ecological restoration in a subtropical agroecosystem. Biota Neotrop 16:1–9

Wuethrich B (2007) Reconstructing Brazil's Atlantic rainforest. Science 315:1070–1072

Wunderle JM Jr (1997) The role of animal seed dispersal in accelerating native forest regeneration on degraded tropical lands. For Ecol Manag 99:223–235

Yarranton GA, Morrison RG (1974) Spatial dynamics of a primary succession: nucleation. J Ecol 62:417–428

Young TP, Chase JM, Huddleston RT (2001) Community succession and assembly: comparing, contrasting and combining paradigms in the context of ecological restoration. Ecol Restor 19:5–18

Young TP, Petersen DA, Clary JJ (2005) The ecology of restoration: historical links, emerging issues and unexplored realms. Ecol Lett 8:662–673

Zahawi RA, Augspurger CK (2006) Tropical forest restoration: tree islands as recruitment foci in degraded lands of Honduras. Ecol Appl 16:464–478

Zahawi RA, Holl KD, Cole RJ, Reid JL (2013) Testing applied nucleation as a strategy to facilitate tropical forest recovery. J Appl Ecol 50:88–96
Acknowledgments
We are especially grateful to Karen Holl who greatly improved the paper. We thank Richard Hobbs, Alexandre Buttler, Lauren Hallett, Dylan Chapple, Joan Dudney and Rapichan Phurisamban for helpful comments. F.C. Bechara Postdoctoral Scholarship was supported by CAPES (Coordenação de Aperfeiçoamento de Pessoal de Ensino Superior; "Programa Ciência sem Fronteiras" #2551/13-6) and Fundação Araucária de Apoio Científico e Tecnológico do Paraná. E. Farrer was supported by a USDA-NIFA Postdoctoral Fellowship #2012-67012-19840. L. Larios was supported by the NSF Postdoctoral Research Fellowship in Biology Award #1309014, and P. Mariotte by the Swiss NSF Advanced Postdoctoral Fellowship #PBELP 3146538.
Additional information
Communicated by Peter Ashton.
About this article
Cite this article
Bechara, F.C., Dickens, S.J., Farrer, E.C. et al. Neotropical rainforest restoration: comparing passive, plantation and nucleation approaches. Biodivers Conserv 25, 2021–2034 (2016). https://doi.org/10.1007/s10531-016-1186-7
Received:

Revised:

Accepted:

Published:

Issue Date:
Keywords
Tropical forest

Biodiversity

Succession

Assembly

Regeneration