Abstract
Genetic approaches have proven useful for addressing various conservation problems, but genetics remains poorly integrated into conservation practice. Multidisciplinary conservation conferences present excellent opportunities for bridging the conservation-genetics gap and facilitating cross-disciplinary projects. We hypothesize that there is a tendency for presentations featuring genetic approaches to be siloed into approach specific sessions, creating an "echo chamber"; geneticists are left talking amongst themselves, hindering collaboration across disciplines. To test this, we reviewed abstracts from the past six Society for Conservation Biology conferences and assessed how presentations featuring genetics/genomics were distributed throughout the respective programs. We found that: the segregation of presentations featuring genetics varied widely between conferences (22–78 %); that no other method or approach was segregated to the same degree; and that the vast majority (99 %) of presentations featuring genetics had broader applications that made them appropriate for other sessions. We argue that segregating genetics at conservation conferences in this way is unhelpful and serves to strengthen the idea that genetics is not relevant to a wider conservation audience. We recommend that; (1) conference organisers endeavour to facilitate the integration of genetics into sessions based on the conservation questions addressed, rather than the methods used to address them; and (2) geneticists make the practical application of their work clear at abstract submission and during presentations. These recommendations are not novel, but our data illustrate a clear need for them to be implemented to better facilitate integration of genetic research that will benefit conservation outcomes.
Access options
Buy single article
Instant access to the full article PDF.
US$ 39.95
Tax calculation will be finalised during checkout.
Subscribe to journal
Immediate online access to all issues from 2019. Subscription will auto renew annually.
US$ 119
Tax calculation will be finalised during checkout.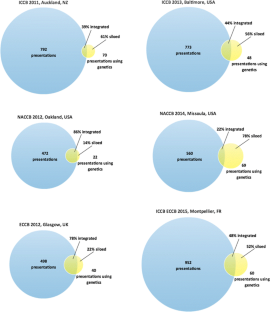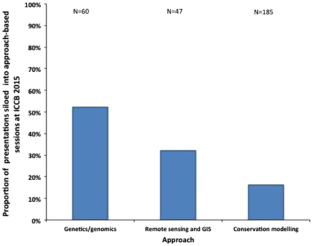 References
Allendorf FW, Hohenlohe PA, Luikart G (2010) Genomics and the future of conservation genetics. Nat Rev Genet 11:697–709. doi:10.1038/nrg2844

Allendorf FW, Luikart G, Aitken SN (2013) Conservation and the Genetics of Populations, 2nd edn. Wiley, Chichester

Fallon SM (2007) Genetic data and the listing of species under the US Endangered Species Act. Conserv Biol 21:1186–1195. doi:10.1111/j.1523-1739.2007.00775.x

Frankham R (2010) Challenges and opportunities of genetic approaches to biological conservation. Biol Conserv 143:1919–1927. doi:10.1016/j.biocon.2010.05.011

Garner BA et al (2016) Genomics in conservation: case studies and bridging the gap between data and application. Trends Ecol Evol 31:81–83. doi:10.1016/j.tree.2015.10.009

Haig SM, Miller MP, Bellinger R, Draheim HM, Mercer DM, Mullins TD (2016) The conservation genetics Juggling Act: integrating genetics and ecology, science and policy. Evol Appl 9:181–195. doi:10.1111/eva.12337

He X, Johansson ML, Heath DD (2016) Role of genomics and transcriptomics in selection of reintroduction source populations. Conserv Biol. doi:10.1111/cobi.12674

Hoban SM et al (2013a) Conservation Genetic Resources for Effective Species Survival (ConGRESS): bridging the divide between conservation research and practice. J Nat Conserv 21:433–437. doi:10.1016/j.jnc.2013.07.005

Hoban SM et al (2013b) Bringing genetic diversity to the forefront of conservation policy and management conservation genetics. Resources 5:593–598. doi:10.1007/s12686-013-9859-y

Kelly RP (2010) The use of population genetics in Endangered Species Act listing decisions. Ecol Law Quat 37:1107–1158

Laikre L (2010) Genetic diversity is overlooked in international conservation policy implementation. Conserv Genet 11:349–354. doi:10.1007/s10592-009-0037-4

Liu J et al (2015) Systems integration for global sustainability. Science. doi:10.1126/science.1258832

Pierson JC et al (2015) Incorporating evolutionary processes into population viability models. Conserv Biol 29:755–764. doi:10.1111/cobi.12431

Pierson JC (2016) Consideration of genetic factors in Threatened Species Recovery Plans on three continents. Front Ecol Environ (in press)

Rodriguez-Clark KM et al (2015) Finding the "Conservation" in conservation genetics—progress in Latin America. J Hered 106:423–427. doi:10.1093/jhered/esv052

Sgrò CM, Lowe AJ, Hoffmann AA (2011) Building evolutionary resilience for conserving biodiversity under climate change. Evol Appl 4:326–337. doi:10.1111/j.1752-4571.2010.00157.x

Shafer ABA et al (2015) Genomics and the challenging translation into conservation practice. Trends Ecol Evol 30:78–87. doi:10.1016/j.tree.2014.11.009

Shafer ABA et al (2016) Genomics in conservation: case studies and bridging the gap between data and application reply. Trends Ecol Evol 31:83–84. doi:10.1016/j.tree.2015.11.010

Society for conservation biology (2016) SCB conferences: international congress for conservation biology. http://conbio.org/conferences/about-scb-meetings/. Accessed 13 Jan 2016

Taylor HR, Gemmell NJ et al (2016) Emerging technologies to conserve biodiversity: further opportunities via genomics. response to Pimm. Trends Ecol Evol 31:171–172. doi:10.1016/j.tree.2016.01.002

Vernesi C, Bruford MW, Bertorelle G, Pecchioli E, Rizzoli A, Hauffe HC (2008) Where's the conservation in conservation genetics? Conserv Biol 22:802–804. doi:10.1111/j.1523-1739.2008.00911.x
Acknowledgments
We thank Neil Gemmell and two anonymous reviewers for comments on previous versions of this manuscript.
Additional information
Helen R. Taylor and Kylie Soanes are joint first authors.
Communicated by David Hawksworth.
About this article
Cite this article
Taylor, H.R., Soanes, K. Breaking out of the echo chamber: missed opportunities for genetics at conservation conferences. Biodivers Conserv 25, 1987–1993 (2016). https://doi.org/10.1007/s10531-016-1159-x
Received:

Revised:

Accepted:

Published:

Issue Date:
Keywords
Collaboration

Conservation

Genetics

Genomics

Integration