Abstract
Land-use change driven by human population growth and economic activity will continue to impact both natural habitats and land currently being used for food, fiber, and fuel production. The effects of this conversion on economically important ecological services will in large part depend on how native biodiversity responds to these changes. We investigated how agriculture-related land use change influences the avian community in northeastern Argentina by examining common agricultural land uses (pasture/annual crops, young and mature large-scale eucalyptus plantations, mixed-use farms with citrus, blueberry and small stands of eucalyptus) and remnant native espinal savannas. In this region, afforested eucalyptus plantations represent a new land-use change from the land cover of pasture with intermixed annual crops that has dominated the region. In this mosaic, we used point counts to assess how avian diversity and community structure differed between land uses. Bird species richness was lowest in older plantations and highest in the espinal savanna, with the other land uses having intermediate richness. Abundance trends followed the same pattern, with low overall abundance in the plantations, intermediate levels for pasture/annual crops, and highest abundance in the espinal. Distinct bird community assemblages were strongly associated with each land use, and between young and mature eucalyptus stands. Birds can be useful indicators for biodiversity as a whole, and the depopulated and depauperate avian community within the eucalyptus plantations will likely lead to reduced provision of many ecosystem services in this region if the spatial extent of plantations continues to expand.
Access options
Buy single article
Instant access to the full article PDF.
US$ 39.95
Tax calculation will be finalised during checkout.
Subscribe to journal
Immediate online access to all issues from 2019. Subscription will auto renew annually.
US$ 119
Tax calculation will be finalised during checkout.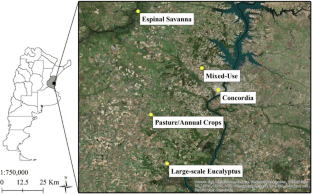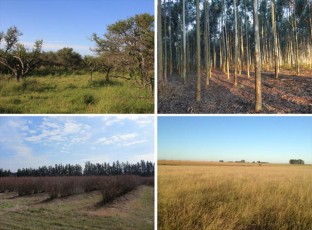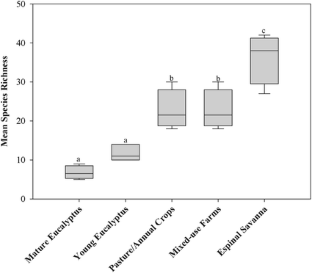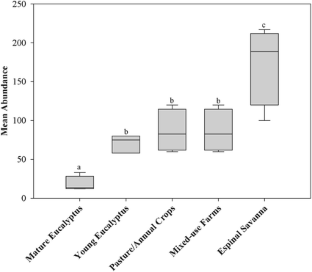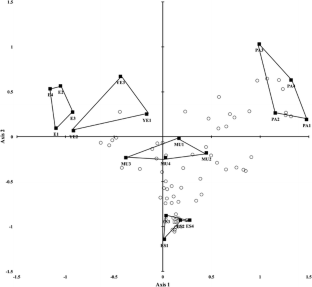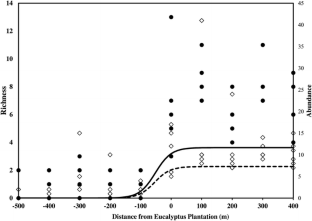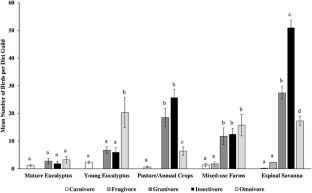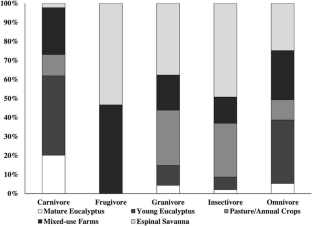 References
Allan DG, Harrison JA, Navarro R, van Wilgen BW, Thompson MW (1997) The impact of commercial afforestation on bird populations in Mpumalanga Province, South Africa—insights from bird-atlas data. Biol Conserv 79(2):173–185

Azpiroz AB, Isacch JP, Dias RA, DiGiacomo AS, Fontana CS, Palarea CM (2012) Ecology and conservation of grassland birds in southeastern South America: a review. J Field Ornitho 83(3):217–246

Baldi G, Paruelo JM (2008) Land-use and land cover dynamics in South American temperate grasslands. Ecol Soc 13(2):6

Balvanera P, Pfisterer AB, Buchmann N, He JS, Nakashizuka T, Raffaelli D, Schmid B (2006) Quantifying the evidence for biodiversity effects on ecosystem functioning and services. Ecol Lett 9(10):1146–1156

Barrientos R (2010) Retention of native vegetation within the plantation matrix improves its conservation value for a generalist woodpecker. Forest Ecol Manag 260(5):595–602

Bellocq MI, Filloy J, Zurita GA, Apellaniz MF (2011) Responses in the abundance of generalist birds to environmental gradients: the rufous-collared sparrow (Zonotrichia capensis) in the southern Neotropics. Ecoscience 18(4):354–362

Bibby CJ, Burgess ND, Hill DA, Mustoe S (2002) Bird Census Techniques, 2nd edn. Academic Press, London

BirdLife International (2012a) Rhea americana. The IUCN Red List of Threatened Species 2012. http://www.iucnredlist.org/details/22678073/0. Accessed on 15 April 2016

BirdLife International (2012b) Sporophila ruficollis. The IUCN Red List of Threatened Species 2012. http://www.iucnredlist.org/details/22723484/0. Accessed on 08 Sept 2015

BirdLife International (2013) Gubernatrix cristata. The IUCN Red List of Threatened Species 2013. http://www.iucnredlist.org/details/22721578/0. Accessed on 06 June 2015

Brockerhoff EG, Jactel H, Parrotta JA, Quine CP, Sayer J (2008) Plantation forests and biodiversity: oxymoron or opportunity? Biodivers Conserv 17:925–951

Brockerhoff EG, Jactel H, Parrotta JA, Ferraz SFV (2013) Role of eucalypt and other planted forests in biodiversity conservation and the provision of biodiversity-related ecosystem services. Forest Ecol Manag 301:43–50

Bucher EH, Costa Gorriz B, Leynaud G (2001) Bird diversity and forest fragmentation in the semiarid espinal woodland of Córdoba, Argentina. Bol Acad Nac Ciencias Córdoba 66:117–124

Calviño-Cancela M (2013) Effectiveness of eucalypt plantations as a surrogate habitat for birds. Forest Ecol Manag 310:692–699

Carpineti LA., Dallatea F, Glade JE; Marco MA (eds.) (1995) Manual para productores de eucaliptos de la Mesopotamia Argentina. Instituto Nacional de Tecnología Agropecuaria, Estación Experimental Agropecuaria, Concordia. http://inta.gob.ar/documentos/manual-para-productores-de-eucaliptos-de-la-mesopotamia-argentina. Accessed 3 Jan 2016

Carreño L, Frank FC, Viglizzo EF (2012) Tradeoffs between economic and ecosystem services in Argentina during 50 years of land-use change. Agric Ecosyst Environ 154:68–77

Cerezo A, Conde MC, Poggio SL (2011) Pasture area and landscape heterogeneity are key determinants of bird diversity in intensively managed farmland. Biodivers Conserv 20(12):2649–2667

Codesido M, González-Fischer C, Bilenca D (2011) Distributional changes of landbird species in agroecosystems of central Argentina. Condor 113(2):266–273

Codesido M, González-Fischer CM, Bilenca DN (2013) Landbird assemblages in different agricultural landscapes: a case study in the pampas of central Argentina. Condor 115(1):8–16

Coppedge BR, Engle DM, Masters RE, Gregory MS (2004) Predicting juniper encroachment and CRP effects on avian community dynamics in southern mixed-grass prairie, USA. Biol Conserv 3:431–441

Da Silva JMC, Uhl C, Murray G (1996) Plant succession, landscape management, and the ecology of frugivorous birds in abandoned Amazonian pastures. Conserv Biol 10:491–503

de Souza W, Barbosa OR, Marques J, Costa MAT, Gasparino E, Limberger E (2010) Microclimate in silvipastoral systems with eucalyptus in rank with different heights. Revista Brasileira de Zootecnica 39:685–694

Deconchat M, Brockerhoff EG, Barbaro L (2009) Effects of surrounding landscape composition on the conservation value of native and exotic habitats for native forest birds. Forest Ecol Manag 258:S196–S204

del Hoyo J, Elliott A, Sargatal J, Christie DA, de Juana E (eds) (2014). Handbook of the birds of the world alive. Lynx Edicions, Barcelona. http://www.hbw.com. Accessed 01 Sept 2015

Dias RA, Bastazini VAG, Gonçalves MSS, Bonow FC, Müller SC (2013) Shifts in composition of avian communities related to temperate-grassland afforestation in southeastern South America. Iheringia, Serie Zool 103(1):12–19

Diaz M, Carbonell R, Santos T, Telleria J (1995) Breeding bird communities in pine plantations of the Spanish plateaux: biogeography, landscape and vegetation effects. J Appl Ecol 35(4):562–574

Dufrene M, Legendre P (1997) Species assemblages and indicator species: the need for a flexible asymmetrical approach. Ecol Monogr 67(3):345–366

Economist (2015) Global food security index 2015, a special report. Economist 17 May 2015

Fagan WF, Cantrell RS, Cosner C (1999) How habitat edges change species interactions. Am Nat 153:165–182

FAO (2010) Global Forest Resources Assessment 2010—Main report. FAO Forestry Paper 163, Food and Agriculture Organization of the United Nations, Rome, Italy

Filloy J, Bellocq MI (2006) Spatial variations in the abundance of Sporophila Seedeaters in the Southern Neotropics: contrasting the effects of agricultural development and geographical position. Biodivers Conserv 15(10):3329–3340

Flaspohler DJ, Temple SA, Rosenfield R (2001a) Species-specific edge effects on nest success and breeding bird density in a forested landscape. Ecol Appl 11:32–46

Flaspohler DJ, Temple SA, Rosenfield R (2001b) The effects of forest edges on Ovenbird demography in a managed forest landscape. Conserv Biol 15:173–183

Fletcher RJ (2005) Multiple edge effects and their implications in fragmented landscapes. J Anim Ecol 74(2):342–352

Flynn DFB et al (2009) Loss of functional diversity under land use intensification across multiple taxa. Ecol Lett 12:22–23

Forest Stewardship Council (FSC) (2012) Strategic review on the future of forest plantations. Helsinki, Finland

Fuller RJ (2012) Birds and habitat: relationships in changing landscapes. Cambridge University Press, New York

Gardiner B, Moore J (2014) Creating the wood supply of the future. In: Karp A (ed) Challenges and opportunities for the world's forests in the 21st Century. Springer, Dordrecht, pp 677–704

Gardner TA, Barlow J, Parry LTW, Peres CA (2007) Predicting the uncertain future of tropical forest species in a data vacuum. Biotropica 39:25–30

Gardner TA et al (2008) The cost effectiveness of biodiversity surveys in tropical forests. Ecol Lett 11(2):139–150

Gates JE, Gysel LW (1978) Avian nest dispersion and fledging success in field-forest ecotones. Ecology 59:871–883

Gavier-Pizarro GL et al (2012) Expansion and intensification of row crop agriculture in the Pampas and Espinal of Argentina can reduce ecosystem service provision by changing avian density. Agric Ecosyst Environ 154:44–55

Giacomo AS, De Casenave JL (2010) Use and importance of crop and field-margin habitats for birds in a Neotropical agricultural ecosystem. Condor 112(2):283–293

Goijman AP, Zaccagnini ME (2008) The effects of habitat heterogeneity on avian density and richness in soybean fields in Entre Ríos, Argentina. Hornero 23(2):67–76

Goijman AP, Conroy MJ, Bernardos JN, Zaccagnini ME (2015) Multi-season regional analysis of multi-species occupancy: implications for bird conservation in agricultural lands in east-central Argentina. PLoS ONE 10(6):e0130874. doi:10.1371/journal.pone.0130874

Goldstein JH et al (2012) Integrating ecosystem-service tradeoffs into land-use decisions. PNAS 109(19):7565–7570

Grant TA, Madden E, Berkey GB (2004) Tree and shrub invasion in northern mixed- prairie: implications for breeding grassland birds. Wildl Soc Bull 32:807–818

Henwood WD (2010) Toward a strategy for the conservation and protection of the world's temperate grasslands. Great Plains Res 20:121–134

Instituto Nacional de Tecnología Agropecuaria (INTA) (2015) Estadísticas agroclimáticas mensuales eea Concordia INTA (Serie histórica 1969–2007). http://inta.gob.ar/documentos/estadisticas-agroclimaticas-de-concordia/at_multi_download/file/INTA_Concordia_Estadisticas_agroclimaticas.pdf. Accessed 8 Aug. 2015

Instituto Nacional de Tecnología Agropecuaria (INTA) INTA (2009) Plan De Tecnologia Regional 2009-2011, INTA Centro Regional Entre Ríos. http://inta.gob.ar/documentos/plan-tecnologico-regional-2009-2011-centro-regional-entre-rios/at_multi_download/file/Plan%20Tecnológico%20Regional%202009-2011%20Centro%20Regional%20Entre%20R%C3%ADos.pdf. Accessed 01 Sept 2015

Jobbágy EG, Baldi G, Nosetto MD (2012) Tree plantation in South America and the water cycle: impacts and emergent opportunities. In: Schlichter T, Montes L (eds) Forests in development: a vital balance. Springer, Dordrecht, pp 53–63

Karp DS, Mendenhall CD, Sandí RF, Ehrlich PR, Hadly EA, Daily GC (2013) Forest bolsters birds, pest control, and coffee yield. Ecol Lett 16(11):1339–1347

Kellerman JL, Johnson MD, Stercho AM, Hackett S (2008) Ecological and economic services provided by birds on Jamaican Blue Mountain Coffee Farms. Conserv Biol 22:1177–1185

Krapovickas S, Di Giacomo AS (1998) Conservation of pampas and campos grasslands in Argentina. Parks 8(3):47–53

Kronenberg J (2014) What can the current debate on ecosystem services learn from the past? Lessons from economic ornithology. Geoforum 55:164–177

Lantschner MV, Rusch V, Peyrou C (2008) Bird assemblages in pine plantations replacing native ecosystems in NW Patagonia. Biodivers Conserv 17(5):969–989

Lay DW (1938) How valuable are woodland clearings to birdlife? Wilson Bull 50:254–256

Leveau LM, Leveau CM (2012) The role of urbanization and seasonality on the temporal variability of bird communities. Landscape Urban Plan 106(3):271–276

Lewis JP, Noetinger S, Prado DE, Barberis IM (2009) Woody vegetation structure and composition of the last relicts of Espinal vegetation in subtropical Argentina. Biodivers Conserv 1518(13):3615–3628

Lindenmayer DB, Cunningham RB, Donnelly CF, Nix H, Lindenmayer BD (2002) Effects of forest fragmentation on bird assemblages in a novel landscape context. Ecol Monogr 72(1):1–8

Mace GM, Norris K, Fitter AH (2012) Biodiversity and ecosystem services: a multilayered relationship. Trends Ecol Evol 27(1):19–26

Marsden SJ, Whiffin M, Galetti M (2001) Bird diversity and abundance in forest fragments and eucalyptus plantations around an Atlantic forest reserve, Brazil. Biodivers Conserv 10(5):737–751

Mastrangelo ME, Gavin MC (2012) Trade-offs between cattle production and bird conservation in an agricultural frontier of the Gran Chaco of Argentina. Conserv Biol 26:1040–1051

McCune B, Grace JB, Urban D (2002) Analysis of ecological communities. MjM Software Design, Gleneden Beach

Medan D, Torretta JP, Hodara K, Elba B, Montaldo NH (2011) Effects of agriculture expansion and intensification on the vertebrate and invertebrate diversity in the Pampas of Argentina. Biodivers Conserv 20(13):3077–3100

Millan CH, Develey PF, Verdade LM (2015) Stand-level management practices increase occupancy by birds in exotic eucalyptus plantations. Forest Ecol Manag 336:174–182

Millennium Ecosystem Assessment (2005) Ecosystems and human well-being: synthesis. Island Press, Washington, D.C.

Miñarro F, Bilenca D (2008) The Conservation Status of Temperate Grasslands in Central Argentina, a special report. Fundación Vida Silvestre Argentina. Fundación Vida Silvestre Argentina. Buenos Aires. http://awsassets.wwfar.panda.org/downloads/conservation_status_temperate_grasslands.pdf. Accessed 8 Aug 2015

Moreira F, Beja P, Morgado R, Reino L, Gordinho L, Delgado A, Borralho R (2005) Effects of field management and landscape context on grassland wintering birds in Southern Portugal. Agric Ecosyst Environ 109(1):59–74

Narosky T, Yzurieta D (2010) Birds of Argentina and Uruguay: a Field Guide. Vázquez Mazzini Ed, Buenes Aires, Argentina

Paquette A, Messier C (2009) The role of plantations in managing the world's forests in the Anthropocene. Front Ecol Environ 8(1):27–34

Pascual U, Perrins C (2007) Developing incentives and economic mechanisms for in situ biodiversity conservation in agricultural landscapes. Agric Ecosyst Environ 121:255–268

Perfecto I, Vandermeer J (2010) The agroecological matrix as alternative to the land sparing/agricultural intensification model. Proc Natl Acad Sci USA 107:5786–5791

Poch T, Simonetti JA (2013) Insectivory in Pinus radiata plantations with different degree of structural complexity. For Ecol Manag 304:132–136

Polasky S, Nelson E, Pennington D, Johnson KA (2010) The Impact of land-use change on ecosystem services, biodiversity and returns to landowners: a case study in the State of Minnesota. Environ Resour Econ 48:219–242

Pretelli MG, Isacch JP, Cardoni DA (2015) Effects of fragmentation and landscape matrix on the nesting success of grassland birds in the Pampas grasslands of Argentina. Ibis. doi:10.1111/ibi.12292

Quattrocchio ME, Borromei AM, Deschamps CM (2008) Landscape evolution and climate changes in the Late Pleistocene-Holocene, southern Pampa (Argentina): evidence from palynology, mammals and sedimentology. Quat Int 181:123–138

Reino L, Beja P, Osborne PE, Morgado R, Fabião A, Rotenberry JT (2009) Distance to edges, edge contrast and landscape fragmentation: interactions affecting farmland birds around forest plantations. Biol Conserv 142(4):824–838

Sarasola JH, Negro JJ (2006) Role of exotic tree stands on the current distribution and social behavior of Swainson's hawk, Buteo swainsoni in the Argentine Pampas. J Biogeogr 33(6):1096–1101

Schneider NA, Low M, Arlt D, Part T (2012) Contrast in edge vegetation structure modifies the predation risk of natural ground nests in an agricultural landscape. PLoS ONE. doi:10.1371/journal.pone.0031517

Sekercioglu CH (2006) Increasing awareness of avian ecological function. Trends Ecol Evol 21(8):464–471

SigmaPlot 13 (2015) Systat Software Inc. San Jose, CA, USA

Solbrig OT, Viglizzo EF (1999) Sustainable farming in the Argentine pampas: history, society, economy and ecology. DRCLAS Paper No. 99/00-1. Harvard University, Cambridge

Thompson I, Mackey B, McNulty S, Mosseler A (2009). Forest resilience, biodiversity, and climate change. In: A synthesis of the biodiversity/resilience/stability relationship in forest ecosystems, vol. 43. Secretariat of the Convention on Biological Diversity, Montreal. Technical Series, pp 1–67

Tomasevic JA, Estades CF (2008) Effects of the structure of pine plantations on their "softness" as barriers for ground-dwelling forest birds in south-central Chile. For Ecol Manag 255:810–816

Tomich TP et al (2011) Agroecology: a review from a global change perspective. Annu Rev Environ Resour 36:193–222

Van Bael SA et al (2008) Birds as predators in tropical agroforestry systems. Ecology 89:928–934

Vickery JA, Tallowin JR, Feber RE, Asteraki EJ, Atkinson PW, Fuller RJ, Brown VK (2001) The management of lowland neutral grasslands in Britain: effects of agricultural practices on birds and their food resources. J Appl Ecol 38:647–664

Viglizzo EF, Frank FC, Carreño L (2006) Situación Ambiental en las Ecorregiones Pampa y Campos y Malezales, In: Brown, A., U. Martínez Ortíz, M. Acerbi & J. Corcuera (Eds.). La situación ambiental argentina 2005. Fundación Vida Silvestre Argentina. Buenos Aires, pp 263–269. http://www.vidasilvestre.org.ar/descargables/libro_imperdible/pampa.pdf. Accessed 01 Sept 2015

Villard M, Haché S (2012) Conifer plantations consistently act as barriers to movement in a deciduous forest songbird: a translocation experiment. Biol Conserv 155:33–37

Vitousek PM, Mooney HA, Lubchanco J, Melillo JM (1997) Human domination of earth's ecosystems. Science 277:494–499

Volpato GH, Prado VM, dos Anjos L (2010) What can tree plantations do for forest birds in fragmented forest landscapes? A case study in southern Brazil. Forest Ecol Manag 260(7):1156–1163

Warner RE (1994) Agricultural land use and grassland habitat in Illinois: future shock for Midwestern birds? Conserv Biol 8:147–156

Wenny DG, Devault TL, Johnson MD, Kelly D, Sekercioglu CH, Tomback DF, Whelan CJ (2011) The need to quantify ecosystem services provided by birds. Auk 128(1):1–14

Whelan JC, Sekercioglu CH, Wenny DG (2015) Why birds matter: from economic ornithology to ecosystem services. J Field Ornithol. doi:10.1007/s10336-015-1229-y

Zimmer C (2010) Black is the new green. Conservation Magazine 27 Aug 2011
Acknowledgments
We are thankful for the support of the researchers, extension agents and staff of the Instituto Nacional de Tecnología Agropecuaria Concordia, particularly P. Cavigliasso and L. Roman, without which, this research would not be possible. The authors are deeply indebted to S. Oliviera for his expertise in avian ecology and identification of pampas birds. We are especially thankful to many landowners of La Criolla, General Campos and Federal and companies Comercio y Desarrollo S.A. and Com BeyGa Humaitá S.A. who granted us access to their lands to conduct this research. We also thank El Palmar National Park that permitted us to complete bird surveys within the park. This research was supported by the National Science Foundation Partnerships in International Research and Education grant (No.1243444). Our thanks to the anonymous reviewers who greatly improved earlier drafts of this manuscript.
Additional information
This is part of the special issue on 'Forest biodiversity and ecosystem services'.
Communicated by Eckehard Brockerhoff, Hervé Jactel and Ian Thompson.
Appendix
Appendix
See Table 3.
About this article
Cite this article
Phifer, C.C., Knowlton, J.L., Webster, C.R. et al. Bird community responses to afforested eucalyptus plantations in the Argentine pampas. Biodivers Conserv 26, 3073–3101 (2017). https://doi.org/10.1007/s10531-016-1126-6
Received:

Revised:

Accepted:

Published:

Issue Date:
Keywords
Argentina

Bioenergy

Diet guild

Grassland

Ecosystem services

Espinal savanna

Non-metric multidimensional ordination