Abstract
For the first time ever, the International Union for Conservation of Nature Red List Index for habitat types was calculated for an entire country, Finland. The RLIs were based on species threat assessments from 2000 and 2010 and included habitat definitions for all 10,131 species of 12 organism groups. The RLIs were bootstrapped to track statistically significant changes. The RLI changes of species grouped by habitats were negative for all habitat types except for forests and rural biotopes which showed a stable trend. Trends of beetles and true bugs were positive in rural and forest habitats. Other 16 observed trends of species group and habitat combinations were negative. Several trends observed were in accordance with studies focusing on particular taxa and habitats, and drivers for their change. This study demonstrates the usefulness of the RLI as a tool for observing habitat change based on species threat assessment data.
This is a preview of subscription content,
to check access.
Access this article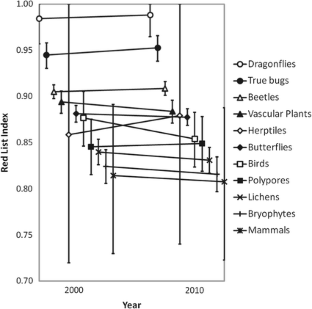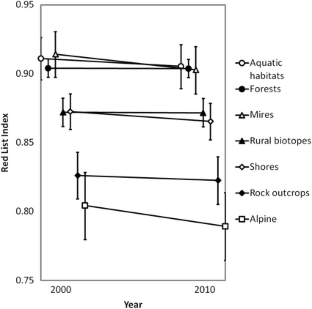 References
Albrecht A, Mattila K, Rinne V, Rintala T, Söderman G (2010) Hemiptera. In: Rassi P, Hyvärinen E, Juslén A, Mannerkoski I (eds) The 2010 red list of Finnish species. Ympäristöministeriö and Suomen ympäristökeskus, Helsinki, pp 397–416

Baillie JEM, Collen B, Amin R, Akçakaya HR, Butchart SHM, Brummitt NA, Meagher TR, Ram M, Hilton-Taylor C, Mace GM (2008) Toward monitoring global biodiversity. Conserv Lett 1:18–26

Brommer J, Lehikoinen A, Valkama J (2012) The breeding ranges of central European and Arctic bird species move poleward. PloS One. doi:10.1371/journal.pone.0043648

Brummitt N, Bachman SP, Aletrari E, Chadburn H, Griffiths-Lee J, Lutz M, Moat J, Rivers MC, Syfert MM, Nic Lughadha EM (2015) The sampled red list index for plants, phase II: ground-truthing specimen-based conservation assessments. Philos T Roy Soc B. doi:10.1098/rstb.2014.0015

Bubb PJ, Butchart SHM, Collen B, Dublin H, Kapos V, Pollock C, Stuart SN, Vié JC (2009) IUCN Red List index—guidance for national and regional use. IUCN, Gland

Butchart SHM, Stattersfield AJ, Bennun LA, Shutes SM, Akçakaya HR, Baillie JEM, Stuart SN, Hilton-Taylor C, Mace GM (2004) easuring global trends in the status of biodiversity: Red List Indices for birds. PloS Biol. doi:10.1371/journal.pbio.0020383

Butchart SHM, Akçakaya HR, Chanson J, Baillie JEM, Collen B, Quader S, Turner WR, Amin R, Stuart SN, Hilton-Taylor C (2007) Improvements to the Red List index. PloS One. doi:10.1371/journal.pone.0000140

Butchart SHM et al (2010) Global biodiversity: indicators of recent declines. Science 328:1164–1168

Cardoso P, Borges PAV, Triantis KA, Ferrández MA, Martín JL (2011) Adapting the IUCN Red List criteria for invertebrates. Biol Conserv 144:2432–2440

Cardoso P, Borges PAV, Triantis KA, Ferrández MA, Martín JL (2012) The underrepresentation and misrepresentation of invertebrates in the IUCN Red List. Biol Conserv 149:147–148

Clausnitzer V et al (2009) Odonata enter the biodiversity crisis debate: the first global assessment of an insect group. Biol Conserv 142:1864–1869

Collen B, Loh J, McRae L, Whitmee S, Amin R, Baillie JEM (2009) Monitoring change in vertebrate abundance: the Living Planet Index. Conserv Biol 23:317–327

Fedrowitz K, Kuusinen M, Snäll T (2012) Metapopulation dynamics and future persistence of epiphytic cyanolichens in a European boreal forest ecosystem. J Appl Ecol 49:493–502

Finlands national strategy on invasive alien species (2012) Ministry of agriculture and forestry in Finland. http://mmm.fi/documents/1410837/1894125/Finlands_national_strategy_on_invasive_alien_species.pdf/61137cdf-92ad-4ac8-8b6d-0feaeaedfe74

Gärdenfors U (ed) (2010) Rödlistade arter i Sverige 2010—the 2010 red list of Swedish species. ArtDatabanken, Uppsala

Hämet-Ahti L, Suominen J, Ulvinen T, Uotila P (eds) (1998) Retkeilykasvio, 4. uudistettu painos, Luonnontieteellisen keskusmuseon kasvimuseo, Helsinki

Hanski I (2000) Extinction debt and species credit in boreal forests: modelling the consequences of different approaches to biodiversity conservation. Ann Zool Fenn 37:271–280

Hanski I (2005) The shrinking world: Ecological consequences of habitat loss. International Ecology Institute, Oldendorf

Hautala H, Laaka-Lindberg S, Vanha-Majamaa I (2011) Effects of retention felling on epixylic species in boreal spruce forests in southern Finland. Restor Ecol 19:418–429

Hedenås H, Hedström P (2007) Conservation of epiphytic lichens: significance of remnant aspen (Populus tremula) trees in clear-cuts. Biol Conserv 135:388–395

Heino J, Virtanen R, Vuori KM, Saastamoinen J, Ohtonen A, Muotka T (2005) Spring bryophytes in forested landscapes: land use effects on bryophyte species richness, community structure and persistence. Biol Conserv 124:539–545

Hoffman M et al (2010) The impact of conservation on the status of the world's vertebrates. Science 330:1503–1509

Hoffman M, Belant JL, Chanson JS, Cox NA, Lamoreux J, Rodrigues ASL, Schipper J, Stuart SN (2011) The changing fates of the world's mammals. Philos T Roy Soc B 366:2598–2610

Hyönteistietokanta (2015) (http://hyonteiset.luomus.fi/insects/main/EntDatabase.html) [Entomological database]. Finnish Museum of Natural History, Helsinki, 27.10.2015

Hyvärinen E, Kouki J, Martikainen P (2006) Fire and green-tree retention in conservation of red-listed and rare deadwood-dependent beetles in Finnish boreal forests. Conserv Biol 20:1710–1719

Ikonen I (2011) Integrated coastal planning and management in southwest Finland. In: Reihmanis J (ed) Nordic-Baltic-Belarus solutions in farming for biodiversity. Latvijas Dabas Fonds, Riga, pp 34–41

Ilmonen J, Leka J, Kokko A, Lammi A, Lampolahti J, Muotka T, Rintanen T, Sojakka P, Teppo A, Toivonen H, Urho L, Vuorio K-M, Vuoristo H (2008) Sisävedet ja rannat. In: Raunio A, Schulman A, Kontula T (eds) Assessment of threatened habitat types in Finland – part 1: results and basis for assessment (in Finnish). Suomen ympäristö 8, pp 55–74

Ilmonen J, Mykrä H, Virtanen R, Paasivirta L, Muotka T (2012) Responses of spring macroinvertebrate and bryophyte communities to habitat modification: community composition, species richness, and red-listed species. Freshw Sci 31:657–667

Johansson P (2008) Consequences of disturbance on epiphytic lichens in boreal and near boreal forests. Biol Conserv 141:1933–1944

Juslén A, Hyvärinen E, Virtanen LK (2013) Application of the Red-List Index at a national level for multiple species groups. Conserv Biol 27:398–406

Jutila H (2001) How does grazing by cattle modify the vegetation of coastal grasslands along the Baltic Sea? Ann Bot Fenn 38:181–200

Kaakinen E, Kokko A, Aapala K (2012) Assessment of threatened mire habitats in Finland. In: Lindholm T, Heikkilä R (eds) Mires from pole to pole. Suomen ympäristö 38/2012, pp 181–196

Kallio M, Aapala K (2001) Suoluonnon alueellisen rakenteen muutos ja suojelualueverkon merkitys. [Changes in the spatial structure of the mire landscape and the importance of the nature reserve network]. In: Aapala K (ed) Soidensuojelualueverkon arviointi [Abstract: Assessment of the network of protected mires in Finland]. Suomen ympäristö 490, pp 5–44

Koch K (1989a) Die Käfer Mitteleuropas. Ökologie. Band 1. Goecke & Evers, Krefeld

Koch K (1989b) Die Käfer Mitteleuropas. Ökologie. Band 2. Goecke & Evers, Krefeld

Koch K (1992) Die Käfer Mitteleuropas. Ökologie. Band 3. Goecke & Evers, Krefeld

Kontula T, Raunio A (2009) New method and criteria for national assessments of threatened habitat types. Biodivers Conserv 18:3861–3876

Kouki J, Arnold K, Martikainen P (2004) Long-term persistence of aspen—a key host for many threatened species—is endangered in old-growth conservation areas in Finland. J Nat Conserv 12:41–52

Laaksonen T, Lehikoinen A (2013) Population trends in boreal birds: continuing declines in agricultural, northern, and long-distance migrant species. Biol Conserv 168:99–107

Lanta V, Hyvönen T, Norrdahl K (2013) Non-native and native shrubs have differing impacts on species diversity and composition of associated plant communities. Plant Ecol 214:1517–1528

Lewis OT, Senior MJM (2011) Assessing conservation status and trends for the world's butterflies: the Sampled Red List Index approach. J Insect Conserv 15:121–128

Loh J, Green RE, Ricketts T, Lamoreux JF, Jenkins M et al (2005) The Living Planet Index: using species population time series to track trends in biodiversity. Philos Trans R Soc Lond B 360:289–295

Lopez L (2011) Estado de las Aves del Paraguay. Guyra Paraguay, BirdLife International, Asunción

Mace GM, Collar NJ, Gaston KJ, Hilton-Taylor C, Akçakaya HR, Leader-Williams N, Milner-Gulland EJ, Stuart SN (2008) Quantification of extinction risk: IUCN's system for classifying threatened species. Conserv Biol 22:1424–1442

Martikainen P (2001) Conservation of threatened saproxylic beetles: significance of retained aspen Populus tremula on clearcut areas. Ecol Bull 49:205–218

Moreno Saiz JC, Domínguez Lozano F, Marrero Gómez M, Bañares Baudet Á (2015) Application of the Red List Index for conservation assessment of Spanish vascular plants. Conserv Biol 29:910–919

Olofsson J, Oksanen L (2005) Effects of reindeer density on vascular plant diversity on North Scandinavian mountains. Rangifer 25:5–18

Penttilä R, Siitonen J, Kuusinen M (2004) Polypore diversity in a managed and old-growth boreal Picea abies forests in southern Finland. Biol Conserv 117:271–273

Pitkänen H, Peuraniemi M, Westerbom M, Kilpi M, von Numers M (2013) Long-term changes in distribution and frequency of aquatic vascular plants and charophytes in an estuary in the Baltic Sea. Ann Bot Fennici 50(Suppl A):1–54

Pöyry J, Luoto M, Heikkinen RK, Kuussaari M, Saarinen K (2009) Species traits explain recent range shifts of Finnish butterflies. Glob Change Biol 15:732–743

Pöysä H, Rintala J, Lehikoinen A, Väisänen RA (2012) The importance of hunting pressure, habitat preference and life history for populations trends of breeding waterbirds in Finland. Eur J Wildlife Res 59:245–256

Pykälä J (2000) Mitigating human effects on European biodiversity through traditional animal husbandry. Conserv Biol 14:705–712

Pykälä J (2004) Effects of new forestry practices on rare epiphytic macrolichens. Conserv Biol 18:831–838

R Core Team (2014) R: A language and environment for statistical computing. R Foundation for Statistical Computing, Vienna, Austria. http://www.R-project.org/

Raatikainen KM, Heikkinen RK, Pykälä J (2007) Impacts of local and regional factors on vegetation of boreal semi-natural grasslands. Plant Ecol 189:155–173

Rassi P, Alanen A, Kanerva T, Mannerkoski I (eds) (2001) Suomen lajien uhanalaisuus 2000. Ympäristöministeriö & Suomen ympäristökeskus, Helsinki

Rassi P, Hyvärinen E, Juslén A, Mannerkoski I (eds) (2010) Suomen lajien uhanalaisuus—Punainen kirja 2010. The 2010 red list of Finnish species. Ympäristöministeriö ja Suomen ympäristökeskus, Helsinki

Raunio A, Schulman A, Kontula T (2008) Assessment of threatened habitat types in Finland—part 1: results and basis for assessment (in Finnish). Suomen ympäristö 8:1–264

Reinikainen A, Mäkipää R, Vanha-Majamaa I, Hotanen JP (eds) (2000) Kasvit muuttuvassa metsäluonnossa. Metsäntutkimuslaitos & Kustannusosakeyhtiö Tammi, Helsinki

Rodrigues ASL, Pilgrim JD, Lamoreux JF, Hoffmann M, Brooks TM (2006) The value of the IUCN Red List for conservation. Trends Ecol Evol 21:71–76

Rodríguez JP et al (2011) Establishing IUCN Red List criteria for threatened ecosystems. Conserv Biol 25:21–29

Rondinini C, Battistoni A, Teofili C (2014) Lo stato della Biodiversità in Italia: l'applicazione dell'approccio Sampled Red List e Red List Index

Szabo JK, Butchart SHM, Possingham HP, Garnett ST (2012) Adapting global biodiversity indicators to the national scale: a red list index for Australian birds. Biol Conserv 148:61–68

The Finnish Expert Group on Coleoptera (2010) The Finnish Expert Group on Coleoptera 2010. Atlas of the Beetles of Finland. http://koivu.luomus.fi/elaintiede/kovakuoriaiset/catlas1.htm

The Millenium Development Goals Report 2015. United Nations, New York

Tikkanen OP, Martikainen P, Hyvärinen E, Junninen K, Kouki J (2006) Red-listed boreal forest species of Finland: associations with forest structure, tree species, and decaying wood. Ann Zool Fenn 43:373–383

Tittensor DP et al (2014) A mid-term analysis of progress toward international biodiversity targets. Science 346:241–244

Toivanen T, Kotiaho JS (2007) Mimicking natural disturbances of boreal forests: the effects of controlled burning and creating dead wood on beetle diversity. Biodivers Conserv 16:3193–3211

Virkkala R, Rajasärkkä A (2011) Climate change affects populations of northern birds in boreal protected areas. Biol Lett 7:395–398

Virkkala R, Rajasärkkä A (2012) Preserving species populations in the boreal zone in a changing climate: contrasting trends of bird species groups in a protected area network. Nat Conserv 3:1–20

Virkkala R, Korhonen KT, Haapanen R, Aapala K (2000) Protected forests and mires in forest and mire vegetation zones in Finland based on the 8th National Forest Inventory (In Finnish with an English summary). Finn Environ 395:1–49

Virkkala R, Heikkinen RK, Leikola N, Luoto M (2008) Projected large-scale range reductions of northern-boreal land bird species due to climate change. Biol Cons 141:1343–1353

Visconti P et al (2015) Projecting global biodiversity indicators under future development scenarios. Conserv Lett. doi:10.1111/conl.12159

Woinarski JCZ, Burbidgec AA, Harrison PL (2015) Ongoing unraveling of a continental fauna: decline and extinction of Australian mammals since European settlement. PNAS 112:4531–4540

Young RP, Hudson MA, Terry AMR, Jones CG, Lewis RE, Tatayah V, Zuël N, Butchart SHM (2014) Accounting for conservation: using the IUCN Red List Index to evaluate the impact of a conservation organization. Biol Conserv 180:84–96
Additional information
Communicated by Neil Brummitt.
Electronic supplementary material
Below is the link to the electronic supplementary material.
Supplementary material Appendix 1 The species included in the study, their main habitats and the IUCN threat classification in 2000 (backcasted) and 2010
Supplementary material Appendix 2 RLI values for all combinations of taxonomic groups and habitat types (Appendix) are available online. The authors are solely responsible for the content and functionality of these materials. Queries (other than absence of the material) should be directed to the corresponding author
About this article
Cite this article
Juslén, A., Pykälä, J., Kuusela, S. et al. Application of the Red List Index as an indicator of habitat change. Biodivers Conserv 25, 569–585 (2016). https://doi.org/10.1007/s10531-016-1075-0
Received:

Revised:

Accepted:

Published:

Issue Date:

DOI: https://doi.org/10.1007/s10531-016-1075-0
Keywords