Abstract
Currently, there is an increasing need for evidence-based strategies in nature conservation, for example when designing and establishing nature reserves. In this contribution, we critically assess the ecological relevance of recent nature conservation practices in Kenya (East Africa), a region of global biodiversity hotspots. More specifically, we overlay the distribution of species richness (here based on mammals, birds, amphibians and vascular plants) with the location of nature reserves, the Kenyan agro-ecological zones (areas representing diverging agricultural potentials), and with the spatial distribution of human population density. Our analyses indicate that the majority of protected areas are located in areas with comparatively low species richness, while areas with extraordinary high levels of species richness are not adequately covered by nature reserves. Areas of high agricultural productivity (and with high human demographic pressure) are mainly reserved for high-yield agriculture; however, these regions are also characterised by high species richness. The majority of nature reserves are restricted to the semi-arid regions of Kenya, marginal for agricultural usage, but also with low levels of species richness. Based on this analysis, we prioritize areas for future protection. This single-country case illustrates that agricultural production in high-yield areas outweighs nature conservation goals, even in global biodiversity hotspot regions, and that priority setting may conflict with effective nature conservation.
Access options
Buy single article
Instant access to the full article PDF.
US$ 39.95
Tax calculation will be finalised during checkout.
Subscribe to journal
Immediate online access to all issues from 2019. Subscription will auto renew annually.
US$ 119
Tax calculation will be finalised during checkout.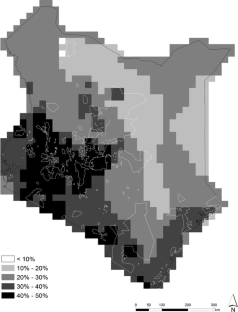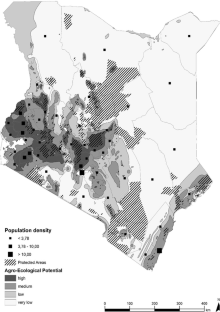 References
Bennun LA, Njoroge P (1999) Important bird areas of Kenya. Nature Kenya, Nairobi

BirdLife International and NatureServe (2015) Bird species distribution maps of the world. BirdLife International and Nature Serve, Cambridge and Arlington

Burgess N, Küper W, Mutke J, Brown J, Westaway S, Turpie S, Meshack C, Taplin J, McClean J, Lovett JC (2005) Major gaps in the distribution of protected areas for threatened and narrow range afrotropical plants. Biodivers Conserv 14:1877–1894

Burgess ND, Butynski TM, Cordeiro NJ, Doggart NH, Fjelsa J, Howell KM, Kilahama FB, Loader SP, Lovett JC, Mbilinyi B, Menegon M, Moyer DC, Nashanda E, Perkin A, Rovero F, Stanley WT, Stuart SN (2007) The biological importance of the Eastern Arc Mountains of Tanzania and Kenya. Biol Conserv 134:209–231

Food and Agricultural Organization (2009) Human-wildlife conflict in Africa—causes, consequences and management strategies. FAO Forest Paper, Rome 157

Habel JC, Teucher M, Hornetz B, Jaetzold R, Kimatu JN, Kasili S, Mairura Z, Mulwa RK, Eggermont H, Weisser WW, Lens L (2015) Real-world complexity of food security and biodiversity conservation. Biodivers Conserv 24:1531–1539

IUCN Red List of threatened species—digital distribution maps, Cambridge. http://www.iucnredlist.org/technical-documents/spatial-data. Accessed 21 Dec 2015

IUCN and UNEP-WCMC (2015) The world database on protected areas (WDPA), Cambridge, UNEP-WCMC. www.protectedplanet.net. Accessed 20 May 2015

Jaetzold R, Schmidt H, Hornetz B, Shisanya CA (2006) Farm management handbook of Kenya, vol II: Natural conditions and farm management information. Part C: East Kenya. Subpart C1: Eastern Province. Ministry of Agriculture and GIZ, Nairobi

Jaetzold R, Schmidt H, Hornetz B, Shisanya CA (2011) Farm management handbook of Kenya, vol II, Natural conditions and farm management information, Part B: Central Kenya. Subpart B1b: Northern Rift Valley Province. Ministry of Agriculture and GIZ, Nairobi

Jaetzold R, Schmidt H, Hornetz B, Shisanya CA (2012) Farm management handbook of Kenya, vol II: Natural conditions and farm management information. Part C: East Kenya. Subpart C2: Coast Province. Ministry of Agriculture and GIZ, Nairobi

Job H, Paesler F (2013) Links between nature-based tourism, protected areas, poverty alleviation and crises—the example of Wasini Island (Kenya). J Outdoor Recreat Tour 1:18–28

Kenya National Bureau of Statistics (2015) Population and housing census 2009. www.knbs.or.ke/population.php. Accessed 20 May 2015

Kier G, Mutke J, Dinerstein E, Ricketts TH, Küper W, Kreft H, Barthlott W (2005) Global patterns of plant diversity and floristic knowledge. J Biogeogr 32:1107–1116

Kiringe JW, Okello MM (2007) Threats and their relative severity to wildlife protected areas of Kenya. Appl Ecol Environ Res 5:49–62

Kiteme B, Liniger HP, Notter B, Wiesmann U, Kohler T (2008) Dimensions of global change in African Mountains: the example of Mount Kenya. In: Rechkemmer A (ed) International Human Dimensions Programme on Global Environmental Change: mountainous regions: laboratories for adaptation, vol 2. International Dimensions Programme on Global Environmental Change, Bonn.

Larsen TB (1991) The butterflies of Kenya and their natural history. Oxford University Press, Oxford

Lindsey PA, Roulet PA, Rmanach SS (2007) Economic and conservation significance of the trophy hunting industry in sub-Saharan Africa. Biol Conserv 134:455–469

Lötters S, Wagner P, Bwong BA, Schick S, Malonza PK, Muchai V, Wasonga DV, Veith M (2007) A field guide to the amphibians and reptiles of Kakamega forest. National Museums of Kenya and University of Mainz, Nairobi and Mainz, p 112

Lovett JC (1998) Importance of the Eastern Arc Mountains for vascular plants. J East Afr Nat Hist 87:59–74

MacKenzie JM (1997) The empire of nature: hunting, conservation and British imperialism. Manchester University Press, Manchester

Measey GJ, Malonza PK, Muchai V (2009) Amphibians of Taita Hills, vol 12., SANBI biodiversity seriesSouth African National Biodiversity Institute, Pretoria

Mittermeier RA, Turner WR, Larsen FW, Brooks TM, Gascon C (2011) Global biodiversity conservation: the critical role of hotspots. In: Zachos FE, Habel JC (eds) Biodiversity hotspots—distribution and protection of conservation priority areas. Springer, Heidelberg, pp 2–22

Myers N, Mittermeier RA, Mittermeier CG, da Fonseca GAB, Kent J (2000) Biodiversity hotspots for conservation priorities. Nature 403:853–858

Okello MM, Kiringe JW (2004) Threats to biodiversity and their implications in protected and adjacent dispersal areas of Kenya. J Sustain Tour 12:55–69

Platts PJ, Ahrends A, Gereau RE, McClean CJ, Lovett JC, Marshall AR, Pellikka PKE, Mulligan M, Fanning E, Marchant R (2010) Delimiting tropical mountain ecoregions for conservation. Divers Distrib 16:628–642

Plieninger T, Höchtl F, Spek T (2006) Traditional land-use and nature conservation in European rural landscapes. Environ Sci Policy 9:317–321

Poynton JC, Loader SP, Sherratt E, Clarke BT (2007) Amphibian diversity in East African biodiversity hotspots: altitudinal and latitudinal patterns. Vertebr Conserv Biodivers 5:277–292

Pullin AS, Knight TM (2003) Support for decision making in conservation practice: an evidence-based approach. J Nat Conserv 11:83–90

Republic of Kenya (1959) Kenya population census 1962. Republic of Kenya, Nairobi

Rodrigues ASL, Pilgrim JD, Lamoreux JF, Hoffmann M, Brooks TM (2006) The value of the IUCN Red List for conservation. Trends Ecol Evol 21:71–76

Spawls S, Howell K, Drewes RC, Ashe J (2002) Field guide to the reptiles of East Africa: all the reptiles of Kenya, Tanzania, Uganda, Rwanda and Burundi

Stork N, Habel JC (2014) Can biodiversity hotspots protect more than tropical forest plants and vertebrates? J Biogeogr 41:421–428

Sutherland WJ, Pullin AS, Dom PM, Knight TM (2004) The need for evidence-based conservation. Trends Ecol Evol 19:305–308

Svancara LK, Brannon RJ, Scott M, Groves CR, Noss RF, Pressey RL (2005) Policy-driven versus evidence-based conservation: a review of political targets and biological needs. Bioscience 55:989–995

Thurston A (1987) Smallholder agriculture in colonial Kenya: the official mind and the Swynnerton Plan, vol 8. Cambridge African Monographs African Studies Centre, Cambridge

Waide RB, Willig MR, Steiner CF, Mittelbach G, Gough L, Dodson SI, Juday GP, Parmenter R (1999) The relationship between productivity and species richness. Annu Rev Ecol Syst 30:257–300

Wildlifedirect (2009) http://davidngala.wildlifedirect.org/2009/01/28/bush-meat-survey-in-arabuko-sokoke-forest/. Accessed 20 May 2015

World Travel and Tourism Council (2005) Benchmarking report Kenya 2015. http://www.wttc.org/-/media/files/reports/benchmark%20reports/country%20reports%202015/kenya%20%20benchmarking%20report%202015.pdf. Accessed 20 May 2015

Worldbank (2015) World development indicators—agriculture, value added (% of GDP). http://data.worldbank.org/data-catalog/world-development-indicators. Accessed 20 May 2015

Zimmerman DA, Turner DA, Pearson DJ (1999) Birds of Kenya and Northern Tanzania (Field guide edition). Christopher Helm, London
Acknowledgments
We are grateful to Ralph Jaetzold and Berthold Hornetz (Trier, Germany) for providing the valuable data-sets of the FMHB. We thank one anonymous referees for critical comments on a draft version of this contribution.
Additional information
Communicated by David Hawksworth.
Electronic supplementary material
Below is the link to the electronic supplementary material.
About this article
Cite this article
Habel, J.C., Teucher, M., Mulwa, R.K. et al. Nature conservation at the edge. Biodivers Conserv 25, 791–799 (2016). https://doi.org/10.1007/s10531-016-1073-2
Received:

Accepted:

Published:

Issue Date:
Keywords
Agro-ecological zone

Biodiversity

Evidence-based conservation

Human population

Nature reserve

Prioritization