Abstract
Migration monitoring may allow us to detect population trends over large geographic areas because the pattern of change in migrant counts may be expected to follow the pattern of change in population size. We analysed recent regional European population trends of migratory soaring birds from rates of change in migration counts over the Strait of Gibraltar (Spain) during the years (1999–2013). An additional bottleneck (Organbidexka, France) within the same migratory route and period was also considered. We estimated count trends by fitting a log-generalized linear model to the time series of each species counts. The counts in Organbidexka were used to test the consistency in the observed trends over the Strait of Gibraltar. Migration counts of White and Black Storks, Black Kites, Short-toed and Booted Eagles as well as Egyptian Vultures showed a linear increase over the Strait of Gibraltar throughout the 15-year period. In contrast, Honey Buzzard numbers remained stable. Trends were highly consistent with those recorded in Organbidexka. We suggest that the larger slopes for the trends in Organbidexka when compared with the Strait reflect an increasing tendency in these species to overwinter in southern Europe. A combination of complementary data sets collected at different bottleneck sites within the European–African flyway system may become a fundamental tool for the investigation of migratory patterns and population trends and changes of soaring migrant birds all over Europe.
Access options
Buy single article
Instant access to the full article PDF.
USD 39.95
Price excludes VAT (USA)
Tax calculation will be finalised during checkout.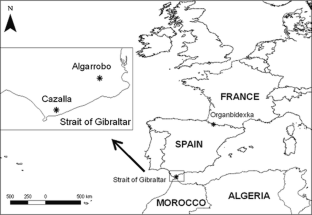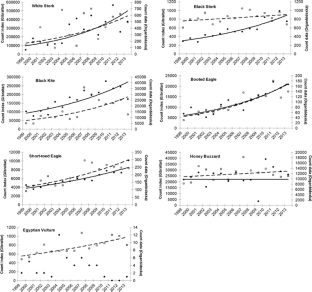 References
Akaike H (1973) Information theory and an extension of the maximum likelihood principle. In: Petrov B, Caski F (eds) Proceedings of the Second international symposium on information theory. Akademiai Kiado, Budapest, pp 267–281

Allen P, Goodrich LJ, Bildstein KL (1996) Within- and among- year effects of cold fronts on migrating raptors at Hawk Mountain, Pennsylvania, 1934–1991. Auk 113:329–338

Araújo MB, Thuiller W, Pearson RG (2006) Climate warming and the decline of amphibians and reptiles in Europe. J Biogeogr 33:1712–1728. doi:10.1111/j.1365-2699.2006.01482.x

Bednarz J, Klem JD, Goodrich I, Senner S (1990) Migration counts of raptors at Hawk Mountain, Pennsylvania, as indicators of population trends, 1934–1986. Auk 107:96–109

Bensusan KJ, Garcia EFJ, Cortes JE (2007) Trends in abundance of migrating raptors at gibraltar in spring. Ardea 95:83–90. doi:10.5253/078.095.0109

Bernis F (1980) La Migración de las aves en el Estrecho de Gibraltar (Época Posnupcial), vol 1. Universidad Complutense, Madrid, Aves Planeadoras

Berthold P (2001) Bird migration. A general survey, 2nd edn. Oxford University Press, Oxford

Bijlsma R (1987) Bottleneck areas for migratory birds in the Mediterranean region. ICBP Technical publication, Cambridge

Bildstein KL (2007) Migrating raptors of the world. Their ecology and conservation. Cornell University Press, Ithaca

Bildstein KL, Smith JP, Yosef R (2007) Migration counts and monitoring. In: Bird D, Bildstein KL (eds) Raptor research and management techniques. Hancock House Publishers, Surrey, pp 101–115

BirdLife International (2004) Birds in Europe, population estimates, trends and conservation status. BirdLife International, Wageningen

Blanco B (1994) Seasonal abundance of Black Kites associated with the rubbish dump of Madrid, Spain. J Raptor Res 28:242–245

Both C, Visser ME (2001) Adjustment to climatic change is constrained by arrival date in a long-distance migratory bird. Nature 411:296–298

Both C, Bouwhuis S, Lessells CM et al (2006) Climate change and population declines in a long-distance migratory bird. Nature 441:81–83

Box GEP, Jenkins GM, Reinsel GC (2008) Time series analysis: forecasting and control, 4th edn. John Wiley & Sons, Upper Saddle River

Burnham KP, Anderson DR (2002) Model selection and multimodel inference: a practical information-theoretic approach. Springer, New York

Cano LS, Pacheco C, Refoyo P, Tellería JL (2014) Geographical and environmental factors affecting the distribution of wintering black storks Ciconia nigra in the Iberian Peninsula. J Avian Biol 45:514–521. doi:10.1111/jav.00391

De la Cruz A, Onrubia A, Pérez B et al (2011) Seguimiento de la migración de las aves en el estrecho de Gibraltar: resultados del Programa Migres 2009. Migr Revis Ecol 2:65–78

Dunn EH (2005) Counting migrants to monitor bird populations: state of the art. In: Ralph C, Rich T (eds) Proceedings of the third international partners in flight conference. Albany, CA, pp 712–717

Dunn EH, Hussell DJT (1995) Using migration counts to monitor landbird populations: review and evaluation of current status. Curr Ornithol 12:43–88

Dunn EH, Hussell DJT (2009) Steps for basic analysis of daily migration counts, using multiple regression. Version 2009. http://www.oiseauxcanada.org/download/CMMNmigrationanalysisguide.pdf Accessed 30 April 2014

Farmer CJ, Hussell DJT (2008) The raptor population index in practice. In: Bildstein KL, Smith JP, Ruelas E et al (eds) State of North America birds of prey., Union Series in Ornighology no 3 Nuttall Ornithological Club and American Ornithologists, Cambridge, pp 165–178

Farmer CJ, Hussell DJT, Mizrahi D (2007) Detecting population trends in migratory birds of prey. Auk 124:1047–1062

Farmer C, Safi K, Barber D et al (2010) Efficacy of migration counts for monitoring continental populations of raptors: an example using the osprey (Pandion haliaetus). Auk 127:863–870

Ferguson-Lees IJ (1963) Changes in the status of birds of prey in Europe. Br Birds 56:140–148

Fernández-Cruz M (2005) La migración otoñal de la cigüeña blanca (Ciconia Ciconia) por el estrecho de gibraltar. In: Molina B, Del Moral JC (eds) La cigüeña blanca en españa, VI censo internacional (2004). SEO/BirdLife, Madrid, pp 162–201

Ferrer M (2012) Birds and power lines. From conflict to solution. Endesa and Fundación MIGRES, Sevilla

Filippi-Codaccioni O, Moussus J-P, Urcun J-P, Jiguet F (2010) Advanced departure dates in long-distance migratory raptors. J Ornithol 151:687–694. doi:10.1007/s10336-010-0500-5

Finlayson JC (1992) Birds of the strait of Gibraltar. Academic Press (T & A D Poyser), London

Finlayson JC, Garcia EFJ, Mosquera MA, Bourne WRP (1976) Raptor migration across the Strait of Gibraltar. Br Birds 69:77–87

Francis C, Hussell DJT (1998) Changes in numbers of land birds counted in migration at Long Point Bird Observatory, 1961–1997. Bird Popul 4:37–66

Fuller M, Mosher J (1981) Methods of detecting and counting raptors: a review. Estimating numbers of terrestrial birds. Stud Avian Biol 6:235–246

Fuller M, Mosher J (1987) Raptor survey techniques. Raptor management techniques manual. In: Giron Pendleton B, Millsap K, Bird D (eds) Raptor management Techniques Manual. National Wildlife Federation, Washington, pp 37–65

Gordo O, Sanz JJ (2006) Climate change and bird phenology: a long-term study in the Iberian Peninsula. Glob Chang Biol 12:1993–2004. doi:10.1111/j.1365-2486.2006.01178.x

Gordon AF, Negrete-Yankelevich S, Sosa VJ (2015) Ecological statistics. Contemprorary theory and application. Oxford University Press, New York

Hoffman S, Smith JP (2003) Population trends of migratory raptors in western North America, 1977–2001. Condor 105:397–419

Huntley B, Green R, Collingham Y, Willis S (2007) A climatic atlas of European breeding birds. Durham University, The RSPB and Lynx Edicions, Barcelona

Hussell DJT, Ruelas Inzunza E (2008) Long-term monitoring: the raptor population index in principle. In: Bildstein KL, Smith JP, Ruelas E et al (eds) State of North America birds of prey., Union Series in Ornighology no 3Nuttall Ornithological Club and American Ornithologists, Cambridge, pp 151–163

Janss G, Ferrer M (1999) Mitigation of raptor electrocution on steel power poles. Wildl Soc Bull 27:263–273

Kabouche B (2004) Milan noir-Milvus migrans. In: Thiollay J, Bretagnolle V (eds.). Rapaces nicheurs de France. Distribution, effectifs et conservation. Delachaux et Niestlé, pp 40–43

Lewis SA, Gould W (2000) Survey effort effects on power to detect trends in raptor migration counts. Wildl Soc Bull 18:317–329

Link WA, Sauer JR (1997) Estimation of population trajectories from count data. Biometrics 53:488–497

Link WA, Sauer JR (1998) Estimating relative abundance from count data. Austrian J Stat 27:83–97

Máñez M, Tortosa F, Barcell M, Garrido H (1994) La invernada de la Cigüeña Blanca en el suroeste de España. Quercus 105:10–12

Marchamalo J (1995) La invernada de la Cigüeña Blanca en España. In: Biber O, Enggist P, Martí C, Salathé T (eds) Proceedings of the international symposium on the white stork (Western Population) Basel 1994. Sempach, pp 77–78

Marchamalo J (2002) Cigüeña Blanca (Ciconia ciconia). In: Del Moral JC, Molina B, De la Puente J, Pérez-Tris J (eds) Atlas de las aves invernantes de Madrid 1999–2001. SEO-Monticola y Comunidad de Madrid, Madrid, pp 84–85

Martín B, Ferrer M (2013) Assessing biodiversity distribution using diurnal raptors in Andalusia, southern Spain. Ardeola 60:15–28

Martín B, Onrubia A, Ferrer M (2014) Effects of climate change on the migration behavior of the common Buzzard (Buteo buteo). Clim Res. doi:10.3354/cr01233

McCulloch M, Tucker G, Ballie S (1992) The hunting of migratory birds in Europe: a ringing recovery analysis. Ibis 134:55–65

Miller RG Jr (1997) Beyond ANOVA. Chapman & Hall, London

Molina B, Del Moral JC (eds) (2005) La Cigüeña Blanca en España. VI Censo Internacional (2004). SEO/BirdLife, Madrid

Møller AP, Rubolini D, Lehikoinen E (2008) Populations of migratory bird species that did not show a phenological response to climate change are declining. Proc Natl Acad Sci 105:16195–16200

Newton I (1979) Population ecology of raptors. Poyser, Berkhamsted

Newton I (2008) The migration ecology of birds. Academic Press, London

Palomino D (2012) Milano negro (Milvus migrans). Atlas de las aves en invierno en España 2007–2010

Palomino D, Valls J (2011) Las rapaces forestales en España. Población reproductora en 2009–2010 y método de censo. SEO/BirdLife, Madrid

Pettis JS, Lichtenberg EM, Andree M et al (2013) Crop pollination exposes honey bees to pesticides which alters their susceptibility to the gut pathogen Nosema ceranae. PLoS One 8:e70182. doi:10.1371/journal.pone.0070182

Pinheiro J, Bates D, DebRoy S, et al (2015) (nlme): linear and nonlinear mixed effects models. R package version 3.1-122. http://CRAN.R-project.org/package=nlme

Porter R, Beaman M (1985) A resume of raptor migration in Europe and the Middle East. ICBP Tech Publ 5:237–242

Pough F, Andrews R, Cadle J et al (2001) Herpetology. Patience Hall, Upper Saddle River

Ratcliffe D (1993) The peregrine falcon, 2nd edn. T & AD Poyser, London

Rodríguez-Estrella R, Donázar JA, Hiraldo F (2008) Raptors as indicators of environmental change in the scrub habitat of baja California Sur, Mexico. Conserv Biol 12:921–925. doi:10.1111/j.1523-1739.1998.97044.x

Saino N, Ambrosini R, Rubolini D et al (2010) Climate warming, ecological mismatch at arrival and population decline in migratory birds. Proceedings of the Royal Society B, Biological Sciences. doi:10.1098/rspb.2010.1778

Sanderson FJ, Donald PF, Pain DJ et al (2006) Long-term population declines in Afro-Palearctic migrant birds. Biol Conserv 131:93–105. doi:10.1016/j.biocon.2006.02.008

Sergio F, Marchesi L, Pedrini P et al (2004) Electrocution alters the distribution and density of a top predator, the eagle owl Bubo bubo. J Appl Ecol 41:836–845. doi:10.1111/j.0021-8901.2004.00946.x

Shamoun-Baranes JE, van Loon H, van Gasteren J et al (2006) A comparative analysis of the influence of weather on the flight altitudes of birds. Bull Am Meteorol Soc 87:47–61

Shultz S, Bradbury R, Evans KL et al (2005) Brain size and resource specialization predict long-term population trends in British birds. Proc Biol Sci 272:2305–2311

Smart J, Sim IMW, Etheridge B et al (2010) Illegal killing slows population recovery of a re-introduced raptor of high conservation concern—the Red Kite Milvus milvus. Biol Conserv 143:1278–1286

Stroud DA (2003) The status and legislative protection of birds of prey and their habitats in Europe. In: Thompson D (ed) Birds of prey in a changing environment. Stationery Office, Edingburgh

Sunyer J, Viñuela J (1996) Invernada de rapaces (O. Falconiformes) en españa peninsular e islas baleares. In: Muntaner J, Mayol J (eds) Biología y conservación de las rapaces mediterráneas, 1994. SEO/BirdLife, Madrid, pp 361–370

Titus K, Fuller M (1990) Recent trends in counts of migrating hawks from northeastern North America. J Wildl Manag 54:463–470

Tucker G, McCulloch M, Baillie S (1990) The conservation of migratory birds in the Western Palearctic-Africa flyway. Review on the importance of losses incurred to migratory birds during migration. British Trust for Ornithology, Tring

Vansteelant WMG, Verhelst B, Shamoun-Baranes J et al (2014) Effect of wind, thermal convection, and variation in flight strategies on the daily rhythm and flight paths of migrating raptors at Georgia's Black Sea coast. J Field Ornithol 85:40–55

Verhelst B, Jansen J, Vansteelant W (2011) South West Georgia: an important bottleneck for raptor migration during autumn. Ardea 99:137–146

Visser ME, Perdeck AC, Van Balen JH, Both C (2009) Climate change leads to decreasing bird migration distances. Glob Change Biol 15:1859–1865. doi:10.1111/j.1365-2486.2009.01865.x

Viverette C, Struve S, Goodrich L, Bildstein KL (1996) Decreases in migrating sharp-shinned hawks (Accipiter striatus) at traditional raptor- migration watch sites in eastern North America. Auk 113:32–40

Vrezec A, Duke G, Kovács A et al (2013) Overview of raptor monitoring activities in Europe. Acrocephalus 33:145–157

Zalles J, Bildstein K (2000) Raptor watch: a global directory of raptor migration sites. BirdLife International & Hawk Mountain Sactuary, Cambridge & Kempton
Acknowledgments
We are grateful to the thousands of people (volunteers and staff) who collected the information presented in this study and to the Board of the Migres Foundation. The data counts from the Strait of Gibraltar analyzed in the study were collected in field monitoring campaigns 1999/2012 funded by grants of the Consejeria de Medio Ambiente of the Junta de Andalucía (Spain). We would like to thank Andrew Paterson for his revision of the language of the manuscript. We would also like to thank the editor and two anonymous referees for providing us with comments and suggestions which helped to improve the manuscript.
Additional information
Communicated by Grzegorz Mikusinski.
About this article
Cite this article
Martín, B., Onrubia, A., de la Cruz, A. et al. Trends of autumn counts at Iberian migration bottlenecks as a tool for monitoring continental populations of soaring birds in Europe. Biodivers Conserv 25, 295–309 (2016). https://doi.org/10.1007/s10531-016-1047-4
Received:

Revised:

Accepted:

Published:

Issue Date:

DOI: https://doi.org/10.1007/s10531-016-1047-4
Keywords
Bottleneck

Global change

Organbidexka

Raptors

Storks

Strait of Gibraltar