Abstract
Conflicts between human needs and nature conservation are exceptionally pronounced along rivers in tropical Kenya, where riparian ecosystems create important retreats for many endangered species, but also provide important ecosystem services for the local human population. This situation has led to a landscape mosaic consisting of dense thickets and agricultural plots. We assessed the occurrence of the Kenyan endemic riparian bird species Hindes´ Babbler Turdoides hindei along three rivers in south-east Kenya. We analysed the landscape coverage within habitat circles of 220 m radius, which are occupied and unoccupied (the latter randomly selected along the rivers) by our targeted bird species. Based on these data we calculated habitat preferences and population structure of T. hindei. Our data reveal that its occurrence probability increased with coverage of thickets. Furthermore, geographic distances among local populations of T. hindei decreased with thicket coverage and vice versa. These data reveal the relevance of thicket coverage as a key factor for the occurrence of T. hindei, influencing its population structure. However, most of the thicket patches mapped along the three rivers are small and geographically isolated from each other. Further deforestation might lead to additional reduction of the population size and abundance of T. hindei, and may ultimately lead to local extinction of this, and other endangered species adapted on riparian thickets. This example underlines the need to extend nature conservation to areas being densely populated by humans—beyond prime areas of nature conservation in East Africa.
Access options
Buy single article
Instant access to the full article PDF.
US$ 39.95
Tax calculation will be finalised during checkout.
Subscribe to journal
Immediate online access to all issues from 2019. Subscription will auto renew annually.
US$ 119
Tax calculation will be finalised during checkout.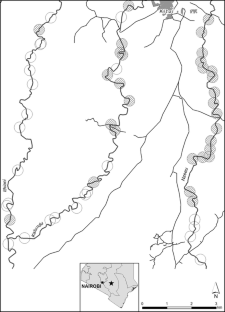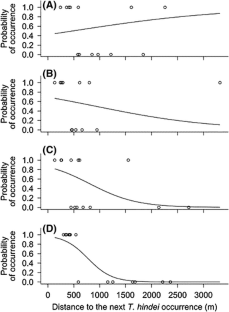 References
Ahrends A, Burgess ND, Neil D, Milledge SAH, Bulling MT, Fisher B, Smart JCR, Clarke GP, Mhoro BE, Lewis SL (2010) Predictable waves of sequential forest degradation and biodiversity loss spreading from an African city. Proc Nat Acad Sci USA 107:14556–14561

Arrived NA, Rao D, Ganeshaiah KN, Uma Shaanker R, Poulsen JG (2010) Impact of the invasive plant, Lantana camara, on bird assemblages at Malé Mahadeshwara Reserve Forest, South India. Trop Ecol 51:325–338

BirdLife International (2012) The IUCN Red list of threatened species. Turdoides hindei. http://www.iucnredlist.org/details/22716480/0. Accessed 16 Dec 2014

Boahene K (1998) The challenge of deforestation in tropical Africa: reflections on its principal causes, consequences and solutions. Land Degrad Dev 9:247–258

Burgess N, Küper W, Mutke J, Brown J, Westaway S, Turpie S, Meshack C, Taplin J, McClean C, Lovett JC (2005) Major gaps in the distribution of protected areas for threatened and narrow range Afrotropical plants. Biodiv Conserv 14:1977–1984

Castellon T, Sieving KE (2006) An experimental test of matrix permeability and corridor use by an endemic understory bird. Conserv Biol 20:135–145

Crome F, Isaacs J, Moore L (1994) The utility to birds and mammals of remnant riparian vegetation and associated windbreaks in the tropical Queensland uplands. Pacific Conserv Biol 1:328–343

Da Silva JMC (1997) Endemic bird species and conservation in the Cerrado Region, South America. Biodivers Conserv 6:435–450

Demos TC, Kerbis Peterhans JC, Agwanda B, Hickerson MJ (2014) Uncovering cryptic diversity and refugial persistence among small mammal lineages across the Eastern Afromontane biodiversity hotspot. Mol Phyl Evol 71:41–54

Enanga EM, Shivoga WA, Maina-Gichaba C, Creed IF (2011) Observing changes in riparian buffer strip soil properties related to land use activities in the River Njoro Watershed, Kenya. Water Air Soil Pollut 218:587–601

Foley JA, Defries R, Asner GP, Barford C, Bonan G, Carpenter SR, Chapin FS, Coe MT, Daily GC, Gibbs HK, Helkowski JH, Holloway T, Howard EA, Kucharik CJ, Monfreda C, Patz JA, Prentice IC, Ramankutty N, Snyder PK (2005) Global consequences of land use. Science 309:570–574

Habel JC, Teucher M, Hornetz B, Jaetzold R, Kimatu JN, Kasili S, Mairura Z, Mulwa RK, Eggermont H, Weisser WW, Lens L (2015) Real-world complexity of food security and biodiversity conservation. Biodivers Conserv 24:1531–1539

Jaetzold R, Schmidt H, Hornetz B, Shisanya C (2007) Farm management handbook of Kenya. Volume II: natural conditions and farm management information. Part C: east Kenya. Subpart C1: eastern province, 2nd edn. Ministry of Agriculture, Nairobi

Kenya Open Data Initiative (2014) Kenya open data. https://www.opendata.go.ke/. Accessed 16 Dec 2014

KNBS (2010) The 2009 Kenya population and housing census. Vol 1B: population distribution by political units. http://www.knbs.or.ke. Accessed 11 Jan 2015

Lees AC, Peres CA (2008) Conservation value of remnant riparian forest corridors of varying quality for Amazonian birds and mammals. Conserv Biol 22:439–449

Martin TG, McIntyre S, Catterall CP, Possingham HP (2006) Is landscape context important for riparian conservation? Birds in grassy woodland. Biol Conserv 127:201–214

Njoroge P, Bennun LA (2000) Status and conservation of Hinde's Babbler Turdoides hindei, a threatened species in an agricultural landscape. Ostrich 71:69–72

Njoroge P, Bennun LA, Lens L (1998) Habitat use by the globally endangered Hinde's Babbler Turdoides hindei and its sympatric relative, the Northern Pied Babbler T. hypoleucus. Bird Conserv Int 8:59–65

Orwa C, Mutua A, Kindt R, Jamnadass R, Anthony S (2009) Agroforestree Database: a tree reference and selection guide version 4.0. http://www.worldagroforestry.org/sites/treedbs/treedatabases.asp

Pfeifer M, Burgess ND, Swetnam RD, Platts PJ, Willcock S, Marchant R (2012) Protected areas: mixed success in conserving East Africa's evergreen forests. PLoS One 7:6

R Core Team R (2013) A language and environment for statistical computing. Version 3.0.2. R Foundation for Statistical Computing, Vienna. http://www.R-project.org/

Robinson SK, Thompson FR, Donovan TM, Whitehead DR, Faaborg J (1995) Regional forest fragmentation and the nesting success of migratory birds. Science 267:1987–1990

Shaw P, Musina J (2003) Correlates of abundance and breeding success in the globally threatened Hinde's Babbler (Turdoides hindei) and its congener, Northern Pied Babbler (T. hypoleucus). Biol Conserv 114:281–288

Shaw P, Njoroge P, Otieno V, Mlamba E (2013) Detecting change in the status and habitat of Hinde's Babbler Turdoides hindei. 2000–2011. Ibis 155:428–429

Shaw P, Njoroge P, Otieno V, Mlamba E (2014) The range, abundance and habitat of Hinde´s babbler Turdoides hindei: fine-scale changes in abundance during 2000–2011 reflect temporal variation in scrub cover. Bird Conserv Int 24:453–456

QGIS Development Team (2014) QGIS geographic information system. Open Source Geospatial Foundation Project. http://qgis.osgeo.org

Teucher M, Fischer C, Busch C, Horn M, Igl J, Kerner J, Müller A, Mulwa KR, Habel CJ (2015) A Kenyan endemic bird species Turdoides hindei at home in invasive thickets. Basic Appl Ecol 16:180–188

Zimmerman DA, Turner DA, Pearson DJ (2005) Birds of Kenya and northern Tanzania, Revised edition. Christopher Helm (Helm field guides), London
Acknowledgments
We thank DAAD-Promos Studienreise and the Technical University Munich for financial support to conduct fieldwork, and Martin Husemann (Halle, Germany) for fruitful comments on a draft version of this manuscript.
Additional information
Communicated by Dirk Sven Schmeller.
Electronic supplementary material
Below is the link to the electronic supplementary material.
About this article
Cite this article
Habel, J.C., Teucher, M., Pschonny, S. et al. Beyond prime areas of nature protection in East Africa: conservation ecology of a narrowly distributed Kenyan endemic bird species. Biodivers Conserv 24, 3071–3082 (2015). https://doi.org/10.1007/s10531-015-0998-1
Received:

Revised:

Accepted:

Published:

Issue Date:
Keywords
Effective habitat size

Riparian thicket

Habitat fragmentation

Invasive Lantana camara

Potential habitat size

Turdoides hindei