Abstract
The structure of the Atlantic Forest (AF) has been studied for almost 70 years. However, the related existing knowledge is spread over hundreds of documents, many of them unpublished and/or difficult to access. Synthesis initiatives are available, but they are restricted to only a few parts or types of the AF or are focused on species occurrence. Here, we conducted an extensive review to compile quantitative tree community surveys on all types of the AF until 2013 and to study where and how these surveys were conducted. We found 1157 relevant references, containing 2441 forest surveys published since 1945. These surveys corresponded to 2.24 million trees and 1817 ha of forests sampled. This total sampled area represents only 0.01 % of the AF remnants, showing how limited our knowledge is on AF structure. For Paraguay and the Brazilian states of Bahia and Mato Grosso do Sul this proportion was much smaller. The same was true for evergreen rainforests, Brejos de altitude and deciduous forests and most probably for the rare cloud, swamp, Caxetal and Mussununga forests for which no accurate remnant estimates were found. Since the 1980s, the amount of AF area sampled each year has increased continuously, but approximately 100 years will be necessary to sample at least 1 % of the AF. Thus, we urgently need an enormous amount of high-quality quantitative data to overcome our limited knowledge of the AF and to support conservation programs aiming to safeguard this threatened biodiversity hotspot.
Access options
Buy single article
Instant access to the full article PDF.
US$ 39.95
Tax calculation will be finalised during checkout.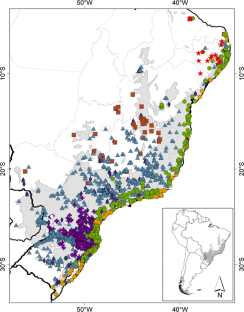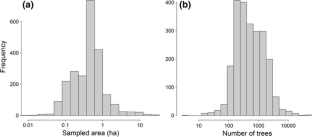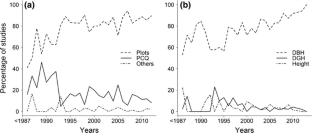 References
Burnham KP, Anderson DR (2002) Model selection and multimodel inference: a practical information-theoretic approach, 2nd edn. Springer, New York

Caiafa AN, Martins FR (2007) Taxonomic identification, sampling methods, and minimum size of the tree sampled: implications and perspectives for studies in the Brazilian atlantic rainforest. Funct Ecosyst Communities 1:95–104

Cain SA, Castro GMO, Pires JM, Silva NT (1956) Application of some phytosociological techniques to Brazilian rain forest. Am J Bot 43:911–941

Campos JCC, Heinsdijk D (1970) A floresta do Morro do Diabo. Silv São Paulo 7:43–58

Colwell RK et al (2012) Models and estimators linking individual-based and sample-based rarefaction, extrapolation, and comparison of assemblages. J Plant Ecol 5:3–21

Corona P, Chirici G, McRoberts RE, Winter S, Barbati A (2011) Contribution of large-scale forest inventories to biodiversity assessment and monitoring. For Ecol Manag 262:2061–2069

Cruz CBM, Vicens RS (2007) Levantamento da cobertura vegetal nativa do bioma Mata Atlântica IESB/UFRJ/UFF, PROBIO/Ministério do Meio Ambiente, Rio de Janeiro. Technical Report. http://www.mma.gov.br/biomas/mata-atlantica/mapa-de-cobertura-vegetal. Accessed 25 Nov 2014

Cubas R (2011) Florística, estrutura e dinâmica em uma floresta ombrófila mista no norte do estado de Santa Catarina. Dissertation, Universidade Estadual do Centro-Oeste

Davis DE (1945) The annual cycle of plants, mosquitoes, birds, and mammals in two Brazilian forests. Ecol Monogr 15:243–295

Freitas WK, Magalhães LMS (2012) Métodos e parâmetros para estudo da vegetação com ênfase no estrato arbóreo. Floresta Ambient 19:520–540

Giehl ELH, Budke JC (2011) Aplicação do método científico em estudos fitossociológicos no Brasil: em busca de um paradigma. In: Felfili JM, Eisenlohr PV, Melo MMRF, Andrade, LA (orgs) Fitossociologia no Brasil: métodos e estudos de caso. Editora UFV, Viçosa, pp 1–21

Goerck JM (1997) Patterns of rarity in the birds of the Atlantic Forest of Brazil. Conserv Biol 11:112–118

Hargreaves P (2008) Phytosociology in Brazil. J Plant Sci Biotechnol 2:12–20

Jesus RM, Rolim SG (2005) Fitossociologia da Mata Atlântica de Tabuleiro. Bol Téc SIF 19:1–149

Joly CA, Assis MA, Bernacci LC, Tamashiro JY, Campos MCRD, Gomes JAMA, Belinello R (2012) Floristic and phytosociology in permanent plots of the Atlantic Rainforest along an altitudinal gradient in southeastern Brazil. Biota Neotrop 12:125–145

Kim KC, Byrne LB (2006) Biodiversity loss and the taxonomic bottleneck: emerging biodiversity science. Ecol Res 21:794–810

Magnago LFS, Edwards DP, Edwards FA, Magrach A, Martins SV, Laurance WF (2014) Functional attributes change but functional richness is unchanged after fragmentation of Brazilian Atlantic forests. J Ecol 102:475–485

Martins FR (1979) O método de quadrantes e a fitossociologia de uma floresta residual do interior do estado de São Paulo. Thesis, Universidade de São Paulo

Martins FR (1989) Fitossociologia de florestas do Brasil: um histórico bibliográfico. Pesquisas 40:103–164

MEA—Millennium Ecosystem Assessment (2005) Ecosystems and human well-being: biodiversity synthesis. World Resources Institute, Washington, DC

Meireles LD, Shepherd GJ (2015) Structure and floristic similarities of upper montane forests in Serra Fina mountain range, southeastern Brazil. Acta Bot Bras 29:58–72

Morris WF, Doak DF (2002) Quantitative conservation biology: theory and practice of population viability analysis. Sinauer Associates, Sunderland

Myers N, Mittermeier RA, Mittermeier CG, Fonseca GAB, Kent J (2000) Biodiversity hotspots for conservation priorities. Nature 403:853–858

Oliveira AA, Vicentini A, Chave J, Castanho CT, Davies SJ, Martini AMZ, Lima RAF, Rodrigues RR, Iribar A, Souza VC (2014) Habitat specialization and phylogenetic structure of tree species in a coastal Brazilian white-sand forest. J Plant Ecol 7:134–144

Oliveira-Filho AT, Fontes MAL (2000) Patterns of floristic differentiation among Atlantic Forests in southeastern Brazil and the influence of climate. Biotropica 32:793–810

Pinheiro J, Bates D (2000) Mixed-effects models in S and S-PLUS. Springer, New York

Plací G, Di Bitetti M (2006) Situación ambiental en la ecorregión del bosque Atlántico del alto Paraná (Selva Paranaense). In: Martinez OU, Acerbi M, Corcuera J (eds) La situación ambiental argentina 2005. Fundación Vida Silvestre Argentina, Buenos Aires, pp 197–210

Pullin AS, Stewart GB (2006) Guidelines for systematic review in conservation and environmental management. Conserv Biol 20:1647–1656

R Core Team (2014) R: a language and environment for statistical computing. R Foundation for Statistical Computing, Vienna. http://www.R-project.org/. Accessed 30 July 2014

Ribeiro MC, Metzger JP, Martensen AC, Ponzoni FJ, Hirota MM (2009) The Brazilian Atlantic Forest: how much is left, and how is the remaining forest distributed? Implications for conservation. Biol Conserv 142:1141–1153

Rode R, Figueiredo-Filho A, Machado SDA, Galvão F (2011) Floristic groups and discriminant species in stands with Araucaria angustifolia and a mixed ombrophilous forest. Rev Árvore 35:319–327

Rodrigues RR (2005) Parcelas Permanentes em 40 ha de florestas do Estado de São Paulo: uma experiência interdisciplinar. ESALQ/USP, Piracicaba. http://www.lerf.esalq.usp.br/parrel2005.php. Accessed 20 May 2013

Scolforo JR, Mello JM, Silva CPC (2008) Inventário Florestal de Minas Gerais. UFLA, Lavras. http://www.inventarioflorestal.mg.gov.br Accessed 10 Nov 2013

Scudeller VV, Martins FR (2003) FITOGEO—Um banco de dados aplicado à fitogeografia. Acta Amaz 33:9–21

Soberón J, Peterson AT (2004) Biodiversity informatics: managing and applying primary biodiversity data. Philos Trans R Soc Lond B 359:689–698

SOS Mata Atlântica, INPE (2014) Atlas dos remanescentes florestais da Mata Atlântica: período 2012-2013. Technical Report. http://www.sosmatatlantica.org.br. Accessed 25 Nov 2014

Tavares S, Paiva FAF, Carvalho GH, Tavares EJS (1971) Inventário florestal em Alagoas: contribuição para determinação do potencial madeireiro dos municípios de São Miguel dos Campos, Chão de Pilar, Colônia de Leopoldina e União dos Palmares. Bol Recur Nat SUDENE 9:123–231

ter Steege H (1998) The use of forest inventory data for a National Protected Area Strategy in Guyana. Biodivers Conserv 7:1457–1483

ter Steege H et al (2013) Hyperdominance in the Amazonian tree flora. Science 342:1243092

Thiollay JM (2002) Bird diversity and selection of protected areas in a large neotropical forest tract. Biodivers Conserv 11:1377–1395

Thomas WW, Carvalho AMV, Amorim AM, Garrison J, Arbeláez AL (1998) Plant endemism in two forests in southern Bahia, Brazil. Biodivers Conserv 7:311–322

Veloso HP (1945) As comunidades e estações botânicas de Teresópolis, Estado do Rio de Janeiro (com um ensaio de chave dendrológica). Bol Mus Nac 3:1–95

Veloso HP (1946) A vegetação do município de Ilhéus, Estado da Bahia, I—Estudo sinecológico das áreas de pesquisas sobre a febre amarela silvestre realizado pelo SEPFA. Mem Inst Oswaldo Cruz 44:13–103

Veloso HP (1992) Manual técnico da vegetação brasileira. IBGE, Rio de Janeiro

Veloso HP, Klein RM (1957) As comunidades e associações vegetais da mata pluvial do sul do Brasil I. As comunidades do município de Brusque, Estado de Santa Catarina. Sellowia 8:81–235

Veloso HP, Klein RM (1968) As comunidades e associações vegetais da mata pluvial do sul do Brasil VI. Agrupamentos arbóreos dos contra-fortes da Serra Geral situados ao sul da costa catarinense e ao norte da costa sul-riograndense. Sellowia 20:127–180

Vibrans AC, Sevgnani L, Gasper AL, Lingner DV (2013) Inventário florístico florestal de Santa Catarina (IFFSC). Edifurb, Blumenau. http://www.iff.sc.gov.br. Accessed 10 Nov 2013
Acknowledgments
Special thanks to Ary T. Oliveira-Filho for providing the digital version of the TreeAtlan list of references and to Bruno T. Walter for providing information on several other studies. We are also grateful to Ricardo R. Rodrigues, João L.F. Batista, Jefferson L. Polizel and André Amorim for providing their published and unpublished datasets in digital form. This study was supported by the grant 2013/08722-5, São Paulo Research Foundation (FAPESP) provided to the first author. Carolina Bello and Luiz F.S. Magnago were supported by the grant 2013/22492-2 (FAPESP) and by Floresta-Escola project, respectively.
Additional information
Communicated by Jefferson Prado, Pedro V. Eisenlohr and Ary T. de Oliveira-Filho.
Electronic supplementary material
Below is the link to the electronic supplementary material.
About this article
Cite this article
de Lima, R.A.F., Mori, D.P., Pitta, G. et al. How much do we know about the endangered Atlantic Forest? Reviewing nearly 70 years of information on tree community surveys. Biodivers Conserv 24, 2135–2148 (2015). https://doi.org/10.1007/s10531-015-0953-1
Received:

Revised:

Accepted:

Published:

Issue Date:
Keywords
Forest inventories

Mata Atlântica

Phytosociology

Sampling methods

Tropical forest