Abstract
Roads are an increasingly common feature of forest landscapes all over the world, and while information accumulates regarding the impacts of roads globally, there remains a paucity of information within tropical regions. Here we investigate the potential for biodiversity impacts from an unmarked road within a rainforest protected area in Western Amazonia. We focus on three key taxonomic groups; amphibians, butterflies and birds, each of which have been shown to be both sensitive and reliable indicators of forest disturbance. In total, 315 amphibians of 26 different species, 348 butterflies of 65 different species, 645 birds representing 77 different species were captured using mist netting and 877 bird records representing 79 different species were recorded using point counts. We provide evidence to show that the presence of a small unmarked road significantly altered levels of faunal species richness, diversity, relative abundance and community structure. This was true to a varying degree for all three taxa, up to and potentially beyond 350 m into the forest interior. Responses to the road were shown to be taxon specific. We found increasing proximity to the road had a negative effect on amphibian and understorey bird communities, whilst butterfly and overall diurnal bird communities responded positively. We show that the impact on biodiversity extends up to at least 32 % of the whole reserve area; a serious impact under any scenario. This work provides support for recently voiced calls to limit networks of unmarked roads in order to realistically and effectively preserve natural levels of tropical biodiversity.
This is a preview of subscription content, log in to check access.
Access options
Buy single article
Instant access to the full article PDF.
US$ 39.95
Price includes VAT for USA
Subscribe to journal
Immediate online access to all issues from 2019. Subscription will auto renew annually.
US$ 199
This is the net price. Taxes to be calculated in checkout.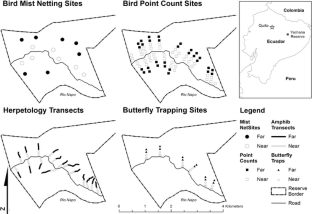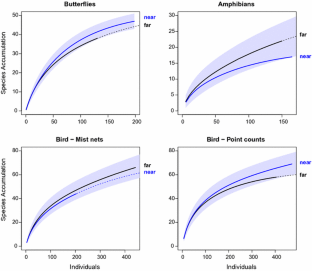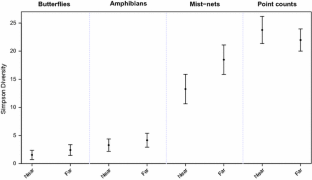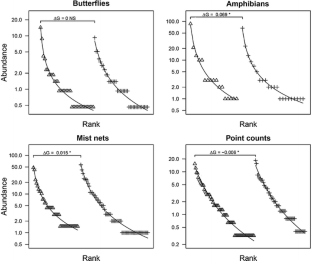 References
Ahmed SE, Souza CM Jr, Riberio J, Ewers RM (2013) Temporal patterns of road network development in the Brazilian Amazon. Reg Environ Change 13(5):927–937

Anand MO, Krishnaswamy J, Kumar A, Bali A (2010) Sustaining biodiversity conservation in human-modified landscapes in the Western Ghats: remnant forests matter. Biol Conserv 143(10):2363–2374

Banks-Leite C, Ewers RM, Metzger JP (2010) Edge effects as the principal cause of area effects on birds in fragmented secondary forest. Oikos 119(6):918–926

Barber CP, Cochrane MA, Souza CM Jr, Laurance WF (2014) Roads, deforestation, and the mitigating effect of protected areas in the Amazon. Biol Conserv 177:203–209

Barlow J, Mestre LA, Gardner TA, Peres CA (2007) The value of primary, secondary and plantation forests for Amazonian birds. Biol Conserv 136(2):212–231

Beirne C, Burdekin O, Whitworth A (2013) Herpetofaunal responses to anthropogenic habitat change within a small forest reserve in Eastern Ecuador. Herpetol J 23(4):209–219

Billeter R, Liira J, Bailey D, Bugter R, Arens P, Augenstein I, Edwards PJ (2008) Indicators for biodiversity in agricultural landscapes: a pan-European study. J Appl Ecol 45(1):141–150

Bissonette JA, Rosa SA (2009) Road zone effects in small-mammal communities. Ecol Soc 14(1):27

Brandão AO Jr, Souza CM Jr (2006) Mapping unofficial roads with Landsat images: a new tool to improve the monitoring of the Brazilian Amazon rainforest. Int J Remote Sens 27(1):177–189

Burivalova Z, Sekercioglu C, Koh LP (2014) Thresholds of logging intensity to maintain tropical forest biodiversity. Curr Biol 24:1–6

Camargo JLC, Kapos V (1995) Complex edge effects on soil moisture and microclimate in central Amazonian forest. J Trop Ecol 11:205–211

Caro T, Dobson A, Marshall AJ, Peres CA (2014) Compromise solutions between conservation and road building in the tropics. Curr Biol 24(16):R722–R725

Coffin AW (2007) From roadkill to road ecology: a review of the ecological effects of roads. J Transp Geogr 15(5):396–406

Colwell RK (2006) Estimate S: statistical estimation of species richness and shared species from samples. Version 9 and earlier. User's Guide and application. http://viceroy.eeb.uconn.edu/estimates. Accessed 9 Sept 2013

Cortés-Gómez AM, Castro-Herrera F, Urbina-Cardona JN (2013) Small changes in vegetation structure create great changes in amphibian ensembles in the Colombian Pacific rainforest. Trop Conserv Sci 6(6):749–769

Dent DH, Wright JS (2009) The future of tropical species in secondary forests: a quantitative review. Biol Conserv 142(12):2833–2843

Dunn RR (2004) Recovery of faunal communities during tropical forest regeneration. Conserv Biol 18(2):302–309

Eglington SM, Noble DG, Fuller RJ (2012) A meta-analysis of spatial relationships in species richness across taxa: birds as indicators of wider biodiversity in temperate regions. J Nat Conserv 20(5):301–309

Fermon H, Waltert M, Vane-Wright RI, Mühlenberg M (2005) Forest use and vertical stratification in fruit-feeding butterflies of Sulawesi, Indonesia: impacts for conservation. Biodivers Conserv 14(2):333–350

Findlay CS, Bourdages J (2000) Response time of wetland biodiversity to road construction on adjacent lands. Conserv Biol 14(1):86–94

Finer M, Jenkins CN, Pimm SL, Keane B, Ross C (2008) Oil and gas projects in the western Amazon: threats to wilderness, biodiversity, and indigenous peoples. PLoS ONE 3(8):e2932

Forman RT, Deblinger RD (2000) The ecological road-effect zone of a Massachusetts (USA) suburban highway. Conserv Biol 14(1):36–46

Fraser B (2014) Carving up the Amazon. Nature 509:418–419

Gardner TA, Hernández MIM, Barlow J, Peres CA (2008) Understanding the biodiversity consequences of habitat change: the value of secondary and plantation forests for neotropical dung beetles. J Appl Ecol 45:883–893

Goosem M (2007) Fragmentation impacts caused by roads through rainforests. Curr Sci 93(11):1587–1595

Hahn MB, Gangnon RE, Barcellos C, Asner GP, Patz JA (2014) Influence of deforestation, logging, and fire on malaria in the Brazilian Amazon. PLoS ONE 9(1):e85725

Hamer KC, Hill JK, Benedick S, Mustaffa N, Sherratti TN, Maryati M, Chey VK (2003) Ecology of butterflies in natural and selectively logged forests of northern Borneo: the importance of habitat heterogeneity. J Appl Ecol 40:150–162

Herzog SK, Kessler M, Cahill TM (2002) Estimating species richness of tropical bird communities from rapid assessment data. Auk 119(3):749–769

Hill JK, Hamer KC, Tangah J, Dawood M (2001) Ecology of tropical butterflies in rainforest gaps. Oecologia 128(2):294–302

Hopkins WA (2007) Amphibians as models for studying environmental change. ILAR J 48(3):270–277

Hughes JB, Daily GC, Ehrlich PR (2002) Conservation of tropical forest birds in countryside habitats. Ecol Lett 5(1):121–129

Hulme PE (2009) Trade, transport and trouble: managing invasive species pathways in an era of globalization. J Appl Ecol 46:10–18

Lande R, DeVries PJ, Walla TR (2000) When species accumulation curves intersect: implications for ranking diversity using small samples. Oikos 89(3):601–605

Laurance SG (2004) Responses of understory rain forest birds to road edges in Central Amazonia. Ecol Appl 14(5):1344–1357

Laurance WF, Balmford A (2013) Land use: a global map for road building. Nature 495(7441):308–309

Laurance WF, Goosem M, Laurance SG (2009) Impacts of roads and linear clearings on tropical forests. Trends Ecol Evol 24(12):659–669

Laurance WF, Koster H, Grooten M, Anderson AB, Zuidema PA, Zwick S, Anten NP (2012) Making conservation research more relevant for conservation practitioners. Biol Conserv 153:164–168

Laurance WF, Clements GR, Sloan S, O'Connell CS, Mueller ND, Goosem M, Arrea IB (2014a) A global strategy for road building. Nature 513:229–232

Laurance WF, Sayer J, Cassman KG (2014b) Agricultural expansion and its impacts on tropical nature. Trends Ecol Evol 29(2):107–116

Lawton JH, Bignell DE, Bolton B, Bloemers GF, Eggleton P, Hammond PM, Watt AD (1998) Biodiversity inventories, indicator taxa and effects of habitat modification in tropical forest. Nature 391(6662):72–76

Lewis OT (2001) Effect of experimental selective logging on tropical butterflies. Conserv Biol 15(2):389–400

Lindell CA, Riffell SK, Kaiser SA, Battin AL, Smith ML, Sisk TD (2007) Edge responses of tropical and temperate birds. Wilson J Ornithol 119(2):205–220

Mäki S, Kalliola R, Vuorinen K (2001) Road construction in the Peruvian Amazon: process, causes and consequences. Environ Conserv 28(03):199–214

Oksanen J, Blanchet G, Kindt R, Minchin PR, Legendre P, O'Hara B, Simpson GL, Solymos P, Stevens MHH, Wagner H (2011) Vegan: community ecology package. R package Version 2.0-2. http://cran.r-project.org/. Accessed 9 Sept 2013

Oliveira PJ, Asner GP, Knapp DE, Almeyda A, Galván-Gildemeister R, Keene S, Smith RC (2007) Land-use allocation protects the Peruvian Amazon. Science 317(5842):1233–1236

Pocock Z, Lawrence RE (2005) How far into a forest does the effect of a road extend? Defining road edge effect in eucalypt forests of South-Eastern Australia. In: Irwin CL, Garrett P, McDermott KP (eds) Proceedings of the 2005 international conference on ecology and transportation. Center for Transportation and the Environment, North Carolina State University, Raleigh, pp 397–405

R Core Team (2012) R: a language and environment for statistical computing. R Foundation for Statistical Computing, Vienna. http://www.R-project.org/.  Accessed 9 Sept 2013

Ramesh T, Hussain KJ, Selvanayagam M, Satpathy KK, Prasad MVR (2010) Patterns of diversity, abundance and habitat associations of butterfly communities in heterogeneous landscapes of the Department of Atomic Energy (DAE) Campus at Kalpakkam, South India. Int J Biodivers Conserv 2(4):75–85

Rossi JP (2011) rich: an R package to analyse species richness. Diversity 3(1):112–120

Schlaepfer MA, Gavin TA (2001) Edge effects on lizards and frogs in tropical forest fragments. Conserv Biol 15(4):1079–1090

Schulze CH, Waltert M, Kessler PJA, Pitopang R, Veddeler D, Mühlenberg M, Gradstein SR, Leuschner C, Steffan-Dewenter I, Tscharntke T (2004) Biodiversity indicator taxa of tropical land-use systems, comparing plants, birds, and insects. Ecol Appl 14(5):1321–1332

Stork NE, Coddington JA, Colwell RK, Chazdon RL, Dick CW, Peres CA, Willis K (2009) Vulnerability and resilience of tropical forest species to land-use change. Conserv Biol 23(6):1438–1447

Suárez E, Zapata-Ríos G, Utreras V, Strindberg S, Vargas J (2013) Controlling access to oil roads protects forest cover, but not wildlife communities: a case study from the rainforest of Yasuní Biosphere Reserve (Ecuador). Anim Conserv 16(3):265–274

Taylor BD, Goldingay RL (2010) Roads and wildlife: impacts, mitigation and implications for wildlife management in Australia. Wildl Res 37(4):320–331

Veith M, Lötters S, Andreone F, Rödel MO (2004) Measuring and monitoring amphibian diversity in tropical forests. II. Estimating species richness from standardized transect censing. Ecotropica 10(2):85–99

Willott SJ, Lim DC, Compton SG, Sutton SL (2000) Effects of selective logging on the butterflies of a Bornean rainforest. Conserv Biol 14:1055–1065
Acknowledgments
Without the hard work and dedication of Global Vision International (GVI) staff members, volunteers and local partners on the GVI Amazon Expedition, this research would not have been possible. Many thanks to K. Berg and B. Clarke for letting their staff members dedicate time to the project. Other staff members significantly involved include: I. Varela, J. Sinasac, J. V. Ortega, T. Topper, P. Torres, C. Coupland, I. Moody, B. Horton-Hunter, A. Fowler and P. Silvera. Many thanks go to the Yachana Foundation in providing us with an ideal location to investigate the effects of recent habitat changes and the effects of an unmarked road within the Western Amazon. Special thanks to the Ecuadorian Museum of Natural Sciences (MECN), especially to M. H. Yanez-Muñoz for his advice and identification skills throughout the research. Finally, thanks to the Ministerio del Ambiente, Ecuador, in providing us with the permit to collect specimens during the project for accurate identification of unknown individuals in the field (N° 028-IC-FAU/FLO-DPN/MA). Thanks are also given to both The Crees Foundation (especially director Q. Meyer) and to The University of Glasgow in allowing AW to dedicate time in writing up this research. Finally, thanks to Dr. R. MacLeod and Dr. R. Reeve for their advice on aspects of the analysis.
Additional information
Communicated by Dirk Sven Schmeller.
Electronic supplementary material
Below is the link to the electronic supplementary material.
About this article
Cite this article
Whitworth, A., Beirne, C., Rowe, J. et al. The response of faunal biodiversity to an unmarked road in the Western Amazon. Biodivers Conserv 24, 1657–1670 (2015). https://doi.org/10.1007/s10531-015-0883-y
Received:

Revised:

Accepted:

Published:

Issue Date:
Keywords
Road effects

Amphibians

Birds

Butterflies

Habitat change

Edge effects

Tropical forests

Amazonia