Abstract
Biodiversity and farming are inextricably linked. Naturally occurring biodiversity supports the ecosystem services that are indispensable for agricultural production. Although the intensification of farming during the twentieth century has resulted in increased yields, this has often been at the expense of biodiversity. At present, farm biodiversity conservation efforts are largely confined to voluntary programs. This research project examined the relationship between pro-biodiversity attitudes, participation in a voluntary stewardship program, and engagement in biodiversity-friendly farming activities among farmers in Nova Scotia, Canada. This investigation was completed through a quantitative survey measuring respondents' attitudes toward, knowledge of, and management of biodiversity. Significant links were found between program participation and increased engagement in two out of six biodiversity-friendly activities the program promotes: (1) modified harvest, such as changes to mowing equipment, timing, pattern or height to reduce animal mortality; and (2) riparian management, such as buffers and fencing. Engagement in other practices could not be traced to program participation. Pro-biodiversity attitudes, however, were linked to some of these other activities, but not linked to the increased uptake of riparian management or modified harvest. The instruction given to participants about riparian and harvest activities was much more detailed and site-specific than instructions for the activities that were linked to pro-biodiversity attitude, however. This suggests that the quantity and quality of instruction provided to stewardship program participants may have an impact on their uptake of conservation activities.
Access options
Buy single article
Instant access to the full article PDF.
US$ 39.95
Tax calculation will be finalised during checkout.
Subscribe to journal
Immediate online access to all issues from 2019. Subscription will auto renew annually.
US$ 119
Tax calculation will be finalised during checkout.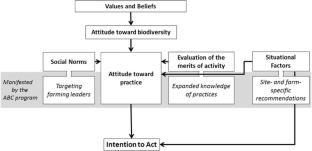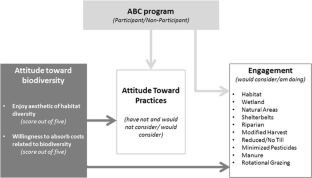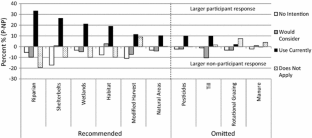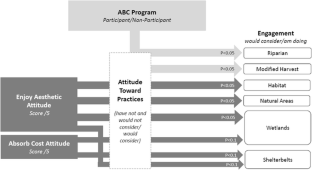 References
Agresti A, Finlay B (2009) Statistical methods for the social sciences, 4th edn. Pearson Prentice Hall, Upper Saddle River

Ahnström J, Höckert J, Bergeå HL, Francis CA, Skelton P, Hallgren L (2008) Farmers and nature conservation: what is known about attitudes, context factors and actions affecting conservation? Renew Agric Food Syst. doi:10.1017/S1742170508002391

Ajzen I (1991) The theory of planned behavior. Organ Behav Hum Dec 50:179–211

Altieri MA (1999) The ecological role of biodiversity in agroecosystems. Agric Ecosyst Environ. doi:10.1016/S0167-8809(99)00028-6

Anderson RL (2007) Managing weeds with a dualistic approach of prevention and control: a review. Agron Sustain Dev. doi:10.1051/agro:2006027

Ball BC, Bingham I, Rees RM, Watson CA, Litterick A (2005) The role of crop rotations in determining soil structure and crop growth conditions. Can J Soil Sci 85:557–577

Balmford A, Green R, Phalan B (2012) What conservationists need to know about farming. Philos Trans R Soc B. doi:10.1098/rspb.2012.0515

Beedell J, Rehman T (2000) Using social-psychology models to understand farmers' conservation behaviour. J Rural Stud. doi:10.1016/S0743-0167(99)00043-1

Boynton PM, Greenhalgh T (2004) Selecting, designing, and developing your questionnaire. Br Med J (Clin Res Ed). doi:10.1136/bmj.328.7451.1312

Brown MW (1999) Applying principles of community ecology to pest management in orchards. Agric Ecosyst Environ 73:103–106

De Snoo GR, Herzon I, Staats H et al (2013) Toward effective nature conservation on farmland: making farmers matter. Conserv Lett. doi:10.1111/j.1755-263X.2012.00296.x

Dietz T, Stern PC, Guagnano GA (1998) Social structural and social psychological bases of environmental concern. Environ Behav 30:450–471

Environics Research Group (2006) National Survey of Farmers and Ranchers. Ecological Goods and Services, Toronto

Fielke SJ, Bardsley DK (2014) The importance of farmer education in South Australia. Land Use Policy. doi:10.1016/j.landusepol.2014.02.006

Freedom of Information and Protection of Privacy Act (1999) Office of the Legislative Counsel, Nova Scotia House of Assembly. Retrieved from http://nslegislature.ca/legc/statutes/freedom.htm

Gehlbach H, Brinkworth ME (2011) Measure twice, cut down error: a process for enhancing the validity of survey scales. Rev Gen Psychol. doi:10.1037/a0025704

Green RE, Cornell SJ, Scharlemann JPW, Balmford A (2005) Farming and the fate of wild nature. Science. doi:10.1126/science.1106049

Heberlein TA (2012) Navigating environmental attitudes. Oxford University Press, New York

Herzon I, Mikk M (2007) Farmers' perceptions of biodiversity and their willingness to enhance it through agri-environment schemes: a comparative study from Estonia and Finland. J Nat Conserv. doi:10.1016/j.jnc.2006.08.001

Jamieson TS, Stratton GW, Gordon R, Madani A (2002) Phosphorus absorption characteristics of a constructed wetland soil receiving dairy farm wastewater. Can J Soil Sci. doi:10.4141/S01-042

Kennedy EH, Beckley TM, McFarlane BL, Nadeau S (2009) Why we don't "walk the talk": understanding the environmental values/behaviour Gap in Canada. Res Hum Ecol 16(2):151–160

Kollmuss A, Agyeman J (2002) Mind the gap: why do people act environmentally and what are the barriers to pro-environmental behavior? Environ Educ Res. doi:10.1080/1350462022014540

Lokhorst AM, Staats H, van Dijk J, van Dijk E, de Snoo G (2011) What's in it for Me? Motivational differences between farmers' subsidised and non-subsidised conservation practices. Appl Psychol. doi:10.1111/j.1464-0597.2011.00438.x

Lowrance R, Dabney S, Schultz R (2002) Improving water and soil quality with conservation buffers. J Soil Water Conserv 57:36–43

Lynne GD, Shonkwiler JS, Rola LR (1988) Attitudes behavior and conservation. J Agric Econ 70:12–19

Manning AD, Fischer J, Lindenmayer DB (2006) Scattered trees are keystone structures—implications for conservation. Biol Conserv. doi:10.1016/j.biocon.2006.04.023

McDavid J, Hawthorn L (2006) Program evaluation and performance measurement: an introduction to practice. Sage, Thousand Oaks

McLaughlin A, Mineau P (1995) The impact of agricultural practices on biodiversity. Agric Ecosyst Environ. doi:10.1016/0167-8809(95)00609-V

Merckx T, Feber RE, Riordan P, Townsend MC, Bourn NAD, Parsons MS, Macdonald DW (2009) Optimizing the biodiversity gain from agri-environment schemes. Agric Ecosyst Environ. doi:10.1016/j.agee.2009.01.006

Mills A, Adl MS (2006) The effects of land use intensification on soil biodiversity in the pasture. Can J Plant Sci 86:1339–1343

Mobley C, Vagias WM, DeWard SL (2009) Exploring additional determinants of environmentally responsible behavior: the influence of environmental literature and environmental attitudes. Environ Behav. doi:10.1177/0013916508325002

Moonen A, Barberi P (2008) Functional biodiversity: an agroecosystem approach. Agric Ecosyst Environ 127(1–2):7–21. doi:10.1016/j.agee.2008.02.013

Nocera JJ, Parsons GJ, Milton GR, Fredeen AH (2005) Compatibility of delayed cutting regime with bird breeding and hay nutritional quality. Agric Ecosyst Environ. doi:10.1016/j.agee.2004.11.001

Pannell DJ, Marshall GR, Barr N, Curtis A, Vanclay F, Wilkinson R (2006) Understanding and promoting adoption of conservation practices by rural landholders. Aust J Exp Agric. doi:10.1071/EA05037

Phalan B, Balmford A, Green RE, Scharlemann JPW (2011) Minimising the harm to biodiversity of producing more food globally. Food Policy. doi:10.1016/j.foodpol.2010.11.008

Plummer R, Spiers A, Summer R (2008) The contributions of stewardship to managing agro-ecosystem environments. J Sustain Agric. doi:10.1300/J064v31n03_06

Quartuch MR, Beckley TM (2014) Carrots and sticks: New Brunswick and Maine forest landowner perceptions toward incentives and regulations. Environ Manag. doi:10.1007/s00267-013-0200-z

Raykov T, Marcoulides GA (2011) Introduction to psychometric theory. Routledge/Taylor and Francis Group, New York

Schirmer J (2009) Ethical issues in the use of multiple survey reminders. J Acad Ethics. doi:10.1007/s10805-009-9072-5

Schirmer J, Dovers S, Clayton H (2012) Informing conservation policy design through an examination of landholder preferences: a case study of scattered tree conservation in Australia. Biol Conserv. doi:10.1016/j.biocon.2012.04.014

Segerson K, Miceli TJ (1998) Voluntary environmental agreements: good or bad news for environmental protection? J Environ Econ Manag 36:109–130

Sharpley AN, McDowell RW, Kleinman PJA (2001) Phosphorus loss from land to water: integrating agricultural and environmental management. Plant Soil 237:287–307

Smith LA, Chow-Fraser P (2010) Impacts of adjacent land use and isolation on marsh bird communities. Environ Manag. doi:10.1007/s00267-010-9475-5

StataCorp (2011) Stata Statistical Software: Release 12. StataCorp LP, College Station

Statistics Canada (2011) Census of Agriculture, Farm and Farm Operator Data (p. catalogue no. 95–640–XWE)

Stern PC, Dietz T, Guagnano GA (1998) A brief inventory of values. Educ Psychol Meas. doi:10.1177/0013164498058006008

Tscharntke T, Clough Y, Wanger TC et al (2012) Global food security, biodiversity conservation and the future of agricultural intensification. Biol Conserv. doi:10.1016/j.biocon.2012.01.068

Vickery JA, Feber RE, Fuller RJ (2009) Arable field margins managed for biodiversity conservation: a review of food resource provision for farmland birds. Agric Ecosyst Environ. doi:10.1016/j.agee.2009.05.012

Wilson GA, Hart K (2000) Financial imperative or conservation concern? EU farmers' motivations for participation in voluntary agri-environmental schemes. Environ Plan A. doi:10.1068/a3311

Wilson GA, Hart K (2001) Farmer participation in agri-environmental schemes: towards conservation-oriented thinking? Sociol Ruralis. doi:10.1111/1467-9523.00181

Yiridoe EK, Atari D, Gordon R, Smale S (2010) Factors influencing participation in the Nova Scotia Environmental Farm Plan Program. Land Use Policy. doi:10.1016/j.landusepol.2010.02.006

Zhang W, Ricketts TH, Kremen C, Carney K, Swinton SM (2007) Ecosystem services and dis-services to agriculture. Ecol Econ. doi:10.1016/j.ecolecon.2007.02.024
Additional information
Communicated by Dirk Sven Schmeller.
Electronic supplementary material
Below is the link to the electronic supplementary material.
About this article
Cite this article
Goodale, K., Yoshida, Y., Beazley, K. et al. Does stewardship program participation influence Canadian farmer engagement in biodiversity-friendly farming practices?. Biodivers Conserv 24, 1487–1506 (2015). https://doi.org/10.1007/s10531-015-0872-1
Received:

Revised:

Accepted:

Published:

Issue Date:
Keywords
Agriculture agroecosystem

Environmental values

Attitude

Farmer behaviour

Voluntary adoption