Abstract
Small wind turbines (SWTs) are an increasingly popular means to generate renewable energy worldwide. Flexibility in size and design allow SWTs to be installed in a much wider range of settings compared to large wind turbines. While large wind turbines can cause substantial mortality of birds and bats, the extent and correlates of such collision mortality at SWTs have not been quantified. Thus, siting decisions for SWTs are currently made with considerable uncertainty of their impact on wildlife. We combined field data and questionnaire surveys of SWT owners to assess the range and correlates of bird and bat mortality at SWT sites (mean hub height 10.2 m [range 4.0–26.4 m], mean rotor diameter 4.0 m [range 0.9–15.0 m], for both free-standing and building mounted turbines). During 171 carcass searches at 21 UK SWT sites we did not find any collision casualties. Thirty-one (14.6 %) of 212 SWT owners reported bird casualties of at least 12 species groups and 3 (1.4 %) reported bat casualties (unidentified species). Based on the questionnaire returns and using a model that accounts for detectability of casualties (through variation in visit frequency, searcher efficiency and average levels of scavenger removal) we estimated that between 0.079 and 0.278 birds, and between 0.008 and 0.169 bats may be killed turbine−1 year−1, equating to 1,567–5,510 birds and 161–3,363 bats year−1 in the UK based on recent estimates of numbers of units installed. Sites with higher levels of bird activity tended to be more likely to report bird casualties. Systematically derived likely ranges of mortality as provided here are urgently needed to inform future SWT planning policy.
Access options
Buy single article
Instant access to the full article PDF.
USD 39.95
Price excludes VAT (USA)
Tax calculation will be finalised during checkout.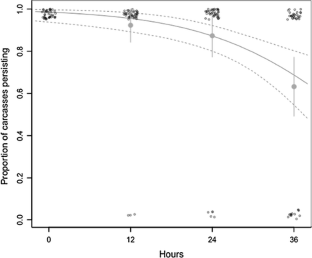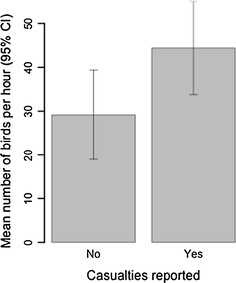 References
Amorim F, Rebelo H, Rodrigues L (2012) Factors influencing bat activity and mortality at a wind farm in the mediterranean region. Acta Chiropterol 14:439–457

Arnett E, Brown W, Erickson W, Fiedler J, Hamilton B, Henry T, Jain A, Johnson G, Kerns J, Koford R, Nicholson C, O'Connell T, Piorkowski M, Tankersley R (2008) Patterns of bat fatalities at wind energy facilities in North America. J Wildlife Manag 72:61–78

AWEA (2012) 2011 U.S. Small Wind Turbine Market Report: Year Ending 2011. American Wind Energy Association, Washington, DC, USA

Band W, Madders M, Whitfield D (2005) Developing field and analytical methods to assess avian collision risk at wind farms. In: de Lucas M, Janss GFE, Ferrer M (eds) Birds and Wind Power. Lynx Editions, Barcelona, Spain

Barrios L, Rodriguez A (2004) Behavioural and environmental correlates of soaring-bird mortality at on-shore wind turbines. J Appl Ecol 41:72–81

Bat Conservation Trust. (2010) Microgeneration Schemes: Risks, Evidence and Recommendations. Bat Conservation Trust, London, UK. http://www.bats.org.uk/pages/microgeneration_issues.html Accessed 29 June 2013

Bremner A, Park K (2007) Public attitudes to the management of invasive non-native species in Scotland. Biol Conserv 139:306–314

Conservation of Habitats and Species Regulations (2012) The Stationary Office, London, UK. http://www.legislation.gov.uk/uksi/2012/1927/made Accessed 29 June 2013

Cryan P, Barclay R (2009) Causes of bat fatalities at wind turbines: hypotheses and predictions. J Mammal 90:1330–1340

Dahl EL, Bevanger K, Nygard T, Roskaft E, Stokke BG (2012) Reduced breeding success in white-tailed eagles at Smola windfarm, western Norway, is caused by mortality and displacement. Biol Conserv 145:79–85

Desholm M, Kahlert J (2005) Avian collision risk at an offshore wind farm. Biol Lett 1:296–298

Douglas D, Bellamy P, Pearce-Higgins J (2011) Changes in the abundance and distribution of upland breeding birds at an operational wind farm. Bird Study 58:37–43

Drewitt A, Langston R (2006) Assessing the impacts of wind farms on birds. Ibis 148:29–42

Eaton MA, Brown AF, Noble DG, Musgrove AJ, Hearn RD, Aebischer NJ, Gibbons DW, Evans A, Gregory RD (2009) Birds of conservation concern 3 the population status of birds in the United Kingdom, Channel Islands and Isle of Man. Brit Birds 102:296–341

Energy Saving Trust (2009) Location, location, location: domestic small-scale wind field trial Report. Energy saving trust, London, UK. http://www.energysavingtrust.org.uk/Publications2/Generating-energy/Field-trial-reports Accessed 29 June 2013

Everaert J, Stienen E (2007) Impact of wind turbines on birds in Zeebrugge (Belgium). Biodivers Conserv 16:3345–3359

Gelman A, Su Y-S, Yajima M, Hill J, Pittau MG, Kerman J, Zheng T (2013) Arm: data analysis using regression and multilevel/hierarchical models. R package version 1.6-01.02., http://CRAN.R-project.org/package=arm Accessed 29 June 2013

Homan HJ, Linz G, Peer BD (2001) Dogs increase recovery of passerine carcasses in dense vegetation. Wildlife Soc Bull 29:292–296

Hundt L, Barlow K, Crompton R, Graves R, Markham S, Matthews J, Oxford M, Shepherd P, Sowler S (2012) Bat surveys—good practice guidelines (2nd Edition): Surveying for Onshore Wind Turbines. Bat conservation trust, London, UK. http://www.bats.org.uk/pages/batsurveyguide.html Accessed 29 June 2013

Kerns J, Kerlinger P (2004) A study of bird and bat collision fatalities at the Mountaineer Wind Energy Center, Tucker County, West Virginia. Annual Report for 2003. Curry & Kerlinger, LLC, McLean, Virginia, USA

Korner-Nievergelt F, Korner-Nievergelt P, Behr O, Niermann I, Brinkmann R, Hellriegel B (2011) A new method to determine bird and bat fatality at wind energy turbines from carcass searches. Wildlife Biol 17:350–363

Korner-Nievergelt F, Niermann I, Behr O, Brinkmann R, Korner-Nievergelt P, Hellriegel B, Huso MMP (2012) carcass: Estimation of the number of fatalities from carcass searches, v. 1.0. http://cran.r-project.org/web/packages/carcass/index.html Accessed 29 June 2013

Larsen J, Guillemette M (2007) Effects of wind turbines on flight behaviour of wintering common eiders: implications for habitat use and collision risk. J Appl Ecol 44:516–522

Larsen J, Madsen J (2000) Effects of wind turbines and other physical elements on field utilization by pink-footed geese (Anser brachyrhynchus): a landscape perspective. Landscape Ecol 15:755–764

Minderman J, Pendlebury CJ, Pearce-Higgins JW, Park KJ (2012) Experimental evidence for the effect of small wind turbine proximity and operation on bird and bat activity. PLoS ONE 7 e41177. http://www.plosone.org/article/info%3Adoi/10.1371/journal.pone.0041177 Accessed 29 June 2013

Natural England. (2007) Assessing ornithological impacts associated with wind farm developments: surveying recommendations (TIN008). Natural England, Sheffield, UK. http://publications.naturalengland.org.uk/publication/22006 Accessed 29 June 2013

UK Wind Energy Database (2014). http://www.renewableuk.com/en/renewable-energy/wind-energy/uk-wind-energy-database/ Accessed Jun 2014

Osborne JL, Martin AP, Shortall CR, Todd AD, Goulson D, Knight ME, Hale RJ, Sanderson RA (2008) Quantifying and comparing bumblebee nest densities in gardens and countryside habitats. J Appl Ecol 45:784–792

Park KJ, Turner A, Minderman J (2013) Integrating applied ecology and planning policy: the case of micro-turbines and wildlife conservation. J Appl Ecol 50:199–204

Paula J, Leal MC, Silva MJ, Mascarenhas R, Costa H, Mascarenhas M (2011) Dogs as a tool to improve bird-strike mortality estimates at wind farms. J Nat Conserv 19:202–208

Peacock AD, Jenkins D, Ahadzi M, Berry A, Turan S (2008) Micro wind turbines in the UK domestic sector. Energ Build 40:1324–1333

Pearce-Higgins JW, Stephen L, Langston RHW, Bainbridge IP, Bullman R (2009) The distribution of breeding birds around upland wind farms. J Appl Ecol 46:1323–1331

Pearce-Higgins JW, Stephen L, Douse A, Langston RHW (2012) Greater impacts of wind farms on bird populations during construction than subsequent operation: results of a multi-site and multi-species analysis. J Appl Ecol 49:386–394

Pollock KH, Winterstein SR, Bunck CM, Curtis PD (1989) Survival analysis in telemetry studies: the staggered entry design. J Wildlife Manag 53:7

Ponce C, Alonso JC, Argandoña G et al (2010) Carcass removal by scavengers and search accuracy affect bird mortality estimates at power lines. Anim Conserv 13:603–612. doi:10.1111/j.1469-1795.2010.00387.x

Prosser P, Nattrass C, Prosser C (2008) Rate of removal of bird carcasses in arable farmland by predators and scavengers. Ecotox Environ Safe 71:601–608

R Development Core Team (2012) R: A Language and Environment for Statistical Computing. R Foundation for Statistical Computing, Vienna, Austria. http://cran.r-project.org/ Accessed 29 June 2013

RenewableUK (2011) Small Wind Systems UK Market Report—April 2011. RenewableUK, London, UK. http://www.renewableuk.com/en/publications/index.cfm/Small-Wind-Market-Report-2011 Accessed 29 June 2013

Rydell J, Bach L, Dubourg-Savage M, Green M, Rodrigues L, Hedenstrom A (2010) Bat mortality at wind turbines in northwestern Europe. Acta Chiropterol 12:261–274

Smallwood KS (2007) Estimating Wind Turbine-Caused Bird Mortality. J Wildlife Manag 71:2781–2791

Smallwood KS, Thelander C (2008) Bird Mortality in the Altamont Pass Wind Resource Area, California. J Wildlife Manag 72:215–223

Tabachnick BG, Fidell LS (2001) Using multivariate statistics. Allyn & Bacon, Boston

Thomas RL, Fellowes MDE, Baker PJ (2012) Spatio-Temporal Variation in Predation by Urban Domestic Cats (Felis catus) and the Acceptability of Possible Management Actions in the UK. PLoS ONE 7, e49369. http://www.plosone.org/article/info%3Adoi%2F10.1371%2Fjournal.pone.0049369 Accessed 29 June 2013

Walsh A, Harris S (1996) Foraging habitat preferences of vespertilionid bats in Britain. J Appl Ecol 33:508–518  

White PCL, Jennings NV, Renwick AR, Barker NHL (2005) Review: questionnaires in ecology: a review of past use and recommendations for best practice. J Appl Ecol 42(3):421–430

Whittingham M, Krebs J, Swetnam R, Thewlis R, Wilson J, Freckleton R (2009) Habitat associations of British breeding farmland birds. Bird Study 56:43–52

Wildlife and Countryside Act. (1981) The Stationary Office, London, UK. http://www.legislation.gov.uk/ukpga/1981/69 Accessed 29 June 2013

Woods M, McDonald RA, Harris S (2003) Predation of wildlife by domestic cats Felis catus in Great Britain. Mammal Rev 33:174–188

WWEA. (2012) Small Wind Report 2012. World Wind Energy Association, Bonn, Germany. http://wwindea.org/home/index.php?option=com_content&task=view&id=348&Itemid=40 Accessed 29 June 2013

WWEA. (2013) 2013 Small Wind World Report Update. World Wind Energy Association, Bonn, Germany. http://small-wind.org/wwea-releases-2013-small-wind-world-report-update/ Accessed 29 June 2013
Acknowledgments
We are very grateful to all the turbine owners that kindly gave permission to work on their land and property, without whose cooperation this work would have been impossible. This research was funded by a research grant from the Leverhulme Trust (a U.K. based independent charity) to KP, grant no. F/00 241/L. Thanks to the Energy Savings Trust for use of their contacts database, and to Alexandra Turner, Kerstin Wolf, and Christina Campbell for help in collating contacts data. Thanks to Cerian Thatchley, Paul Lintott, and Kelly Moyes for useful feedback and discussions, to Claudia Garratt for help in the field, and to three anonymous referees for their very thorough comments on a previous draft of this manuscript.
Additional information
Communicated by Ailsa J. McKenzie.
Electronic supplementary material
Below is the link to the electronic supplementary material.
About this article
Cite this article
Minderman, J., Fuentes-Montemayor, E., Pearce-Higgins, J.W. et al. Estimates and correlates of bird and bat mortality at small wind turbine sites. Biodivers Conserv 24, 467–482 (2015). https://doi.org/10.1007/s10531-014-0826-z
Received:

Revised:

Accepted:

Published:

Issue Date:

DOI: https://doi.org/10.1007/s10531-014-0826-z
Keywords
Collision mortality

Conservation

Domestic wind turbines

Microturbines

Renewable energy

Questionnaire