Abstract
Negative interactions between fishers and the Amazon River dolphin (Inia geoffrensis), or boto, have increased substantially in the last few decades. Herein, we investigate these interactions with focus on assessing fisher perceptions, attitudes, and behaviors toward botos. Moreover, we evaluate the effect that the Mamirauá Sustainable Development Reserve (MSDR) in the Brazilian Amazon, and related programs, has had on fisher attitudes and behaviors toward botos. The results suggest that interactions between fishers and botos, such as depredation and incidental entanglement, are frequent, and that the illegal harvest for botos, for use as bait, occurs in the majority of the study communities. However, the assessment revealed that most fishers have positive attitudes toward botos and that these attitudes have been influenced by participation in the MSDR activities such as research and ecotourism. Our results also highlight the importance of community-based enforcement in addressing the issue of boto harvesting. The MSDR programs have successfully promoted positive attitudes toward botos and have likely played a role in limiting boto mortality through behavioral controls, though the scope of influence of these programs has been restricted to a small geographical area. The current extent of these programs is insufficient to prevent the decline of the boto population; therefore, we suggest the MSDR model be used to improve and expand boto conservation efforts with communities in the region.
Access options
Buy single article
Instant access to the full article PDF.
USD 39.95
Price includes VAT (USA)
Tax calculation will be finalised during checkout.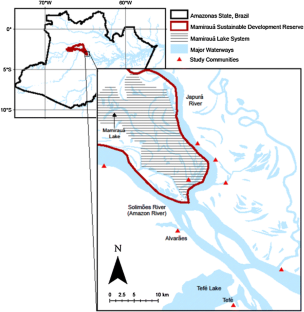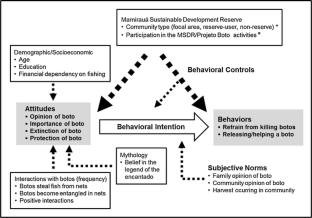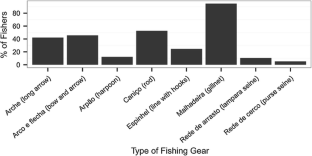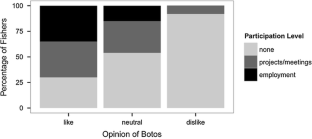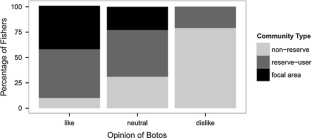 References
Abbot JIO, Thomas DHL, Gardner AA, Neba SE, Khen MW (2001) Understanding the links between conservation and development in the Bamenda Highlands. World Dev 29:1115–1136

Adams WM, Infield M (2001) Park outreach & gorilla conservation: Mgahinga Gorilla National Park, Uganda. In: Hulme D, Murphree M (eds) African wildlife and livelihoods: the promise and performance of community conservation. David Philip, The University of Michigan, Ann Arbor, pp 131–147

Ajzen I (1991) The theory of planned behavior. Organ Behav Hum Decis 50:179–211

Akama JS, Lant CL, Burnett GW (1995) Conflicting attitudes toward state wildlife conservation programs in Kenya. Soc Nat Resour 8:133–144

Archabald K, Naughton-Treves L (2001) Tourism revenue-sharing around national parks in Western Uganda: early efforts to identify and reward local communities. Environ Conserv 28:135–149

Barthem R (1999) A pesca comercial no médio Solimões e sua interação com a Reserva de Desenvolvimento Sustentável Mamirauá. In: Queiroz HL, Crampton WGR (eds) Estratégias para manejo de recursos pesqueiros em Mamirauá. MCT/CNPq and Sociedade Civil Mamirauá, Brasilia, pp 72–107

Batista VS, Inhamuns AJ, Freitas CEC, Freire-Brasil D (1998) Characterization of the fishery in river communities in the low-Solimoes/high-Amazon region. Fish Manag Ecol 5:419–435

Bawa KS (2006) Globally dispersed local challenges in conservation biology. Conserv Biol 20:696–699

Bayley PB, Petrere M (1989) Amazon fisheries: assessment methods, current status and management options. Can Spec Publ Fish Aquat Sci 106:385–398

Bearzi G, Bonizzoni S, Gonzalvo J (2011) Dolphins and coastal fisheries within a marine protected area: mismatch between dolphin occurrence and reported depredation. Aquat Conserv 21:261–267

Best RC, da Silva VMF (1989) Amazon River dolphin, boto—Inia geoffrensis (de Blainville, 1817). In: Ridgway SH, Harrison S (eds) Handbook of marine mammals—Volume 4: river dolphins and the larger toothed whales. Academic Press, London, pp 1–23

Best RC, da Silva VMF (1993) Inia geoffrensis. Mamm Species 426:1–8

Brotons JM, Grau AM, Rendell L (2008) Estimating the impact of interactions between bottlenose dolphins and artisanal fisheries around the Balearic Islands. Mar Mamm Sci 24:112–127

Brum SM (2011) Interação dos golfinhos da Amazônia com a pesca no Médio Solimões. Thesis, Instituto Nacional de Pesquisas da Amazônia

Campbell LM, Vainio-Mattila A (2003) Participatory development and community-based conservation: opportunities missed for lessons learned? Hum Ecol 31:417–437

Crampton WGR, Viana JP, Castello L, Damasceno JMB (2004) Fisheries management in the Mamirauá Sustainable Development Reserve. In: Silvius K, Bodmer R, Fragoso J (eds) People and nature: wildlife conservation in South and Central America. Columbia University Press, New York

Cravalho MA (1999) Shameless creatures: an ethnozoology of the Amazon River dolphin. Ethnology 38:47–58

da Silva VMF (2008) Amazon River dolphin (Inia geoffrensis). In: Perrin WF, Thewissen JGM, Würsig BG (eds) Encyclopedia of marine mammals. Academic Press, Burlington

da Silva VMF, Best RC (1996) Freshwater dolphin/fisheries interaction in the Central Amazon (Brazil). Amazoniana 14:165–175

da Silva VMF, Martin AR (2000) A study of the boto, or Amazon River dolphin (Inia geoffrensis), in the Mamirauá Reserve, Brazil: operation and techniques. In: Reeves RR, Smith BD, Kasuya T (eds) Biology and conservation of freshwater cetaceans in Asia Occasional paper of the IUCN Species Survival Commission, Book No. 23. International Union for Conservation of Nature, Gland

da Silva VMF, Martin AR, do Carmo NAS (2011) Boto bait—Amazonian fisheries pose threat to elusive dolphin species. International Union for Conservation of Nature—Magazine of the Species Survival Commission. http://cmsdata.iucn.org/downloads/species_53_final.pdf. Accessed 19 Sep 2013

da Silveira R, Viana JP (2003) Amazonian crocodilians: a keystone species for ecology and management…or simply bait? Crocodile Spec Group Newsl 22:16–17

De Boer WF, Baquete DS (1998) Natural resource use, crop damage and attitude of rural people in the vicinity of the Maputo Elephant Reserve, Mozambique. Environ Conserv 25:208–218

DeMaster DP, Fowler CW, Perry SL, Richlen ME (2001) Predation and competition: the impact of fisheries on marine-mammal populations over the next one hundred years. J Mammal 82:641–665

Díaz López B (2006) Interactions between Mediterranean bottlenose dolphins (Tursiops truncatus) and gillnets off Sardinia, Italy. ICES J Mar Sci 63:946–951

Estupiñán GMB, Marmontel M, de Queiroz HL, e Souza PR, Valsecchi J, da Silva Batista G, Barbosa Pereira S (2003) A pesca da piracatinga (Calophysus macropterus) na Reserva de Desenvolvimento Sustentável Mamirauá. Ministério da Ciência e Tecnologia, Instituto de Desenvolvimento Sustentável Mamirauá. http://www.socioambiental.org/website/noticias/agenda/fks/rel_piracatinga.htm. Accessed 31 May 2013

Evans SM, Gebbels S, Stockill JM (2008) Our shared responsibility: participation in ecological projects as a means of empowering communities to contribute to coastal management processes. Mar Pollut Bull 57:3–7

Fiallo EA, Jacobson SK (1995) Local communities and protected areas: attitudes of rural residents toward conservation and Machalilla National Park, Ecuador. Environ Conserv 22:241–249

Gadd ME (2005) Conservation outside of parks: attitudes of local people in Laikipia, Kenya. Environ Conserv 32:50–63

Gillingham S, Lee PC (1999) The impact of wildlife-related benefits on the conservation attitudes of local people around the Selous Game Reserve, Tanzania. Environ Conserv 26:218–228

Gómez C, Trujillo F, Diazgranados MC, Alonso J (2008) Capturas dirigidas de delfines de río en la Amazonia para la pesca de mota (Calophysus macropterus): una problemática regional de gran impacto. In: Trujillo F, Alonso JC, Diazgranados MC, Gómez C (eds) Fauna acuática amenazada en la Amazonia Colombiana: Análisis y propuestas para su conservación. Fundación Omacha, Fundación Natura, Instituto Sinchi y Corpoamazonia, Bogotá, pp 39–57

Goodman LA (1961) Snowball sampling. Ann Math Stat 32:148–170

Gram S, Kvist LP, Cáseres A (2001) The economic importance of products extracted from Amazonian flood plain forests. Ambio 30:365–368

Hall MA, Donovan GP (2001) Environmentalists, fishermen, cetaceans and fish: is there a balance and can science help to find it? In: Evans PGH, Raga JA (eds) Marine mammals: biology and conservation. Kluwer Academic/Plenum Publishers, New York

Heinen JT (1993) Park-people relations in Kosi Tappu Wildlife Reserve, Nepal: a socio-economic analysis. Environ Conserv 20:25–34

Holmes CM (2003) The influence of protected area outreach on conservation attitudes and resource use patterns: a case study from western Tanzania. Oryx 37:305–315

Infield M (1988) Attitudes of a rural community towards conservation and a local conservation area in Natal, South Africa. Biol Conserv 45:21–46

Instituto de Desenvolvimento Sustentável Mamirauá-IDSM (2012) Estudo sociodemográfico é apresentado durante Seminário Anual de Pesquisa. O Macaqueiro, Book 54. http://www.mamiraua.org.br/cms/content/public/documents/0d86f9d2-2458-42f0-9e2a-ece3110b1594_o_macaqueiro54_digital-4.pdf. Accessed 19 Sep 2013

Iriarte V, Marmontel M (2011) Report of an encounter with a human intentionally entangled Amazon River dolphin (Inia geoffrensis) calf and its release in Tefé River, Amazonas State, Brazil. Uakari 7:29–33

Iriarte V, Marmontel M (2013a) Insights on the use of dolphins (boto, Inia geoffrensis and tucuxi, Sotalia fluviatilis) for bait in the piracatinga (Calophysus macropterus) fishery in the Western Brazilian Amazon. J Cetacean Res Manag 13:163–173

Iriarte V, Marmontel M (2013b) River dolphin (Inia geoffrensis, Sotalia fluviatilis) mortality events attributed to artisanal fisheries in the Western Brazilian Amazon. Aquat Mamm 39:116–124

Kainer K, DiGiano ML, Duchelle AE, Wadt LHO, Dain JL (2009) Partnering for greater success: local stakeholders and research in tropical biology and conservation. Biotropica 41:555–562

Kideghesho JR, Roskaft E, Kaltenborn BP (2007) Factors influencing conservation attitudes of local people in Western Serengeti, Tanzania. Biodivers Conserv 16:2213–2230

Koziell I, Inoue C (2006) Mamirauá Sustainable Development Reserve, Brazil: lessons learnt in integrating conservation with poverty reduction. International Institute for Environment and Development. http://pubs.iied.org/pdfs/9168IIED.pdf. Accessed 21 Sep 2013

Kreb D, Budiono N (2005) Conservation management of small core areas: key to survival of a Critically Endangered population of Irrawaddy River dolphins Orcaella brevirostris in Indonesia. Oryx 39:178–188

Lauriano G, Fortuna CM, Moltedo G, di Sciara GN (2004) Interactions between common bottlenose dolphins (Tursiops truncatus) and the artisanal fishery in Asinara Island National Park (Sardinia): assessment of catch damage and economic loss. J Cetacean Res Manag 6:165–173

Leatherwood S, Reeves RR (1994) River dolphins: a review of activities and plans of the cetacean specialist group. Aquat Mamm 20:137–154

Lee HF, Zhang DD (2008) Perceiving the environment from the lay perspective in desertified areas, northern China. Environ Manag 41:168–182

Lewis D, Kaweche GB, Mwenya A (1990) Wildlife conservation outside protected areas—lessons from an experiment in Zambia. Conserv Biol 4:171–180

Lima DM (2009) The domestic economy in Mamirauá, Tefé, Amazonas State. In: Adams C, Murrieta R, Neves W, Harris M (eds) Amazon peasant societies in a changing environment. Springer, Dordrecht, pp 131–156

Loch C, Marmontel M, Simoes-Lopes PC (2009) Conflicts with fisheries and intentional killing of freshwater dolphins (Cetacea: Odontoceti) in the Western Brazilian Amazon. Biodivers Conserv 18:3979–3988

Lodi L, Barreto A (1998) Legal actions taken in Brazil for the conservation of cetaceans. J Int Wildl Law Policy 1:403–411

Martin AR, da Silva VMF (2004a) River dolphins and flooded forest: seasonal habitat use and sexual segregation of botos (Inia geoffrensis) in an extreme cetacean environment. J Zool 263:295–305

Martin AR, da Silva VMF (2004b) Number, seasonal movements, and residency characteristics of river dolphins in an Amazonian floodplain lake system. Can J Zool 82:1307–1315

Martin AR, Da Silva VMF, Salmon DL (2004) Riverine habitat preferences of botos (Inia geoffrensis) and tucuxis (Sotalia fluviatilis) in the Central Amazon. Mar Mamm Sci 20:189–200

McShane TO, Hirsch PD, Chi Trung T, Songorwa AN, Kinzig A, Monteferri B, Mutekanga D, Van Thang H, Dammert JL, Pulgar-Vidal M, Welch-Devine M, Brosius JP, Coppolillo P, O'Connor S (2011) Hard choices: making trade-offs between biodiversity conservation and human well-being. Biol Conserv 144:966–972

Mehta JN, Heinen JT (2001) Does community-based conservation shape favorable attitudes among locals? An empirical study from Nepal. Environ Manag 28:165–177

Mehta JN, Kellert SR (1998) Local attitudes toward community-based conservation policy and programmes in Nepal: a case study in the Makalu-Barun Conservation Area. Environ Conserv 25:320–333

Mintzer VJ, Da Silva VMF, Martin AR, Barbour AB, Frazer TK, Lorenzen K (2013) Effect of illegal harvest on apparent survival of Amazon River dolphins (Inia geoffrensis). Biol Conserv 158:280–286

Neil DT (2002) Cooperative fishing interactions between Aboriginal Australians and dolphins in eastern Australia. Anthrozoos 15:3–18

Northridge SP (1984) World review of interactions between marine mammals and fisheries. FAO Fisheries Technical Paper 251. http://www.fao.org/docrep/003/x6860e/X6860e00.htm. Accessed 19 Sep 2013

Oli MK, Taylor IR, Rogers ME (1994) Snow leopard Panthera uncia predation of livestock: an assessment of local perceptions in the Annapurna Conservation Area, Nepal. Biol Conserv 68:63–68

Ortiz V (2012) Legends of the Amazon. BookBaby, Amazon Digital Services, Inc.

Ostrom E (2007) A diagnostic approach for going beyond panaceas. Proc Natl Acad Sci USA 104:15181–15187

Ostrom E (2009) A general framework for analyzing sustainability of social–ecological systems. Science 325:419–422

Parry D, Campbell B (1992) Attitudes of rural communities to animal wildlife and its utilization in Chobe Enclave and Madabe Depression, Botswana. Environ Conserv 19:245–252

Peres CA, Lake IR (2003) Extent of nontimber resource extraction in tropical forests: accessibility to game vertebrates by hunters in the Amazon basin. Conserv Biol 17:521–535

Peres CA, Terborgh JW (1995) Amazonian nature reserves: an analysis of the defensibility status of existing conservation unites and design criteria for the future. Conserv Biol 9:34–46

Pinto de Sa Alves LC, Zappes CA, Andriolo A (2012) Conflicts between river dolphins (Cetacea: Odontoceti) and fisheries in the Central Amazon: a path toward tragedy? Zoologia 29:420–429

Pryor K, Lindbergh J, Lindbergh S, Milano R (1990) A dolphin-human fishing cooperative in Brazil. Mar Mamm Sci 6:77–82

Queiroz HL (1999) A pesca, as pescarias e os pescadores de Mamirauá. In: Queiroz HL, Crampton WGR (eds) Estratégias para manejo de recursos pesqueiros em Mamirauá. MCT/CNPq and Sociedade Civil Mamirauá, Brasilia, pp 31–71

Read AJ (2005) Bycatch and depredation. In: Reynolds JE, Perrin WF, Reeves RR, Montgomery S, Ragen TJ (eds) Marine mammal research: conservation beyond crisis. Johns Hopkins University Press, Baltimore, pp 5–17

Read AJ (2008) The looming crisis: interactions between marine mammals and fisheries. J Mammal 89:541–548

Read AJ, Drinker P, Northridge S (2006) Bycatch of marine mammals in US and global fisheries. Conserv Biol 20:163–169

Robards M, Reeves RR (2011) The global extent and character of marine mammal consumption by humans. Biol Conserv 144:2770–2786

Rocklin D, Santoni MC, Culioli JM, Tomasini JA, Pelletier D, Mouillot D (2009) Changes in the catch composition of artisanal fisheries attributable to dolphin depredation in a Mediterranean marine reserve. ICES J Mar Sci 66:699–707

Rokeach M (1968) Beliefs, attitudes, and values: a theory of organization and change. Jossey-Bass, Inc., San Francisco

Selebatso M, Moe SR, Swenson JE (2008) Do farmers support cheetah Acynonyx jubatus conservation in Botswana despite livestock depredation? Oryx 42:430–436

Slater C (1994) Dance of the dolphin: transformation and disenchantment in the Amazonian imagination. The University of Chicago Press, Chicago

Smith AM, Smith BD (1998) Review of status and threats to river cetaceans and recommendations for their conservation. Environ Rev 6:189–206

Sociedade Civil Mamirauá-SCM (1996) Mamirauá: management plan. CNPq/MCT, Brasilia

Trujillo F, Crespo E, Van Damme P, Usma S, Morales-Betancourt D, Wood A, Portocarrero M (2010) Summary of threats for river dolphins in South America: past, present and future. In: Trujillo F, Crespo E, Van Damme PA, Usma JS (eds) The action plan for South American River dolphins 2010–2020. WWF, Fundación Omacha, WDS, WDCS, and SOLAMAC, Bogotá, pp 147–158

Vermeulen S, Sheil D (2006) Partnerships for tropical conservation. Oryx 41:434–440

Viana JP (2004) A pesca no Medio Solimões. In: Ruffino ML (ed) A pesca e os recursos pesqueiros na Amazônia brasileira. IBAMA/ProVarzea, Manaus, pp 245–268

Vidal O (1993) Aquatic mammal conservation in Latin America: problems and perspectives. Conserv Biol 7:788–795

Zappes CA, Andriolo A, Simoes-Lopes PC, Di Beneditto APM (2011) Human-dolphin (Tursiops truncatus Montagu, 1821) cooperative fishery and its influence on cast net fishing activities in Barra de Imbe/Tramandai, Southern Brazil. Ocean Coast Manag 54:427–432
Acknowledgments
This study was part of Projeto Boto, a cooperative agreement between the National Amazon Research Institute-INPA/MCTI and the Mamirauá Sustainable Development Institute—MSDI-OS/MCT. It was completed with support from the School of Natural Resources and Environment, the Fisheries and Aquatic Sciences Program, and the Tropical Conservation and Development Program at the University of Florida; the Society for Marine Mammalogy; and the Associação Amigos do Peixe-Boi. We thank the many fishers that participated in the study for their valuable time, interest, and encouragement, and the Colônia de Pescadores de Tefé and Alvarães for their assistance and support. We also extend a special thanks to Rosana Nobre Soares and Filizmino Ribeiro for their hard-work and dedication to the interview process. We are also grateful to Dr. Taylor Stein and James Colee for their assistance with the questionnaire. The views expressed are those of the authors and do not necessarily reflect the views of the above mentioned organizations.
Additional information
Communicated by Simon Ingram.
About this article
Cite this article
Mintzer, V.J., Schmink, M., Lorenzen, K. et al. Attitudes and behaviors toward Amazon River dolphins (Inia geoffrensis) in a sustainable use protected area. Biodivers Conserv 24, 247–269 (2015). https://doi.org/10.1007/s10531-014-0805-4
Received:

Revised:

Accepted:

Published:

Issue Date:
Keywords
Boto

Fishery interactions

Mamirauá Sustainable Development Reserve

Piracatinga
Calophysus macropterus