Abstract
Insect diversity may be declining even more rapidly than in plants and vertebrates, particularly in areas where indigenous habitats are replaced by an anthropogenic one. The most common component of anthropogenic greenspace is the ornamental lawn. Intensively managed and offering limited habitat opportunities for both plants and insects, lawns are biodiversity poor and ecologically insensitive. An alternative lawn format that positively influences biodiversity and reduces management requirements would be a useful tool in eco-friendly urban greenspace management. In investigating the potential for a forb-only alternative to the grass lawn we sampled both trial grassfree lawn formats and turf lawns to identify any influence that lawn composition and grass-free lawn specific mowing regimes might have on the abundance and diversity of insect families. In addition to the mowing regimes, both the composition and origin of lawn flora were found to significantly influence insect abundance and diversity and these factors rarely interacted. Native-only and mixed origin grass-free lawns hosted greater numbers of adult insects than found in turf and an equivalent diversity of insect families, however the mowing regime applied was distinct from traditional turf lawn management by being substantially less intensive and our results suggest that there is the potential for even greater abundance and diversity via the grass-free format that may offer additional resources to insectivorous garden species such as birds. When the composition of grass-free lawns included native forbs the diversity of insect families was found be sufficiently different from turf lawns to form distinct assemblages and in so doing contribute to beta diversity within urban greenspace. In sum, grass-free lawns may be a useful and aesthetically appropriate tool for adding value to the generally biodiversity poor urban lawnscape.
Access options
Buy single article
Instant access to the full article PDF.
USD 39.95
Price excludes VAT (USA)
Tax calculation will be finalised during checkout.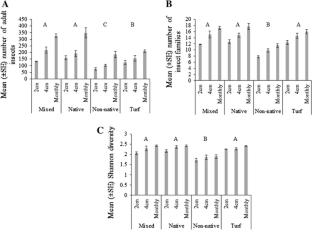 References
Agrawal AA, Lau JA, Hambäck PA (2006) Community heterogeneity and the evolution of interactions between plants and insect herbivores. Q Rev Biol 81:349–376

Andow DA (1991) Vegetational diversity and arthropod population response. Annu Rev Entomol 36:561–586

Anon (2010a) Botanical Society of the British Isles. Online database. http://www.bsbi.org.uk

Anon (2010b) Ecological Flora of the British Isles. Online database. http://www.ecoflora.co.uk

Anon (2011a) National Soil Resources Institute. http://www.landis.org.uk/sitereporter/. Accessed 03 Feb 2011

Anon (2011b) Online Atlas of the British and Irish Flora. Online database. http://www.brc.ac.uk/. Accessed 14 Feb 2011

Anon (2011c) Winter 2010/11 Online report. http://www.metoffice.gov.uk/climate/uk/2011/winter.html. Accessed 12 May 2011

Barnhart SK (1998) Estimating available pasture forage. http://www.extension.iastate.edu/Publications/PM1758.pdf. Accessed 21 Nov 2010

Borman FH, Balmori D, Geballe TG (2001) Redesigning the American lawn. a search for environmental harmony. Yale University Press, New Haven

Burkard Manufacturing Ltd. Woodcock Hill Industrial Estate, Rickmansworth, Hertfordshire, WD3 1PJ, England.

Cassola F, Pearson DL (2000) Global patterns of tiger beetle species richness (Coleoptera: Cicindelidae): their use in conservation planning. Biol Conserv 95:197–208

Chinery M (1993) Insects of Britain and Northern Europe. Harper Collins, London

Cizek O, Zamecnik J, Tropek R, Kocarek P, Konvicka M (2012) Diversification of mowing regime increases arthropods diversity in species-poor cultural hay meadows. J Insect Conserv 16:215–226

Dallwitz MJ & Watson L (2003) onwards British Insects. http://delta-intkey.com. Accessed 17 July 2014

Davies ZG, Fuller RA, Loram A, Irvine KN, Sims V, Gaston KJ (2009) A national scale inventory of resource provision for biodiversity within domestic gardens. Biol Conserv 142:761–771

Davis BNK (1978) Urbanisation and the diversity of insects. In: Mound LA, Waloff N (eds) Diversity of insect faunas. Blackwell Scientific, Oxford

Dunnet N, Hitchmough J (2004) The dynamic landscape: design, ecology and management of naturalistic urban planting. Taylor & Francis, New York

Elton CS (1958) The ecology of invasions. Methuen and Co, London

Fenner M, Palmer L (1998) Grassland management to promote diversity: creation of a patchy sward by mowing and fertiliser regimes. Field Stud 9:313–324

Gaston KJ, Warren PH, Thompson K, Smith RN (2005) Urban domestic gardens (IV): the extent of the resource and its associated features. Biodivers Conserv 14:3327–3349

Goddard MA, Dougill AJ, Benton TG (2010) Scaling up from gardens: biodiversity conservation in urban environments. Trends Ecol Evol 25:90–98

Goodwin H (1975) The history of the british flora., A factual basis for phytogeographyCambridge University Press, Cambridge

Haddad NM, Crutsinger GM, Gross K, Haarstad J, Knops JMH, Tilman D (2010) Plant species loss decreases arthropod diversity and shifts trophic structure. Ecol Lett 12:1029–1039

Helden AJ, Leather SR (2004) Biodiversity on urban roundabouts: Hemiptera, management and the species—area relationship. Basic Appl Ecol 5:367–377

Hitchmough JD (2008) New approaches to ecologically based, designed urban plant communities in Britain: do these have any relevance in the United States? Cities Environ (CATE) 1:10

Hooper DU, Chapin FS III, Ewel JJ, Hector A, Inchausti P, Lavorel S, Lawton JH, Lodge DM, Loreau M, Naeem S, Schmid B, Setälä H, Symstad AJ, Vandermeer J, Wardle DA (2005) Effects of biodiversity on ecosystem functioning: a consensus of current knowledge. Ecol Monogr 75:3–35

Humbert JY, Ghazoul J, Sauter G, Walter T (2010) Impact of different meadow mowing techniques on field invertebrates. J Appl Entomol 134:592–599

Hutchinson GE (1959) Homage to Santa Rosalia or why are there so many kinds of animals? Am Nat 93:145–159

Ignatieva ME, Stewart GH (2009) Homogeneity of urban biotopes and similarity of landscape design language in former colonial cities. In: Mcdonnell MJ, Hahs AK, Breuste JH (eds) Ecology of cities and towns : a comparative approach. Cambridge University Press, Cambridge, pp 399–421

Isaacs R, Tuell J, Fiedler A, Gardiner M, Landis D (2008) Maximizing arthropod-mediated ecosystem services in agricultural landscapes: the role of native plants. Front Ecol Environ 7:196–203

Isbell F, Calcagno V, Hector A, Connolly J, Harpole WS, Reich PB, Scherer-Lorenzen M, Schmid B, Tilman D, Van Ruijven J, Weigelt A, Wilsey BJ, Zavaleta ES, Loreau M (2011) High plant diversity is needed to maintain ecosystem services. Nature 477:199–202

Jo H, Mcpherson GE (1995) Carbon storage and flux in urban residential greenspace. J Environ Manag 45:109–133

Keane RM, Crawley MJ (2002) Exotic plant invasions and the enemy release hypothesis. Trends Ecol Evol 17:164–170

Knops JMH, Tilman D, Haddad NM, Naeem S, Mitchell CE, Haarstad J, Ritchie ME, Howe KM, Reich PB, Siemann E, Groth J (1999) Effects of plant species richness on invasion dynamics, disease outbreaks, insect abundances and diversity. Ecol Lett 2:286–293

Kremen C, Colwell R, Erwin T, Murphy D, Noss RA, Sanjayan M (1993) Terrestrial arthropod assemblages: their use in conservation planning. Conserv Biol 7:796–808

Matteson KC, Langellotto GA (2011) Small scale additions of native plants fail to increase beneficial insect richness in urban gardens. Insect Conserv Divers 4:89–98

Mcintyre NE (2000) Ecology of urban arthropods: a review and a call to action. Ann Entomol Soc Am 93:825–835

Mcintyre NE, Rango J, Fagan WF, Faeth SH (2001) Ground arthropod community structure in a heterogeneous urban environment. Landsc Urb Plan 52:257–274

Minitab 2012 Minitab 16 Statistical Software. Minitab Inc.

Moog D, Poschlod P, Kahmen S, Schreiber KF (2002) Comparison of species composition between different grassland management treatments after 25 years. Appl Veg Sci 5:99–106

Morris MG (1981) Responses of grassland invertebrates to management by cutting. III. Adverse effects on Auchenorhyncha. J Appl Ecol 18:107–123

Morris MG (2000) The effects of structure and its dynamics on the ecology and conservation of arthropods in British grasslands. Biol Conserv 95:129–142

Morris MG, Lakhani KH (1979) Responses of grassland invertebrates to management by cutting. I. Species diversity of Hemiptera. J Appl Ecol 16:77–98

Müller N (1990) Lawns in German cities: a phytosociological comparison. In: Sukopp H (ed) Urban ecology. SPB Academic Publishing, The Hague

Murdoch WW, Evans FC, Peterson CH (1972) Diversity and pattern in plants and insects. Ecology 53:819–829

Owen DF (1983) Urban entomology: interdisciplinary perspectives. In: Frankie GW, Koehler CS (eds) Effects of contrived plant diversity and permanent succession on insects in English suburban gardens. Praeger, New York

Owen J (2010) Wildlife of a garden: a thirty year study. Royal Horticultural Society, Peterborough

Owen J, Owen DF (1975) Suburban Gardens: England's most important nature reserve? Environ Conserv 2:53–59

Parr TW, Way JM (1988) Management of roadside vegetation:the long term effects of cutting. J Appl Ecol 25:1073–1087

Pyle R, Bentzien M, Opler P (1981) Insect conservation. Annu Rev Entomol 26:233–258

Pyšek P (1998) Alien and native species in Central European urban floras: a quantitative comparison. J Biogeogr 25:155–163

Raupp MJ, Shrewsbury PM, Herms DA (2010) Ecology of herbivorous arthropods in urban landscapes. Annu Rev Entomol 55:19–38

Rayburn E, Lozier J (2003) A falling plate meter for estimating pasture forage mass. http://www.wvu.edu/~agexten/forglvst/fallplate.pdf. Accessed 21 Dec 2010

Robbins P, Sharp Julie (2003) The lawn-chemical economy and its discontents. Antipode 35:955–979

Ryser P, Langenauer R, Gigon A (1995) Species richness and vegetation structure in a limestone grassland after 15 years management with six biomass removal regimes. Folia Geobotanica 30:157–167

Samways MJ, Caldwell P, Osborn R (1996) Ground-living invertebrate assemblages in native, planted and invasive vegetation in South Africa. Agric Ecosyst Environ 59:19–32

Sattler T, Obrist MK, Duelli P, Moretti M (2011) Urban arthropod communities: added value or just a blend of surrounding biodiversity? Landsc Urb Plan 103:347–361

Schaffers AP, Raemakers IP, Sýkora KV, Ter Braak CJF (2008) Arthropod assemblages are best predicted by plant species composition. Ecology 89:782–794

Scherber C, Eisenhauer N, Weisser WW, Schmid B, Voigt W, Fischer M, Schulze E-D, Roscher C, Weigelt A, Allan E, Beßler H, Bonkowski M, Buchmann N, Buscot F, Clement LW, Ebeling A, Engels C, Halle S, Kertscher I, Klein A-M, Koller R, König S, Kowalski E, Kummer V, Kuu A (2010) Bottom-up effects of plant diversity on multitrophic interactions in a biodiversity experiment. Nature 468:553–556

Seastedt T, Crossley D (1984) The influence of arthropods on ecosystems. Bioscience 34:157–161

Shannon CE (2001) A mathematical theory of communication. ACM SIGMOBILE Mob Comput Commun Rev 5:3–55

Siemann E, Tilman D, Haarstad J, Ritchie M (1998) Experimental tests of the dependence of arthropod diversity on plant diversity. Am Nat 152:738–750

Smith LS, Fellowes MDE (2013) Towards a lawn without grass: the journey of the imperfect lawn and its analogues. Stud Hist Gard Des Landsc 33:1–13

Smith LS, Fellowes MDE (2014a) The influence of species number on productivity, ground coverage and floral performance in grass-free lawns. Landsc Ecol Eng. doi:10.1007/s11355-014-0264-9

Smith LS, Fellowes MDE (2014b) The grass-free lawn: floral performance and management implications. Urb For Urb Green (in press)

Smith LS, Fellowes MDE (2014c) The grass-free lawn: management and species choice for optimum ground cover and plant diversity. Urb For Urb Green 13:433–442

Smith RM, Gaston KK, Warren PH, Thompson K (2006a) Urban domestic gardens (VIII): environmental correlates of invertebrate abundance. Biodivers Conserv 15:2515–2545

Smith RM, Thompson K, Hodgson JG, Warren PH, Gaston KJ (2006b) Urban domestic gardens (IX): composition and richness of the vascular plant flora, and implications for native biodiversity. Biol Conserv 129:312–322

Sørensen T (1948) A method of establishing groups of equal amplitude in plant sociology based on similarity of species and its application to analyses of the vegetation on Danish commons. Biol skr 5:1–34

Stampfli A, Zeiter M (1999) Plant species decline due to abandonment of meadows cannot easily be reversed by mowing: a case study from the southern Alps. J Veg Sci 10:151–164

Sukopp H (1990) Plants and plant communities in urban environments. SPB Academic Publishing, Amsterdam, The Hague

Tallamy DW (2004) Do alien plants reduce insect biomass? Conserv Biol 18:1689–1692

Tallamy DW, Ballard M, D'amico V (2010) Can alien plants support generalist insect herbivores? Biol Invasions 12:2285–2292

Thomas J, Telfer MG, Roy DB, Preston CD, Greenwood J, Asher J, Fox R, Clarke RT, Lawton JH (2004) Comparative losses of British butterflies, birds, and plants and the global extinction crisis. Science 303:1879–1881

Thompson K (2014) Where do camels belong?: the story and science of invasive species. Profile Books, London

Thompson K, Austin KC, Smith RM, Warren PH, Angold PG, Gaston KJ (2003) Urban domestic gardens (I): putting small-scale plant diversity in context. J Veg Sci 14:71–78

Zechmeister H, Schmitzberger I, Steurer B, Peterseil J, Wrbka T (2003) The influence of land-use practices and economics on plant species richness in meadows. Biol Conserv 114:165–177

Zerbe S, Maurer U, Schmitz S, Sukopp H (2003) Biodiversity in Berlin and its potential for nature conservation. Landsc Urb Plan 62:139–148
Acknowledgments
The authors would like to thank Timothy Latter for insect collection and the Royal Horticultural Society of Great Britain, the Garden Centre Association's Dick Allen Scholarship Fund, Mr Simon Bass and the Finnis-Scott Foundation for kindly supporting this study.
Additional information
Communicated by Dirk Sven Schmeller.
Electronic supplementary material
Below is the link to the electronic supplementary material.
About this article
Cite this article
Smith, L.S., Broyles, M.E.J., Larzleer, H.K. et al. Adding ecological value to the urban lawnscape. Insect abundance and diversity in grass-free lawns. Biodivers Conserv 24, 47–62 (2015). https://doi.org/10.1007/s10531-014-0788-1
Received:

Revised:

Accepted:

Published:

Issue Date:

DOI: https://doi.org/10.1007/s10531-014-0788-1
Keywords
Urban biodiversity

Created vegetation

Novel ecosystems

Urban gardening

Arthropods