Abstract
For centuries, pastoralists have influenced savanna ecology through their construction of settlements, traditional movement patterns in search of forage, water and safety for their livestock. Construction of settlements initiates localised changes in the vegetation due to clearance of vegetation at construction and collection of construction materials. During the occupation period a lot of dung is deposited in and around settlements. When pastoral families abandon settlements and move away, they leave behind mud huts and livestock corrals surrounded by fences. These sites become nutrient-rich patches supporting a different abundance and diversity of plants and large mammals compared to the rest of the savanna. This study aimed to broaden our understanding of how pastoral land use influences plant diversity in East African savannas. Past work on the effects of settlements has been done in dry places (<600 mm rainfall) with relatively poor soils. To complement and extend these studies, we selected a contrasting site with high rainfall and rich soils in the Mara ecosystem of south-western Kenya. We sampled the occurrence of different plant species along transects radiating from 28 settlements abandoned by pastoralists and ranging in age from 2 months to 48 years on two different soil types. Mean plant species richness and abundance peaked at intermediate distances, 12.5 and 25 m from the edges of settlements. We recorded a total of 210 plant species during the study, 65 of which occurred only within the impact ring of the abandoned settlements. The effects of settlements on plants were stronger on shallow sandy soils than on deep clay soils. Our findings show that abandoned settlements were key sites for regeneration and replenishment of shrubs harvested by the Maasai, but support few other plants of biodiversity value. These unique habitat patches in the savanna ecosystem are under threat as pastoral Maasai become increasingly sedentary and as wildlife conservancies are established, thus reducing the number of abandoned settlements. In essence, the Maasai, by changing their traditional lifestyle, will reduce these nutrient hotspots and hence landscape heterogeneity and biodiversity.
Access options
Buy single article
Instant access to the full article PDF.
US$ 39.95
Tax calculation will be finalised during checkout.
Subscribe to journal
Immediate online access to all issues from 2019. Subscription will auto renew annually.
US$ 119
Tax calculation will be finalised during checkout.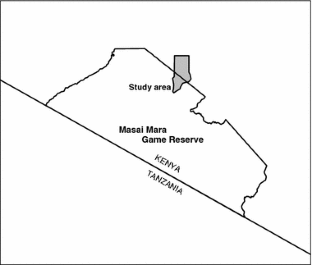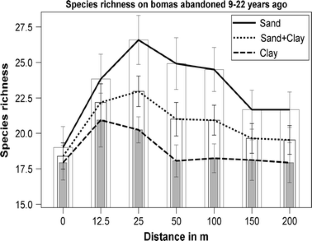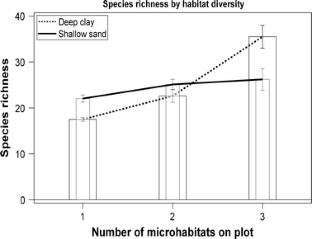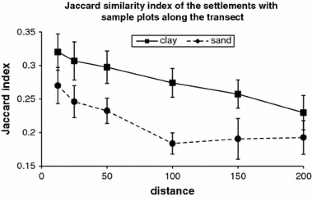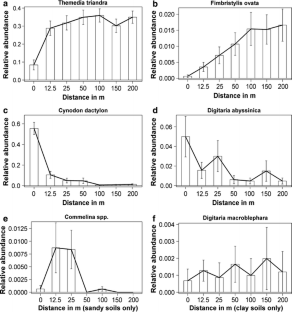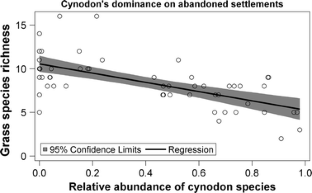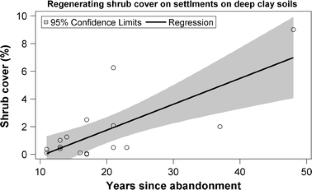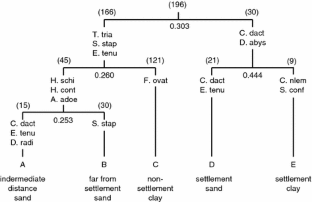 References
Andrew MH (1988) Grazing impact in relation to livestock watering points. Trends Ecol Evol 3:336–339. doi:10.1016/0169-5347(88)90090-0

Augustine DJ (2003) Long-term, livestock-mediated redistribution of nitrogen and phosphorus in an East African savanna. J Appl Ecol 40:137–149. doi:10.1046/j.1365-2664.2003.00778.x

Batjes NH, Gicheru P (2004) Soil data derived from SOTER for studies of carbon stocks and change in Kenya (GEF-SOC Project; Version 1.0), Technical Report 2004/01. ISRIC – World Soil Information, Wagening

Bhola N, Ogutu JO, Piepho HP, Said MY, Reid RS, Hobbs NT, Olff H (2012a) Comparative changes in density and demography of large herbivores in the Masai Mara reserve and its surrounding human-dominated pastoral ranches in Kenya. Biodivers Conserv 21:1509–1530. doi:10.1007/s10531-012-0261-y

Bhola N, Ogutu JO, Said MY, Piepho HP, Olff H (2012b) The distribution of large herbivore hotspots in relation to environmental and anthropogenic correlates in the Mara region of Kenya. J Anim Ecol 81:1268–1287. doi:10.1111/j.1365-2656.2012.02000.x

Blackmore AC, Mentis MT, Scholes RJ (1990) The origin and extent of nutrient-enriched patches within a nutrient poor savanna in South-Africa. J Biogeogr 17:463–470. doi:10.2307/2845378

Boonman JG (1993) East Africa's grasses and fodders: their ecology and husbandry. Tasks for vegetation science, vol 29. Kluwer Academic Publishers, Dordrecht

Breman H, Dewit CT (1983) Rangeland productivity and exploitation in the Sahel. Science 221:1341–1347. doi:10.1126/science.221.4618.1341

Burke MJW, Grime JP (1996) An experimental study of plant community invasibility. Ecology 77:776–790. doi:10.2307/2265501

Cambefort Y (1991) Dung beetles in tropical savannas. In: Hanski I, Cambefort Y (eds) Dung beetle ecology. Princeton University Press, Princeton, pp 156–178

Connell JH (1978) Diversity in tropical rain forests and coral reefs—high diversity of trees and corals is maintained only in a non-equilibrium state. Science 199:1302–1310. doi:10.1126/science.199.4335.1302

Dean WRJ, Milton SJ, Jeltsch F (1999) Large trees, fertile islands, and birds in arid savanna. J Arid Environ 41:61–78. doi:10.1006/jare.1998.0455

Donihue CM, Porensky LM, Foufopoulos J, Riginos C, Pringle RM (2013) Glade cascades: indirect legacy effects of pastoralism enhance the abundance and spatial structuring of arboreal fauna. Ecology 94:827–837

Gauch HG, Whittaker RH (1981) Hierarchical classification of community data. J Ecol 69:537–557. doi:10.2307/2259682

Georgiadis NJ (1987) Response of savanna grasslands to extreme use by pastoralist livestock. PhD Dissertation, Syracuse University, New York

Grace JB, Pugesek BH (1997) A structural equation model of plant species richness and its application to a coastal wetland. Am Nat 149:436–460. doi:10.1086/285999

Grime JP (1973a) Competitive exclusion in herbaceous vegetation. Nature 242:343–347

Grime JP (1973b) Control of species density in herbaceous vegetation. J Environ Manage 1:151–167

Grime JP (1986) Plant strategies and vegetation processes. Wiley, Chichester

Gulliver PH (1975) Nomadic movements: causes and implications. In: Monod T (ed) Pastoralism in tropical Africa. Oxford University Press, Oxford, pp 369–386

Hill MO (1979) TWINSPAN: a Fortran program for arranging multivariate data in an ordered two-way table by classification of the individuals and attributes. Ecology and systematics. Cornell University, Ithaca

Homewood K et al (2001) Long-term changes in Serengeti-Mara wildebeest and land cover: pastoralism, population, or policies? Proc Natl Acad Sci USA 98:12544–12549. doi:10.1073/pnas.221053998

Huenneke LF, Hamburg SP, Koide R, Mooney HA, Vitousek PM (1990) Effects of soil resources on plant invasion and community structure in Californian serpentine grassland. Ecology 71:478–491. doi:10.2307/1940302

Ibrahim KM, Kabuye CHS (1987) An illustrated manual of Kenya grasses. AGPC: MISC/87, Rome

King JM, Sayers AR, Peacock CP, Kontrohr E (1984) Maasai herd and flock structures in relation to livestock wealth, climate and development. Agric Syst 13:21–56. doi:10.1016/0308-521x(84)90054-4

Lamprey R (1990) The research area. In: Sutton JEG (ed) Early pastoralists of south-western Kenya. Memoirs of the British Institute in Eastern Africa 11. Nairobi, pp 11–15

Lamprey RH, Reid RS (2004) Expansion of human settlement in Kenya's Maasai Mara: what future for pastoralism and wildlife? J Biogeogr 31:997–1032. doi:10.1111/j.1365-2699.2004.01062.x

Lamprey R, Waller R (1990) The Loita-Mara region in historical times: patterns of subsistence, settlement and ecological change. In: Sutton JEG (ed) Early pastoralists of south-western Kenya. Memoirs of the British Institute in Eastern Africa, Nairobi, pp 16–36

Langridge WP, Smith JA, Wateridge LED (1970) Some observation on the ecology of Glossina swynnertoni Austen in the Mara region Kenya. In: 12th Meeting of the international scientific council for trypanosomiasis research, Bangui, Central African Republic, 1970. OAU/Scientific and Technical Research Commission, pp 203–211

Lauenroth WK, Dodd JL, Sims PL (1978) Effects of water-induced and nitrogen-induced stresses on plant community structure in a semi-arid grassland. Oecologia 36:211–222. doi:10.1007/bf00349810

Marshall F (1990) Cattle herds and caprine flocks. In: Sutton JEG (ed) Early pastoralists of south-western Kenya. Memoirs of the British Institute in Eastern Africa 11, Nairobi, pp 205–260

McCabe JT (1994) Mobility and land use among African pastoralists: old conceptual problems and new interpretations. In: Fratkin E, Galvin KA, Roth EA (eds) African pastoralist systems: an intergrated approach. Lynne Rienner Publishers, Boulder, pp 69–90

McCabe JT, Dyson-Hudson R, Wienpahl J (1999) Nomadic movements. In: Little MA, Leslie PW (eds) Turkana herders of dry savanna. Oxford University Press, Oxford, pp 108–121

McCune B, Mefford J (1999) Multivariate analysis of ecological data. Version 4.20. MjM Software, Gleneden Beach, Oregon

McIntyre S, Lavorel S (1994) How environmental and disturbance factors influence species composition in temperate Australian grasslands. J Veg Sci 5:373–384. doi:10.2307/3235861

McNaughton SJ (1976) Serengeti migratory wildebeest—facilitation of energy-flow by grazing. Science 191:92–94. doi:10.1126/science.191.4222.92

McNaughton SJ (1979) Grassland-herbivore dynamics. In: Sinclair ARE, Norton-Griffiths M (eds) Serengeti: dynamics of an ecosystem. The University of Chicago Press, Chicago, pp 46–81

McNaughton SJ (1985) Ecology of a grazing ecosystem—the Serengeti. Ecol Monogr 55:259–294. doi:10.2307/1942578

Montalvo J, Casado MA, Levassor C, Pineda FD (1993) Species-diversity patterns in mediterranean grasslands. J Veg Sci 4:213–222. doi:10.2307/3236107

Morris DL, Western D, Maitumo D (2009) Pastoralist's livestock and settlements influence game bird diversity and abundance in a savanna ecosystem of southern Kenya. Afr J Ecol 47:48–55. doi:10.1111/j.1365-2028.2007.00914.x

Muchiru AN, Western DJ, Reid RS (2008) The role of abandoned pastoral settlements in the dynamics of African large herbivore communities. J Arid Environ 72:940–952. doi:10.1016/j.jaridenv.2007.11.012

Muchiru AN, Western D, Reid RS (2009) The impact of abandoned pastoral settlements on plant and nutrient succession in an African savanna ecosystem. J Arid Environ 73:322–331. doi:10.1016/j.jaridenv.2008.09.018

Mueller-Dombois D, Ellenberg H (1974) Aims and methods of vegetation ecology. Wiley, New York

Norton-Griffiths M et al (2009) Land use economics in the Mara area of the Serengeti ecosystem. In: Packer C, Sinclair ARE (eds) Serengeti III: human wildlife interactions. University of Chigaco Press, Chicago, pp 379–416

Ogutu JO, Piepho HP, Dublin HT, Bhola N, Reid RS (2009) Dynamics of Mara-Serengeti ungulates in relation to land use changes. J Zool 278:1–14. doi:10.1111/j.1469-7998.2008.00536.x

Ogutu JO et al (2010) Large herbivore responses to water and settlements in savannas. Ecol Monogr 80:241–266. doi:10.1890/09-0439.1

Ogutu JO, Owen-Smith N, Piepho HP, Said MY (2011) Continuing wildlife population declines and range contraction in the Mara region of Kenya during 1977–2009. J Zool 285:99–109. doi:10.1111/j.1469-7998.2011.00818.x

Ogutu JO et al (2014) Large herbivore responses to surface water and land use in an East African savanna: implications for conservation and human–wildlife conflicts. Biodivers Conserv 23:573–596. doi:10.1007/s10531-013-0617-y

Porensky LM, Young TP (2013) Edge–effect interactions in fragmented and patchy landscapes. Conserv Biol 27:509–519. doi:10.1111/cobi.12042

Proulx M, Mazumder A (1998) Reversal of grazing impact on plant species richness in nutrient-poor vs. nutrient-rich ecosystems. Ecology 79:2581–2592

Reid RS (2012) Savannas of our birth. University of California Press, Berkeley

Reid RS, Ellis JE (1995) Impacts of pastoralists on woodlands in South Turkana, Kenya—livestock-mediated tree recruitment. Ecol Appl 5:978–992. doi:10.2307/2269349

Reid RS et al (2003) People, wildlife and livestock in the mara ecosystem: the mara count 2002. International Livestock Research Institute, Nairobi

Roques KG, O'Connor TG, Watkinson AR (2001) Dynamics of shrub encroachment in an African savanna: relative influences of fire, herbivory, rainfall and density dependence. J Appl Ecol 38:268–280. doi:10.1046/j.1365-2664.2001.00567.x

Rydin H, Borgegard SO (1988) Plant-species richness on island over a century of primary succession—Lake Hjalmaren. Ecology 69:916–927. doi:10.2307/1941247

SAS Institute (2012) SAS system for Windows, version 9.3. Carey, NC, USA

Serneels S, Lambin EF (2001) Impact of land-use changes on the wildebeest migration in the northern part of the Serengeti-Mara ecosystem. J Biogeogr 28:391–407. doi:10.1046/j.1365-2699.2001.00557.x

Sinclair ARE (1995) Serengeti past and present. In: Sinclair ARE, Arcese P (eds) Serengeti II: dynamics, management, and conservation of an ecosystem. The University of Chicago Press, Chicago, pp 3–30

Sinclair ARE, Arcese P (1995) Serengeti in the context of worldwide conservation efforts. In: Sinclair ARE, Arcese P (eds) Serengeti II: dynamics, management, and conservation of an ecosystem. The University of Chicago Press, Chicago, pp 31–46

Skerman PJ, Riveros F (1990) Tropical grasses. FAO Plant Production and Protection Series, vol 23. Rome

Soderstrom B, Reid RS (2010) Abandoned pastoral settlements provide concentrations of resources for savanna birds. Acta Oecologica-Int J Ecol 36:184–190. doi:10.1016/j.actao.2009.12.001

SPSS Inc. (2001) SPSS for Windows, release 11.0.1. Chicago

Stelfox JB (1986) Effects of livestock enclosures (bomas) on the vegetation of the Athi plains, Kenya. Afr J Ecol 24:41–45. doi:10.1111/j.1365-2028.1986.tb00340.x

Ter Braak CJF (1986) Canonical correspondence analysis—a new eigenvector technique for multivariate direct gradient analysis. Ecology 67:1167–1179

Ter Braak CJF (1994) Canonical community ordination. Part I: Basic theory and linear methods Ecoscience 1:127–140

Tilman D (1988) Plant strategies and the dynamics and structure of plant communities. Princeton University Press, Princeton

Tobler MW, Cochard R, Edwards PJ (2003) The impact of cattle ranching on large-scale vegetation patterns in a coastal savanna in Tanzania. J Appl Ecol 40:430–444. doi:10.1046/j.1365-2664.2003.00816.x

Veblen KE, Young TP (2010) Contrasting effects of cattle and wildlife on the vegetation development of a savanna landscape mosaic. J Ecol 98:993–1001. doi:10.1111/j.1365-2745.2010.01705.x

Western D, Dunne T (1979) Environmental aspects of settlement site decisions among pastoral Maasai. Hum Ecol 7:75–98. doi:10.1007/bf00889353

Western D, Gichohi H (1993) Segregation effects and the impoverishment of savanna parks—the case for ecosystem viability analysis. Afr J Ecol 31:269–281. doi:10.1111/j.1365-2028.1993.tb00541.x

Williams LAJ (1964) Geology of the Mara River—Sianna area. Report no. 66. Geological survey of Kenya. Ministry of Natural Resources, Nairobi

Wilson SD (2000) Heterogeneity, diversity, and scale in plant communities. In: Hutchings MJ, John EA, Stewart AJ (eds) Ecological consequences of habitat heterogeneity. Blackwell Science, Oxford, pp 53–69

Wilson SD, Tilman D (2002) Quadratic variation in old-field species richness along gradients of disturbance and nitrogen. Ecology 83:492–504. doi:10.2307/2680030

Young TP, Patridge N, Macrae A (1995) Long-term glades in Acacia bushland and their edge effects in Laikipia. Kenya Ecol Appl 5:97–108. doi:10.2307/1942055
Acknowledgments
We thank Moses Koriatah, Mooli Sananka, James Kaigil, Josphat Sananka, Bo Söderström and the late John Rakwa, for field assistance; the East African Herbarium for help in identifying the plants; and the Management of the Masai Mara National Reserve, Koyiaki-Lemek Wildlife Trust, Koyiaki Group Ranch and the Government of the Republic of Kenya for permission to conduct this study. This research was financially supported by the Finland Ministry of Foreign Affairs and the donors of the International Livestock Research Institute.
Additional information
Communicated by Peter Ashton.
Electronic supplementary material
Below is the link to the electronic supplementary material.
About this article
Cite this article
Vuorio, V., Muchiru, A., Reid, R.S. et al. How pastoralism changes savanna vegetation: impact of old pastoral settlements on plant diversity and abundance in south-western Kenya. Biodivers Conserv 23, 3219–3240 (2014). https://doi.org/10.1007/s10531-014-0777-4
Received:

Accepted:

Published:

Issue Date:
Keywords
East Africa

Serengeti-Mara ecosystem

Maasai

Livestock enclosures

Species response