Abstract
Recent analyses of Internet search behaviour conclude that the public's interest in environmental issues is falling (McCallum and Bury, Biodiv Conserv 22:1355–1367, 2013). Ficetola (Biodiv Conserv 22:2983–2988, 2013) argued that the nature of the underpinning data processing may create an artificially declining trend, even when the absolute number of searches increases and public interest is growing. These findings are highly relevant for applied conservation strategies and the public media have quickly picked the message of the alarming fading interest worldwide, the possibility of devastating repercussions and calls for rapid responses in conservation communication. We challenge both analysis by evaluating Internet searches of English and non-English speaking users. The inclusion of information on the linguistic background reveals a much more differentiated picture, with some cultures displaying an increasing interest and others a decreasing interest. These analyses allow a better understanding of the importance of global—local viewpoints, cultural knowledge and cultural differences on the interpretation of underpinning human interest from Internet search patterns. Despite methodological problems limiting the utility of summary data provided by search engines, they can offer powerful information when applied spatially and temporally restricted and analysed alongside suitable benchmark indicators. We discuss that due consideration of methodological caveats is essential to inform the general public about the relevance for conservation without triggering sensationalist or over-generalizing conclusions. Conservation communication needs considering that Internet search engines do not necessarily mirror the interest of many people who are essential for the conservation of biodiversity.
Access options
Buy single article
Instant access to the full article PDF.
US$ 39.95
Tax calculation will be finalised during checkout.
Subscribe to journal
Immediate online access to all issues from 2019. Subscription will auto renew annually.
US$ 119
Tax calculation will be finalised during checkout.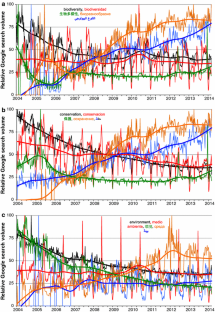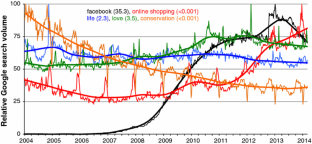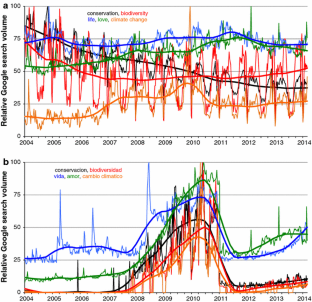 References
Al-Eroud AF, Al-Ramahi MA, Al-Kabi MN et al (2011) Evaluating Google queries based on language preferences. J Inform Sci 37:282–292. doi:10.1177/0165551511403383

Barboza D (2010) Baidu's gain from departure could be China's loss. The New York Times

Bickford D, Posa MRC, Qie L et al (2012) Science communication for biodiversity conservation. Biol Conserv 151:74–76. doi:10.1016/j.biocon.2011.12.016

Chatfield C (1977) Some recent developments in time-series analysis. J Roy Stat Soc A 140:492–510

Cleveland RB, Cleveland WS, McRae JE, Terpenning I (1990) STL: a seasonal-trend decomposition procedure based on loess. J Off Stat 6:3–73

Codling EA, Plank MJ, Benhamou S (2008) Random walk models in biology. J R Soc Interface 5:813–834. doi:10.1098/rsif.2008.0014

Durlauf SN, Phillips PC (1988) Trends versus random walks in time series analysis. Econom: J Econom Soc 56:1333–1354

Ficetola GF (2013) Is interest toward the environment really declining? The complexity of analysing trends using internet search data. Biodivers Conserv 22:2983–2988. doi:10.1007/s10531-013-0552-y

Ginsberg J, Mohebbi MH, Patel RS et al (2008) Detecting influenza epidemics using search engine query data. Nature 457:1012–1014. doi:10.1038/nature07634

Hobbs SJ, White PCL (2012) Motivations and barriers in relation to community participation in biodiversity recording. J Nat Conserv 20:364–373. doi:10.1016/j.jnc.2012.08.002

Jacobson SK (2009) Communication skills for conservation professionals. Island Press, Washington, D.C

Kronrod A, Grinstein A, Wathieu L (2012) Go green! Should environmental messages be so assertive? J Mark 76:95–102

Malcevschi S, Marchini A, Savini D, Facchinetti T (2012) Opportunities for web-based indicators in environmental sciences. PLoS ONE 7:e42128. doi:10.1371/journal.pone.0042128

McCallum ML, Bury GW (2013) Google search patterns suggest declining interest in the environment. Biodivers Conserv 22:1355–1367. doi:10.1007/s10531-013-0476-6

McCallum M, Bury G (2014) Public interest in the environment is falling: a response to Ficetola (2013). Biodivers Conserv 23:1–6. doi:10.1007/s10531-014-0640-7

Miller JR (2005) Biodiversity conservation and the extinction of experience. Trends Ecol Evol 20:430–434. doi:10.1016/j.tree.2005.05.013

Sachs L (1982) Applied statistics. A handbook of techniques. Springer, New York

SBWIRE (2014) Where have all the treehuggers gone? (Press release, Contact: McCallum M). http://www.sbwire.com/press-releases/where-have-all-the-treehuggers-gone-461721.htm.Accessed 04-March-2014

Vanderelst D, Speybroeck N (2010) Quantifying the Lack of Scientific Interest in Neglected Tropical Diseases. PLoS Negl Trop Dis 4:e576. doi:10.1371/journal.pntd.0000576

Wikipedia contributors (2014) Extinction

Wilde GR, Pope KL (2013) Worldwide trends in fishing interest indicated by internet search volume. Fish Manage Ecol 20:211–222. doi:10.1111/fme.12009
Acknowledgments
We thank Dr Gentile Francesco Ficetola, Dr Malcolm McCallum and Dr Fuwen Wei for helpful, constructive comments on early versions of this manuscript.
Additional information
Communicated by Dirk Sven Schmeller.
About this article
Cite this article
Funk, S.M., Rusowsky, D. The importance of cultural knowledge and scale for analysing internet search data as a proxy for public interest toward the environment. Biodivers Conserv 23, 3101–3112 (2014). https://doi.org/10.1007/s10531-014-0767-6
Received:

Revised:

Accepted:

Published:

Issue Date:
Keywords
Biodiversity

Communication

Conservation

Google trends

Public opinion

Time series analysis