Abstract
Use of the Internet by an increasing number of people to search for information related to varying disciplines has led to more precise data on societal views and trends. We used web search log data from a 6-year period and examined characteristics related to public interest in endangered species. Web search data for 246 endangered species as determined by the Ministry of Environment of Korea were evaluated. Relative search volumes for species were correlated with the status of conservation practices, and a self-organizing map (SOM) was used to analyze the relationship among selected variables. The relative search volume for higher taxa, including mammals, birds, amphibians and reptiles, were ten times higher than those for other taxa. SOM clusters were mainly divided according to the rank designation of the endangered species and the existence of a conservation facility dedicated to the species. The relative search volume and amount of web materials were the highest for the most highly ranked species. A positive relationship between the relative search volume and number of printed media articles (β 2.68; R 2 0.45; p < 0.0,001) and a negative relationship between the length of the common name of a species and number of printed media articles (β −125.7; R 2 0.48; p = 0.024) were found. The evaluation of endangered species by using web-based data can be useful to improve conservation tools, including using feedback to facilitate interaction among political, scientific, and socio-economic interests.
Access options
Buy single article
Instant access to the full article PDF.
US$ 39.95
Tax calculation will be finalised during checkout.
Subscribe to journal
Immediate online access to all issues from 2019. Subscription will auto renew annually.
US$ 119
Tax calculation will be finalised during checkout.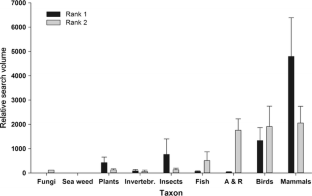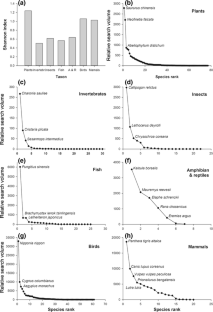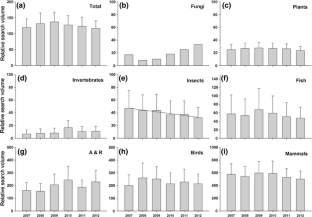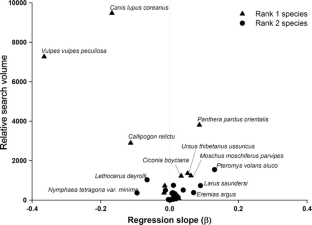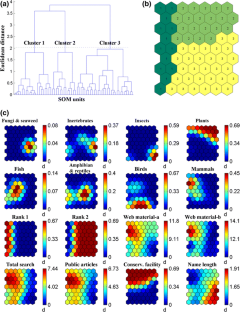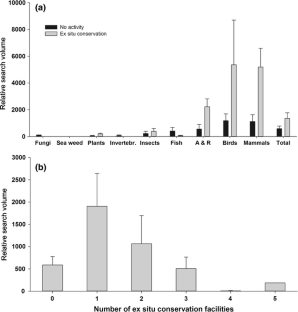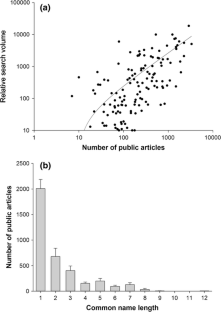 References
Achrekar H, Gandhe A, Lazarus R, Yu SH, Liu B (2011) Predicting flu trends using twitter data. In: Computer communications workshops (INFOCOM WKSHPS), 2011 IEEE conference. pp 702–707

Ahern J, Margerison-Zilko C, Hubbard A, Galea S (2013) Alcohol outlets and binge drinking in urban neighborhoods: the implications of nonlinearity for intervention and policy. Am J Public Health 103(4):81–87

Akamai (2012) State of the internet. http://www.akamai.com/stateoftheinternet/. Accessed 01 July 2013

AOL Inc. (2013) AOL search trends. http://search.aol.com/aol/trends. Accessed 01 April 2013

Baddeley A (1992) Working memory. Science 255:556–559

Bollen J, Mao H, Zeng X (2011) Twitter mood predicts the stock market. J Comput Sci 2:1–8

Bowen-Jones E, Entwistle A (2002) Identifying appropriate flagship species: the importance of culture and local contexts. Oryx 36:189–195

Carneiro HA, Mylonakis E (2009) Google trends: a web-based tool for real-time surveillance of disease outbreaks. Clin Infect Dis 49:1557–1564

Caro T (2010) Conservation by proxy: indicator, umbrella, keystone, flagship, and other surrogate species. Island Press, Washington, D.C.

Céréghino R, Park YS (2009) Review of the self-organizing map (SOM) approach in water resources: commentary. Environ Model Softw 24:945–947

Chakrabarty S, Bhattacharya S, Batra K (2013) On evaluation of customer dissatisfaction index based on sentiment analysis: a statistical approach. Int J Data Anal Tech Strat 5(4):427–444

Choi H, Varian H (2012) Predicting the present with Google Trends. Econ Recreat 88:2–9

Chon TS (2011) Self-organizing maps applied to ecological sciences. Ecol Inform 6(1):50–61

Chon TS, Qu X, Cho WS, Hwang HJ, Tang H, Liu Y, Choi JH (2013) Evaluation of stream ecosystem health and species association based on multi-taxa (benthic macroinvertebrates, algae, and microorganisms) patterning with different levels of pollution. Ecol Inform 17:58–72

Clements CF (2013) Public interest in the extinction of a species may lead to an increase in donations to a large conservation charity. Biodivers Conserv 22:2695–2699

Clucas B, McHugh K, Caro T (2008) Flagship species on covers of US conservation and nature magazines. Biodivers Conserv 17:1517–1528

Daum communications (2013) Daum. http://trend.search.daum.net/SearchTrend/index.html. Accessed 01 July 2013

Dawson D, Shogren JF (2001) An update on priorities and expenditures under the Endangered Species Act. Land Econ 77:527–532

Fazey I, Fischer J, Lindenmayer DB (2005) What do conservation biologists publish? Biol Conserv 124:63–73

Ficetola GF (2013) Is interest toward the environment really declining? The complexity of analysing trends using internet search data. Biodivers Conserv 22:2983–2988

Fischer A, Bednar-Friedl B, Langers F, Dobrovodská M, Geamana N, Skogen K, Dumortier M (2011) Universal criteria for species conservation priorities? Findings from a survey of public views across Europe. Biol Conserv 144:998–1007

Goel S, Hofman JM, Lahaie S, Pennock DM, Watts DJ (2010) Predicting consumer behavior with Web search. Proc Natl Acad Sci 107:17486–17490

Google (2013) Google Trends. http://www.google.com/trends/. Accessed 01 July 2013

International Telecommunication Union (2013) Worldwide internet users. http://www.itu.int/en/ITU-D/Statistics/Pages/stat/default.aspx. Accessed 10 April 2013

Internet TrendTM (2013) Web search statistics. http://internettrend.co.kr/trendForward.tsp. Accessed 01 July 2013

Israel N, Wolf-Branigin M (2011) Nonlinearity in social service evaluation: a primer on agent-based modeling. Soc Work Res 35(1):20–24

IUCN (2013) The IUCN Red List of Threatened Species. http://www.iucnredlist.org. Accessed 01 July 2013

Jansen BJ, Liu Z, Weaver C, Campbell G, Gregg M (2011) Real time search on the web: queries, topics, and economic value. Inform Process Manag 47(4):491–506

Kohonen T (2001) Self-organizing maps. Springer Science & Business Media, Berlin, Germany

Kohonen T (2013) Essentials of the self-organizing map. Neural Netw 37:52–65

Lindemann-Matthies P, Bose E (2008) How many species are there? Public understanding and awareness of biodiversity in Switzerland. Hum Ecol 36:731–742

Male TD, Bean MJ (2005) Measuring progress in US endangered species conservation. Ecol Lett 8:986–992

Martín-López B, Montes C, Benayas J (2008) Economic valuation of biodiversity conservation: the meaning of numbers. Conserv Biol 22:624–635

Martín-López B, Montes C, Ramírez L, Benayas J (2009) What drives policy decision-making related to species conservation? Biol Conserv 142:1370–1380

Mccallum ML, Bury GW (2013) Google search patterns suggest declining interest in the environment. Biodivers Conserv 22:1355–1367

McKinney ML (1999) High rates of extinction and threat in poorly studied taxa. Conserv Biol 13:1273–1281

Microsoft (2013) Bing Trends. http://www.bing.com/toolbox/keywords. Accessed 01 April 2013

Ministry of Environment (2012) List of endangered species. Ministry of Environment, Seoul

Musiał K, Kazienko P (2013) Social networks on the internet. World Wide Web 16(1):31–72

NHN (2013) Naver Trends. http://trend.naver.com/. Accessed 01 July 2013

Novacek MJ (2008) Engaging the public in biodiversity issues. Proc Natl Acad Sci 105(1):11571–11578

OECD (2010) OECD Broadband statistics. http://oecd.org/sti/ict/broadband. Accessed 01 July 2013

Park YS, Chang J, Lek S, Cao W, Brosse S (2003) Conservation strategies for endemic fish species threatened by the Three Gorges Dam. Conserv Biol 17:1748–1758

Pelat C, Turbelin C, Bar-Hen A, Flahault A, Valleron AJ (2009) More diseases tracked by using Google Trends. Emerg Infect Dis 15:1327

Ripberger JT (2011) Capturing curiosity: using internet search trends to measure public attentiveness. Policy Stud J 39(2):239–259

Rzhetsky A, Seringhaus M, Gerstein M (2008) Seeking a new biology through text mining. Cell 134(1):9–13

Seifter A, Schwarzwalder A, Geis K, Aucott J (2010) The utility of "Google Trends" for epidemiological research: lyme disease as an example. Geosp Health 4:135–137

Shannon CE, Weaver W (1949) The mathematical theory of communication. University of Illinois Press, Champaign

Sparrow B, Liu J, Wegner DM (2011) Google effects on memory: cognitive consequences of having information at our fingertips. Science 333(6043):776–778

Vesanto J, Alhoniemi E (2000) Clustering of the self-organizing map. IEEE Trans Neural Netw 11:586–600

Wilson JRU, Procheş Ş, Braschler B, Dixon ES, Richardson DM (2007) The (bio)diversity of science reflects the interests of society. Front Ecol Environ 5:409–414

Wilson N, Mason K, Tobias M, Peacey M, Huang QS, Baker M (2009) Interpreting Google flu trends data for pandemic H1N1 influenza: the New Zealand experience. Eur Surveill 14:19386

YouTube (2013) YouTube Trends. http://youtube-trends.blogspot.kr/. Accessed 01 April 2013

Żmihorski M, Dziarska-Pałac J, Sparks TH, Tryjanowski P (2013) Ecological correlates of the popularity of birds and butterflies in Internet information resources. Oikos 122:183–190
Acknowledgments
This study was supported by the Korea National Long-Term Ecological Research (KNLTER) by the National Institute of Ecology, Ministry of Environment (S. Korea).
Additional information
Communicated by Marcelo F Tognelli.
Appendix
Appendix
See Table 3.
About this article
Cite this article
Kim, J.Y., Do, Y., Im, RY. et al. Use of large web-based data to identify public interest and trends related to endangered species. Biodivers Conserv 23, 2961–2984 (2014). https://doi.org/10.1007/s10531-014-0757-8
Received:

Revised:

Accepted:

Published:

Issue Date:
Keywords
Internet

Relative search volume

Public interest

Trend

Self-organizing map