Abstract
Wild orchids are traditionally harvested as Salep and used in traditional medicine and ice-cream production in Iran. Recently however, illegal harvest of wild orchids for export appears to have grown. This study aimed to: (1) determine the diversity of harvested wild orchid species and their collection sites in Iran; and (2) study the current harvest status and trade chain and volume to estimate the total orchid plant extraction from natural populations. Field surveys of collectors and market surveys of traders were conducted to establish the diversity of collected species, to identify harvest hotspots, and to document harvesting and trade volumes. Sixteen species and subspecies from 7 genera of Orchidaceae are collected for their tubers. Based on estimates from the 2013 April to June harvest season more than 24.5 tons of fresh tubers were collected from three districts in Golestan province alone. It is estimated that this amount of tuber requires the lethal destructive harvesting of 5.5 –6.1 million orchids, with a market value of 320,000 USD. In the Tehran Bazar Salep trade during May–July 2013 was 1.9 tons of dried tubers, with estimated retail value of 310,000 USD. Current orchid collection practices in Iran, which have soared in recent years due to international demand, do not seem sustainable as all tubers are collected destructively. To preserve orchid populations, in the longterm, establishment of specific Orchid Conservation Areas and introduction of sustainable production practices, could alleviate harvesting pressure. In the midterm, development of a DNA barcoding-based molecular identification system could help to monitor and control illegal trade. In the near term, effective implementation of collection bans in excessively harvested areas and strengthening of current regulations are necessary to avoid the catastrophic effects of harvesting on orchid populations, as has been observed in Turkey.
Access options
Buy single article
Instant access to the full article PDF.
US$ 39.95
Tax calculation will be finalised during checkout.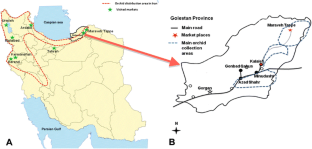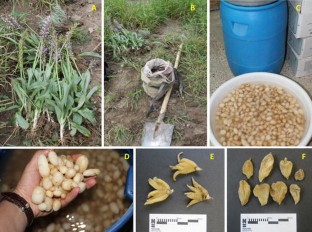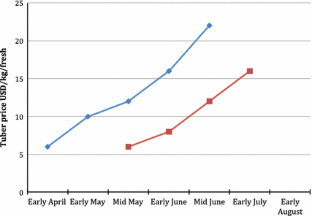 References
Amin G (2005) The most common traditional medicinal plants of Iran. Tehran University of Medical Sciences, Tehran

Arditti J (1992) Fundamentals of orchid biology. Wiley, New York

Bulpitt CJ (2005) The uses and misuses of orchids in medicine. QJM 98:625–631. doi:10.1093/qjmed/hci094

Challe JF, Price LL (2009) Endangered edible orchids and vulnerable gatherers in the context of HIV/AIDS in the Southern Highlands of Tanzania. J Ethnobiol Ethnomed 5:41. doi:10.1186/1746-4269-5-41

Davenport TRB, Ndangalasi HJ (2003) An escalating trade in orchid tubers across Tanzania's Southern Highlands: assessment, dynamics and conservation implications. Oryx 37:55–61. doi:10.1017/S0030605303000127

Forests, Range and Watershed Management Organization (FRWO) (2013) Executive policies on protection, restoration, development and utilization of forests and rangelands byproducts and export of medicinal and industrial plants in 2013 (http://www.edari.frw.org.ir/Portals/41/bakh92/b15123.pdf)

Hossain MM (2011) Therapeutic orchids: traditional uses and recent advances–an overview. Fitoterapia 82:102–140. doi:10.1016/j.fitote.2010.09.007

Kasparek M, Grimm U (1999) European trade in Turkish Salep with special reference to Germany. Econ Bot 53:396–406. doi:10.1007/BF02866718

Kasulo V, Mwabumba L, Munthali C (2009) A review of edible orchids in Malawi. J Hortic For 1:133–139

Renz J (1978) Flora iranica. Part 126: orchidaceae. Naturhistorisches Museum, Vienna

Schippmann U, Leaman DJ, Cunningham AB (2006) A comparison of cultivation and wild collection of medicinal and aromatic plants under sustainability aspects. In: Bogers RJ, Craker LE, Lange D (eds) Medicinal and aromatic plants. Springer, Dordrecht, pp 75–95

Sezik E (2002) Turkish orchids and salep. Acta Pharm Turc 44:151–157

Sezik E (2006) Destroying of Ophrys species to obtain Salep in turkey. J Eur Orchid 38:290

Shahsavari A (2008) Flora of Iran. Part 57: orchidaceae. Research Institute of Forests and Rangelands, Tehran

Starin D (2012) Salepi extinction, Salepi survival: how a change in ingredients could help safeguard Orchids. The bulletin of the American Orchid Society, Orchids, pp 490–494

Subedi A, Kunwar B, Choi Y et al (2013) Collection and trade of wild-harvested orchids in Nepal. J Ethnobiol Ethnomed 9(1):64

Tamer CE, Karaman B, Copur OT (2006) A traditional Turkish beverage: salep. Food Rev Int 22:43–50

Tekinşen KK, Güner A (2010) Chemical composition and physicochemical properties of tubera salep produced from some Orchidaceae species. Food Chem 121:468–471. doi:10.1016/j.foodchem.2009.12.066
Acknowledgments
The authors are indebted to local plant collectors and traders for their cordiality and cooperation. We also gratefully acknowledge the Carl Tryggers Foundation for Scientific Research for providing a postdoctoral research stipend to AG (through HdB). HdB is a research fellow at Naturalis financed by the Netherlands Organisation for Scientific Research (NWO). Further support for fieldwork was gratefully received from an Anne S. Chatham fellowship of the Garden Club of America (AG), Sven och Dagmar Saléns stiftelse (HdB), Lars Hiertas Minne (HdB) and the Swedish Science Council Swedish Research Links program (HdB).
In Memoriam: Farzaneh Naghibi passed away in early 2014. She was an inspiration to all of us, as well as to a generation of Iranian researchers in ethnobotany and pharmacognosy. She will be remembered for her focus on quality and innovative research and her openhearted hospitality. She was an active coach for young researchers both male and female, providing opportunities for aspiring students to fulfill their ambitions, show their dedication, and develop their independence.
Additional information
Communicated by Danna J Leaman.
About this article
Cite this article
Ghorbani, A., Gravendeel, B., Naghibi, F. et al. Wild orchid tuber collection in Iran: a wake-up call for conservation. Biodivers Conserv 23, 2749–2760 (2014). https://doi.org/10.1007/s10531-014-0746-y
Received:

Revised:

Accepted:

Published:

Issue Date:
Keywords
Salep

Orchidaceae

Anacamptis

Orchis

Dactylorhiza

Sustainability

CITES