Abstract
An attitudinal survey on wildlife consumption and conservation awareness was conducted in Beijing, Shanghai, Guangzhou, Kunming and Nanning of China recently. Comparison with the results from a similar survey we did in 2004, after 8 years, the proportion of respondents who had consumed wildlife was dropped slightly from 31.3 % down to 29.6 %. It showed that the rates of wildlife consumed as food and as ingredients for traditional medicines in Guangzhou and Nanning ranked in the top. The consumptions in these two cities were mostly driven by utilitarian motivation, and mainly for food. Meanwhile, the rate of consumers taking wildlife as food was declining significantly in Beijing after 8 years. The results also showed that 52.7 % agreed that wildlife should not be consumed, which was significantly increased comparison with the survey result of 42.7 % in 2004. In addition, respondents agreed that wildlife could be used significantly decline from 42.8 to 34.8 %. It's indicated that wildlife conservation awareness was raised in China in the past years. We also founded that consumers with higher income and higher educational background were having higher wildlife consumption rate. It suggested that to strengthen the law enforcement and to promote the public awareness were keys to reduce wildlife consumption in China.
Access options
Buy single article
Instant access to the full article PDF.
USD 39.95
Price includes VAT (USA)
Tax calculation will be finalised during checkout.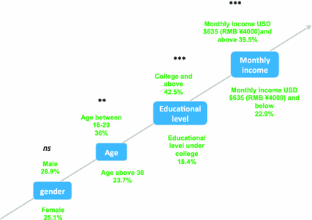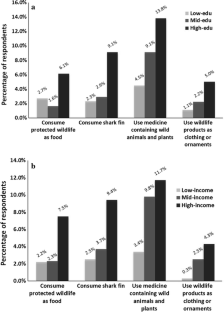 References
Burn R, Underwood F, Blanc J (2011) Global trends and factors associated with the illegal killing of elephants: a hierarchical Bayesian analysis of carcass encounter data. PLoS ONE 6(6):e20619

Coleman JS (1958) Relational analysis: the study of social organizations with survey methods. Hum Organ 17(4):28–36

Dinerstein E, Loucks C, Wikramanayake E et al (2007) The fate of wild tiger. Bioscience 57(6):508–514

Gratwicke B, Mills J, Dutton A, Gabriel G, Long B, Seidensticker G, Wright B, Wang Y, Zhang L (2008) Attitudes toward consumption and conservation of tigers in China. PLoS ONE 3(7):e2544

Li Y, Li D (1997) Survey of cross-border trade in live wildlife between China and Vietnam. Prot China's Biodivers 1:159–175

Li C, Zhang L (2003) Guide book on wildlife import and export management. China Forestry Publishing House, Beijing

Maisels F, Strindberg S, Blake S, Wittemyer G et al (2013) Devastating decline of forest elephants in Central Africa. PLoS ONE 8(3):e59469

Morgan D (2000) Chinese medicine raising wildlife concerns. Reuters News Agency. Available from http://dailynews.yahoo.com/h/nm/20001217/sc/environment_tcm_dc_1.html. Accessed 17 Dec 2000

Nooren H, Claridge G (2001) Wildlife trade in Laos: the end of the game. Netherlands Committee for IUCN, Amsterdam

Srikosamatara S, Siripholdej B, Suteethorn V (1992) Wildlife trade in Lao PDR and between Lao PDR and Thailand. Nat Hist Bull Siam Soc 40:1–47

Wang Z, Wu D, Chen H (2001) Preliminary study of border trade in wildlife in Yunnan. Prot China's Biodivers 2:158–167

World Wildlife Fund-United Kingdom (2001) Souvenir alert highlights deadly trade in endangered species. http://www.wwf.org.uk/news/scotland/n_0000000409.asp. Accessed 29 May 2006

Zhang L, Hua N, Sun S (2008) Wildlife trade, consumption and conservation awareness in southwest China. Biodivers Conserv 17(6):1493–1516

Zhang L, Li Q, Sun G, Luo S (2010) Population and conservation status of pangolins in China. Chin Bull Biol 45(9):1–4

Zhou F (1997) Captive breeding of economic wildlife. Guangxi Science and Technology Press, Nanning
Acknowledgments
We greatly appreciated the financial support from Freeland Foundation to Conservation International, which was a sub-grant from USAID funded Asia Regional Response to Endangered Species Trafficking (ARREST) program. We thanked to the Horizon Key Research and its staff who took the field survey in five cities. We were grateful to Miss Jia Qi, Miss Siwaporn Tee, Mr. Kun Tian and Miss Rachel Lee for their comments on the survey report and this manuscript.
Additional information
Communicated by David Hawksworth.
About this article
Cite this article
Zhang, L., Yin, F. Wildlife consumption and conservation awareness in China: a long way to go. Biodivers Conserv 23, 2371–2381 (2014). https://doi.org/10.1007/s10531-014-0708-4
Received:

Revised:

Accepted:

Published:

Issue Date:
Keywords
Wildlife consumption

Conservation awareness

Attitude changes

China