Abstract
Culturally protected forest patches or sacred groves have been the integral part of many traditional societies. This age old tradition is a classic instance of community driven nature conservation sheltering native biodiversity and supporting various ecosystem functions particularly hydrology. The current work in Central Western Ghats of Karnataka, India, highlights that even small sacred groves amidst humanised landscapes serve as tiny islands of biodiversity, especially of rare and endemic species. Temporal analysis of landuse dynamics reveals the changing pattern of the studied landscape. There is fast reduction of forest cover (15.14–11.02 %) in last 20 years to meet up the demand of agricultural land and plantation programs. A thorough survey and assessment of woody endemic species distribution in the 25 km2 study area documented presence of 19 endemic species. The distribution of these species is highly skewed towards the culturally protected patches in comparison to other land use elements. It is found that, among the 19 woody endemic species, those with greater ecological amplitude are widely distributed in the studied landscape in groves as well as other land use forms whereas, natural population of the sensitive endemics are very much restricted in the sacred grove fragments. The recent degradation in the sacred grove system is perhaps, due to weakening of traditional belief systems and associated laxity in grove protection leading to biotic disturbances. Revitalisation of traditional practices related to conservation of sacred groves can go a long way in strengthening natural ecological systems of fragile humid tropical landscape.
This is a preview of subscription content, log in to check access.
Access options
Buy single article
Instant access to the full article PDF.
US$ 39.95
Tax calculation will be finalised during checkout.
Subscribe to journal
Immediate online access to all issues from 2019. Subscription will auto renew annually.
US$ 119
Tax calculation will be finalised during checkout.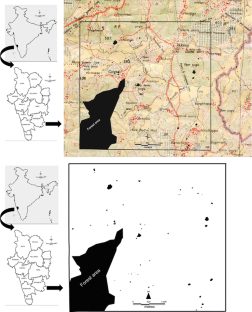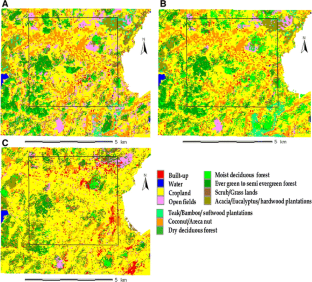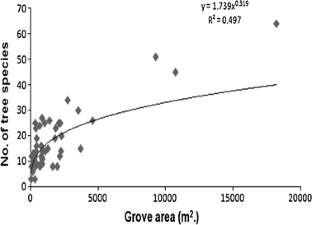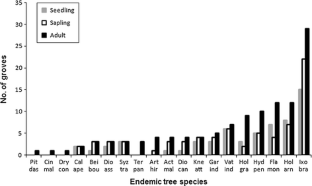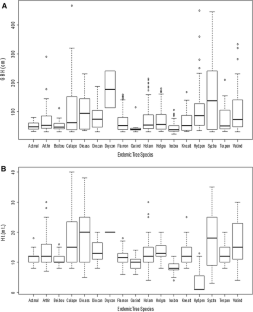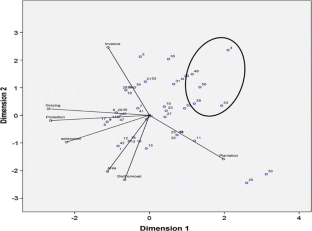 References
Achard F, Eva HD, Stibig HJ, Mayaux P, Gallego J, Richards T, Malingreau JP (2002) Determination of deforestation rates of the world's humid tropical forests. Science 297:999–1002

Aerts R, Van Overtveld K, Haile M, Hermy M, Deckers J, Muys B (2006) Species composition and diversity of small Afromontane forest fragments in northern Ethiopia. Plant Ecol 187:127–142

Ahmed MF (2004) Bird diversity of the sacred groves of Cherrapunjee, Meghalaya, Assam. Technical report, Aaranyak

Aiama DM (2007) Plant diversity patterns in agricultural mosaics of Southeastern India: implications for sustainable land-use. M.Sc .dissertation. Queen's University, Kingston, Ontario, Canada

Ambinakudige S, Sathish BN (2009) Comparing tree diversity and composition in coffee farms and sacred forests in the Western Ghats of India. Biodivers Conserv 18:987–1000

Anitha K, Joseph S, Chandran RJ, Ramasamy EV, Prasad SN (2010) Tree species diversity and community composition in a human-dominated tropical forest of Western Ghats biodiversity hotspot, India. Ecol Complex 7:217–224

Bhagwat S, Kushalappa CG, Williams PH, Brown NC (2005) A landscape approach to biodiversity conservation of sacred groves in the Western Ghats of India. Conserv Biol 19:1853–1862

Bodin R, Tengo M, Norman A, Lundberg J, Elmqvist T (2006) The value of small size: loss of forest patches and ecological thresholds in southern Madagascar. Ecol Appl 16:440–451

Bossart JL, Opuni-Frimpong E, Kuudaar S, Nkrumah E (2006) Richness, abundance, and complementarity of fruit-feeding butterfly species in relict sacred forests and forest reserves of Ghana. Biodivers Conserv 15:333–359

Cadotte MW, Carscadden K, Mirotchnick N (2011) Beyond species: functional diversity and the maintenance of ecological processes and services. J Appl Ecol 48:1079–1087

Chandran MDS, Gadgil M (1998) Sacred groves and sacred trees of Uttara Kannada. In: Saraswati B (ed) Lifestyle and Ecology. Indira Gandhi National Centre for Arts, New Delhi

Chandran MDS, Gadgil M, Hughes JD (1998) Sacred groves of the Western Ghats of India. In: Ramakrishnan PS, Saxena KG, Chandrashekhara UM (eds) Conserving the sacred for biodiversity management. Oxford & IBH publishing Co. Pvt. Ltd., New Delhi, pp 211–231

Chandran MDS, Mesta DK, Rao GR, Ali S, Gururaja KV, Ramachandra TV (2008) Discovery of two critically endangered tree species and issues related to relic forests of the Western Ghats. Open Conserv Biol J 2:1–8

Chandran MDS, Rao GR, Gururaja KV, Ramachandra TV (2010) Ecology of the swampy relic forests of Kathalekan from Central Western Ghats, India. Bioremediat Biodivers Bioavailab 4:54–68

Chandrashekara UM (2011) Cultural and conservation values of sacred groves of Kerala, India. Int J Ecol Environ Sci 37:143–155

Chazdon RL (2003) Tropical forest recovery: legacies of human impact and natural disturbances. Perspect Plant Ecol Evol Syst 6:51–71

Colwell RK (2009) EstimateS: Statistical estimation of species richness and shared species from samples. Version 8.2. User's Guide and application published at: http://purl.oclc.org/estimates

Cox RL, Underwood EC (2011) The importance of conserving biodiversity outside of protected areas in Mediterranean ecosystems. PLoS One 6:e14508. doi:10.1371/journal.pone.0014508

Deb D, Deuti K, Malhotra KC (1997) Sacred grove relics as bird refugia. Curr Sci 73:815–817

DeFries RS, Rudel T, Uriarte M, Hansen M (2010) Deforestation driven by urban population growth and agricultural trade in the twenty-first century. Nat Geosci 3:178–181

Devar KV (2008) Assessment of floristic structure and composition of Kan forests in Sirsi Division. Final technical report (2006–2008). Department of Silviculture and Agroforestry, College of Forestry, University of Agricultural Sciences, Dharwad, Sirsi-581401

Echeverria C, Coomes D, Salas J, Rey-Benayas JM, Lara A, Newton A (2006) Rapid deforestation and fragmentation of Chilean Temperate Forests. Biol Conserv 130:48–494

Ewers RM, Didham RK (2006) Confounding factors in the detection of species responses to habitat fragmentation. Biol Rev 81:117–142

Fahrig L (2003) Effects of habitat fragmentation on biodiversity. Annu Rev Ecol Evol Syst 34:487–515

Ganeshaiah KN, Uma Shaankar R, Bawa KS (1997) Diversity of species assemblages of islands: predictions and their test using tree species composition of Shola fragments. Curr Sci 73:188–194

Gao H, Ouyang Z, Chen S, van Koppen CSA (2013) Role of culturally protected forests in biodiversity conservation in Southeast China. Biodiversity Conserv 22:531–544

Gardner TA, Barlow J, Chazdon R, Ewers RM, Harvey CA, Peres CA, Sodhi NS (2009) Prospects for tropical forest biodiversity in a human-modified world. Ecol Lett 12:561–582

Giriraj A, Irfan-Ullah M, Murthy MSR, Beierkuhnlein C (2008) Modelling spatial and temporal forest cover change patterns (1973–2020): a case study from South Western Ghats (India). Sensors 8:6132–6153

Gkaraveli A, Williams JH, Good JEG (2001) Fragmented native woodlands in Snowdonia (UK): assessment and amelioration. Forestry 74:89–103

Gokhale Y (2004) Reviving traditional forest management in Western Ghats: study in Karnataka. Econ Polit Wkly 39:3556–3559

Gokhale Y (2005) Use of plants as indicator of management of sacred groves in the Western Ghats of Karnataka. In: Kunhikannan C, Gurudev Singh B (eds) Strategy for conservation of sacred groves. Institute of forest Genetics and Tree Breeding, Coimbatore, pp 82–92

Hu L, Li Z, Liao W, Fan Q (2011) Values of village Fengshui forest patches in biodiversity conservation in the Pearl River Delta, China. Biol Conserv 144:1553–1559

IUCN 2013. IUCN Red List of Threatened Species. Version 2013.2. www.iucnredlist.org. Accessed 4 Jan 2014

Jamir SA, Pandey HN (2003) Vascular plant diversity in the sacred groves of Jaintia Hills in northeast India. Biodivers Conserv 12:1497–1510

Joseph S, Blackburn GA, Gharai B, Sudhakar S, Thomas AP, Murthy MSR (2009) Monitoring conservation effectiveness in a global biodiversity hotspot: the contribution of land cover change assessment. Environ Monit Assess 158:169–179

Khan ML, Khumbongmayum AD, Tripathi RS (2008) Sacred groves and their significance in conserving biodiversity: an overview. Int J Ecol Environ Sci 34:277–291

Lambin EF, Geist HJ, Lepers E (2003) Dynamics of land—use and land—cover change in tropical region. Annu Rev Environ Resour 28:205–241

Laurence WF (2007) Forest destruction in tropical Asia. Curr Sci 93:1544–1550

Lindenmayer DB, Fischer J (2006) Habitat fragmentation and landscape change: an ecological and conservation synthesis (Chap. 5). Island Press, Washington, DC, 2009, pp 47–53

Lindenmayer DB, Wood JT, Cunningham RB, Crane M, Macgregor C, Michael D, Montague-Drake R (2009) Experimental evidence of the effects of a changed matrix on conserving biodiversity within patches of native forest in an industrial plantation landscape. Landsc Ecol 24:1091–1103

Malhotra KC, Gokhale Y, Chatterjee S, Srivastava S (2001) Cultural and ecological dimensions of sacred groves in India. Report. Indian National Science Academy, New Delhi & Indira Gandhi Rashtriya Manav Sangrahalaya, Bhopal

Marcial NR, Ganzalez-Espinosa M, Williams-Linera G (2001) Anthropogenic disturbance and tree diversity in montane rain forests in Chiapas, Mexico. For Ecol Manag 154:311–326

Mayfield MM, Boni MF, Daily GC, Ackerly D (2005) Species and functional diversity of native and human-dominated plant communities. Ecology 86:2365–2372

Mendenhall CD, Sekercioglu CH, Brenes FO, Ehrlich PR, Daily GC (2011) Predictive model for sustaining biodiversity in tropical countryside. Proc Nat Acad Sci USA 108:16313–16316

Mgumia FH, Oba G (2003) Potential role of sacred groves in biodiversity conservation in Tanzania. Environ Conserv 30:259–265

Mittermeier RA, Robles Gil P, Hoffman M, Pilgrim J, Brooks T et al (2005) Hotspots revisited: Earth's biologically richest and most endangered terrestrial ecoregions. Conservation International, Washington DC

Myers N, Mittermeier RA, Mittermeier CG, Fonseca GBB, Kent J (2000) Biodiversity hotspots for conservation priorities. Nature 403:853–858

Nagendra H (2001) Incorporating landscape transformation into local conservation prioritization: a case study in the Western Ghats, India. Biodivers Conserv 10:353–365

Nagendra H, Gadgil M (1999) Satellite imagery as a tool for monitoring species diversity: an assessment. J Appl Ecol 36:388–397

Nair PV, Ramachandran KK, Swarupanandan K, Thomas TP (2007) Mapping biodiversity of the Myristica Swamps in Southern Kerala. Kerala Forest Research Institute, Peechi

O'Neal CM (2004) Traditional forest protection and woodlots in the coastal savannah of Ghana. Environ Conserv 31:225–232

Ormsby A, Bhagwat SA (2010) Sacred forests of India: a strong tradition of community-based natural resource management. Environ Conserv 37:320–326

Page NV, Qureshi Q, Rawat GS, Kushalappa CG (2010) Plant diversity in sacred forest fragments of Western Ghats: a comparative study of four life forms. Plant Ecol 206:237–250

Pardini R, Faria D, Accacio GM, Laps RR, Mariano-Neto E, Paciencia MLB, Dixo M, Baumgarten J (2009) The challenge of maintaining Atlantic forest biodiversity: a multi-taxa conservation assessment of specialist and generalist species in an agro-forestry mosaic in southern Bahia. Biol Conserv 142:1178–1190

Pascal JP (1988) Wet evergreen forests of the Western Ghats of India: ecology, structure, floristic composition and succession. French Institute, Pondicherry

Pascal JP, Ramesh BR (1997) Atlas of endemics of the Western Ghats (India): distribution of tree species in the evergreen and semi-evergreen forests. Institut Francais de Pondichery, Pondichery

Pundee S (2007) Rare trees in forest fragments—will they survive? A study of four climax forest tree species within sacred groves of the Konkan region (northern Western Ghats). Project Report. Applied Environmental Research Foundation (AERF), Kothrud, Pune

Rajanikanth G, Rao MN, Tambat B, Uma Shaanker R, Ganeshaiah KN, Kushalappa CG (2010) Are small forest fragments more heterogeneous among themselves than large fragments? Biodivers Bioremediat Bioavailab 4:42–46

Ramachandra TV, Bharath S, Bharath HA (2012) Peri-urban to urban landscape patterns elucidation through spatial metrics. Int J Eng Res Dev 2:58–81

Rao BRP, Babu MVS, Reddy MS, Reddy AM, Rao VS, Sunitha S, Ganeshaiah KN (2011) Sacred groves in southern Eastern Ghats, India: are they better managed than forest reserves? Trop Ecol 52:79–90

Ray R, Ramachandra TV (2010) Small sacred grove in local landscape: are they really worthy for conservation? Curr Sci 98:1078–1080

Reddy CS, Sreelekshmi S, Jha CS, Dadhwal VK (2013) National assessment of forest fragmentation in India: landscape indices as measures of the effects of fragmentation and forest cover change. Ecol Eng 60:453–464

Roy PS, Tomar S (2000) Biodiversity characterization at landscape level using geospatial modelling technique. Biol Conserv 95:95–109

Rudel TK, Defries RS, Asner GP, Laurance WF (2009) Changing drivers of deforestation and new opportunities for conservation. Conserv Biol 23:1396–1405

Sala OE, Chapin FS, Armesto JJ, Berlow E, Bloomfield J, Dirzo R, Huber-Sanwald E, Huenneke LF, Jackson RB, Kinzig A, Leemans R, Lodge DM, Mooney HA, Oesterheld M, Poff NL, Sykes MT, Walker BH, Walker M, Wall DH (2000) Biodiversity—global biodiversity scenarios for the year 2100. Science 287:1770–1774

Sambuichi RHR, Vidal DB, Piasentin FB, Jardim JG, Viana TG, Menezes AA, Mello DLN, Ahnert D, Baligar VC (2012) Cabruca agroforests in southern Bahia, Brazil: tree component, management practices and tree species conservation. Biodivers Conserv 21:1055–1078

Sashikumar C (2005) Avifauna of the sacred groves of North Kerala. In: Kunhikannan C, Gurudev Singh B (eds) Strategy for Conservation of Sacred Groves, pp 97–107. Institute of forest Genetics and Tree Breeding, Coimbatore

Sasidharan N (1997) Studies on the flora of Shenduruny Wildlife Sanctuary with emphesis on endemic species. Kerala Forest Research Institute Research Report No. 128, pp 125–126

Sukumaran S, Raj ADS (2007) Rare, endemic, threatened (RET) trees and lianas in the sacred groves of Kanyakumari district. Indian For 133:1254–1266

Sunil C, Somashekar RK, Nagaraja BC (2012) Riparian vegetation dynamics across two different landscapes along the River Cauvery in the Kodagu Region of Western Ghats. J Mt Sci 9:351–361

Tabarelli M, Da Silva JMC, Gascon C (2004) Forest fragmentation, synergisms and the impoverishment of neotropical forests. Biodivers Conserv 13:1419–1425

Tabarelli M, Aguiar AV, Ribeiro MC, Metzger JP, Peres CA (2010) Prospects for biodiversity conservation in the Atlantic Forest: lessons from aging human-modified landscapes. Biol Conserv 143:2328–2340

Tambat B, Rajanikanth G, Ravikanth G, Uma Shaanker R, Ganeshaiah KN, Kushalappa CG (2005) Seedling mortality in two vulnerable tree species in the sacred groves of Western Ghats, South India. Curr Sci 88:350–352

Veldkamp A, Verburg PH, Kok K, de Koning GHJ, Priess J, Bergsma AR (2001) The need for scale sensitive approaches in spatially explicit land use change modeling. Environ Modell Assess 6:111–121

Verburg PH, Chen Y (2000) Multiscale characterization of land-use patterns in China. Ecosystems 3:369–385

Vijay CR (2006) Statistical analysis on rare, endangered and threatened (RET) medicinal plants in sacred groves of Kodagu, Central Western Ghats. M.Sc. dissertation. University of Agricultural Sciences, Dharwad

Wade TG, Riitters KH, Wickham JD, Jones KB (2003) Distribution and causes of global forest fragmentation. Conserv Ecol 7:7

Zhu H, Xu ZF, Wang H, Li BG (2004) Tropical rain forest fragmentation and its ecological and species diversity changes in southern Yunnan. Biodivers Conserv 13:1355–1372
Acknowledgments
Authors acknowledge the help provided by Mr. G. R. Rao, Mr. Vishnu Mukhri, Mr. Srikanth Naik, during the field work. Thanks to Mr. Anant Hegde Ashisar, Ex-Chairman, Western Ghats Task force, Government of Karnataka and Karnataka Forest Department for their support. Authors would like to thank Mr. Bharath Settur for his help in landuse dynamics study, and three anonymous reviewers for their constructive comments to improve the manuscript. This study is financially supported by Rufford Small Grant Program, UK and Indian Institute of Science, Bangalore, India.
Additional information
Communicated by Danna J Leaman.
Electronic supplementary material
Below is the link to the electronic supplementary material.
About this article
Cite this article
Ray, R., Subash Chandran, M.D. & Ramachandra, T.V. Socio-cultural protection of endemic trees in humanised landscape. Biodivers Conserv 23, 1977–1994 (2014). https://doi.org/10.1007/s10531-014-0699-1
Received:

Accepted:

Published:

Issue Date:
Keywords
Endemics

Landscape management

Sacred grove

Siddapur

Spatial distribution

Species diversity