Abstract
Within the Ecosystem-based fisheries management framework, we evaluated the changes over time in bycatch species of the European tuna purse-seine fishery operating in the eastern Atlantic Ocean. Bycatch data was collected during two scientific observer programs conducted in the late 1990s and in the late 2000s. Over these two time periods, we compared the temporal trends in bycatch species composition, the probability of occurrence of functional groups per fishing set, the spatio-temporal species richness and the potential impact on several species listed in the red list of the International Union for Conservation of Nature (IUCN). The analyses were performed separately on the two main fishing modes of the fleet, i.e. sets on free-swimming school sets and on fish aggregating devices (FADs). Owing data quality constraints, we did not estimate bycatch rates. Ours results showed that the species composition of sharks caught on FADs decreased over time. The total species richness was higher for FAD sets than for free-swimming school sets (87 vs. 61 species respectively), such difference is common between fishing modes worldwide. For the species catalogued as threatened by the IUCN, in free-swimming schools, 25.5 % of the species caught during first period increased to 30.4 % during second period, while for FAD-fishing the increase was from 28.8 % during first period to 34.9 % in second period. Ours findings suggest that tropical tuna purse-seine fisheries should include ecosystem-based governance of bycatch. Effective tuna management will require a combination of technological improvements for mitigating incidental catch of vulnerable species, best use of byproduct species, regulations in fishing practices and in spatial distribution of fishing effort, and international agreements that, together, can monitor and manage bycatch, reducing the negative fishing effects on the epipelagic ecosystem biodiversity.
This is a preview of subscription content,
to check access.
Access this article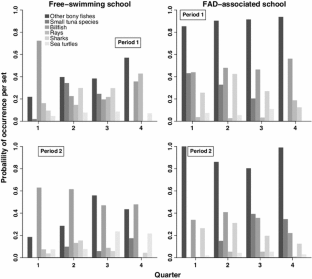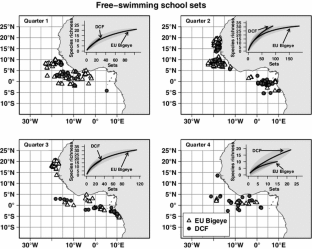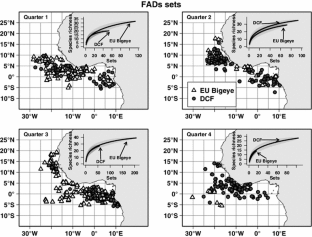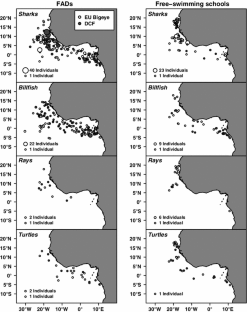 Similar content being viewed by others
References
Alverson DL, Freeberg MH, Pope JG, Murawski SA (1994) A global assessment of fisheries bycatch and discards. FAO fisheries technical paper 339. Food and Agriculture Organization, Rome

Amandè MJ, Chassot E, Chavance P, Planet R (2008) Silky shark (Carcharhinus falciformis) bycatch in the French tuna purse-seine fishery of the Indian Ocean. In: IOTC proceedings IOTC-2008-WPEB-16 22

Amandè MJ, Ariz J, Chassot E et al (2010) Bycatch of the European purse seine tuna fishery in the Atlantic Ocean for the 2003–2007 period. Aquat Living Resour 23:353–362. doi:10.1051/alr/2011003

Amandè MJ, Ariz J, Chassot E et al (2011) By-catch and discards of the European purse seine tuna fishery in the Atlantic Ocean: estimation and characteristics for 2008 and 2009. Col Vol Sci Pap ICCAT 66:2113–2120

Amandè MJ, Chassot E, Chavance P et al (2012) Precision in bycatch estimates: the case of tuna purse-seine fisheries in the Indian Ocean. ICES J Mar Sci 69:1501–1510

Anderson MJ (2006) Distance-based tests for homogeneity of multivariate dispersions. Biometrics 62:245–253. doi:10.1111/j.1541-0420.2005.00440.x

Anderson MJ, Ellingsen KE, McArdle BH (2006) Multivariate dispersion as a measure of beta diversity. Ecol Lett 9:683–693. doi:10.1111/j.1461-0248.2006.00926.x

Anderson MJ, Crist TO, Chase JM et al (2011) Navigating the multiple meanings of β diversity: a roadmap for the practicing ecologist. Ecol Lett 14:19–28. doi:10.1111/j.1461-0248.2010.01552.x

Ariz J, Gaertner D (1999) A study of the causes of the increase of the catches of bigeye tuna by the European purse seine tuna fleets in the Atlantic Ocean. Program EU DG-Fish (96/028) 70

Arrizabalaga H, de Bruyn P, Diaz GA et al (2011) Productivity and susceptibility analysis for species caught in Atlantic tuna fisheries. Aquat Living Resour 24:1–12. doi:10.1051/alr/2011007

Chao A (1984) Nonparametric estimation of the number of classes in a population. Scand J Statist 11:265–270

Chassot E, Amandè MJ, Chavance P et al (2009) Some preliminary results on tuna discards and bycatch in the French purse seine fishery of the eastern Atlantic Ocean. Col Vol Sci Pap ICCAT 64:1054–1067

Chavance P, Kothias JBA, Dewals P et al (2011) Statistics on tuna surface fishery's bycatch landed in Abidjan, Côte d'Ivoire, for the 1982–2009 period. Col Vol Sci Pap ICCAT 66:2104–2112

Colwell RK, Coddington JA (1994) Estimating terrestrial biodiversity through extrapolation. Phil Trans R Soc B 345:101–118

Colwell RK, Mao CX, Chang J (2004) Interpolating, extrapolating, and comparing incidence-based species accumulation curves. Ecology 85:2717–2727

Cosandey-Godin A, Morgan A (2011) Fisheries bycatch of sharks: options for mitigation. PEW Ocean Science Division, Pew Environment Group, Washington, DC

Davies RWD, Cripps SJ, Nickson A, Porter G (2009) Defining and estimating global marine fisheries bycatch. Mar Pol 33:661–672. doi:10.1016/j.marpol.2009.01.003

Franco J, Moreno G, López J, Sancristobal I (2012) Testing new designs of drifting fish aggregating device (DFAD) in eastern Atlantic to reduce turtle and shark mortality. Col Vol Sci Pap ICCAT 68:1754–1762

Gaertner D, Chavance P (2010) Réflexion sur les grands défis scientifiques dans le domaine de la pêche thonière tropicale. J Sci Hal Aquat 1:33–38

Gaertner D, Ménard F, Develter C et al (2002) Bycatch of billfishes by the European tuna purse-seine fishery in the Atlantic Ocean. Fish Bull 100:683–689

Garcia SM, Zerbi A, Aliaume C, et al (2003) Ecosystem approach to fisheries, issues, terminology, principles, institutional foundations: implementation and outlook. FAO fisheries technical paper. no. 443. Rome, FAO

Garcia SM, Kolding J, Rice J et al (2012) Reconsidering the consequences of selective fisheries. Science 335:1045–1047. doi:10.1126/science.1214594

Gerrodette T, Olson R, Reilly S et al (2012) Ecological metrics of biomass removed by three methods of purse-seine fishing for tunas in the eastern tropical Pacific Ocean. Conserv Biol 26:248–256

Gilman EL (2011) Bycatch governance and best practice mitigation technology in global tuna fisheries. Mar Pol 35:590–609

Gilman E, Passfield K, Nakamura K (2013) Performance of regional fisheries management organizations: ecosystem-based governance of bycatch and discards. Fish Fish. doi:10.1111/faf.12021

Gotelli NJ, Colwell RK (2001) Quantifying biodiversity: procedures and pitfalls in the measurement and comparison of species richness. Ecol Lett 4:379–391

Goujon M (2004) Informations sur l'activité des thoniers senneurs et du supply français et sur les observations en mer d'après les données collectées pendant les plans de protection des thonidés de l'Atlantique 2000–2001, 2001–2002 et 2002–2003. Col Vol Sci Pap ICCAT 56:432–442

Hall MA (1996) On bycatches. Rev Fish Biol Fish 6:319–352. doi:10.1007/BF00122585

Hall SJ, Mainprize BM (2005) Managing by-catch and discards: how much progress are we making and how can we do better? Fish Fish 6:134–155. doi:10.1111/j.1467-2979.2005.00183.x

Hall MA, Alverson DL, Metuzals KI (2000) By-catch: problems and Solutions. Mar Pollut Bull 41:204–219. doi:10.1016/S0025-326X(00)00111-9

Heithaus MR, Frid A, Wirsing AJ, Worm B (2008) Predicting ecological consequences of marine top predator declines. Trends Ecol Evol 23:202

Hortal J, Borges PAV, Gaspar C (2006) Evaluating the performance of species richness estimators: sensitivity to sample grain size. J Anim Ecol 75:274–287. doi:10.1111/j.1365-2656.2006.01048.x

Kondel J, Rusin J (2007) Report of the 2nd Workshop on bycatch reduction in the ETP purse-seine fishery. National Marine Fisheries Service, SWFSC 60, La Jolla, CA

Lewison R, Crowder L, Read A, Freeman S (2004) Understanding impacts of fisheries bycatch on marine megafauna. Trends Ecol Evol 19:598–604. doi:10.1016/j.tree.2004.09.004

Matsumoto T, Miyabe N (2000) Report of 1999 observer progam for Japanese tuna longline fishery in the Atlantic Ocean. Col Vol Sci Pap ICCAT 51:729–749

Murawski SA (2000) Definitions of overfishing from an ecosystem perspective. ICES J Mar Sci 57:649–658

Pallarés P, Petit C (1998) Tropical tunas: new sampling and data processing strategy for estimating the composition of catches by species and sizes. Col Vol Sci Pap ICCAT 48:230–246

Pianet R, Delgado A, Floch L et al (2011) Statistiques de la pêcherie thonière européenne et assimilée durant la période 1991–2010. Col Vol Sci Pap ICCAT 68:886–914

Romagny B, Ménard F, Dewals P, et al. (2000) Le "faux-poisson" d'Abidjan et la pêche sous DCP dérivants dans l'Atlantique tropical Est: circuit de commercialisation et rôle socio-économique. In: Le Gall J-Y, Cayré P, Taquet M (eds) Le Pêche thonière et dispositifs de concentration de poissons. Ifremer, pp 634–652

Terlizzi A, Anderson MJ, Bevilacqua S et al (2009) Beta diversity and taxonomic sufficiency: do higher-level taxa reflect heterogeneity in species composition? Divers Distrib 15:450–458. doi:10.1111/j.1472-4642.2008.00551.x

Zhou S, Smith ADM, Punt AE et al (2010) Ecosystem-based fisheries management requires a change to the selective fishing philosophy. Proc Natl Acad Sci USA 107:9485–9489. doi:10.1073/pnas.0912771107
Acknowledgments
The observer data analyzed in this study were collected by the Institut de Recherche pour le Développement (IRD) part of the Mixed Research Unit 212 'Exploited Marine Ecosystems' (IRD/Ifremer/U. Montpellier 2), Instituto Español de Oceanografía, and AZTI-tecnalia through the EU Research Bigeye Program (Reg 96/028) and the EU-funded Data Collection Framework (DCF, Reg (EC) 1543/2000 and 199/2008). We wish to acknowledge the contributions of ORTHONGEL, the staff of the Observatoire Thonier (IRD), and all the technicians and fishermen that have been involved in data collection, processing, and management. This study was part of the Ph.D. thesis conducted by the first author (ETI) at the University of Montpellier 2 (ED SIBAGHE) and funded by Consejo Nacional de Ciencia y Tecnología (CONACYT), Mexico, Scholarship No. 199730.
Additional information
Communicated by David L. Hawksworth.
About this article
Cite this article
Torres-Irineo, E., Amandè, M.J., Gaertner, D. et al. Bycatch species composition over time by tuna purse-seine fishery in the eastern tropical Atlantic Ocean. Biodivers Conserv 23, 1157–1173 (2014). https://doi.org/10.1007/s10531-014-0655-0
Received:

Revised:

Accepted:

Published:

Issue Date:

DOI: https://doi.org/10.1007/s10531-014-0655-0
Keywords