Abstract
Although urban sprawl is increasingly becoming a worldwide problem, the effects associated with urbanization on local biodiversity particularly in the developing countries, is still poorly understood. We investigated plant species richness along urban–rural gradients in an Afro-tropical metropolitan Morogoro city in Tanzania, and examined patterns of species movement by humans within and outside the city and its potential impact on habitat homogenization of urban ecosystems. Biodiversity information was assessed in 120 sample plots (25 × 25 m) distributed in core urban, sub-urban and peri-urban (rural) zones, while patterns of plant resource use and species movement were surveyed from 120 households in the study area. We found the highest tree species richness in the urban core (82.6 ± 1.4 species) whereas tree density decreased from peri-urban (465.60 ± 152.03 tree/ha) to urban core (244.00 ± 120.86 tree/ha) and species diversity decreased from urban core (α = 2.82 ± 0.01) to peri-urban area (α = 2.61 ± 0.23). Further, the proportion of exotic species was significantly higher (75.6 %) than that of native species in the study area (p = 0.001). Tree community assemblages showed least differences among the study zones (dissimilarity = 10 %) and appear to have been influenced by local cultural differences, species movement as well as local resource use. Furthermore, species movement exhibited a random and multi-directional pattern perpetuated by human and nonhuman factors. Movements were significantly higher between backyard gardens within the city than from outside. Alien species by far outnumbered native plant species moving across urban landscapes, potentially increasing species homogenization. Conservation awareness is needed to avoid habitat homogenization due to problems associated with urban sprawl and to maintain heterogeneous habitats for the urban wildlife.
Access options
Buy single article
Instant access to the full article PDF.
US$ 39.95
Tax calculation will be finalised during checkout.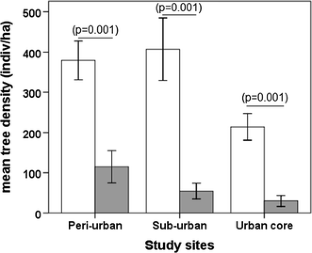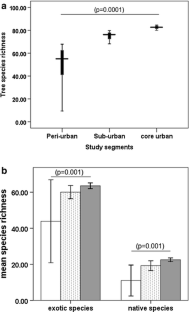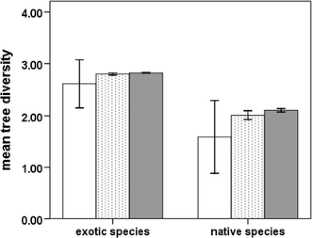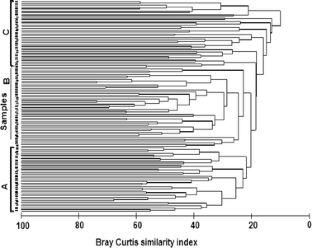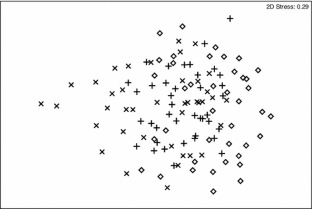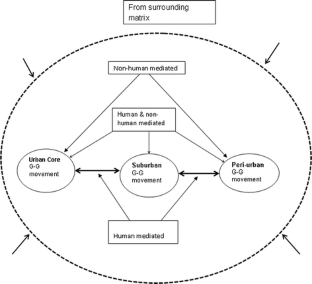 References
Bongers F, Poorter L, Sheil D, Hawthorne WD (2009) The intermediate disturbance hypothesis applies to tropical forests, but disturbance contributes little to tree diversity. Eco Lett 12(8):798–805

Breuste JH (2004) Decision making, planning and design for the conservation of indigenous vegetation within urban development. Landsc Urban Plan 68(4):439–452. doi:10.1016/S0169-2046(03)00150-6

Burton ML, Samuelson LJ, Pan S (2005) Riparian woody plant diversity and forest structure along an urban–rural gradient. Urban Ecosyst 8(1):93–106

Clarke KR (1993) Non-parametric multivariate analyses of changes in community structure. Aust J Ecol 18:117–143

Clarke KR, Gorley RN (2006) PRIMER v6: User Manual/Tutorial. Primer-E Ltd, Plymouth

Clarke KR, Warwick RM (2001) Change in marine communities: an approach to statistical analysis and interpretation, 2nd edn. Primer-E Ltd, Plymouth

Cohen B (2006) Urbanization in developing countries: current trends, future projections, and key challenges for sustainability. Technol Soc 28(1–2):63–80. doi:10.1016/j.techsoc.2005.10.005

Colwell RK (2012) EstimateS: statistical estimation of species richness and shared species from samples. Version 8.2. http://purl.oclc.org/estimates

Dharani N (2002) Field guide to common trees and shrubs of East Africa. Struik Nat, South Africa

Dow K (2000) Social dimensions of gradients in urban ecosystems. Urban Ecosyst 4:255–275

Dwyer J, Schroeder H, Gobster P (1991) The significance of urban trees and forests: toward a deeper understanding of values. J Arboric 17(10):276–284

Gotelli NJ, Colwell RK (2001) Quantifying biodiversity: procedures and pitfalls in the measurement and comparison of species richness. Ecol Lett 4(4):379–391

Henderson SPB, Perkins NH, Nelischer M (1998) Residential lawn alternatives: a study of their distribution, form and structure. Landsc Urban Plan 42(2–4):135–145. doi:10.1016/S0169-2046(98)00084-X

Hope D, Gries C, Zhu WX, Fagan WF, Redman CL, Grimm NB et al (2003) Socioeconomics drive urban plant diversity. Proc Natl Acad Sci USA 100:8788–8792

Hore U, Uniyal VP (2008) Diversity and composition of spider assemblages in five vegetation types of Terai conservation area, India. J Arachnol 36:251–258

Kideghesho JR, Msuya TS (2010) Gender and socio-economic factors influencing domestication of indigenous medicinal plants in the West Usambara Mountains, northern Tanzania. Int J Biodivers Sci Ecosyst Serv Manag 6:3–12

Kim KH, Pauleit S (2005) Landscape metrics to assess the ecological conditions of city regions: application to Kwangju City, South Korea. Int J Sustain Dev World Ecol 12(3):227–244. doi:10.1080/13504500509469634

Kowarik I (2003) Human agency in biological invasions: secondary releases foster naturalisation and population expansion of alien plant species. Biol Invasions 5(4):293–312

Kuhn I, Brandl R, Klotz S (2004) The flora of German cities is naturally species rich. Evol Ecol Res 6(5):749–764

Mack RN, Lonsdale WM (2001) Humans as global plant dispersers: getting more than we bargained for. Bioscience 51:95–102

McDonnell M, Hahs A (2008) The use of gradient analysis studies in advancing our understanding of the ecology of urbanizing landscapes: current status and future directions. Landsc Ecol 23(10):1143–1155

McGranahan G, Satterthwaite D (2003) Urban centers: an assessment of sustainability. Annu Rev Environ Resour 28(1):243–274

McKinney M (2002) Urbanization, biodiversity, and conservation. Bioscience 52(10):883–890

McKinney M (2008) Effects of urbanization on species richness: a review of plants and animals. Urban Ecosyst 11(2):161–176

Morrison MES, Lind EM (1974) East Africa vegetation. Longman, London 257p

Msuya TS, Kideghesho JR (2009) The role of traditional management practices in enhancing sustainable use and conservation of medicinal plants in West Usambara Mountains, Tanzania. J Tropi Conserv Sci 2(1):88–105

Myers N, Mittermeier RA, Mittermeier CG, da Fonseca GAB, Kents J (2000) Biodiversity hotspots for conservation priorities. Nature 403:853–858

Ortega-Álvarez RN, Rodríguez-Correa HA, MacGregor-Fors I (2011) Trees and the city: diversity and composition along an urban gradient. Int J Ecol 1–8. doi:10.1155/2011/704084

Pauchard A, Aguayo M, Peña E, Urrutia R (2006) Multiple effects of urbanization on the biodiversity of developing countries: the case of a fast-growing metropolitan area (Concepción, Chile). Biol Conserv 127(3):272–281. doi:10.1016/j.biocon.2005.05.015

Pautasso M (2007) Scale dependence of the correlation between human population presence and vertebrate and plant species richness. Ecol Lett 10(1):16–24

Rija AA (2003) Feeding habits, abundance and distribution of pied crow Corvus albus around the Uluguru Mountains. BSc research paper, library of Sokoine University of Agriculture, Tanzania

Rija AA (2010) Incentives for conserving and greening our cities. Tanzania Wildlife Magazine-Kakakuona 57:58–61

Savard JPL, Clergeau P, Mennechez G (2000) Biodiversity concepts and urban ecosystems. Landsc Urban Plan 48(3–4):131–142

Sax DF, Brown JH, White EP, Gaines SD (2005) The dynamics of species invasions: insights into the mechanisms that limit species diversity. In: Sax DF, Stachowicz JJ, Gaines SD (eds) Species invasions: insights into ecology, evolution and biogeography. Sinauer, Sunderland, pp 447–466

Tait CJ, Daniels CB, Hill RS (2005) Changes in species assemblages within the Adelaide metropolitan area, Australia, 1836–2002. Ecol Appl 15(1):346–359. doi:10.1890/04-0920

von der Lippe M, Kowarik I (2008) Do cities export biodiversity? Traffic as dispersal vector across urban–rural gradients. Divers Distrib 14:18–25
Acknowledgments
We thank the residents of Morogoro municipality for allowing us to carry out research around their homesteads and for taking part during the questionnaire surveys. We thank Andy Bowkett for providing comments on the earlier draft of this paper and Ms Agnes Sirima for the logistical help. Two anonymous reviewers provided comments on the manuscript.
Additional information
Communicated by David L. Hawksworth.
About this article
Cite this article
Rija, A.A., Said, A., Mwamende, K.A. et al. Urban sprawl and species movement may decimate natural plant diversity in an Afro-tropical city. Biodivers Conserv 23, 963–978 (2014). https://doi.org/10.1007/s10531-014-0646-1
Received:

Revised:

Accepted:

Published:

Issue Date:
Keywords
Biodiversity

Species introduction

Species movement

Species richness

Urbanization

Urban–rural gradients

Morogoro-Tanzania