Abstract
Wood is considered to be a renewable resource. However, steep increases in production followed by a peak and subsequent decline have been characteristic of natural forest-based wood industries in many countries. An assessment was made to determine any discernible global trend in wood extraction from natural forests. This was done using published data on global production from various wood sources, including plantations, planted forests and trees outside forests. Global wood supply from natural forests peaked around 1989 and has been in decline since. A growing planted tree supply has been making up the gap between total roundwood demand and natural forest supply. These data suggest a declining role for natural forests in global wood production, with the long term sustainability of wood supply derived from purpose-cultivated trees rather than natural forest sources. Where these planted trees lower demand for wood from natural forests this will provide opportunities to reduce resource conflict in natural forests, apply more precautionary prescriptions where logging does occur, and increase the use of natural forests for biodiversity conservation and other ecosystem services such as carbon storage.
Access options
Buy single article
Instant access to the full article PDF.
US$ 39.95
Tax calculation will be finalised during checkout.
Subscribe to journal
Immediate online access to all issues from 2019. Subscription will auto renew annually.
US$ 119
Tax calculation will be finalised during checkout.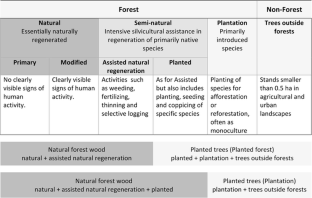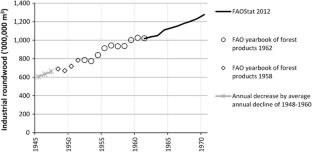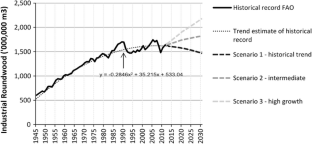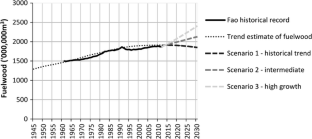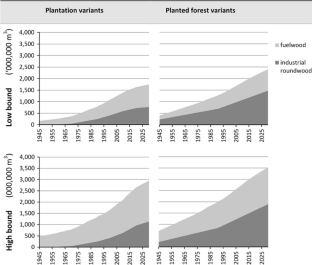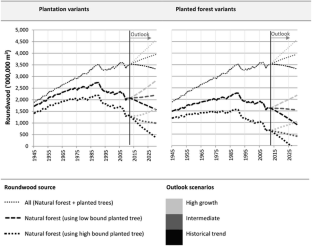 Notes
1.

The term 'planted trees' is used here to include plantations, planted forests, and trees outside forests—that is, all significant sources of wood from trees outside natural forests.

2.

See the subsequent section, Methods, for the specific definition of 'natural forest' used for this paper.

3.

'Roundwood' refers to the total wood removed from forests and from trees outside forests.

4.

The terms 'extraction', 'production', 'supply', 'demand' and 'consumption' are all used in this paper in relation to global roundwood. At the scale of the annual global data points used here it is assumed that, as the world is a closed system, the quantities of these will be the same; that is, 'extraction', 'production', 'supply', 'demand' and 'consumption' will generally match one another.

5.

Three main concerns addressed in the review were: country survey response rates for fuelwood were very low; per capita consumption rates had been considered to be static, but growing evidence contradicted this pointing to declining per capita consumption over time resulting from trends such as urbanisation and wealth increases; and prior estimations did not account for non-household use.

6.

For example, if growth in plantation wood supply caused by government policy leads to reduction of demand for natural forest logging then there are potential conservation gains. Conversely logging bans or new forest reserves created over forests for which there is no commercially accessible wood might achieve little real conservation benefit.

7.

Plantations in the 2000 FRA are a subset of the planted forest category. They represent only about a half of the extent of planted forests (Carle and Holmgren 2008).
References
ABARE (1999) Global Outlook for Plantations. ABARE Research report, vol 99. Australian Bureau of Agricultural and Resource Economics, Canberra

ABARE (2013) Australian forest and wood products statistics: March and June quarters 2013

Ajani J (2011) The global wood market, wood resource productivity and price trends: an examination with special attention to China. Environ Conserv 38(1):53–63

Arnold M, Köhlin G, Persson R, Shepherd G (2003) Fuelwood revisited–what has changed. Center for International Forestry Research, Bogor

Bardi U, Yaxley L (2005) How general is the Hubbert curve? the case of fisheries. In: proceedings of the 4th ASPO workshop, Lisbon

Bauhus J, van der Meer P, Kanninen M (2010) Ecosystem goods and services from plantation forests. Earthscan, Oxon

Berry NJ, Phillips OL, Lewis SL, Hill JK, Edwards DP, Tawatao NB, Ahmad N, Magintan D, Khen CV, Maryati M (2010) The high value of logged tropical forests: lessons from Northern Borneo. Biodivers Conserv 19(4):985–997

Bowles IA, Rice RE, Mittermeier R, Da Fonseca G (1998) Logging and tropical forest conservation. Science 280(5371):1899–1900

Bremer LL, Farley KA (2010) Does plantation forestry restore biodiversity or create green deserts? A synthesis of the effects of land-use transitions on plant species richness. Biodivers Conserv 19(14):3893–3915

Brockerhoff EG, Jactel H, Parrotta JA, Quine CP, Sayer J (2008) Plantation forests and biodiversity: oxymoron or opportunity? Biodivers Conserv 17(5):925–951

Brown C (2000) The global outlook for future wood supply from forest plantations. FAO, Forestry Policy and Planning Division, Rome

Buongiorno J, Zhu S, Raunikar R, Prestemon JP (2012) Outlook to 2060 for world forests and forest industries: a technical document supporting the Forest Service 2010 RPA assessment. United States Department of Agriculture, Ashville

Carle J, Holmgren P (2003) Definitions related to planted forests. In: UNFF intercessional expert meeting international steering group on "The role of planted forests in sustainable forest management. Maximising planted forests' contribution to SFM", Wellington, New Zealand

Carle J, Holmgren P (2008) Wood from planted forests: a global outlook 2005–2030. For Prod J 58(12):6–18

Carle J, Vuorinen P, Del Lungo A (2002) Status and trends in global forest plantation development. For Prod J 52(7/8):12–23

Clark J (2001) The global wood market, prices and plantation investment: an examination drawing on the Australian experience. Environ Conserv 28(1):53–64

Clark C, Poulsen J, Malonga R, Elkan P Jr (2009) Logging concessions can extend the conservation estate for Central African tropical forests. Conserv Biol 23(5):1281–1293

Cossalter C, Pye-Smith C (2003) Fast-wood forestry: myths and realities, vol 1. CIFOR, Bogor

Del Lungo A, Ball J, Carle J (2006) Global planted forests thematic study: results and analysis. Planted forests and trees working papers FP38E. FAO, Rome

Elias P, Boucher D, Cummings C, Goodman L, May-Tobin C, Mulik K (2012) Wood for good: solutions for deforestation-free wood products. Union of Concerned Scientists, Cambridge

Enters T, Durst P (2004) What does it take? The role of incentives in forest plantation development in Asia and the Pacific. vol RAP PUBLICATION 2004/27. Food and Agriculture Organization of the United Nations Regional Office for Asia and the Pacific, Bangkok

Evans J (2009) Planted forests: uses, impacts and sustainability. CABI Publishing and FAO, Rome

FAO (1958) Yearbook of forest products statistics 1958. Food and Agriculture Organization of the United Nations, Rome

FAO (1962) Yearbook of forest products statistics 1962. Food and Agriculture Organization of the United Nations, Rome

FAO (2001) Global forest resources assessment 2000: main report. Food and Agriculture Organization of the United Nations, Rome

FAO (2009) State of the world's forests. Food and Agriculture Organization of the United Nations, Rome

FAO (2010a) Global forest resources assessment 2010: main report. Food and Agriculture Organization of the United Nations, Rome

FAO (2010b) What woodfuels can do to mitigate climate change. FAO Forestry Paper, Rome

FAOSTAT (2014) Statistical databases. Food and Agriculture Organization of the United Nations, Rome

Franklin JF, Mitchell RJ, Palik B (2007) Natural disturbance and stand development principles for ecological forestry. Northern Research Station, Washington

Gibbs H, Ruesch A, Achard F, Clayton M, Holmgren P, Ramankutty N, Foley J (2010) Tropical forests were the primary sources of new agricultural land in the 1980s and 1990s. Proc Natl Acad Sci 107(38):16732–16737

Gibson L, Lee TM, Koh LP, Brook BW, Gardner TA, Barlow J, Peres CA, Bradshaw CJ, Laurance WF, Lovejoy TE (2011) Primary forests are irreplaceable for sustaining tropical biodiversity. Nature 478(7369):378–381

Gustafsson L, Baker SC, Bauhus J, Beese WJ, Brodie A, Kouki J, Lindenmayer DB, Lohmus A, Pastur GM, Messier C, Neyland M, Palik B, Sverdrup-Thygeson A, Volney WJA, Wayne A, Franklin JF (2012) Retention forestry to maintain multifunctional forests: a world perspective. Bioscience 62(7):633–645

Hartley MJ (2002) Rationale and methods for conserving biodiversity in plantation forests. For Ecol Manag 155(1):81–95

Heinimö J, Junginger M (2009) Production and trading of biomass for energy–an overview of the global status. Biomass Bioenerg 33(9):1310–1320

Hubbert MK (1993) Exponential growth as a transient phenomenon in human history. In: Daly HE, Kenneth N (eds) Valuing the earth: economics, ecology ethics. MIT Press, Cambridge, pp 113–126

Hyde WF, Amacher GS, Magrath W (1996) Deforestation and forest land use: theory, evidence, and policy implications. World Bank Res Obs 11(2):223–248

Kanninen M (2010) Plantation forests: global perspectives. In: van der Meer P, Kanninen M, Bauhus J (eds) Ecosystem goods and services from plantation forests. CSIRO Publishing, Melbourne, pp 1–15

Kanowski P, Murray H (2008) Intensively Managed Planted Forests: towards best practice. The Forest Dialogue, environment.yale.edu/tfd/dialogues/intensively-managed-planted-forests/

Kartodihardjo H, Supriono A (2000) The impact of sectoral development on natural forest conversion and degradation: the case of timber and tree crop plantations in Indonesia. vol 26. Occasional Paper. Centre for International Forestry Research, Bogor

Leslie A (2005) What will we want from the forests. ITTO Trop For Update 15(1):14–16

Lindenmayer DB, Laurance WF (2012) A history of hubris—cautionary lessons in ecologically sustainable forest management. Biol Conserv 151(1):11–16

Lindenmayer D, Franklin J, Fischer J (2006) General management principles and a checklist of strategies to guide forest biodiversity conservation. Biol Conserv 131(3):433–445

Mead DJ (2005) Forests for energy and the role of planted trees. Crit Rev Plant Sci 24(5–6):407–421

Meil J, Wilson J, O'Connor J, Dangerfield J (2007) An assessment of wood product processing technology advancements between the CORRIM I and II studies. For Prod J 57(7–8):83–89

Pandey D (1995) Forest resources assessment 1990: tropical forest plantation resources. FAO, Rome

Pandey D, Ball J (1998) The role of industrial plantations in future global fibre supplies. Unasylva 49:37–43

Paquette A, Messier C (2009) The role of plantations in managing the world's forests in the Anthropocene. Front Ecol Environ 8(1):27–34

Pawson S, Brin A, Brockerhoff E, Lamb D, Payn T, Paquette A, Parrotta J (2013) Plantation forests, climate change and biodiversity. Biodivers Conserv 22(5):1203–1227

Pearce D, Putz FE, Vanclay JK (2003) Sustainable forestry in the tropics: panacea or folly? For Ecol Manag 172(2):229–247

Penna I (2010) Understanding the FAO's' Wood Supply from Planted Forests' Projections. University of Ballarat, Ballarat

Putz FE, Zuidema PA, Synnott T, Peña-Claros M, Pinard MA, Sheil D, Vanclay JK, Sist P, Gourlet-Fleury S, Griscom B (2012) Sustaining conservation values in selectively logged tropical forests: the attained and the attainable. Conserv Lett 5(4):296–303

Rice RE, Gullison RE, Reid JW (1997) Can sustainable management save tropical forests? Sci Am 276(4):44–49

Sedjo R (2001) The economic contribution of biotechnology and forest plantations in global wood supply and forest conservation. In: Strauss SH, Bradshaw HD (eds) Proceedings of the first international symposium on ecological and societal aspects of transgenic plantations, College of Forestry, Oregon State University, Corvallis, pp 29–46

Sedjo RA, Botkin D (1997) Using forest plantations to spare natural forests. Environment 39(10):14–20, 30

Shearman P, Bryan J, Laurance WF (2012) Are we approaching 'peak timber'in the tropics? Biol Conserv 151(2012):17–21

Simmons IG (2008) Global Environmental History: 10,000 BC to Ad 2000. Edinburgh University Press, Edinburgh

Smeets EMW, Faaij APC (2007) Bioenergy potentials from forestry in 2050. Clim Change 81(3):353–390

Sohngen B, Mendelsohn R, Sedjo R (1999) Forest management, conservation, and global timber markets. Am J Agric Econ 81(1):1–13

Solberg B, Brooks D, Pajuoja H, Peck T, Wardle P (1996) An overview of factors affecting the longterm trends of non-industrial and industrial wood supply and demand. Long-term trends and prospects in world supply and demand for wood and implications for sustainable forest management, vol 6. European Forest Institute, Finland

United Nations (2011) World population prospects: the 2010 revision. CD-ROM edn. United Nations Department of Economic and Social Affairs—Population Division, New York

Varmola M, Gautier D, Lee D, Montagnini F, Saramäki J, Mery G, Alfaro R, Kanninen M, Lobovikov M (2005) Diversifying functions of planted forests. Forests in the global balance—changing paradigms IUFRO World Series 17:51–74

Vogt K, Gara R, Honea J, Vogt D, Patel-Weynand T, Roads P, Fanzeres A, Sigurdardottir R, Honea J, Andreu M (2006) Historical perceptions and uses of forests. Forests and society: sustainability and life cycles of forests in human landscapes, p 1–29

Weiner RU, Victor DG (2000) Industrial roundwood demand projections to 2050: a brief review of the literature. vol 6. Council of Foreign Relations, New York, USA

White A, Sun X, Canby K, Xu J, Barr C, Katsigris E, Bull G, Cossalter C, Nilsson S (2006) China and the global market for forest products. Forest Trends, Washington DC

Whiteman A, Broadhead J, Bahdon J (2002) The revision of woodfuel estimates in FAOSTAT. Unasylva 53(4):41–45

Williams M (2002) Deforesting the Earth: From Prehistory to Global Crisis. University of Chicago Press, Chicago

Zhai D-L, Xu J-C, Dai Z-C, Cannon CH, Grumbine R (2012) Increasing tree cover while losing diverse natural forests in tropical Hainan, China. Regional Environmental Change, p 1–11

Zomer RJ, Trabucco A, Coe R, Place F (2009) Trees on farm: analysis of global extent and geographical patterns of agroforestry. ICRAF Working Paper-World Agroforestry Centre (89)
Acknowledgments
The author is thankful for the support of a scholarship from the University of Tasmania. Pete Hay provided much appreciated, and sure, guidance through the research and writing. Thanks to Christopher Dean, Jamie Kirkpatrick, Lorne Kriwoken and Andreas Rothe for reading drafts, conversations and suggestions. Arvydas Lebedys and Adrian Whiteman at the FAO provided useful advice and feedback. Six anonymous referees provided valuable critique and suggestions.
Additional information
Communicated by Eckehard G. Brockerhoff.
About this article
Cite this article
Warman, R.D. Global wood production from natural forests has peaked. Biodivers Conserv 23, 1063–1078 (2014). https://doi.org/10.1007/s10531-014-0633-6
Received:

Revised:

Accepted:

Published:

Issue Date:
Keywords
Wood production

Forest

Conservation

Plantation

Ecosystem services