Abstract
In Ireland, the UK and Italy, the invasive North American grey squirrel, Sciurus carolinensis, threatens the survival of the Eurasian red squirrel, Sciurus vulgaris, as the effects of competition and disease almost inevitably lead to total replacement of red squirrel populations. However the results of a recent national squirrel survey suggested that the normally invasive grey squirrel had gone into decline in the Irish midlands, which was anecdotally attributed to an increase in European pine marten, Martes martes, range and numbers. This study aimed to quantify changes in squirrel distribution in Ireland and to investigate the role, if any, of the pine marten in red and grey squirrel population dynamics. A distribution survey of the midlands was carried out which confirmed the grey squirrel population has crashed in approximately 9,000 km2 of its former range and the red squirrel is common after an absence of up to 30 years. At landscape level, pine marten and red squirrel abundance were positively correlated, whereas a strong negative correlation between pine marten and grey squirrel presence at woodland level was found to exist. Squirrel demographics were determined by means of live trapping programs which confirmed that the red squirrel in the midlands is now in competitive release and the grey squirrel is present at unusually low density. This study provides the first evidence of a regional grey squirrel population crash and suggests that European pine marten abundance may be a critical factor in the American grey squirrel's success or failure as an invasive species.
This is a preview of subscription content, log in to check access.
Access options
Buy single article
Instant access to the full article PDF.
US$ 39.95
Price includes VAT for USA
Subscribe to journal
Immediate online access to all issues from 2019. Subscription will auto renew annually.
US$ 199
This is the net price. Taxes to be calculated in checkout.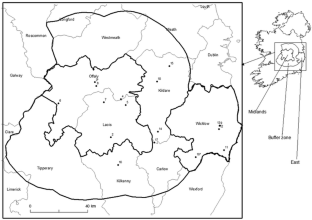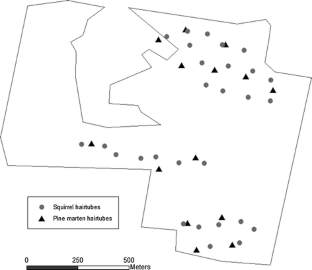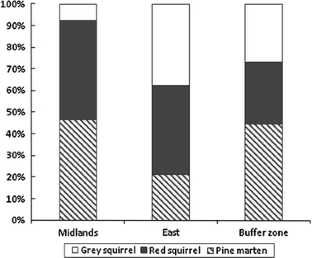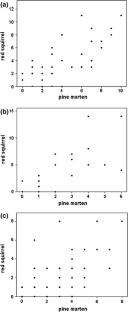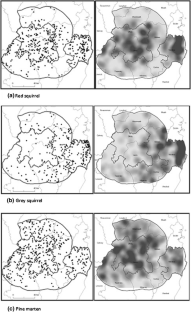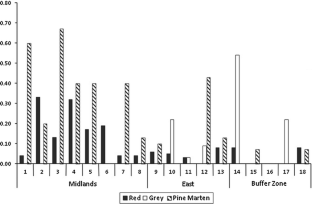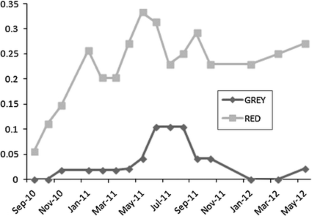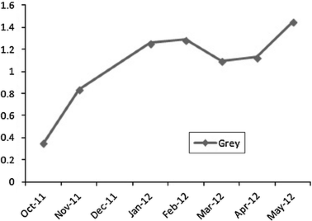 References
Arthur SM, Krohn WB, Gilbert JR (1989) Habitat use and diet of fishers. J Wildl Manage 53:680–688

Balestrieri A, Remonti L, Ruiz-González A, Gómez-Moliner BJ, Vergara M, Prigioni C (2010) Range expansion of the pine marten (Martes martes) in an agricultural landscape matrix (NW Italy). Mamm Biol 75:412–419

Balharry D (1993) Factors affecting the distribution and population density of pine martens (Martes martes) in Scotland. PhD, University of Aberdeen, Aberdeen, Scotland

Bertolino S, Genovesi P (2003) Spread and attempted eradication of the grey squirrel (Sciurus carolinensis) in Italy, and consequences for the red squirrel (Sciurus vulgaris) in Eurasia. Biol Conserv 109:351–358

Bertolino S, Lurz PW, Sanderson R, Rushton SP (2008) Predicting the spread of the American grey squirrel (Sciurus carolinensis) in Europe: a call for a co-ordinated European approach. Biol Conserv 141:2564–2575

Bertolino S, Montezemolo N, Preatoni D, Wauters L, Martinoli A (2013) A grey future for Europe: Sciurus carolinensis is replacing native red squirrels in Italy. Biol Invasions 1–10

Carey M, Hamilton G, Poole A, Lawton C (2007) Irish squirrel survey. COFORD, Dublin

Caryl FM, Raynor R, Quine CP, Park KJ (2012) The seasonal diet of British pine marten determined from genetically identified scats. J Zool 288:252–259

Croose E, Birks J, Schofield H (2013) Expansion zone survey of pine marten (Martes martes) distribution in Scotland. Scottish Natural Heritage Commissioned Report No. 520

Don BAC (1983) Home range characteristics and correlates in tree squirrels. Mamm Rev 13:123–132

Fossitt JA (2000) A guide to habitats in Ireland. The Heritage Council

Goldstein E, Lawton C, Sheehy E, Butler F (in review) A comparison of two methods to locate a species invasion front: citizen science projects and indirect field surveys. Submitted to 'Wildlife Research'

Gurnell J (1983) Squirrel numbers and the abundance of tree seeds. Mamm Rev 13:133–148

Gurnell J (1987) The natural history of squirrels. Christopher Helm London

Gurnell J (1996) The effects of food availability and winter weather on the dynamics of a grey squirrel population in southern England. J Appl Ecol 33:325–338

Gurnell J, Lurz P (eds) (1997) The conservation of red squirrels, Sciurus vulgaris. People's Trust For Endangered Species, London

Gurnell J, Pepper H (1993) A critical look at conserving the British Red Squirrel Sciurus vulgaris. Mamm Rev 23:127–137

Gurnell J, Lurz P, Pepper H (2001a) Practical techniques for surveying and monitoring squirrels. For Comm Pract Note 11:1–12

Gurnell J, Wauters LA, Preatoni D, Tosi G (2001b) Spacing behaviour, kinship, and population dynamics of grey squirrels in a newly colonized broadleaf woodland in Italy. Can J Zool 79:1533–1543

Gurnell J, Wauters L, Lurz P, Tosi G (2004) Alien species and interspecific competition: effects of introduced eastern grey squirrels on red squirrel population dynamics. J Anim Ecol 73:26–35

Hales AL, Belant JL, Bird J (2008) Effects of sex and age on winter diet of American Martens in Michigan. Ohio J Sci 108:60–64

Kenward R, Holm J (1993) On the replacement of the red squirrel in Britain. A phytotoxic explanation. Proc R Soc Lond B Biol Sci 251:187–194

Kenward RE, Hodder KH, Rose RJ, Walls CA, Parish T, Holm JL, Morris PA, Walls SS, Doyle FI (1998) Comparative demography of red squirrels (Sciurus vulgaris) and grey squirrels (Sciurus carolinensis) in deciduous and conifer woodland. J Zool 244:7–21

Koprowski JL (1994) Sciurus carolinensis. Mamm Species 480:1–9

Lawton C, Rochford J (2007) The recovery of grey squirrel (Sciurus carolinensis) populations after intensive control programmes. Biol Environ Proc R Irish Acad 107B:19–29

Lowe S, Browne M, Boudjelas S, De Poorter M (2004) 100 of the World's worst invasive alien species: a selection from the global invasive species database. Invasive Species Specialist Group (ISSG). Hollands Printing, Auckland

Lurz P, Rushton S, Wauters L, Bertolino S, Currado I, Mazzoglio P, Shirley M (2001) Predicting grey squirrel expansion in North Italy: a spatially explicit modelling approach. Landsc Ecol 16:407–420

Lynch Á, McCann Y (2007) The diet of the pine marten (Martes martes) in Killarney National Park. Biol Environ Proc R Irish Acad 107:67–76

Lynch Á, Brown M, Rochford J (2006) Fur snagging as a method of evaluating the presence and abundance of a small carnivore, the pine marten (Martes martes). J Zool 270:330–339

MacKinnon K (1978) Competition between red and grey squirrels. Mamm Rev 8:185–190

Manzo E, Bartolommei P, Rowcliffe J, Cozzolino R (2012) Estimation of population density of European pine marten in central Italy using camera trapping. Acta Theriol 57:165–172

McInnes CJ, Coulter L, Dagleish MP, Deane D, Gilray J, Percival A, Willoughby K, Scantlebury M, Marks N, Graham D, Everest DJ, McGoldrick M, Rochford J, McKay F, Sainsbury AW (2012) The emergence of squirrelpox in Ireland. Anim Conserv 16:51–59

Mullins J, Statham M, Roche T, Turner P, O'Reilly C (2010) Remotely plucked hair genotyping: a reliable and non-invasive method for censusing pine marten (Martes martes, 1758) populations. Eur J Wildl Res 56:443–453

O'Mahony D, O'Reilly C, Turner P (2006) National pine marten survey of Ireland 2005. Coford Connects. Environment 7:1–8

O'Mahony D, O'Reilly C, Turner P (2012) Pine marten (Martes martes) distribution and abundance in Ireland: a cross-jurisdictional analysis using non-invasive genetic survey techniques. Mamm Biol 77:351–357

O'Meara D, Sheehy E, Turner P, O'Mahony D, Harrington A, Denman H, Lawton C, MacPherson J, O'Reilly C (2013) Non-invasive multi-species monitoring: real-time PCR detection of small mammal and squirrel prey DNA in pine marten (Martes martes) scats. Acta Theriol 1–7. doi:10.1007/s13364-013-0155-8

O'Sullivan PJ (1983) The distribution of the Pine marten (Martes martes) in the Republic of Ireland. Mamm Rev 13:39–44

O'Teangana D, Reilly S, Montgomery W, Rochford J (2000) Distribution and status of the red squirrel (Sciurus vulgaris) and grey squirrel (Sciurus carolinensis) in Ireland. Mamm Rev 30:45–56

Paterson WD, Skipper G (2008) The diet of pine martens (Martes martes) with reference to squirrel predation in Loch lomond and The Trossachs National Park, Scotland. BSc Dissertation, University of Glasgow, Glasgow

Poole A (2007) An investigation of translocation as a technique to conserve the red squirrel (Sciurus vulgaris) in Ireland. National University of Ireland, Galway

Reilly S (1997) Aspects of the ecology of the red squirrel, Sciurus vulgaris, in commercial conifer forests. Ph.D, Trinity College, Dublin

Rushton S, Lurz P, Gurnell J, Nettleton P, Bruemmer C, Shirley M, Sainsbury A (2006) Disease threats posed by alien species: the role of a poxvirus in the decline of the native red squirrel in Britain. Epidemiol Infect 134:521–533

Sheehy E, O'Meara D, O'Reilly C, Smart A, Lawton C (2013) A non-invasive approach to determining pine marten abundance and predation. Eur J Wildl Res. doi:10.1007/s10344-013-0771-2

Simberloff D, Gibbons L (2004) Now you see them, now you don't!—population crashes of established introduced species. Biol Invasions 6:161–172

Smith WP (2007) Ecology of Glaucomys sabrinus: habitat, demography, and community relations. J Mamm 88:862–881

Teerink BJ (1991) Hair of west-European mammals, 1st edn. Cambridge University Press, Cambridge

Thompson DC (1978) Regulation of a Northern Grey Squirrel (Sciurus carolinensis) population. Ecology 59:708–715

Warner P, O'Sullivan P (1982) The food of the pine marten Martes martes in Co., Clare. Trans Int Union Game Biol 14:323–330

Waters C (2012) Post-release monitoring of two translocated red squirrel (Sciurus vulgaris) populations. PhD Thesis, National University of Ireland, Galway

Wauters L, Dhondt A (1995) Lifetime reproductive success and its correlates in female Eurasian red squirrels. Oikos 72:402–410

Wauters L, Bijnens L, Dhondt A (1993) Body mass at weaning and juvenile recruitment in the red squirrel. J Anim Ecol 62:280–286

Wauters L, Lurz P, Gurnell J (2000) Interspecific effects of grey squirrels (Sciurus carolinensis) on the space use and population demography of red squirrels (Sciurus vulgaris) in conifer plantations. Ecol Res 15:271–284

Wauters LA, Gurnell J, Preatoni D, Tosi G (2001) Effects of spatial variation in food availability on spacing behaviour and demography of Eurasian red squirrels. Ecography 24:525–538

Wauters L, Gurnell J, Martinoli A, Tosi G (2002) Interspecific competition between native Eurasian red squirrels and alien grey squirrels: does resource partitioning occur? Behav Ecol Sociobiol 52:332–341
Acknowledgments
Author one was funded by the Irish Research Council under the 'Embark' initiative. We would like to thank the woodland owners and managers in particular David Hutton Bury, Eamonn Doran, National Parks and Wildlife Service (Department of Arts, Heritage and the Gaeltacht) and Coillte for allowing access to the study sites. Thanks to all who participated in the sightings survey in particular the National Association of Regional Game Councils. Thanks to Michael Carey and Huw Denman for advice in the early stages of the project and to Alan Murphy for help with the website.
Additional information
Communicated by David L. Hawksworth.
About this article
Cite this article
Sheehy, E., Lawton, C. Population crash in an invasive species following the recovery of a native predator: the case of the American grey squirrel and the European pine marten in Ireland. Biodivers Conserv 23, 753–774 (2014). https://doi.org/10.1007/s10531-014-0632-7
Received:

Revised:

Accepted:

Published:

Issue Date:
Keywords
Competitive release

Grey squirrel

Hairtube survey

Invasive prey

Live squirrel trapping

Native predator

Pine marten

Population crash

Red squirrel

Sightings survey