Abstract
Grasslands recovered by sowing low diversity seed mixtures of local provenance are usually managed by mowing. Besides restoration success only a few studies have focused on the direct effects of post-restoration mowing on recovered grassland vegetation. In this study we followed vegetation changes in 13 successfully recovered grasslands in 5 × 5-m-sized sites with continuous and ceased mowing at Hortobágy National Park, East-Hungary. We asked the following questions: (i) What are the effects of cessation of mowing on the vegetation structure and diversity of recovered grasslands? (ii) What are the effects of cessation of mowing on the abundance of sown grasses, target and undesirable species? (iii) Is yearly mowing an appropriate management tool for the maintenance of recovered grasslands? Our results showed that the cessation of mowing caused litter accumulation, while diversity, total vegetation cover and the cover of sown grasses decreased compared to the mown sites. The cover of undesirable perennial species was significantly higher in unmown sites than in mown ones. The species composition of mown sites remained more similar to near-natural grasslands than the unmown ones. Our results suggest that without regular post-restoration mowing the favourable status of recovered grasslands can rapidly decline due to litter accumulation and by the expansion of undesirable species, even in the short-run. We also stress that while yearly mowing is enough to maintain grasslands recovered by low-diversity seed sowing, it cannot be considered to be enough to recover target vegetation composition.
Access options
Buy single article
Instant access to the full article PDF.
USD 39.95
Price includes VAT (USA)
Tax calculation will be finalised during checkout.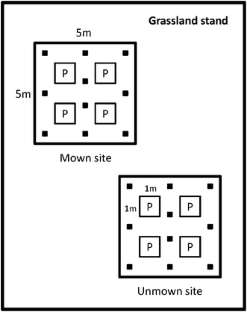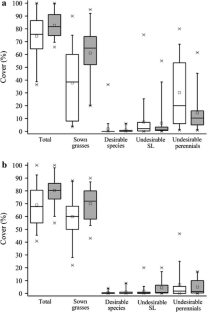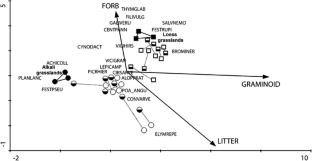 References
Antonsen H, Olsson PA (2005) Relative importance of burning, mowing and species translocation in the restoration of a former boreal hayfield: responses of plant diversity and the microbial community. J Appl Ecol 42:337–347

Billeter R, Peintinger M, Diemer M (2007) Restoration of montane fen meadows by mowing remains possible after 4–35 years of abandonment. Bot Helv 117:1–13

Boeken B, Orenstein D (2001) The effect of plant litter on ecosystem properties in a Mediterranean semi-arid shrubland. J Veg Sci 12:825–832

Borhidi A (1995) Social behaviour types, the naturalness and relative ecological indicator values of the higher plants in the Hungarian Flora. Acta Bot Hung 39:97–181

Carson WP, Peterson CJ (1990) The role of litter in an old-field community: impact of litter quantity in different seasons on plant species richness and abundance. Oecologia 85:8–13

Deák B, Valkó O, Kelemen A, Török P, Miglécz T, Ölvedi T, Lengyel S, Tóthmérész B (2011) Litter and graminoid biomass accumulation suppresses weedy forbs in grassland restoration. Plant Biosyst 145:730–737

del Moral R, Wood DM, Titus JH (2005) Proximity, microsites, and biotic interactions during early succession. In: Dale VH, Swanson FJ, Crisafulli CM (eds) Ecological responses to the 1980 eruption of Mount St. Helens. Springer, New York, pp 93–109

Diacon-Bolli J, Dalang T, Holderegger R, Bürgi M (2012) Heterogeneity fosters biodiversity: linking history and ecology of dry calcareous grasslands. Basic Appl Ecol 13:641–653

Diemer M, Oetiker K, Billeter R (2001) Abandonment alters community composition and canopy structure of Swiss calcareous fens. Appl Veg Sci 4:237–246

Facelli JM, Pickett STA (1991) Plant litter: its dynamics and effects on plant community structure. Bot Rev 57:1–32

Fowler NL (1986) Microsite requirements for germination and establishment of tree grass species. Am Midl Nat 115:131–145

Galvánek D, Lepš J (2009) How do management and restoration needs of mountain grasslands depend on moisture regime? Experimental study from North-Western Slovakia (Western Carpathians). Appl Veg Sci 12:273–282

Gerard M, El Kahloun M, Rymen J, Beauchard O, Meire P (2008) Importance of mowing and flood frequency in promoting species richness in restored floodplains. J Appl Ecol 45:1780–1789

Giuliano Bonanomi G, Guido Incerti G, Marina Allegrezza M (2013) Assessing the impact of land abandonment, nitrogen enrichment and fairy-ring fungi on plant diversity of Mediterranean grasslands. Biodivers Conserv 22:2285–2304

Habel JC, Dengler J, Janišová M, Török P, Wellstein C, Wiezik M (2013) European grassland ecosystems: threatened hotspots of biodiversity. Biodivers Conserv 22:2131–2138

Halada L, Evans D, Romão C, Petersen J-E (2011) Which habitats of European importance depend on agricultural practices? Biodivers Conserv 20:2365–2378

Hald AB, Vinther E (2000) Restoration of a species-rich fen-meadow after abandonment: response of 64 plant species to management. Appl Veg Sci 3:15–24

Huhta A-P, Rautio P, Tuomi J, Laine K (2001) Restorative mowing on an abandoned semi-natural meadow: short-term and predicted long-term effects. J Veg Sci 12:677–686

Huston MA (1999) Local processes and regional patterns: appropriate scales for understanding variation in the diversity of plants and animals. Oikos 86:393–401

Jacquemyn H, Van Mechelen C, Brys R, Honnay O (2011) Management effects on the vegetation and soil seed bank of calcareous grasslands: an 11-year experiment. Biol Conserv 144:416–422

Kelemen A, Török P, Valkó O, Miglécz T, Tóthmérész B (2013) Mechanisms shaping plant biomass and species richness: plant strategies and litter effect in alkali and loess grasslands. J Veg Sci. doi:10.1111/jvs.12027

Kiehl K, Pfadenhauer J (2007) Establishment and persistence of target species in newly created calcareous grasslands on former arable fields. Plant Ecol 189:31–48

Lawson CS, Ford MA, Mitchley J (2004) The influence of seed addition and cutting regime on the success of grassland restoration on former arable land. Appl Veg Sci 7:259–266

Lengyel S, Kobler A, Kutnar L, Framstad E, Henry P-Y, Babij V, Gruber B, Schmeller D, Henle K (2008) A review and a framework for the integration of biodiversity monitoring at the habitat level. Biodivers Conserv 17:3341–3356

Manchester SJ, McNally S, Treweek JR, Sparks TH, Mountford JO (1999) The cost and practicality of techniques for the reversion of arable land to lowland wet grassland: an experimental study and review. J Environ Manag 55:91–109

Marrs RH, Snow CSR, Evans CE (1998) Heathland and acid grassland creation on arable soils at Minsmere: identification of potential problems and a test of cropping to impoverish soils. Biol Conserv 85:69–82

McLachlan SM, Knispel AL (2005) Assessment of long-term tallgrass prairie restoration in Manitoba, Canada. Biol Conserv 124:75–88

Novák J, Konvička M (2006) Proximity of valuable habitats affects succession patterns in abandoned quarries. Ecol Eng 26:113–122

O'Connell JL, Johnson LA, Beas BJ, Smith LM, McMurry ST, Haukos DA (2013) Predicting dispersal-limitation in plants: optimizing planting decisions for isolated wetland restoration in agricultural landscapes. Biol Conserv 159:343–354

Prach K, Pyšek P (2001) Using spontaneous succession for restoration of human-disturbed habitats: experience from Central Europe. Ecol Eng 17:55–62

Ruprecht E, Szabó A (2012) Grass litter is a natural seed trap in long-term undisturbed grassland. J Veg Sci 23:495–504

Soó R (1964–1980) Synopsis systematic-geobotanica florae vegetationisque Hungariae I-VI. Akadémiai Kiadó, Budapest

Stampfli A, Zeiter M (1999) Plant species decline due to abandonment of meadows cannot easily be reversed by mowing. A case study from the Southern Alps. J Veg Sci 10:151–164

ter Braak CJF, Šmilauer P (2002) CANOCO Reference manual and user's guide to canoco for windows. Software for canonical community ordination (version 4. 5). Centre for Biometry Wageningen/Microcomputer Power, Wageningen, NL/Ithaca

Török P, Deák B, Vida E, Valkó O, Lengyel S, Tóthmérész B (2010) Restoring grassland biodiversity: sowing low-diversity seed mixtures can lead to rapid favourable changes. Biol Conserv 143:806–812

Török P, Vida E, Deák B, Lengyel S, Tóthmérész B (2011) Grassland restoration on former croplands in Europe: an assessment of applicability of techniques and costs. Biodivers Conserv 20:2311–2332

Török P, Miglécz T, Valkó O, Kelemen A, Deák B, Lengyel S, Tóthmérész B (2012) Recovery of native grass biodiversity by sowing on former croplands: is weed suppression a feasible goal for grassland restoration? J Nat Cons 20:41–48

Valkó O, Török P, Matus G, Tóthmérész B (2012) Is regular mowing the most appropriate and cost-effective management maintaining diversity and biomass of target forbs in mountain hay meadows? Flora 207:303–309

van Loon AH, Soomers H, Schot PP, Bierkens MFP, Griffioen J, Wassen MJ (2011) Linking habitat suitability and seed dispersal models in order to analyse the effectiveness of hydrological fen restoration strategies. Biol Conserv 144:1025–1035

Vida E, Valkó O, Kelemen A, Török P, Deák B, Miglécz T, Lengyel S, Tóthmérész B (2010) Early vegetation development after grassland restoration by sowing low-diversity seed mixtures in former sunflower and cereal fields. Acta Biol Hung 61:246–255

Zelnik I, Čarni A (2013) Plant species diversity and composition of wet grasslands in relation to environmental factors. Biodivers Conserv 22:2179–2192

Zuur AF, Ieno EN, Walker N, Saveliev AA, Smith GM (2009) Mixed effects models and extensions in ecology with R. Springer, New York
Acknowledgments
We are indebted to Á. Albert, L. Gál, I. Kapocsi, Sz. Lengyel, B. Lukács, Sz. Radócz, Gy. Szabó, Sz. Tasnády, L-né Tegdes, E. Vida for their help in field and laboratory work. Grassland restoration was financed by a grant from the LIFE Nature programme of the European Union (LIFE04NAT/HU/000119, http://life2004.hnp.hu). The authors was supported by a joint Grant from the Hungarian Scientific Research Fund and the Norway Financing Mechanism (OTKA NNF 78887) and TÁMOP 4.2.1./B-09/1/KONV-2010-0007, TÁMOP-4.2.2_B-10_1-2010-0024 and TÁMOP- 4.2.4.A/2-11-1-2012-0001, TÁMOP-4.2.2/C-11/1/KONV-2012-0010 projects. The TÁMOP project is implemented through the New Hungary Development Plan, co-financed by the European Social Fund and the European Regional Development Fund. The second author (P.T.) was supported by the Bolyai János Research Scholarship of the Hungarian Academy of Sciences and by Hungarian Scientific Research Fund PD 100192 project.
Additional information
Communicated by David L. Hawksworth.
Appendices
Appendix 1
See Table 2.
Appendix 2
Full name of the most frequent 20 species and their abbreviations used in Fig. 3 and all other species detected in the studied grassland stands.
ACHICOLL:

Achillea collina

ALOPPRAT:

Alopecurus pratensis

BROMINER:

Bromus inermis

CENTPANN:

Centaurea pannonica

CIRSARV:

Cirsium arvense

CONVARVE:

Convolvulus arvensis

CYNODACT:

Cynodon dactylon

ELYMREPE:

Elymus repens

FESTPSEU:

Festuca pseudovina

FESTRUPI:

Festuca rupicola

FILIVULG:

Filipendula vulgaris

GALIVERU:

Galium verum

LEPICAMP:

Lepidium campestre

PICRHIER:

Picris hieracioides

PLANTLANC:

Plantago lanceolata

POA_ANG:

Poa angustifolia

SALVNEMO:

Salvia nemorosa

THYMGLAB:

Thymus glabrescens

VICIGRAN:

Vicia grandiflora

VICIHIRS:

Vicia hirsuta
Further species in order of decreasing cover and frequency
Centaurea pannonica, Carex praecox, Vicia angustifolia, Podospermum canum, Plantago maritima, Alopecurus pratensis, Trifolium campestre, Taraxacum officinale, Carduus acanthoides, Lathyrus tuberosus, Lactuca serriola, Ornithogalum kotschii, Veronica verna, Bromus mollis, Festuca pratensis, Dactylis glomerata, Medicago lupulina, Veronica hederifolia, Gypsophila muralis, Arrhenatherum elatius, Agrostis stolonifera, Lotus corniculatus, Fragaria viridis, Euphorbia cyparissias, Koeleria cristata, Stellaria graminea, Trifolium striatum, Lathyrus tuberosus, Galium spurium, Alyssum alyssoides, Pimpinella saxifraga, Salvia austriaca, Verbascum phoeniceum, Lactuca saligna, Stellaria media, Vicia villosa, Potentilla arenaria, Knautia arvensis, Ajuga genevensis, Inula britannica, Conyza canadensis, Medicago falcata, Eryngium campestre, Capsella bursa-pastoris, Dianthus pontederae, Consolida regalis, Potentilla heptaphylla, Lepidium draba, Potentilla argentea, Geranium molle, Melandrium album, Falcaria vulgaris, Daucus carota, Bromus tectorum, Cruciata pedemontana, Matricaria inodora, Hypericum perforatum, Vicia tetrasperma, Poa bulbosa, Chenopodium hybridum, Lamium purpureum, Bromus arvensis, Cerastium dubium, Arenaria serpyllifolia, Viola arvensis, Fumaria schleicherii, Bupleurum tenuissimum, Bilderdykia convolvulus, Papaver rhoeas, Cirsium vulgare, Lamium amplexicaule, Sonchus arvensis, Veronica prostrata, Trifolium repens, Trifolium angulatum, Puccinellia limosa, Melandrium viscosum, Bromus erectus, Viola kitaibeliana, Erysimum repandum, Veronica polita, Polygonum aviculare, Aster tripolium subsp. pannonicus, Trifolium arvense, Lithospermum arvense, Myosotis stricta, Scleranthus annuus, Lolium perenne, Lepidium perfoliatum, Trifolium retusum, Thlaspi arvense, Veronica arvensis, Lepidium ruderale, Erodium cicutarium, Agrimonia eupatoria, Vicia lathyroides, Veronica triphyllos, Chenopodium album, Melilotus officinalis, Setaria viridis, Epilobium tetragonum, Erysimum repandum.
About this article
Cite this article
Kelemen, A., Török, P., Valkó, O. et al. Sustaining recovered grasslands is not likely without proper management: vegetation changes after cessation of mowing. Biodivers Conserv 23, 741–751 (2014). https://doi.org/10.1007/s10531-014-0631-8
Received:

Revised:

Accepted:

Published:

Issue Date:
Keywords
Grassland restoration

Seed sowing

Abandonment

Post-restoration management

Biodiversity

Cirsium arvense