Abstract
Knowledge about the level of public attention toward different species is crucial to successful conservation. The evolution of online social networks offers new possibilities for collecting data about public interest. Building on an analysis of text messages on Twitter, this study aimed to quantify the level of public attention toward different mammal and bird species listed (at the full species or subspecies/population level) under the United States' Endangered Species Act (ESA). Once a month during 1 year, I searched recently posted messages ('tweets') for the common names of every listed species. The polar bear (Ursus maritimus) was by far the most tweeted species. The other most tweeted mammals were the American bison (Bison bison), brown bear (U. arctos), cougar (Puma concolor), killer whale (Orcinus orca), black bear (U. americanus) and West Indian manatee (Trichechus manatus), respectively. The three most frequently tweeted birds were the sandhill crane (Grus canadensis), whooping crane (G. americana) and spotted owl (Strix occidentalis). Some species, such as the manatee, right whale (Eubalaena glacialis), and gray wolf (Canis lupus) ranked higher when restricting the search to conservation contexts. The results suggest that Twitter users interact about a biased sample of ESA-listed species: mammals were better represented than birds among the most tweeted species and larger-sized species received more tweets. The findings can be used for prioritizing conservation education and marketing campaigns aiming to raise the profile of lesser-known listed species. Data from online social networks open the door for a range of novel applications in conservation science.
This is a preview of subscription content, log in to check access.
Access options
Buy single article
Instant access to the full article PDF.
US$ 39.95
Price includes VAT for USA
Subscribe to journal
Immediate online access to all issues from 2019. Subscription will auto renew annually.
US$ 199
This is the net price. Taxes to be calculated in checkout.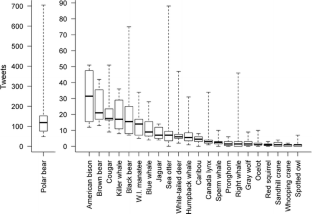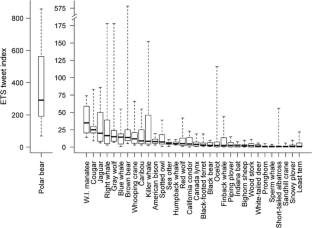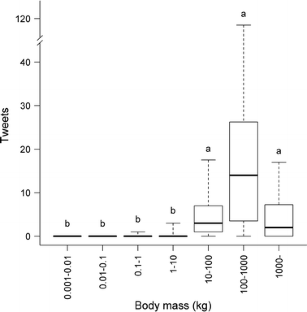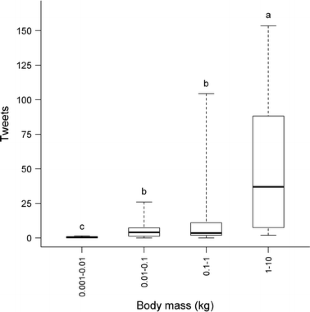 References
Ballouard J-M, Brischoux F, Bonnet X (2011) Children prioritize virtual exotic biodiversity over local biodiversity. PLoS ONE 6(8):e23152

Barua M, Root-Bernstein M, Ladle RJ, Jepson P (2011) Defining flagship uses is critical for flagship selection: a critique of the IUCN climate change flagship fleet. Ambio 40:431–435

Beevolve (2012) An exhaustive study of Twitter users across the world. Beevolve Technologies, London. http://www.beevolve.com/twitter-statistics/. Accessed 15 Oct 2012

Bik HM, Goldstein MC (2013) An introduction to social media for scientists. PLoS Biol 11(4):e1001535

Caro T (2010) Conservation by proxy: indicator, umbrella, keystone, flagship and other surrogate species. Island Press, Washington, DC

Chew C, Eysenbach G (2010) Pandemics in the age of Twitter: content analysis of tweets during the 2009 H1N1 outbreak. PLoS ONE 5:e14118

Clark JA, May RM (2002) Taxonomic bias in conservation research. Science 297:191–202

Clucas B, McHugh K, Caro T (2008) Flagship species on covers of US conservation and nature magazines. Biodivers Conserv 17:1517–1528

Czech B, Krausman PR, Borkhataria R (1998) Social construction, political power, and the allocation of benefits to endangered species. Conserv Biol 12:1103–1112

Eysenbach G (2002) Infodemiology: the epidemiology of (mis)information. Am J Med 113:763–765

Gavin MC, Solomon JN, Blank SG (2010) Measuring and monitoring illegal use of natural resources. Conserv Biol 24:89–100

Golbeck J, Grimes JM, Rogers A (2010) Twitter use by the US congress. J Am Soc Inf Sci Technol 61:1612–1621

Gonçalves B, Perra N, Vespignani A (2011) Modeling user's activity on Twitter networks: validation of Dunbar's number. PLoS ONE 6(8):e22656

Heberlein TA (2012) Navigating environmental attitudes. Conserv Biol 26:583–585

Kalland A (1993) Management by totemization: whale symbolism and the anti-whaling campaign. Arctic 46:124–133

Kareiva P, Marvier M (2012) What is conservation science? Bioscience 62:962–969

Kellert SR (1985) Social and perceptual factors in endangered species management. J Wildlife Manag 49:528–536

Kellert SR (1996) The value of life: biological diversity and human society. Island Press, Washington, DC

Knegtering E, Hendrickx L, van der Windt HJ, Schoot Uiterkamp AJM (2002) Effect of species' characteristics on nongovernmental organizations' attitudes toward species conservation policy. Environ Behav 34:378–400

Lislevand T, Figuerola J, Székely T (2007) Avian body sizes in relation to fecundity, mating system, display behavior, and resource sharing. Ecology 88:1605

McCallum ML, Bury GW (2013) Google search patterns suggest declining interest in the environment. Biodivers Conserv 22:1355–1367

McNeil K, Brna PM, Gordon KE (2012) Epilepsy in the Twitter era: a need to re-tweet the way we think about seizures. Epilepsy Behav 23:127–130

Metrick A, Weitzman ML (1996) Patterns of behavior in endangered species preservation. Land Econ 72:1–16

R Core Team (2013) R: a language and environment for statistical computing. R Foundation for Statistical Computing, Vienna

Richardson L, Loomis J (2009) The total economic value of threatened, endangered and rare species: an updated meta-analysis. Ecol Econ 68:1535–1548

Rodrigues ASL, Pilgrim JD, Lamoreux JF, Hoffmann M, Brooks TM (2006) The value of the IUCN Red List for conservation. Trends Ecol Evol 21:71–76

Scanfeld D, Scanfeld V, Larson EL (2010) Dissemination of health information through social networks: Twitter and antibiotics. Am J Infect Control 38:182–188

Signorini A, Segre AM, Polgreen PM (2011) The use of Twitter to track levels of disease activity and public concern in the US during the influenza A H1N1 pandemic. PLoS ONE 6(5):e19467

Smith FA, Lyons SK, Ernest SKM, Jones KE, Kauffman DM, Dayan T, Marquet PA, Brown JH, Haskell JP (2003) Body mass of late Quaternary mammals. Ecology 84:3403

Smith RJ, Veríssimo D, MacMillan DC (2010) Marketing and conservation: how to lose friends and influence people. In: Leader-Williams N, Adams W, Smith RJ (eds) Trade-offs in conservation: deciding what to save. Blackwell, Oxford

Smith RJ, Veríssimo D, Isaac NJB, Jones KE (2012) Identifying Cinderella species: uncovering mammals with conservation flagship appeal. Conserv Lett 5:205–212

Stokes DL (2007) Things we like: human preferences among similar organisms and implications for conservation. Hum Ecol 25:361–369

Twitter (2012a) Twitter turns six. Twitter, San Francisco. http://blog.twitter.com/2012/03/twitter-turns-six.html. Accessed 15 Oct 2012

Twitter (2012b) Twitter help center. Twitter, San Francisco. https://support.twitter.com/. Accessed 15 July 2012

Veríssimo D, MacMillan DC, Smith RJ (2011) Toward a systematic approach for identifying conservation flagships. Conserv Lett 4:1–8

Veríssimo D, MacMillan DC, Smith RJ, Barua M, Jepson P (2012) Selecting marine invertebrate flagship species: widening the net. Biol Conserv 145:4

Viralblog (2012) Twitter facts and figures. SocialMedia8, Amsterdam. http://www.viralblog.com/research-cases/twitter-facts-figures/. Accessed 23 Nov 2012

Walpole MJ, Leader-Williams N (2002) Tourism and flagship species in conservation. Biodivers Conserv 11:543–547
Acknowledgments
I thank Adam Felton, Navinder J. Singh, Andrew Allen and two anonymous reviewers for insightful comments on the manuscript.
Additional information
Communicated by Marcelo F. Tognelli.
Electronic supplementary material
Below is the link to the electronic supplementary material.
About this article
Cite this article
Roberge, J. Using data from online social networks in conservation science: which species engage people the most on Twitter?. Biodivers Conserv 23, 715–726 (2014). https://doi.org/10.1007/s10531-014-0629-2
Received:

Revised:

Accepted:

Published:

Issue Date:
Keywords
Endangered Species Act

Microblogs

Online networking services

Public attention

Species at risk

Twitter