Abstract
Wildlife conservation is a complex issue especially when it involves large carnivores or mega-herbivores that are conflict-prone. Karnataka state in southern India is known to harbor high density of wild elephants. This conservation success story also has opportunity costs for communities living in close proximity to elephants. Despite the fact that human–elephant conflict is a serious conservation and social issue, there is little quantitative understanding of conflict especially over large areas. Here we conduct the first analysis of human–elephant conflict distribution, severity and explanatory factors over the entire state of Karnataka. We use data from the state forest department records on villages that experience conflict, compensation payments made by the government, elephant densities, forest cover and perimeter, and presence of physical barriers to mitigate elephant conflict. In total, 60,939 incidences of crop loss were reported and US$ 2.99 m paid in compensation during April 2008–March 2011. A total of 91 people were killed by elephants and 101 elephants died in retaliatory killings during the study period. A total of 9.4 % of the state's geographic area covering 25 of the 42 forest administrative divisions were affected. There was no significant difference in conflict incidences or compensation given between protected areas and non-protected areas. There was no correlation between conflict incidences/unit area and elephant density, forest cover, forest perimeter of protected areas and presence of physical barriers. The results depict the importance of efficient management of physical barriers, conserving key habitat linkages, and acts as baseline data for future work.
Access options
Buy single article
Instant access to the full article PDF.
USD 39.95
Price excludes VAT (USA)
Tax calculation will be finalised during checkout.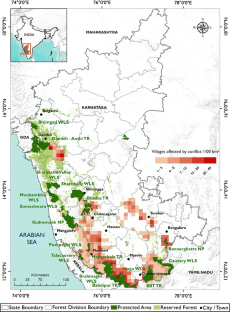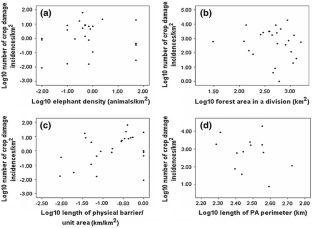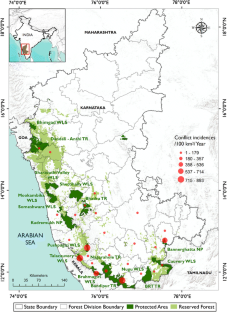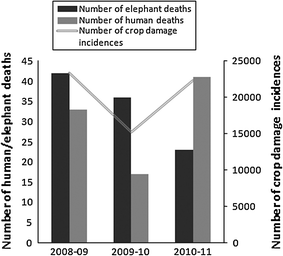 Similar content being viewed by others
References
Baskaran N, Sukumar R (2010) Karnataka Elephant Census 2010. Asian Nature Conservation Foundation, Centre for Ecological Sciences and Indian Institute of Science, Bangalore, India

Campbell JM (1883) Gazetteer of the Bombay Presidency, vol. XV, Kanara. Government Central Press, Bombay, India

Chiyo PI, Lee PC, Moss CJ, Archie EA, Hollister-Smith JA, Alberts SC (2011) No risk, no gain: effects of crop raiding and genetic diversity on body size in male elephants. Behav Ecol 22:552–558

ETF (2012) Report of the elephant task force. Report submitted to the Honourable High Court of Karnataka, Bangalore, India

Fernando P, Wikramanayake E, Weerakoon D, Jayasinghe LKA, Gunawardene M, Janaka HK (2005) Perceptions and patterns of human–elephant conflict in old and new settlements in Sri Lanka: insights for mitigation and management. Biodivers Conserv 14:2465–2481

Goswami VR, Madhusudan MD, Karanth KU (2007) Application of photographic capture–recapture modelling to estimate demographic parameters for male Asian elephants. Anim Conserv 10:391–399

Gubbi S (2009) Elephant deaths due to electrocution: a consequence of inappropriate habitat management? Oryx 43:323–324

Gubbi S (2010a) Are conservation funds degrading wildlife habitats? Econ and Polit Wkly XLV:22–25

Gubbi S (2010b) Making governance effective. Semin 613:61–65

Gubbi S (2012) Patterns and co-relates of human–elephant conflict around a south Indian reserve. Biol Conserv 148:88–95

Hoare RE (1999) Determinants of human–elephant conflict in a land-use mosaic. J Appl Ecol 36:689–700

Hoare RE, du Toit JT (1999) Coexistence between people and elephants in African savannas. Conserv Biol 13:633–639

KFD (2013) Forests at a glance. http://www.karnatakaforest.gov.in/English/forest_glance/forest_at_glance.htm. Accessed 2 April 2013

Kioko J, Muruthi P, Omondi P, Chiyo PI (2008) The performance of electric fences as elephant barriers in Amboseli, Kenya. S Afr J Wildl Res 38:52–58

Lenin J, Sukumar R (2011) Action plan for the mitigation of elephant–human conflict in India. Asian Nature Conservation Foundation, Bangalore, India

Linkie M, Dinata Y, Nofrianto A, Leader-Williams N (2007) Patterns and perceptions of wildlife crop raiding in and around Kerinci Seblat National Park, Sumatra. Anim Conserv 10:127–135

MOEF (2010) Gajah: securing the future for elephants in India. Ministry of Environment and Forests (MOEF), Government of India, New Delhi

Nair PV, Gadgil M (1980) The status and distribution of elephant populations of Karnataka. J Bombay Nat Hist Soc 75:1000–1016

Nair SS, Nair PV, Sharatchandra HC, Gadgil M (1978) An ecological reconnaissance of proposed Jawahar National Park. J Bombay Nat Hist Soc 74:401–435

Naughton-Treves L (1998) Predicting patterns of crop damage by wildlife around Kibale National Park, Uganda. Conserv Biol 12:156–168

Ogra M (2008) Human–wildlife conflict and gender in protected area borderlands: a case study of costs, perceptions, and vulnerabilities from Uttarakhand (Uttaranchal), India. Geoforum 39:1408–1422

Prasad SN, Nair PV, Sharatchandra HC, Gadgil M (1979) On factors governing the distribution of wild mammals in Karnataka. J Bombay Nat Hist Soc 75:718–743

PTI (2010) Elephant declared national heritage animal. http://www.hindustantimes.com/India-news/NewDelhi/Elephant-declared-national-heritage-animal/Article1-616497.aspx. Accessed 2 April 2013

Sitati NW, Walpole MJ, Smith RJ, Leader-Williams N (2003) Predicting spatial aspects of human–elephant conflict. J Appl Ecol 40:667–677

Sitati NW, Walpole MJ, Leader-Williams N (2005) Factors affecting susceptibility of farms to crop raiding by African elephants: using a predictive model to mitigate conflict. J Appl Ecol 42:1175–1182

Sukumar R (1986) The elephant populations of India-strategies for conservation. Proc Indian Acad Sci Novemb 1:59–71

Sukumar R (1991) The management of large mammals in relation to male strategies and conflict with people. Biol Conserv 55:93–102

Sukumar R, Gadgil M (1988) Male–female differences in foraging on crops by Asian elephants. Anim Behav 36:1233–1235

Thouless CR, Sakwa J (1995) Shocking elephants: fences and crop raiders in Laikipia District, Kenya. Biol Conserv 72:99–107

Varma S, Avinash KG, Vinay L (2011) Human–elephant conflict in Mysore Forest Division: patterns, causes and responses. Asian Nature Conservation Foundation, Bangalore, India

Webber CE, Sereivathana T, Maltby MP, Lee PC (2011) Elephant crop-raiding and human–elephant conflict in Cambodia: crop selection and seasonal timings of raids. Oryx 45:243–251
Acknowledgments
The authors would like to thank the Karnataka Forest Department for providing the data and for overall support. Support of S. Sudhakar in procuring the data is highly appreciated. The first, third and the fourth authors would also like to thank Panthera for their support and encouragement. Inputs of Drs. M. D. Madhusudan and Matthew Linkie greatly helped improve the manuscript to whom we are greatful.
Electronic supplementary material
Below is the link to the electronic supplementary material.
Table 1: Area of forest cover in non-protected area divisions of Karnataka. Supplementary material 1 (DOC 40 kb)
Table 2 Different crop types that were compensated due to human–elephant conflict in Karnataka state, southern India during April 2008 – March 2011. Supplementary material 2 (DOC 52 kb)
Table 3 Important forests outside protected areas that hold high potential for long-term elephant conservation in Karnataka state, southern India. Supplementary material 3 (DOC 42 kb)
About this article
Cite this article
Gubbi, S., Swaminath, M.H., Poornesha, H.C. et al. An elephantine challenge: human–elephant conflict distribution in the largest Asian elephant population, southern India. Biodivers Conserv 23, 633–647 (2014). https://doi.org/10.1007/s10531-014-0621-x
Received:

Accepted:

Published:

Issue Date:

DOI: https://doi.org/10.1007/s10531-014-0621-x
Keywords