Abstract
The collection and organization of distributional data is the first crucial stage of any conservation planning action: therefore the decline in field research has implications in both the systematic, floristic and conservation fields. The aim of this paper is to analyze the effects of data updating on conservation planning and priorities. Focusing on the short time frame ranging from 2006 to 2011, we present a case study showing the rate of increase of collected data (taxa and records) and the consequential effects on the definition of areas of priority interest for plant conservation (Important Plant Areas—IPAs). We gathered data on a total of 193 taxa and 849 records with a mean rate of increase of +97 % for taxa and +166 % for records (2006/2011). This increase caused a positive rate of change in high ranking cells (+78 %) defining IPAs, while the number of low ranking cells and no data cells slightly decreased (−12 and −8 %, respectively). Our results suggest that specific investment to complete the knowledge on the distribution of selected taxa (e.g. 193 taxa represent the 7.5 % of the total vascular flora of Sardinia) would dramatically reduce both the Linnean and Wallacean shortfalls and would allow robust conservation programs to preserve the diversity of the island. Updating the IPAs on a regular basis is a good example of a process that has a low impact as well as a big potential gain especially when field research can only be performed with low intensity and small monetary investments.
This is a preview of subscription content,
to check access.
Access this article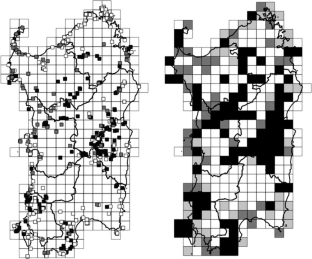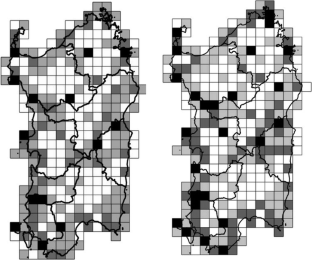 Similar content being viewed by others
References
Anderson S (2002) Identifying Important Plant Areas: a site selection manual for Europe and a basis for developing guidelines for other regions of the World. Plantlife International, Salisbury, UK

Anderson MJ, Gorley RN, Clarke RK (2008) PERMANOVA for PRIMER: guide to software and statistical methods. PRIMER-E, Plymouth

Arrigoni PV, Di Tommaso PL (1991) La vegetazione delle montagne calcaree della Sardegna centro-orientale. Boll Soc Sarda Sci Nat 28:201–310

Attorre F, Fortunato C, Martellos S (2013) Botanical information in the Italian Biodiversity Network: one year of data aggregation and future perspectives. Plant Biosyst. doi:10.1080/11263504.2013.860054

Bacchetta G, Pontecorvo C (2005) Contribution to the knowledge of the endemic vascular flora of Iglesiente (SW Sardinia-Italy). Candollea 60:481–501

Bacchetta G, Brullo S, Casti M, Giusso del Galdo GP (2010) Taxonomic revision of the Dianthus sylvestris group (Caryophyllaceae) in Central-Southern Italy, Sicily and Sardinia. Nord J Bot 28:137–173

Bacchetta G, Farris E, Pontecorvo C (2012a) A new method to set conservation priorities in biodiversity hotspots. Plant Biosyst 146(3):638–648

Bacchetta G, Brullo S, Congiu A, Fenu G, Garrido JL, Mattana E (2012b) A new species of Aquilegia (Ranunculaceae) from Sardinia (Italy). Phytotaxa 56:59–64

Bacchetta G, Fenu G, Mattana E (2012c) A checklist of the exclusive vascular flora of Sardinia with priority rankings for conservation. Anales Jard Bot Madrid 69:81–89

Bilz M, Kell SP, Maxted N, Lansdown RV (2011) European Red List of vascular plants. Publications Office of the European Union, Luxembourg

Blasi C, Zavattero L, Marignani M, Smiraglia D, Copiz R, Rosati L, Del Vico E (2008) The concept of land ecological network and its design using a land unit approach. Plant Biosyst 142(3):540–549

Blasi C, Marignani M, Copiz R, Fipaldini M, Del Vico E (eds) (2010) Le Aree Importanti per le Piante nelle Regioni d'Italia: il presente e il futuro della conservazione del nostro patrimonio botanico. Progetto Artiser, Rome

Blasi C, Marignani M, Copiz R, Fipaldini M, Bonacquisti S, Del Vico E, Rosati L, Zavattero L (2011) Important Plant Areas in Italy: from data to mapping. Biol Conserv 144(1):220–226

Brito D (2010) Overcoming the Linnean shortfall: data deficiency and biological survey priorities. Basic Appl Ecol 11:709–713

Brooks TH, Fonseca GAB, Rodrigues ASL (2004) Species, data, and conservation planning. Conserv Biol 18:1682–1688

Capotorti G, Zavattero L, Anzellotti A, Burrascano S, Frondoni R, Marchetti M, Marignani M, Smiraglia D, Blasi C (2012) Do National Parks play an active role in conserving the natural capital of Italy? Plant Biosyst 146(2):258–265

Conti F, Abbate G, Alessandrini A, Blasi C (eds) (2005) An annotated checklist of the Italian vascular flora. Palombi Editori, Rome

Conti F, Alessandrini A et al (2007) Integrazioni alla checklist della flora vascolare italiana. Nat Vicentina 10:5–74

de Lange PJ, Norton DA, Courtney SP, Heenan PB, Barkla JW, Cameron EK, Hitchmough RA, Townsend AJ (2009) Threatened and uncommon plants of New Zealand (2008 revision). N Z J Bot 47:61–96

Fenu G, Mattana E, Bacchetta G (2012) Conservation of endemic insular plants: the genus Ribes L. (Grossulariaceae) in Sardinia. Oryx 46:219–222

Garrido JL, Fenu G, Mattana E, Bacchetta G (2012) Spatial genetic structure of Aquilegia taxa endemic to the island of Sardinia. Ann Bot 109:953–964

Gauthier P, Debussche M, Thompson JD (2010) Regional priority setting for rare species based on a method combining three criteria. Biol Conserv 143:1501–1509

Grand J, Cummings MP, Rebelo TG, Ricketts TH, Neel MC (2007) Biased data reduce the efficiency of conservation reserve networks. Ecol Lett 10:364–374

Grantham HS, Wilson KA, Moilanen A, Rebelo T, Possingham HP (2009) Delaying conservation actions for improved knowledge: how long should we wait? Ecol Lett 12:293–301

Hermoso V, Kennard MJ, Linke S (2013) Data acquisition for conservation assessments: is the effort worth it? PLoS ONE 8(3):e59662

Landucci F, Acosta ATR, Agrillo E et al (2012) VegItaly: the Italian collaborative project for a national vegetation database. Plant Biosyst 146:756–763

Mansion G, Rosenbaum G, Schoenenberger N, Bacchetta G, Rosselló JA, Conti E (2008) Phylogenetic analysis informed by geological history supports multiple, sequential invasions of the Mediterranean Basin by the Angiosperm family Araceae. Syst Biol 57:269–285

Marignani M, Blasi C (2012) Looking for Important Plant Areas: selection based on criteria, complementarity, or both? Biodivers Conserv 21(7):1853–1864

Martellos S, Attorre F (2012) New trends in biodiversity informatics. Plant Biosyst 146:749–751

Martellos S, Attorre F, De Felici S, Cesaroni D, Sbordoni V, Blasi C, Nimis PL (2011) Plant sciences and the Italian National Biodiversity Network. Plant Biosyst 145(4):758–761

Médail F, Quézel P (1997) Hot-spots analysis for conservation of plant biodiversity in the Mediterranean basin. Ann Mo Bot Gard 84:112–127

Médail F, Quézel P (1999) Biodiversity hotspots in the Mediterranean Basin: setting global conservation priorities. Conserv Biol 13:1510–1513

Palmer M, Smart J (2001) Guidelines to the selection of Important Plant Areas in Europe. Planta Europa

Possingham HP, Grantham H, Rondinini C (2007) How can you conserve species that haven't been found? J Biogeogr 34:758–759

Prather LA, Alvarez-Fuentes O, Mayfield MH, Ferguson CJ (2004) Implications of the decline in plant collecting for systematic and floristic research. Syst Bot 29:216–220

Rossi G, Montagnani C et al (in press) Are Red Lists really useful for plant conservation? The New Red List of the Italian Flora in the perspective of National Conservation policies. Plant Biosyst. doi:10.1080/11263504.2013.868375

Rossi G, Montagnani C, Gargano D et al (eds) (2013) Lista Rossa della Flora Italiana. 1. Policy Species e altre specie minacciate. Comitato Italiano IUCN e Ministero dell'Ambiente e della Tutela del Territorio e del Mare

Sastre P, Lobo JM (2009) Taxonomist survey biases and the unveiling of biodiversity patterns. Biol Conserv 142:462–467

Scoppola A, Spampinato G (2005) Atlante delle specie a rischio di estinzione. Versione 1.0. CD-Rom. In: Scoppola A, Blasi C (eds) Stato delle conoscenze sulla flora vascolare d'Italia. Palombi Editori, Rome

Whittaker RJ, Araújo MB, Jepson P, Ladle RJ, Watson JEM, Willis KJ (2005) Conservation biogeography: assessment and prospect. Divers Distrib 11:3–23

Wilson KA, Underwood EC, Morrison SA, Klausmeyer KR, Murdoch WW et al (2007) Conserving biodiversity efficiently: what to do, where, and when. PLoS Biol 5(9):e223. doi:10.1371/journal.pbio.0050223
Electronic supplementary material
Below is the link to the electronic supplementary material.
About this article
Cite this article
Marignani, M., Bacchetta, G., Bagella, S. et al. Is time on our side? Strengthening the link between field efforts and conservation needs. Biodivers Conserv 23, 421–431 (2014). https://doi.org/10.1007/s10531-013-0610-5
Received:

Accepted:

Published:

Issue Date:

DOI: https://doi.org/10.1007/s10531-013-0610-5
Keywords