Abstract
Recent analyses of internet search volume hypothesized a decline of public interest toward themes related to environment, biodiversity conservation and fishery. These analyses were based on Google Trends, which is a measure of how frequently a term is searched in Google, in proportion to the total of searches performed. Google Trends is a measure of relative search, and this may make difficult assessing temporal trends. I evaluated whether relative declines in internet search volumes represent genuine decline in interest toward environmental-related themes, by comparing trends of terms representing various themes, including environment, computer science, other disciplines (astrophysics) and leisure. Similar values of relative decline were detected for environmental terms, for computer science terms, and for other scientific disciplines. Conversely, an increase was observed for leisure related terms. This suggests that interest toward the environment is not truly decreasing. The apparent decline of environmental and scientific terms is most likely caused by the increasing use of internet for aims unrelated to science and technology, such as leisure. Internet search tools are a powerful source of information, but users should be aware of the complexity of analysing their data: using unrelated terms as benchmark may help to identify genuine trends.
Access options
Buy single article
Instant access to the full article PDF.
US$ 39.95
Tax calculation will be finalised during checkout.
Subscribe to journal
Immediate online access to all issues from 2019. Subscription will auto renew annually.
US$ 119
Tax calculation will be finalised during checkout.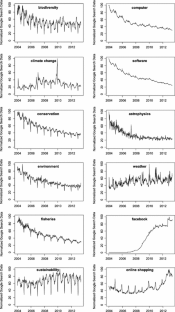 References
Bonardi A, Manenti R, Corbetta A, Ferri V, Fiacchini D, Giovine G, Macchi S, Romanazzi E, Soccini C, Bottoni L, Padoa Schioppa E, Ficetola GF (2011) Usefulness of volunteer data to measure the large scale decline of "common" toad populations. Biol Conserv 144:2328–2334

Gillies J, Cailliau R (2000) How the web was born. Oxford University Press, Oxford

International Telecommunications Union 2013. Key ICT indicators for developed and developing countries and the world (totals and penetration rates). International Telecommunications Union, Geneva. http://www.itu.int/en/ITU-D/Statistics/Documents/statistics/2012/ITU_Key_2006-2013_ICT_data.xls

McCallum ML, Bury GW (2013) Google search patterns suggest declining interest in the environment. Biodivers Conserv 22:1355–1367

Sauer JR, Link WA, Kendall WL, Dolton DD (2010) Comparative analysis of mourning dove population change in North America. J Wildlife Manag 74:1059–1069

Schmidt BR (2004) Declining amphibian populations: the pitfalls of count data in the study of diversity, distributions, dynamics, and demography. Herpetol J 14:167–174

Waller V (2011) Not just information: who searches for what on the search engine Google? J Am Soc Inf Sci Technol 62:761–775

Wilde GR, Pope KL (2013) Worldwide trends in fishing interest indicated by internet search volume. Fisheries Manag Ecol 20:211–222

Willard SD, Nguyen MM (2013) Internet search trends analysis tools can provide real-time data on kidney stone disease in the United States. Urology 81:37–42

Yang AC, Huang NE, Peng CK, Tsai SJ (2010) Do seasons have an influence on the incidence of depression? The use of an internet search engine query data as a proxy of human affect. PLoS ONE 5:e13728

Zuur AF, Ieno EN, Walker NJ, Saveliev AA, Smith GM (2009) Mixed effects models and extensions in ecology with R. Springer, New York
Acknowledgments
I thank two reviewers for constructive comments on early versions of this manuscript. GFF was supported by a post-doctoral scholarship of Univ. Milano-Bicocca.
About this article
Cite this article
Ficetola, G.F. Is interest toward the environment really declining? The complexity of analysing trends using internet search data. Biodivers Conserv 22, 2983–2988 (2013). https://doi.org/10.1007/s10531-013-0552-y
Received:

Accepted:

Published:

Issue Date:
Keywords
Climate change

Environment

Google trends

Public opinion

Sustainability

Time series