Abstract
Wind energy development is rapidly increasing within breeding and wintering ranges of many grassland birds in North America. Despite recognized environmental benefits of such development, wind farms have the potential to negatively impact bird communities. Using an area-search method, we surveyed grassland birds within a matrix of pastures, hay fields, and agricultural lands at a wind facility in north-central Texas during the winters of 2009/10 and 2010/11. We used binary logistic regression to examine the effect of distance from wind turbines on plot occupancy for species that did not show significant habitat associations. In contrast, for species with significant habitat associations, we used a two-step process to test for displacement. First, we identified suitable plots using a niche modeling approach in Maxent. Second, we used binary logistic regression to examine whether distance to turbine influenced the occupancy of those plots. Sprague's Pipit Anthus spragueii, Savannah Sparrow Passerculus sandwichensis, and meadowlarks Sturnella sp. showed no evidence for displacement. In contrast, the Le Conte's Sparrow Ammodramus leconteii, was significantly more likely to occupy suitable plots as distance from the nearest turbine increased. Mean plot occupancy for the Le Conte's Sparrow was more than four times lower in plots <200 m from the nearest wind turbine compared to those that were >400 m away. Our study highlights the need to investigate displacement at the level of individual species. Our data also suggest that species dependent on cryptic predator evasion strategies may be displaced from wind turbines and this idea warrants further investigation.
This is a preview of subscription content,
to check access.
Access this article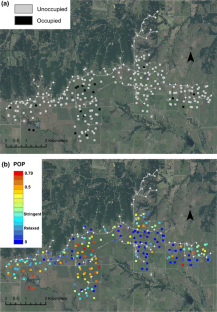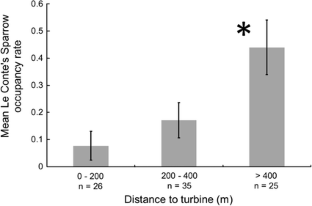 Similar content being viewed by others
References
Askins RA, Chavez-Ramirez F, Dal BC, Haas CA, Herkert JR, Knope FL, Vickery PD (2007) Conservation of grassland birds in North America: understanding ecological processes in different regions. Ornithol Monogr 64:1–46

Brennan LA, Kuvlesky WP (2005) North American grassland birds: an unfolding conservation crisis? J Wildl Manag 69:1–13

Butler AB, Martin JA, Palmer WE, Carroll JP (2009) Winter use of south Florida dry prairie by two declining grassland passerines. Condor 111:511–522

Compton BW, Rhymer JM, McCollough M (2002) Habitat selection by wood turtles (Clemmys insculpta): an application of paired logistic regression. Ecology 83:833–843

Devereux CL, Denny MJH, Whittingham MJ (2008) Minimal effects of wind turbines on the distribution of wintering farmland birds. J Appl Ecol 45:1689–1694

Diamond DD, Smeins FE (1984) Remnant grassland vegetation and ecological affinities of the upper coastal prairie of Texas. Southwest Nat 29:321–334

Douglas DJT, Bellamy PE, Pearce-Higgins JW (2011) Changes in the abundance and distribution of upland breeding birds at an operational wind farm. Bird Study 58:37–43

Drewitt AL, Langston RHW (2006) Assessing the impacts of wind farms on birds. Ibis 148:29–42

Dunning J (2001) New world Sparrows. In: Elphick C, Dunning J, Sibley D (eds) The Sibley guide to bird life and behavior. Alfred A. Knopf, New York, pp 516–535

Elith J, Graham CH, Anderson RP, Dudík M, Ferrier S, Guisan A, Hijmans RJ, Huettmann F, Leathwick JR, Lehmann A, Li J, Lohmann LG, Loiselle BA, Manion G, Moritz C, Nakamura M, Nakazawa Y, Overton JM, Peterson AT, Phillips SJ, Richardson K, Scachetti-Pereira R, Schapire RE, Soberón J, Williams S, Wisz MS, Zimmermann NE (2006) Novel methods improve prediction of species' distributions from occurrence data. Ecography 29:129–151

Fielding AH, Bell JF (1997) A review of methods for the assessment of prediction errors in conservation presence/absence models. Environ Conserv 24:38–49

Fletcher RJ, Dhundale JA, Dean TF (2000) Estimating non-breeding season bird abundance in prairies: a comparison of two survey techniques. J Field Ornithol 71:321–329

Griffith GE, Bryce SB, Omernik JM, Rogers A (2007) Ecoregions of Texas. Texas Commission on Environmental Quality, Austin

Grzybowski JA (1982) Population structure in grassland bird communities during winter. Condor 84:137–152

Grzybowski JA (1983) Sociality of grassland birds during winter. Behav Ecol Sociobiol 13:211–219

Hernandez PA, Graham CH, Master LL, Albert DL (2006) The effect of sample size and species characteristics on performance of different species distribution modeling methods. Ecography 29:773–785

Hirzel AH, Le Lay GI (2008) Habitat suitability modeling and niche theory. J Appl Ecol 45:1372–1381

Igl LD, Ballard BM (1999) Habitat associations of migrating and overwintering grassland birds in southern Texas. Condor 101:771–782

Keating KA, Cherry S (2004) Use and interpretation of logistic regression in habitat selection studies. J Wildl Manag 68:774–789

Kiesecker JM, Evans JS, Fargione J, Doherty K, Foresman KR, Kunz TH, Naugle D, Nibbelink NP, Niemuth ND (2011) Win-win for wind and wildlife: a vision to facilitate sustainable development. PLoS One 6:e17566

Knight DH (1994) Methods for sampling vegetation: an instruction manual for botany 4700. University of Wyoming, Laramie

Knopf FL (1994) Avian assemblages on altered grasslands. Stud Avian Biol 15:247–257

Kuvlesky WP, Brennan LA, Morrison ML, Boydston KK, Ballard BM, Bryant FC (2007) Wind energy development and wildlife conservation: challenges and opportunities. J Wildl Manag 71:2487–2498

Lammers WM, Collopy MW (2007) Effectiveness of avian predator perch deterrents on electrical transmission lines. J Wildl Manag 71:2752–2758

Leddy KL, Higgins KF, Naugle DE (1999) Effects of wind turbines on upland nesting birds in conservation reserve program grasslands. Wilson Bull 111:100–104

Macias-Duarte A, Panjabi AO (2013) Association of habitat characteristics with winter survival of a declining grassland bird in Chihuahuan Desert grasslands of Mexico. Auk 130:141–149

Macias-Duarte A, Montoya AB, Mendez-Gonzalez CE, Rodriguez-Salazar JR, Hunt WG, Krannitz PG (2009) Factors influencing habitat use by migratory grassland birds in the state of Chihuahua, Mexico. Auk 126:896–905

Marra PP, Hobson KA, Holmes RT (1998) Linking winter and summer events in a migratory bird using stable carbon isotopes. Science 282:1884–1886

Pearce-Higgins JW, Stephen L, Langston RHW, Bainbridge IP, Bullman R (2009) The distribution of breeding birds around upland wind farms. J Appl Ecol 46:1323–1331

Pearce-Higgins JW, Stephen L, Douse A, Langston RHW (2012) Greater impacts of wind farms on bird populations during construction than subsequent operation: results of a multi-site and multi-species analysis. J Appl Ecol 49:386–394

Pearson RG, Thuiller W, Araujo MB, Martinez-Meyer E, Brotons L, McClean C, Miles L, Segurado P, Dawson TP, Lees DC (2006) Model-based uncertainty in species range prediction. J Biogeogr 33:1704–1711

Pearson RG, Raxworthy CJ, Nakamura M, Peterson AT (2007) Predicting species distributions from small numbers of occurrence records: a test case using cryptic geckos in Madagascar. J Biogeogr 34:102–117

Peterjohn BG, Sauer JR (1999) Population status of North American grassland birds from the North American breeding bird survey, 1966–1996. Stud Avian Biol 19:27–44

Phillips SJ, Anderson RP, Schapire RE (2006) Maximum entropy modeling of species geographic distributions. Ecol Model 190:231–259

Pruett CL, Patten MA, Wolfe DH (2009) Avoidance behavior by prairie grouse: implications for development of wind energy. Conserv Biol 23:1253–1259

Pulliam HR, Mills GS (1977) The use of space by wintering sparrows. Ecology 58:1393–1399

Rich TD, Beardmore CJ, Berlanga H, Blancher PJ, Bradstreet MSW, Butcher GS, Demarest DW, Dunn EH, Hunter WC, Iñigo-Elias EE, Kennedy JA, Martell AM, Panjabi AO, Pashley DN, Rosenberg KV, Rustay CM, Wendt JS, Will TC (2004) Partners in flight North American landbird conservation plan. Cornell Lab of Ornithology, Ithaca

Roberts JP, Schnell GD (2006) Comparison of survey methods for wintering grassland birds. J Field Ornithol 77:46–60

Smith MD, Barbour PJ, Burger LW Jr, Dinsmore SJ (2005) Density and diversity of overwintering birds in managed field borders in Mississippi. Wilson Bull 117:258–269

Twedt DJ, Hamel PB, Wodrey MS (2008) Winter bird population studies and project prairie birds for surveying grassland birds. Southeast Nat 7:11–18

Vickery PD, Herkert JR (2001) Recent advances in grassland bird research: where do we go from here? Auk 118:11–15

Wise MS, Hijmans RJ, Li J, Peterson AT, Graham CH, Guisan A, NCEAS Predicting Species Distributions Working Group (2008) Effects of sample size on the performance of species distribution models. Divers Distrib 14:763–773
Acknowledgments
We thank J. Ellis for her assistance in the field and the employees of Wolf Ridge for logistical support. Funding was provided by NextEra Energy Resources; TCU researchers had unrestricted access to company data, and complete independence in all aspects of the analysis, conclusions, and decision to publish the research. T.K.S. received a TCU Biology Department Adkins Fellowship. The manuscript was improved by comments from D. Williams, A. Lehikoinen, T. Burgess, and three anonymous reviewers.
About this article
Cite this article
Stevens, T.K., Hale, A.M., Karsten, K.B. et al. An analysis of displacement from wind turbines in a wintering grassland bird community. Biodivers Conserv 22, 1755–1767 (2013). https://doi.org/10.1007/s10531-013-0510-8
Received:

Accepted:

Published:

Issue Date:

DOI: https://doi.org/10.1007/s10531-013-0510-8
Keywords