Abstract
The knowledge of the historical range of organisms is necessary to understand distribution dynamics and their drivers as well as to set reference conditions and conservation goals. We reviewed written sources documenting the presence of lynxes in Spain between the sixteenth and nineteenth centuries, trying to infer whether Lynx records referred to the Iberian (Lynx pardinus) or the Eurasian (Lynx lynx) species. We compiled 151 spatially specific, non-redundant Lynx records, dating between 1572 and 1897. Records appeared split in two neatly separated areas, North and South. Arguably, all historical records from the South area correspond to Iberian lynx, since almost all of them fall within the estimated range of the species in the 1950s. This suggests that the core distribution area of the species remained relatively stable for centuries, until the second half of the twentieth century. The reported range in the 1950s is thus an appropriate scenario to set conservation goals for this critically endangered species. The North area extended from Galicia and northern Portugal to the Mediterranean, mainly occupying the Atlantic-climate area of northern Iberia. Reported direct measurements and the accumulation of indirect evidences suggest that most, if not all, northern Lynx records refer to the Eurasian lynx, which had been previously detected in archaeological sites of the area. This species was apparently present in the Iberian Peninsula until the early-nineteenth century. Our results provide an objective, baseline distribution of Lynx species in Spain useful to guide conservation efforts both at the Iberian and European levels.
This is a preview of subscription content,
to check access.
Access this article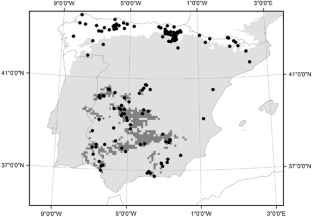 References
Acevedo P, Delibes-Mateos M, Escudero MA, Vicente J, Marco J, Gortázar C (2005) Environmental constraints in the colonization sequence of roe deer (Capreolus capreolus Linnaeus, 1758) across the Iberian Mountains, Spain. J Biogeogr 32:1671–1680

Alagona P, Sandlos J, Wiersma YF (2012) Past Imperfect: using historical ecology and baseline data for contemporary conservation and restoration projects. Environ Philos 9:49–70

Altuna J (1980) Hallazgo de un lince nórdico (Lynx lynx L. Mammalia) en la Sima de Pagolusieta, Gorbea (Vizcaya). Munibe 3/4:317–322

Balée W (2006) The research program of historical ecology. Ann Rev Athropol 35:75–98

Beaufort F (1965) Lynx des Pyrénées, Felis (L.) lynx lynx. Mammalia 29:589–601

Boakes EH, McGowan PJ, Fuller RA, Chang-qing D, Clark NE, O'Connor K, Mace GM (2010) Distorted views of biodiversity: spatial and temporal bias in species occurrence data. PLoS Biol 8:e1000385

Boshoff AF, Kerley GIH (2010) Historical mammal distribution data: How reliable are written records? S Afr J Sci 106(1/2):1–8

Breitenmoser U (1998) Large predators in the Alps: the fall and rise of man's competitors. Biol Conserv 83:279–289

Breitenmoser U, Breitenmoser-Würsten C, Okarma H, Kaphegyi T, Kaphegyi-Wallmann U, Müller UM (2000) The action plan for the conservation of the Eurasian Lynx (Lynx lynx) in Europe. Nature and Environmental Series No. 112. Council of Europe Publishing, Strasbourg

Breitenmoser U, Mallon DP, von Arx M, Breitenmoser-Wursten C (2008) Lynx lynx. In: IUCN 2012. IUCN Red List of Threatened Species. Version 2012.2. http://www.iucnredlist.org. Accessed 6 Nov 2012

Cabrera A (1914) Fauna Ibérica: mamíferos. Junta para la Ampliación de Estudios e Investigaciones Científicas, Madrid

Calzada J (2010) El lince ibérico en el Ordenamiento Jurídico. De alimaña a exterminar a especie protegida. In: Calzada J, Mora Ruiz M, Giles Carnero R, Márquez Ruiz C (eds) Lince ibérico: aspectos jurídicos para la conservación de la especie. SECEM, Málaga, pp 21–48

Castaños PM (1990) Los carnívoros de los yacimientos prehistóricos vascos. Munibe 42:253–258

Cazurro M (1894) Fauna matritense. Mamíferos. Actas Soc Esp Hist Nat 23:188–226

Fernández JM, Ruíz de Azua N (2003). Mastofauna. In: Fernández JM (coord). Estudio faunístico del Parque Natural de Gorbeia. Diputación Foral de Álava, Vitoria, pp 283–356

Ferreras P, Beltrán JF, Aldama JJ, Delibes M (1997) Spatial organization and land tenure system of the endangered Iberian lynx (Lynx pardinus). J Zool 243:163–189

Ferreras P, Rodríguez A, Palomares F, Delibes M (2010) Iberian lynx: the uncertain future of a critically endangered cat. In: Macdonald DW, Loveridge AJ (eds) Biology and conservation of wild felids. Oxford University Press, Oxford, pp 511–524

Forman RT, Russell EW (1983) Evaluation of historical data in ecology. Bull Ecol Soc Am 64:5–7

Garrote G, López G, Gil-Sánchez JM, Rojas E, Ruiz M, Bueno JF, de Lillo S, Rodriguez-Siles J, Martín JM, Pérez J, García-Tardío M, Valenzuela G, Simón MA (2013) Human–felid conflict as a further handicap to the conservation of the critically endangered Iberian lynx. Eur J Wildl Res 59:287–290

Graells MP (1897) Fauna mastodológica ibérica. Mem Real Acad Cien Exact Fís Nat 17:1–806

Gortázar C, Herrero J, Villafuerte R, Marco J (2000) Historical examination of the status of large mammals in Aragon, Spain. Mammalia 64:411–422

Hainard R (1961) Mammifères sauvages d'Europe. I: Insectivores, Chéiropteres, Carnivores. Editions Delachaux & Niestlé, Neuchatel

Hauben JP (1965) The first decade of an agrarian experiment in Bourbon Spain: the 'new towns' of Sierra Morena and Andalusia, 1766–76. Agric Hist 39:34–40

Herfindal I, Linnell JDC, Odden J, Nilsen EB, Andersen R (2005) Prey density, environmental productivity, and home range size in the Eurasian lynx (Lynx lynx). J Zool 265:63–71

Hetherington D (2006) The lynx in Britain's past, present and future. Ecos 27:67–74

Hetherington DA, Lord TC, Jacobi RM (2005) New evidence for the occurrence of Eurasian lynx (Lynx lynx) in medieval Britain. J Quat Sci 21:3–8

Hoving CL, Joseph RA, Krohn WB (2003) Recent and historical distributions of Canada lynx in Maine and the Northeast. Northeast Nat 10:363–382

Inskip C, Zimmermann A (2009) Human-felid conflict: a review of patterns and priorities worldwide. Oryx 43:18–34

Izaguirre R (1934) Las Ciencias Naturales y los archivos. Katamotz: ¿Tigre? Rev Int Estud Vascos 25:707–714

Kramer-Schadt S, Revilla E, Wiegand T (2005) Lynx reintroductions in fragmented landscapes of Germany: projects with a future or misunderstood wildlife conservation? Biol Conserv 125:169–182

Kratochvil J (1968) Survey of the populations of the genus Lynx in Europe. Acta Sci Nat Acad Sci Bohemoslov Brno 2:5–12

Lavauden L (1930) Essai sur l'histoire naturelle du lynx. Imp. Allier, Grenoble, France

Linnell JDC, Breitenmoser U, Breitenmoser-Würsten C, Odden J, von Arx M (2009) Recovery of Eurasian lynx in Europe: what part has reintroduction played? In: Hayward M, Sommers M (eds) Reintroduction of top-order predators. Blackwell, Oxford, pp 72–91

López de Guereñu G (1957) La caza en la montaña alavesa. Munibe 9:226–262

López-Seoane V (1861) Fauna mastológica de Galicia. Imp. Miras, Santiago de Compostela, Spain

Lotze HK, Worm B (2009) Historical baselines for large marine animals. Trends Ecol Evol 24:254–262

Maluquer J (1992) Notícia de la fauna de Catalunya i d'Andorra al final del segle. XVIII. Butll Inst Catalana d'Hist Nat 60:5–20

Margules CR, Pressey RL (2000) Systematic conservation planning. Nature 405:243–253

Martínez-Marina F (1802) Diccionario geográfico-histórico de España. Imprenta Viuda de D, Joaquin Ibarra, Madrid

McClenachan L, Ferretti F, Baum JK (2012) From archives to conservation: why historical data are needed to set baselines for marine animals and ecosystems. Conserv Lett 5:349–359

Meine C (1999) It's about time: conservation biology and history. Conserv Biol 13:1–3

Meurger M (1990) Les félins exotiques dans le légendaire français. Communications 52:175–196

Mladenoff DJ, Dahir SE, Nordheim EV, Schulte LA, Guntenspergen GG (2002) Narrowing historical uncertainty: probabilistic classification of ambiguously identified tree species in historical forest survey data. Ecosystems 5:539–553

Navarro LM, Pereira HM (2012) Rewilding abandoned landscapes in Europe. Ecosystems 15:900–912

Nogués-Bravo D, Rodríguez J, Hortal J, Batra P, Araújo MB (2008) Climate change, humans, and the extinction of the woolly mammoth. PLoS Biol 6(4):e79

Nores C (1999) ¿Es el lobo cerval un lince boreal Lynx lynx? IV Jomadas de la Sociedad Española de Conservación y Estudio de los Mamíferos. Segovia, 5–7 Dec 1999

Nores C, Segura A (2007) Mamíferos. In: Nores C, García-Roves P (coord) Libro Rojo de la Fauna del Principado de Asturias. Consejería de Medio Ambiente, Ordenación del Territorio e Infraestrucutras. Obra Social "la Caixa". Oviedo, pp 362–468

Nores C, Vázquez VM (1984) Datos sobre la presencia del lince en Asturias desde el Siglo XVIII. Acta Biol Mont 4:361–370

Odden J, Linnell JDC, Andersen R (2006) Diet of Eurasian lynx, Lynx lynx, in the boreal forest of south-eastern Norway: the relative importance of livestock and hares at low roe deer density. Eur J Wildl Res 52:237–244

Palomares F, Delibes M, Revilla E, Calzada J, Fedriani JM (2001) Spatial ecology of Iberian lynx and abundance of European rabbits in southwestern Spain. Wildl Monogr 148:1–36

Pérez I, Anadón JD, Díaz M, Nicola GG, Tella JL, Giménez A (2012) What is wrong with current translocations? A review and a decision-making proposal. Front Ecol Environ 10:494–501

Ponder WF, Carter GA, Flemons P, Chapman RR (2001) Evaluation of museum collection data for use in biodiversity assessment. Conserv Biol 15:648–657

Redman CL (1999) Human impact on ancient environments. University of Arizona Press, Tucson

Rodríguez A, Delibes M (1990) El lince ibérico en España. Distribución y problemas de conservación. Instituto Nacional para la Conservación de la Naturaleza, Madrid

Rodríguez A, Delibes M (1992) Current range and status of the Iberian lynx Felis pardina, Temminck 1824 in Spain. Biol Conserv 61:189–196

Rodríguez A, Delibes M (2002) Internal structure and patterns of contraction in the geographic range of the Iberian lynx. Ecography 25:314–328

Rodríguez A, Delibes M (2003) Population fragmentation and extinction in the Iberian lynx. Biol Conserv 109:321–331

Rubio-Marcos E (2004) Pasiegos de Burgos. Los últimos trashumantes. Author, Burgos

Ruíz de Azua N, Fernández JM (2005) Presencia histórica del lince o "tigre" en el País Vasco. Avnia 10:82–95

Sarmiento M (1760) Discurso sobre un animal feroz y desconocido que a la vista del Monasterio benedictino de San Pedro de Montes, en El Bierzo, se vió, se mató, se cogió y se desolló; y cuya piel se conserva hoy en el Monasterio. Copy of the unpublished manuscript preserved at the Fundación Universitaria Española, Madrid (edited by José Santos Puerto, 2010–2011, Revista de Estudios Bercianos 25–26: 27–54)

Schmidt-Posthaus H, Breitenmoser-Würsten C, Posthaus H, Bacciarini LN, Breitenmoser U (2002) Causes of mortality in reintroduced Eurasian lynx in Switzerland. J Wildl Dis 38:84–92

Shaffer HB, Fisher RN, Davidson C (1998) The role of natural history collections in documenting species declines. Trends Ecol Evol 13:27–30

Shelton SL, Weckerly FW (2007) Inconsistencies in historical geographic range maps: the gray wolf as an example. Calif Fish Game 93:224–227

Simón MA, Cadenas R, Gil-Sánchez JM, López-Parra M, García J, Fernández L et al (2009) Conservation of free-ranging Iberian lynx (Lynx pardinus) populations in Andalusia. In: Vargas A, Breitenmoser-Wursten C, Breintemoser U (eds) Iberian lynx ex situ conservation: an interdisciplinary approach. IUCN/SSC, Cat Specialist Group. Fundación Biodiversidad, Madrid, pp 43–49

Sommer RS, Benecke N (2006) Late Pleistocene and Holocene development of the felid fauna (Felidae) of Europe: a review. J Zool 269:7–19

Stahl P, Vandel JM, Ruette S, Coat L, Coat Y, Balestra L (2002) Factors affecting lynx predation on sheep in the French Jura. J Appl Ecol 39:204–216

Sunquist M, Sunquist F (2002) Wild cats of the world. The University of Chicago Press, Chicago

Swetnam TW, Allen CD, Betancourt JL (1999) Applied historical ecology: using the past to manage for the future. Ecol Appl 94:1189–1206

Torrente JP, Llaneza L (1996). Sobre'l llobu cerval y la so presencia n'Asturies. Asturies 2:81–86

Valsecchi V, Carraro D, Conedera M, Tinner W (2010) Late Holocene vegetation and land-use dynamics in the Southern Alps (Switzerland) as a basis for nature protection and forest management. The Holocene 20:483–495

Valverde JA (1963) Información sobre el lince español. Servicio Nacional de Pesca Fluvial y Caza, Madrid

Vigne JD, Pascal M (2003) Le Lynx pardelle : Lynx pardinus (Temminck, 1827). In: Pascal M, Lorvelec O, Vigne JD, Keith P, Clergeau P (coords) Évolution holocène de la faune de Vertébrés de France: invasions et disparitions. Institut National de la Recherche Agronomique, Centre National de la Recherche Scientifique, Muséum National d'Histoire Naturelle, Paris, pp 87–88. http://inpn.mnhn.fr/espece/cd_nom/60619/tab/fiche. Accessed 1 Nov 2012

Von Arx M, Breitenmoser-Würsten C (2008) Lynx pardinus. In: IUCN 2012. IUCN Red List of Threatened Species. Version 2012.2. http://www.iucnredlist.org. Accessed 6 Nov 2012

Willis KJ, Araújo MB, Bennett KD, Figueroa-Rangel B, Froyd CA, Meyers N (2007) How can a knowledge of the past help to conserve the future? Biodiversity conservation strategies and the relevance of long-term ecological studies. Philos Trans R Soc B 362:175–186

Yravedra J (2005) Aprovechamiento cárnico de lince (Lynx pardina) durante el Pleistoceno Superior en el interior de la Península Ibérica. Munibe 57:303–311
Acknowledgments
Adolfo Delibes, José María Fernández, Alberto Hernando, Miguel Moreno, Javier Naves, Nerea Ruíz de Azua and Juan Pablo Torrente gently sent us rare published papers or other documents about old records of lynxes. Alejandro Rodríguez, Javier Calzada and two anonymous reviewers made useful suggestions on early drafts of this work. We thank Néstor Fernández for producing the map of lynx records.
Electronic supplementary material
Below is the link to the electronic supplementary material.
About this article
Cite this article
Clavero, M., Delibes, M. Using historical accounts to set conservation baselines: the case of Lynx species in Spain. Biodivers Conserv 22, 1691–1702 (2013). https://doi.org/10.1007/s10531-013-0506-4
Received:

Accepted:

Published:

Issue Date:

DOI: https://doi.org/10.1007/s10531-013-0506-4
Keywords