Abstract
Old growth red pine forests (Pinus resinosa) cover less than 1% of their original range in North America and are essential for maintaining biodiversity at stand and landscape scales. Despite this, the largest remaining old-growth red pine forest in the world, the Wolf Lake Forest Reserve, is currently threatened by mining claims in Northern Ontario and has been receiving considerable media and public attention in recent months. We provide a timely review of how large old growth red pine forests maintain biodiversity at several taxonomic levels (with a focus on trees and plants) through heterogeneous partitioning of limiting resources such as light and nitrogen, formation of complex habitats through increased accumulation of coarse woody debris, and the maintenance of natural disturbance-driven succession. These processes shape the overstory community, allowing for the regeneration of pines, coexistence of early-mid successional shade intolerant species and cross-ecotonal establishment of late successional tree species in response to regional warming over the past three decades. Using Wolf Lake as a case study, we review legislation and policy complexities around this issue and provide scientific arguments for the preservation of this forest. We invoke recent insights into the ecological role of refugia, the development of criteria for assessing endangered ecosystems, and the challenges of conservation in the face of climate change and disturbance regimes. These forests are ecologically important and provide a scientifically irreplaceable system for assessing baseline ecosystem function, processes and services. As the largest remaining old-growth red pine forest in the world, Wolf Lake Forest Reserve deserves intensive study, monitoring and full protection from future development.
Access options
Buy single article
Instant access to the full article PDF.
USD 39.95
Price excludes VAT (USA)
Tax calculation will be finalised during checkout.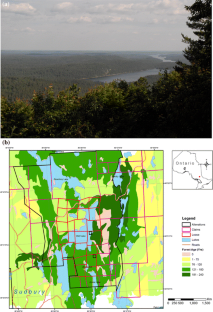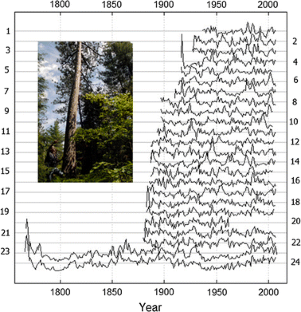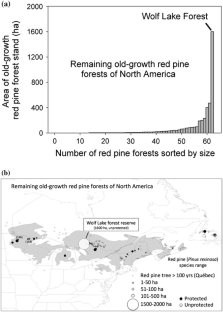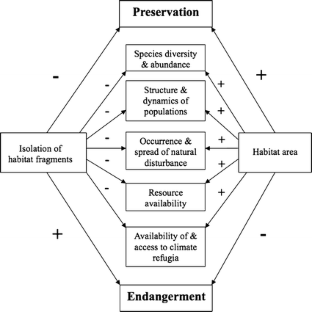 References
Anand M, Laurence S, Rayfield B (2005) Diversity relationships among taxonomic groups in disturbed and restored forests. Cons Biol 19:955–962

Arcese P, Sinclair AR (1997) The role of protected areas as ecological baselines. J Wildl Manag 61:587–602

Babin-Fenske J, Anand M (2011) Patterns of insect communities along a stress gradient following decommissioning of a Cu-Ni smelter. Environ Pollut 159:3036–3043

Bergeron Y, Brisson J (1990) Fire regimes in red pine stands at the northern limit of the species' range. Ecology 71:1352–1364

Bergeron Y, Gagnon D (1987) Age structure of red pine (Pinus resinosa Ait.) at its Northern limit. Can J For Res 17:129–137

Boucher Y, Arsenault D, Blais L (2009) Logging pattern and landscape changes over the last century at the boreal and deciduous forest transition in Eastern Canada. Landsc Ecol 24:171–184

Bowen BW (1999) Preserving genes, species, or ecosystems? Healing the fractured foundations of conservation policy. Mol Ecol 8:S5–S10

Bunn AG (2010) Statistical and visual crossdating in R using the dplR library. Dendrochronologia 28:251–258

Carleton TJ, Arnup R (1993) Forest landscape ecology, vol 11., Vegetation Ecology of eastern white pine and red pine forests in OntarioOntario Forest Research Institute, Sault Ste. Marie, p 92

Carleton TJ, Gordon AM (1992) Understanding old-growth red and white pine dominated forests in Ontario. Report prepared for the Ontario Forest Research Institute. Ontario Ministry of Natural Resources, Sault Ste. Marie, p 81

Carleton TJ, Maycock PF, Arnup R, Gordon AM (1996) In situ regeneration of Pinus strobus and P. resinosa in the Great Lakes forest communities of Canada. J Veg Sci 7:431–444

Cecile J, Silva LCR, Anand M (2013) Old trees: large and small. Science 339(6122):904

Chillo V, Anand M (2012) Effects of past pollution on zoochory in a recovering mixed temperate-boreal forest. Ecoscience 19:258–265

Clark TP, Perera AH (1995) An overview of ecology of red and white pine old-growth forests in Ontario. Forest Fragmentation and Biodiversity Project. Report 18. Ontario Forest Research Institute. Queen's Printer For Ontario, Ontario 29pp

Dahlgren RA, Horwath WR, Tate KW, Camping TJ (2003) Blue oak enhance soil quality in California oak woodlands. Calif Agric 57:42–47

Drobyshev I, Goebel PC, Hix DM, Corace RG, Semko-Duncan ME (2008) Pre- and post-European settlement fire history of red pine dominated forest ecosystems of Seney National wildlife refuge, upper Michigan. Can J Forest Res 38:2497–2514

Endangered Species Act (2007) Statutes of Ontario c. 6. (e-Laws). http://www.e-laws.gov.on.ca/html/source/regs/english/2008/elaws_src_regs_r08242_e.htm

Endangered Species Act Stakeholder Panel (2012) Reports and Recommendations. Ministry of Natural Resources. http://www.mnr.gov.on.ca/stdprodconsume/groups/lr/@mnr/@species/documents/document/stdprod_102676.pdf

Environmental Assessment Act (1990) Statutes of Ontario (e-Laws). http://www.e-laws.gov.on.ca/html/regs/english/elaws_regs_900334_e.htm

Frelich LE (1995) Old forest in the Lake States today and before European settlement. Nat Area J 15:157–167

Frelich LE, Machado J, Reich PB (2003) Fine-scale environmental variation and structure of understory plant communities in two old-growth pine forests. J Ecol 91:283–293

Gilmore DW, Palik BJ (2006) A revised managers handbook for red pine in the North Central Region. General technical reports NC-264. U.S. Department of Agriculture, Forest Service, North Central Research Station, St. Paul, p 55

Goldblum D, Rigg LS (2010) The deciduous forest—boreal forest ecotone. Geogr Compass 4:701–717

Grissino-Mayer HD (2001) Evaluating crossdating accuracy: a manual and tutorial for the computer program COFECHA. Tree-Ring Res 57:205–221

Hanski I (1999) Metapopulation ecology. Oxford University Press, Oxford

Harmon D, Putney AD (eds) (2003) The full value of parks: from economics to the intangible. Rowman & Littlefield, Lanham

Keppel G, Van Niel KP, Wardell-Johnson GW, Yates CJ, Byrne M, Mucina L, Schut AGT, Hopper SD, Franklin SE (2012) Refugia: identifying and understanding safe havens for biodiversity under climate change. Global Ecol Biogeogr 21:393–404

Leithead M, Anand M, Silva LCR (2010) Northward migrating trees establish in treefall gaps at the northern limit of the temperate-boreal ecotone, Ontario, Canada. Oecologia 164:1095–1106

Leithead M, Anand M, Duarte LDS, Pillar VD (2012a) Causal effects of latitude, disturbance and dispersal limitation on richness in a recovering temperate, subtropical and tropical forest. J Veg Sci 23:339–351

Leithead M, Silva LCR, Anand M (2012b) Recruitment patterns and northward tree migration through gap dynamics in an old-growth white pine forest in northern Ontario. Plant Ecol 213:1699–1714

Lindenmayer DB, Margules CR, Botkin DB (2000) Indicators of biodiversity for ecologically sustainable forest management. Conserv Biol 14:941–950

Little EL Jr (1971) Atlas of United States trees, volume 1: conifers and important hardwoods. US Department of Agriculture, Miscellaneous Publication, New York

Milton K (2002) Loving nature: towards an ecology of emotion. Routledge, New York

Mining Act (1990) Revised Statutes of Ontario c. M. 14 (e-Laws)

Natural Heritage Conservation Act (2009) RSQ, c C-61.01 Published June 17 2012. http://www.canlii.org/en/qc/laws/stat/rsq-c-c-61.01/latest/rsq-c-c-61.01.html. Accessed 9 July 2012

Niklasson M, Drakenberg B (2001) A 600-year tree-ring fire history from Norra Kvills National Park, Southern Sweden: implications for conservation strategies in the hemiboreal zone. Biol Conserv 101:63–71

Northern Life (2012) Protecting unused Wolf Lake lease makes little sense—Editorial. Published June 9, 2012. http://www.northernlife.ca/news/editorial/10-Protecting-unused-Wolf-Lake-lease-little-sense-sudbury.aspx. Accessed 15 June 2013

Noss RF, LaRoe ET III, Scott JM (1995) Endangered ecosystems of the United States: a preliminary assessment of loss and degradation. Biological report 28. U.S. Dept. Interior, National Biological Service, Washington, p 58

OMNR (1999) Ontario Ministry of Natural Resources. Ontario's Living Legacy Land Use Strategy. http://www.ontla.on.ca/library/repository/mon/2000/10281337.pdf. Retrieved 5 June 2012

OMNR (2012) Ontario Ministry of Natural Resources. Species at Risk in Ontario (SARO) List. http://www.mnr.gov.on.ca/en/Business/Species/2ColumnSubPage/276722.html

Oxford University Press (2012) "reserve". http://oxforddictionaries.com/definition/reserve. Retrieved 6 June 2012

Parsons BC, Gosper C (2011) Contemporary fire regimes in a fragmented and unfragmented landscape: implications for vegetation structure and persistence of the fire-sensitive malleefowl. Int J Wildland Fire 20:184–194

Perera AH, Baldwin D (1993) Spatial characteristics of eastern white pine and red pine forests in Ontario, vol 9., Forest Landscape Ecology SeriesOntario Forest Research Institute, Sault Ste. Marie, p 82

Provincial Parks and Conservation Reserves Act (2006) Statutes of Ontario 2006, c. 12 s. 2 (2) (e-Laws)

Quinby PA (1996) Status of old-growth red pine forests in Eastern North America: a preliminary assessment. Ancient Forest Exploration and Research Report No. 14. http://www.ancientforest.org/flb14.html

Quinby PA (2000) First-year impacts of shelterwood logging on understory vegetation in an old-growth pine stand in central Ontario, Canada. Environ Conserv 27:229–241

Quinby PA, McGuiness F, Hall R (1996) Loss of nutrients due to logging in the lower Spanish Forest of Central Ontario. Ancient Forest Exploration and Research Report No. 13: 4 pp. http://www.ancientforest.org/flb13.html

Rayfield B, Anand M, Laurence S (2005) Assessing simple versus complex restoration strategies for industrially disturbed forests. Restor Ecol 13:638–649

Reich PB, Tilman D, Isbell F, Mueller K, Hobbie SE, Flynn DFB, Eisenhauer N (2012) Impacts of biodiversity loss escalate through time as redundancy fades. Science 336(6081):589–592

Roberts MR, Gilliam FS (1995) Patterns and mechanisms of plant diversity in forested ecosystems: implications for forest management. Ecol Appl 5:969–977

Rodríguez JP, Rodríguez-Clark KM, Baillie JEM et al (2011) Establishing IUCN red list criteria for threatened ecosystems. Conserv Biol 25:21–29

Silva LCR, Anand M, Leithead M (2010) Recent widespread tree growth decline despite increasing atmospheric CO2. PLoS One 5:e11543

Spies TA, Turner MG (1999) Dynamic forest mosaics. In: Hunter ML (ed) Maintaining biodiversity in forest ecosystems. Cambridge University Press, Cambridge, pp 335–361

Spies TA, Hemstrom MA, Youngblood A, Hummel S (2006) Conserving old-growth forest diversity in disturbance-prone landscapes. Conserv Biol 20:351–362

The Sudbury Star (2012) Wolf Lake mining claim gets renewed. Published June 1st, 2012. http://www.thesudburystar.com/ArticleDisplay.aspx?e=3575388. Accessed 16 June 2012

The Toronto Star (2012) Ontario scraps plans to expand mining in an old-growth area near Temagami. Published March 13, 2012. http://www.thestar.com/news/canada/article/1145737-ontario-scraps-plans-to-expand-mining-in-an-old-growth-area-near-temagami. Accessed 18 June 2012

Thomas CD, Gillingham PK, Bradbury RB, Roy DB, Anderson BJ, Baxter JM, Bourn AD, Crick HQP, Findon RA, Fox R, Hodgson JA, Holt AR, Morecroft MD, O'Hanlon NJ, Oliver TH, Pearce-Higgins JW, Procter DA, Thomas JA, Walker KJ, Walmsley CA, Wilson RJ, Hill JK (2012) Protected areas facilitate species' range expansions. PNAS 109:14065–14068

Tilman D, Reich PB, Forest I (2012) Biodiversity impacts ecosystem productivity as much as resources, disturbance, or herbivory. PNAS 109:10394–10397

Wolf Lake Coalition (2012) 10 reasons to protect Wolf Lake forever. Written report, May 13, 2012. 27 pp. http://www.savewolflake.org/images/stories/ReportMay13LowRes.pdf

Zengshou Y, Tamara ECK, Dahlgren RA, Horwath WR, Zasoski RJ (2003) Mineral and dissolved organic nitrogen dynamics along a soil acidity-fertility gradient. Soil Sci Soc Am J 67:878–888

Ziegler S (2010) The past and future of white pine forests in the Great Lakes-St. Lawrence region. Geogr Compass 4:1179–1202
Acknowledgments
We thank Peter Quinby, Peter Beckett, Veronica Chillo, OMNR, OMNDM, David Sone and the Wolf Lake Coalition for helpful commentary on the current situation of Wolf Lake. We thank the Natural Sciences and Engineering Research Council of Canada (NSERC) for funding (Discovery grant to M.A.) our research at this site. We thank two anonymous reviewers for helpful comments. I.D. thanks FUQAT Foundation for financial support.
About this article
Cite this article
Anand, M., Leithead, M., Silva, L.C.R. et al. The scientific value of the largest remaining old-growth red pine forests in North America. Biodivers Conserv 22, 1847–1861 (2013). https://doi.org/10.1007/s10531-013-0497-1
Received:

Accepted:

Published:

Issue Date:

DOI: https://doi.org/10.1007/s10531-013-0497-1
Keywords
Landscape ecology

Mining exploration

Natural resource policy

Ecological services

Great Lakes-St. Lawrence forest

Forest biodiversity