Abstract
Several ways have been suggested to improve the poor status of taxonomy as well as to overcome the taxonomic impediment and thus to speed up species discovery and documentation, such as: DNA barcoding, creation of databases of taxa and identification tools, online quantum contributions, standardization of morphological features, training of a new generation of taxonomists. The paper comments on the desirability and effectiveness of these presumed remedies. It is argued that the analytical, hypothesis-testing nature of taxonomic research is not well understood or appreciated and forms a major constraint on the rate of taxonomic descriptions. The various components of the taxonomic method, such as exploration, data, analysis, and results, interact in a complex manner that resembles the erratic, bouncing behaviour of a pinball machine. Species hypotheses probably are the most tested hypotheses in the natural sciences. The introduction of cybertaxonomy instrumentation and infrastructure will not alleviate the time-consuming, intrinsically analytical and hypothesis-testing process underlying the description and/or identification of each taxon. Long-term survival of the discipline of taxonomy, thus guaranteeing the future cumulative taxonomic output of amateurs and professionals, is endangered by a diminishing workforce of adequately trained professional systematists. The only way to increase the pace of a well-documented and scientifically useful taxic inventory of the world's biodiversity is to increase the number of professional taxonomists.
This is a preview of subscription content, log in to check access.
Access options
Buy single article
Instant access to the full article PDF.
US$ 39.95
Price includes VAT for USA
Subscribe to journal
Immediate online access to all issues from 2019. Subscription will auto renew annually.
US$ 199
This is the net price. Taxes to be calculated in checkout.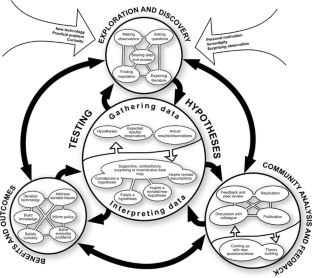 References
Aanen DK, Kuyper TW (1999) Intercompatibility tests in the Hebeloma crustuliniforme complex in northwestern Europe. Mycologia 91:783–795

Agnarsson I, Kuntner M (2007) Taxonomy in a changing world: seeking solutions for a science in crisis. Syst Biol 56:531–539

Bacher S (2012) Still not enough taxonomists: a reply to Joppa et al. Trends Ecol Evol 27:65–66

Ball IR (1980) Freshwater planarians from Colombia—a revision of Fuhrmann's types. Bijdr Dierk 50:235–242

BION (1993) Systematics: Biodiversity and Evolution – National Plan for Systematic Biology (Systematiek: Biodiversiteit en Evolutie: Nationaal Plan voor Systematische Biologie). Stichting voor Biologisch Onderzoek BION (NWO), p 59. (in Dutch)

Boykin LM, Armstrong K, Kubatko L, de Barro P (2012) DNA barcoding invasive insects: database roadblocks. Invert Syst 26:506–514

California Academy of Sciences (2013). http://www.calacademy.org/sciencetoday/how-science-works/. Accessed 29 Jan 2013

Carpenter JM, Dvořák L, Jun-Kojima J-I, Nguyen LTP, Perrard A, Pickett KM (2011) Taxonomic notes on the Vespinae of Yunnan (Hymenoptera: Vespidae). Am Mus Novit 3709:1–10

Chat J, Decroocq S, Petit RJ (2003) A one-step organelle capture: gynogenetic kiwifruits with paternal chloroplasts. Proc R Soc B 270:783–789

Costello MJ, Wilson S, Houlding B (2012) Predicting total global species richness using rates of species description and estimates of taxonomic effort. Syst Biol 61:871–883

Costello MJ, May RM, Stork NE (2013) Can we name Earth's species before they go extinct? Science 339:413–416

De Carvalho MR, Bockmann FA, Amorim DS, Brandão CRF, de Vivo M, de Figueiredo JL, Britski HA, de Pinna MCC, Menezes NA, Marques FPL, Papavero N, Cancello EM, Crisci JV, McEachran JD, Schelly RC, Lundberg JG, Gill AC, Britz R, Wheeler QD, Stiassny MLJ, Parenti LR, Page LM, Wheeler WC, Faivovich J, Vari RP, Grande L, Humphries CJ, DeSalle R, Ebach MC, Nelson GJ (2007) Taxonomic impediment or impediment to taxonomy? A commentary on systematics and the cybertaxonomic-automation paradigm. Evol Biol 34:140–143

Deans AR, Yoder MJ, Balhoff JP (2012) Time to change how we describe biodiversity. Trends Ecol Evol 27:78–84

Dong D (2001) A new species of the Vespa Linnaeus (Hymenoptera: Vespidae) from Yunnan China. J Southwest Agric Univ 23:82–83 (in Chinese)

Dong D, Wang Y (2003) Phylogeny of Vespa Linnaeus (Hymenoptera: Vespidae). J Southwest Agric Univ 25:405–408 (in Chinese)

Dong D, Wang Y, He Y, Wang R (2002) A new species of Vespula (Hymenoptera: Vespidae) from Yunnan China. J Southwest Agric Univ 24:396–397 (in Chinese)

Dong D, Wang Y, He Y, Wang R (2004) A new species of the genus Vespula (Hymenoptera: Vespidae) from Nujiang of Yunnan Province. J Southwest Agric Univ 26:146–147 (in Chinese)

Dong D, Liang X, Wang Y, He Y (2005) A new species of the genus Vespula (Hymenoptera: Vespidae) from Gongshan Yunnan, China. Entomotaxonomia 27:65–68 (in Chinese)

Drew LW (2011) Are we losing the science of taxonomy? Bioscience 61:942–946

Ebach MC, Valdecasas AG, Wheeler QD (2011a) Impediments to taxonomy and users of taxonomy: accessibility and impact evaluation. Cladistics 27:550–557

Ebach MC, de Carvalho MR, Nihei SS (2011b) Saving our science from ourselves: the plight of biological classification. Rev Bras Entomol 55:149–153

Fontaine B, Perrard A, Bouchet P (2012a) 21 years of shelf life between discovery and description of new species. Curr Biol 22(22):R943–R944

Fontaine B, van Achterberg K, Alonso-Zarazaga MA, Araujo R, Asche M et al (2012b) New species in the old World: Europe as a frontier in biodiversity exploration, a test bed for 21st century taxonomy. PLoS ONE 7(5):e366881. doi:10.1371/journal.pone.00366881

France SC, Hoover LL (2002) DNA sequences of the mitochondrial COI gene have low levels of divergence among deep-sea octocorals (Cnidaria: Anthozoa). Hydrobiologia 471:149–155

Giam X, Scheffers BR, Sodhi NS, Wilcove DS, Ceballos G, Ehrlich PR (2011) Reservoirs of richness: least disturbed tropical forests are centres of undescribed species diversity. Proc R Soc B 279:67–76

Giangrande A (2003) Biodiversity, conservation, and the 'Taxonomic Impediment'. Aquat Conserv 13:451–459

Godfray HC (2007) Linnaeaus in the information age. Nature 417:17–19

Grant LJ, Sluys R, Blair D (2006) Biodiversity of Australian freshwater planarians (Platyhelminthes: Tricladida: Paludicola): new species and localities, and a review of paludicolan distribution in Australia. Syst Biodivers 4:435–471

Gross M (2012) Barcoding biodiversity. Curr Biol 22(3):R73–R76

Hebert PDN, Gregory TR (2005) The promise of DNA barcoding for taxonomy. Syst Biol 54:852–859

Hempel CG (1966) Philosophy of natural science. Prentice-Hall, Inc., Englewood Cliffs

Hopkins GW, Freckleton RP (2002) Declines in the numbers of amateur and professional taxonomists: implications for conservation. Animal Conserv 5:245–249

House of Lords (2008) Systematics and taxonomy: followup 5th report session 2007–08 with evidence. TSO, London, p 330

Hurst GDD, Jiggins FM (2005) Problems with mitochondrial DNA as a marker in population, phylogeographic and phylogenetic studies: the effects of inherited symbionts. Proc R Soc B 272:1525–1534

Joppa LN, Roberts DL, Pimm SL (2011a) The population ecology and social behaviour of taxonomists. Trends Ecol Evol 26:551–553

Joppa LN, Roberts DL, Pimm SL (2011b) How many species of flowering plants are there? Proc R Soc B 278:554–559

Kozlowski G (2008) Is the global conservation status assessment of a threatened taxon a utopia? Biodivers Conserv 17:445–448

Kwong S, Srivathsan S, Meier R (2012) Update on DNA barcoding: low species coverage and numerous unidentified sequences. Cladistics 28:639–644

Lücking R (2008) Taxonomy: a discipline on the brink of extinction—are DNA barcode scanners the future of biodiversity research? Arch Sci 61:75–88

Maddison DR, Guralnick R, Hill A, Reysenbach A-L, McDade LA (2012) Ramping up biodiversity discovery via online quantum contributions. Trends Ecol Evol 27:72–77

Meier R (2008) DNA sequences in taxonomy—opportunities and challenges. In: Wheeler QD (ed) The new taxonomy. The systematics association special, vol Series., 76CRC Press, Boca Raton, pp 95–127

O'Leary MA, Kaufman S (2011) MorphoBank: phylophenomics in the 'cloud'. Cladistics 27:529–537

Padial JM, de la Riva I (2007) Taxonomy, the Cinderella of science, hidden by its evolutionary stepsister. Zootaxa 1577:1–2

Padial JM, de la Riva I (2010) A response to recent proposals for integrative taxonomy. Biol J Linn Soc 101:747–756

Platnick N (1979) Philosophy and the transformation of cladistics. Syst Zool 28:537–546

Reitsma E (2012) A thousand and more stories in spirit (Duizend en meer verhalen op sterk water). Uitgeverij Noord-Holland, Wormer, p 320. (in Dutch)

Rodman JE, Cody JH (2003) The taxonomic impediment overcome: NSF's partnership for enhancing expertise in taxonomy (PEET) as a model. Syst Biol 52:428–435

Ross HH (1974) Biological systematics. Addison-Wesley Inc., Reading, p 345

Scheffers BR, Joppa LN, Pimm SL, Laurance WF (2012) What we know and don't know about Earth's missing biodiversity. Trends Ecol Evol 27:501–510

Schlick-Steiner BC, Steiner FM, Seifert B, Stauffer C, Christian E, Crozier RH (2010) Integrative taxonomy: a multisource approach to exploring biodiversity. Annu Rev Entomol 55:421–438

Schoch CL, Seifert KA, Huhndorf S, Robert V, Spouge JL, Levesque CA, Chen W, Fungal Barcoding Consortium (2012) Nuclear ribosomal internal transcribed spacer (ITS) region as a universal DNA barcode marker for Fungi. Proc Nat Acad Sci USA 199:6241–6246

Scotland RW, Wood JRI (2012) Accelerating the pace of taxonomy. Trends Ecol Evol 27:415–416

Sereno P (2009) Comparative cladistics. Cladistics 25:624–659

Shearer TL, Van Oppen JH, Romano SL, Wörheide G (2002) Slow mitochondrial sequence evolution in the Anthozoa (Cnidaria). Mol Ecol 11:2475–2487

Simpson GG (1961) Principles of animal taxonomy. Columbia University Press, New York, pp XII + 247

Sluys R (2007) Annotations on freshwater planarians (Platyhelminthes Tricladida Dugesiidae) from the Afrotropical region. Tropical Zool 20:229–257

Sluys R, Kawakatsu M (2001) Contribution to an inventory of the freshwater planarians of Australia and New Zealand (Platyhelminthes, Tricladida, Dugesiidae), with distribution maps of the species examined. Beaufortia 51:163–198

Stegemann S, Keuthe M, Greiner S, Bock R (2013) Horizontal transfer of chloroplast genomes between plant species. Proc Nat Acad Sci USA. doi:10.1073/pnas.1114076109

Taylor HR, Harris WE (2012) An emergent science on the brink of irrelevance: a review of the past 8 years of DNA barcoding. Mol Ecol Res 12:377–388

Vogt L, Bartolomaeus T, Giribet G (2010) The linguistic problem of morphology: structure versus homology and the standardization of morphological data. Cladistics 26:301–325

Vos RA, Balhoff JP, Caravas JA, Holder MT, Lapp H, Maddison WP, Midford PE, Priyam A, Sukamaran J, Xia X, Stolzfus A (2012) NeXML: rich, extensible, and verifiable representation of comparative data and metadata. Syst Biol 61:675–689

Wheeler QD (2004) Taxonomic triage and the poverty of phylogeny. Philos Trans R Soc B 359:571–583

Wheeler Q (2010) What would NASA do? Mission-critical infrastructure for species exploration. Syst Biodivers 8:11–15

Wheeler QD, Raven PH, Wilson EO (2004) Taxonomy: impediment or expedient? Science 303:285

Whitworth TL, Dawson RD, Magalon H, Baudry E (2007) DNA barcoding cannot reliably identify species of the blowfly genus Protocalliphora (Diptera: Calliphoridae). Proc R Soc B 274:1731–1739

Wiley EO, Lieberman BS (2011) Phylogenetics: the theory and practice of phylogenetic systematics, 2nd ed., Wiley-Blackwell, Hoboken, pp XVI + 406

Will KW, Rubinoff D (2004) Myth of the molecule: DNA barcodes for species cannot replace morphology for identification and classification. Cladistics 20:47–55

Will KW, Mishler BD, Wheeler QD (2005) The perils of DNA barcoding and the need for integrative taxonomy. Syst Biol 54:844–851

Williams DM, Ebach MC (2008) Foundations of systematics and biogeography. Springer, New York, pp XVII + 309
Acknowledgments
I am grateful to Dr. R. Vos (Naturalis Biodiversity Center, Leiden) for commenting on a draft of the manuscript. Dr. M. Riutort (University of Barcelona) and Dr. J. A. J. Breeuwer (University of Amsterdam) are thanked for providing some references on barcoding and genetic hitchhiking, respectively. Dr. Jiangli Tan (College of Life Sciences, Northwest University, Xi'an, Shaanxi, China) and Prof. Dr. C. van Achterberg (Naturalis Biodiversity Center, Leiden) brought the Chinese wasps example to my attention. Prof. Dr. M. Schilthuizen (Naturalis Biodiversity Center, Leiden) kindly suggested some pertinent references and also read and commented on the penultimate version of the manuscript. Mr. J. van Arkel (University of Amsterdam) is thanked for the digital rendering of the figure.
About this article
Cite this article
Sluys, R. The unappreciated, fundamentally analytical nature of taxonomy and the implications for the inventory of biodiversity. Biodivers Conserv 22, 1095–1105 (2013). https://doi.org/10.1007/s10531-013-0472-x
Received:

Accepted:

Published:

Issue Date:
Keywords
Biodiversity

Cybertaxonomy

DNA barcoding

Hypothesis-testing

Inventory

Methodology

Nature conservation

Species delimitation and description

Taxonomic impediment