Abstract
The role of fragment size, isolation and habitat diversity in the conservation of spider assemblages living in fragmented landscape were studied in dry sandy grasslands (East Hungary, Nyírség). Spiders were collected using pitfall traps at eight dry grassland fragments from 2001 to 2009 from March to October fortnightly. We tested the rules of island biogeography, which suggest that the species richness increases with the size and decreases with the isolation of fragments. The habitat diversity is an important factor for species richness, since large areas usually have more habitats; therefore, the number of species may be higher in these areas. During the 9-year study period, altogether 10,544 individuals belonging to 106 species were collected. Contradicting the classical theory, we found a significant negative relationship between the total number of spider species and the grassland size, while the ratio of sandy grassland specialist spider species increased with fragment size. The relationship between the ratio of generalist species and the fragment size was not significant. The overall species richness and the isolation of studied grasslands did not show a significant relationship. The ratio of sandy grassland specialist species decreased, while the ratio of generalist species increased with the increasing of isolation. The habitat diversity did not show any effect on spider species richness. We concluded that to conserve the habitat specialist species it is recommended to preserve the large and least isolated grassland fragments, furthermore to increase the size of small fragments with the restoration of the adjacent croplands.
Access options
Buy single article
Instant access to the full article PDF.
USD 39.95
Price excludes VAT (USA)
Tax calculation will be finalised during checkout.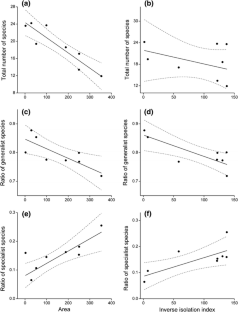 References
Bailey D, Schmidt-Entling MH, Eberhart P, Herrmann JD, Hofer G, Kormann U, Herzog F (2010) Effects of habitat amount and isolation on biodiversity in fragmented traditional orchards. J Appl Ecol 47:1003–1013

Bauer LJ (1989) Moorland beetle communities on limestone 'habitat islands'. I. Isolation, invasion and local species diversity in carabids and staphylinids. J Anim Ecol 58:1077–1098

Baur B, Erhardt A (1995) Habitat fragmentation and habitat alterations: principal threats to most animal and plant species. Gaia 4:221–226

Bonte D, Baert L, Maelfait JP (2002) Spider assemblage structure and stability in a heterogeneous coastal dune system (Belgium). J Arachnol 30:331–343

Buchar J, Ruzicka V (2002) Catalogue of spiders of the Czech Republic. Peres, Praha

Buchholz S (2010) Ground spider assemblages as indicators for habitat structure in inland sand ecosystems. Biodivers Conserv 19:2565–2595

Cameron A, Johnston RJ, McAdam J (2004) Classification and evaluation of spider (Araneae) assemblages on environmentally sensitive areas in Northern Ireland. Agr Ecosyst Environ 102:29–40

Cardoso P, Arnedo MA, Triantis KA, Borges PAV (2010) Drivers of diversity in Macaronesian spiders and the role of species extinctions. J Biogeogr 37:1034–1046

Cook WM, Lane KT, Foster BL, Holt RD (2002) Island theory, matrix effects and species richness patterns in habitat fragments. Ecol Lett 5:619–623

Dauber J, Bengtsson J, Lenoir L (2006) Evaluating effects of habitat loss and land-use continuity on ant species richness in seminatural grassland remnants. Conserv Biol 20:1150–1160

Davidowitz G, Rosenzweig ML (1998) The latitudinal gradient of species diversity among North American grasshoppers (Acrididae) within a single habitat: a test of the spatial heterogeneity hypothesis. J Biogeogr 25:553–560

Devictor V, Jiguet F (2007) Community richness and stability in agricultural landscapes: the importance of surrounding habitats. Agr Ecosyst Environ 120:179–184

Didham RK, Ghazoul J, Stork NE, Davis AJ (1996) Insects in fragmented forests: a functional approach. Trends Ecol Evol 11:255–260

Eichberg C, Storm C, Schwabe A (2007) Endozoochorous dispersal, seedling emergence and fruiting success in disturbed and undisturbed successional stages of sheep-grazed inland sand ecosystems. Flora 202:3–36

Finch OD, Blick T, Schuldt A (2008) Macroecological patterns of spider species richness across Europe. Biodivers Conserv 17:2849–2868

Foelix RF (2011) The biology of spiders. Oxford University Press, Oxford

Gilbert F, Gonzalez A, Evans-Freke I (1998) Corridors maintain species richness in the fragmented landscapes of a microecosystem. Proc Roy Soc B-Biol Sci 265:577–582

Halme E, Niemelä J (1993) Carabid beetles in fragments of coniferous forest. Ann Zool Fenn 30:17–30

Harrison S, Bruna E (1999) Habitat fragmentation and large-scale conservation: what do we know for sure? Ecography 22:225–232

Heimer S, Nentwig W (1991) Spinnen Mitteleuropas. Paul Parey Verlag, Berlin

Henle K, Lindenmayer DB, Margules CR, Saunders DA, Wissel C (2004) Species survival in fragmented landscapes: where are we now? Biodivers Conserv 13:1–8

Hermann JD, Bailey D, Hofer G, Herzog F, Schmidt-Entlig MH (2010) Spiders associated with the meadow and tree canopies of orchards respond differently to habitat fragmentation. Landscape Ecol 25:1375–1384

Horváth R, Magura T, Péter G, Tóthmérész B (2002) Edge effect on weevils and spiders. Web Ecol 3:43–47

Horváth R, Magura T, Szinetár Cs, Tóthmérész B (2009) Spiders are not less diverse in small and isolated grasslands, but less diverse in overgrazed grasslands; a field study (East Hungary, Nyírseg). Agr Ecosyst Environ 130:16–22

Jonsson M, Yeates GW, Wardle A (2009) Patterns of invertebrate density and taxonomic richness across gradients of area, isolation, and vegetation diversity in a lake-island system. Ecography 32:963–972

Kapoor V (2008) Effects of rainforest fragmentation and shade-coffee plantations on spider communities in the Western Ghast. India J Insect Conserv 12:53–68

Kappes H, Jordaens K, Hendrickx F, Maelfait JP, Lens L, Backeljau T (2009) Response of snails and slugs to fragmentation of lowland forests in NW Germany. Landscape Ecol 24:685–697

Kéry M, Hatfield JS (2003) Normality of raw data in general linear models: the most widespread myth in statistics. Bull Ecol Soc Am 84:92–94

Kotze DJ, O'Hara RB (2003) Species decline-but why? Explanations of carabid beetle (Coleoptera, Carabidae) declines in Europe. Oecologia 135:138–148

Kruess A, Tscharntke T (2002) Contrasting responses of plant and insect diversity to variation in grazing intensity. Biol Conserv 106:293–302

Kutner M, Nachtschiem C, Wasserman W, Neter L (2005) Applied linear statistical models. McGraw-Hill, Boston

Lövei GL, Magura T, Tóthmérész B, Ködöböcz V (2006) The influence of matrix and edges on species richness patterns of ground beetles (Coleoptera, Carabidae) in habitat islands. Global Ecol Biogeogr 15:283–289

MacArthur RH, Wilson EO (1967) The theory of island biogeography. Princeton University Press, Princeton

MacDonald DW, Johnson PJ (1995) The relationship between bird distribution and the botanical and structural characteristics of hedges. J Appl Ecol 32:492–505

Magura T, Ködöböcz V (2007) Carabid assemblages in fragmented sandy grasslands. Agr Ecosyst Environ 119:396–400

Magura T, Ködöböcz V, Tóthmérész B (2001) Effects of habitat fragmentation on carabids in forest patches. J Biogeogr 28:129–138

Marc P, Canard A, Ysnel F (1999) Spiders (Araneae) useful for pest limitation and bioindication. Agr Ecosyst Environ 74:229–273

Martin EA, Viano M, Ratsimisetra L, Laloë F, Carrière SM (2012) Maintenance of bird functional diversity in a traditional agroecosystem of Madagascar. Agr Ecosyst Environ 149:1–9

Miyashita T, Shinkai A, Chida T (1998) The effects of forest fragmentation on web spider communities in urban areas. Biol Conserv 86:357–364

Mohd-Azlan J, Lawes MJ (2011) The effect of the surrounding landscape matrix on mangrove bird community assembly in north Australia. Biol Conserv 144:2134–2141

Muriel SB, Kattan GH (2009) Effects of patch size and type of coffee matrix on Ithomiine butterfly diversity and dispersal in cloud-forest fragments. Conserv Biol 23:948–956

Noss RF (1991) Landscape connectivity: different functions at different scales. In: Hudson WE (ed) Landscape linkage and biodiversity. Island Press, Washington, pp 27–39

Novák J, Prach K (2010) Artificial sowing of endangered dry grassland species into disused basalt quarries. Flora 205:179–183

Platnick NI (2012) The world spider catalog, version 12.5. American museum of natural history. http://research.amnh.org/entomology/spiders/catalog/index.html

Poschlod P, WallisDeVries MF (2002) The historical and socioeconomic perspective of calcareous grasslands—lessons from the distant and recent past. Biol Conserv 104:361–376

Quinn JF, Harrison SP (1988) Effects of habitat fragmentation and isolation on species richness: evidence from biogeographic patterns. Oecologia 75:132–140

Ricklefs RE, Lovette IJ (1999) The roles of island area per se and habitat diversity in the species-area relationship of four Lesser Antillean faunal groups. J Anim Ecol 68:1142–1160

Roberts MJ (1995) Spiders of Britain and Northern Europe. Harper Collins, London

Rushton SP (1988) The effects of scrub management regimes on the spider fauna of chalk grassland, Castor Hanglands National Nature Reserve, Cambridgeshire, UK. Biol Conserv 46:169–182

Sanchez BC, Parmenter RR (2002) Patterns of shrub-dwelling arthropod diversity across a desert shrubland-grassland ecotone: a test of island biogeographic theory. J Arid Environ 50:247–265

Scott AG, Oxford GS, Selden PA (2006) Epigeic spiders as ecological indicators of conservation value for peat bogs. Biol Conserv 127:420–428

Sokal RR, Rohlf FJ (1995) Biometry. W. H. Freeman and Company, New York

Sunderland K, Samu F (2000) Effects of agricultural diversification on the abundance, distribution, and pest control potential of spiders: a review. Entomol Exp Appl 95:1–13

Szinetár Cs, Eichardt J, Horváth R (2005) Data on the biology of Alopecosa psammophila Buchar 2001 (Araneae, Lycosidae). J Arachnol 33:384–389

Taboada A, Kotze DJ, Salgado JM, Tárrega R (2011) The value of semi-natural grasslands for the conservation of carabid beetles in long-term managed forested landscapes. J Insect Conserv 15:573–590

Toft CA, Schoener TW (1983) Abundance and diversity of orb spiders on 106 Bahamian islands: biogeography at an intermediate trophic level. Oikos 41:411–426

Török P, Matus G, Papp M, Tóthmérész B (2008) Secondary succession of overgrazed Pannonian sandy grasslands. Preslia 80:73–85

Tscharntke T, Steffan-Dewenter I, Kruess A, Thies C (2002) Contribution of small habitat fragments to conservation of insect communities of grassland-cropland landscapes. Ecol Appl 12:354–363

Tscharntke T, Tylianakis JM, Rand TA, Didham RK, Fahrig L, Batary P, Bengtsson J, Clough Y, Crist TO, Dormann CF, Ewers RM, Frund J, Holt RD, Holzschuh A, Klein AM, Kleijn D, Kremen C, Landis DA, Laurance W, Lindenmayer D, Scherber C, Sodhi N, Steffan-Dewenter I, Thies C, van der Putten WH, Westphal C (2012) Landscape moderation of biodiversity patterns and processes: eight hypotheses. Biol Rev 87:661–685

Usher MB, Field JP, Bedford SE (1993) Biogeography and diversity of ground-dwelling arthropods in farm woodlands. Biodivers Lett 1:54–62

van Noordwijk CGE, Boer P, Mabelis AA, Verberk CEP, Siepel H (2012) Life-history strategies as a tool to identify conservation constraints: a case-study on ants in chalk grasslands. Ecol Indic 13:303–313

WallisDeVries MF, Poschlod P, Willems JH (2002) Challenges for the conservation of calcareous grasslands in northwestern Europe: integrating the requirements of flora and fauna. Biol Conserv 104:265–273

Watson JEM, Whittaker RJ, Freudenberger D (2005) Bird community responses to habitat fragmentation: how consistent are they across landscapes? J Biogeogr 32:1353–1370

Webb NR, Hopkins PJ (1984) Invertebrate diversity on fragmented Calluna heathland. J Appl Ecol 21:921–933

Weibull AC, Bengtsson J, Nohlgren E (2000) Diversity of butterflies in the agricultural landscape: the role of farming system and landscape heterogeneity. Ecography 23:743–750

Woodcock BA, Pywell R, Roy DB, Rose RJ, Bell D (2005) Grazing management of calcareous grasslands and its implications for the conservation of beetle communities. Biol Conserv 125:192–202

Xu LD, Liang N, Gao Q (2001) An integrated knowledge-based system for grasslands ecosystems. Knowl-Based Syst 14:271–280

Zabel J, Tscharntke T (1998) Does fragmentation of Urtica habitats affect phytophagous and predatory insects differentially? Oecologia 116:419–425
Acknowledgments
This study was part of the National Biodiversity Monitoring System in Hungary funded by the Ministry of Environment and Water. We are grateful for P. Batáry for proposals improving the manuscript. We thank Zoltán Elek, Tivadar Molnár and Viktor Ködöböcz for field assistance. RH was supported by the János Bolyai Research Scholarship of the Hungarian Academy of Sciences. The work is supported by the TÁMOP 4.2.1./B-09/1/KONV-2010-0007, and TÁMOP-4.2.2/B-10/1-2010-0024 projects.
Electronic supplementary material
Below is the link to the electronic supplementary material.
About this article
Cite this article
Horváth, R., Magura, T., Szinetár, C. et al. Large and least isolated fragments preserve habitat specialist spiders best in dry sandy grasslands in Hungary. Biodivers Conserv 22, 2139–2150 (2013). https://doi.org/10.1007/s10531-013-0439-y
Received:

Accepted:

Published:

Issue Date:

DOI: https://doi.org/10.1007/s10531-013-0439-y
Keywords
Island biogeography

Fragmentation

Species richness

Sandy grassland specialist species

Generalist species

Habitat heterogeneity