Abstract
In recent years attention has been given to assess the impacts of warming on the plant flowering phenology. There is a growing realization that herbarium-based collections could offer a reliable and relatively time-saving baseline data source to identify these effects. This article examines the magnitude and trends of warming effects on the average flowering timing (AFT) of plants in Tibet Autonomous Region using analysis of herbarium specimens collected for 4 decades. Mixed model with randomized blocks was used to analyze a set of 41 species (total 909 specimens) which were collected during the period of 1961–2000. Results showed that an earlier AFT emerged within 40 years period in comparison to the recorded data of the year of 2000 (0.5 days per year), and that 7.5 days early flowering was contributed by mean summer (i.e., June–August) temperature. It is proposed that temporary shifts in flowering phenology responding to continuing temperature rise could quantify the extent to which climate affects plant species. Analysis of well recorded herbarium specimens could provide a reasonable indication on the impacts of rising temperature on plant phenology. The result of this study could also facilitate a bridge between the scientific knowledge and indigenous knowledge of Tibetan communities.
This is a preview of subscription content, log in to check access.
Access options
Buy single article
Instant access to the full article PDF.
US$ 39.95
Price includes VAT for USA
Subscribe to journal
Immediate online access to all issues from 2019. Subscription will auto renew annually.
US$ 199
This is the net price. Taxes to be calculated in checkout.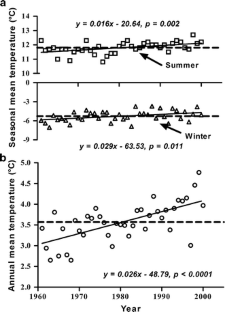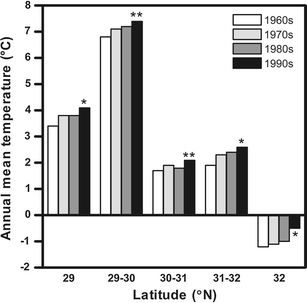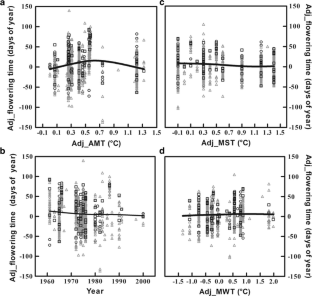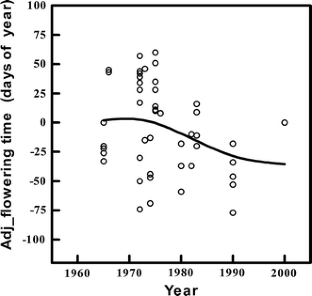 References
Billings WD (1974) Adaptations and origins of alpine plants. Arc Alp Res 6:129–142

Bolmgren K, Lönnberg K (2005) Herbarium data reveal an association between fleshy fruit type and earlier flowering time. Int J Plant Sci 166:663–670. doi:10.1086/430097

Borchert R (1996) Phenology and flowering periodicity of Neotropical dry forest species: evidence from herbarium collections. J Trop Ecol 12:65–80. doi:10.1017/S0266467400009317

Chaudhary P, Bawa KS (2011) Local perceptions of climate change validated by scientific evidence in the Himalayas. Biol Lett 7:767–770. doi:10.1098/rsbl.2011.0269

Chen H, Zhu Q, Wu N, Wang YF, Peng CH (2011) Delayed spring phenology on the Tibetan Plateau may also be attributable to other factors than winter and spring warming. Proc Natl Acad Sci USA 108:E93. doi:10.1073/pnas.1100091108

Cleland EE, Chuine I, Menzel A, Mooney HA, Schwartz MD (2007) Shifting plant phenology in response to global change. Trends Ecol Evol 22:357–365. doi:10.1016/j.tree.2007.04.003

Cruz RV, Harasawa H, Lal M, Wu S, Anokhin Y, Punsalmaa B, Honda Y, Jafari M, Li C, Huu Ninh N (2007) Asia. In: Parry ML, Canziani OF, Palutikof JP, van der Linden PJ, Hanson CE (eds) Climate change 2007: impacts, adaptation and vulnerability. Contribution of working group II to the fourth assessment report of the Intergovernmental Panel on Climate Change. Cambridge University Press, Cambridge, pp 469–506

Du J (2001) Change of temperature in Tibetan Plateau from 1961 to 2000. Acta Geogr Sin 56:682–690

Fitter AH, Fitter RSR (2002) Rapid changes in flowering time in British plants. Science 296:1689–1691. doi:10.1126/science.1071617

Gaira K, Dhar U, Belwal O (2011) Potential of herbarium records to sequence phenological pattern: a case study of Aconitum heterophyllum in the Himalaya. Biodivers Conserv 20:2201–2210. doi:10.1007/s10531-011-0082-4

Gallagher RV, Hughes L, Leishman MR (2009) Phenological trends among Australian alpine species: using herbarium records to identify climate-change indicators. Aust J Bot 57:1–9. doi:10.1071/BT08051

Häkkinen R, Linkosalo T, Hari P (1995) Methods for combining phenological time series: application to bud burst in birch (Betula pendula) in central Finland for the period 1896–1955. Tree Physiol 15:721–726. doi:10.1093/treephys/15.11.721

Hudson IL, Kim SW, Keatley MR (2010) Climatic influences on the flowering phenology of four Eucalypts: a GAMLSS approach phenological research. In: Hudson IL, Keatley MR (eds) Phenological research: methods for environmental and climate change analysis. Springer, Dordrecht, pp 209–228

Johnson KG, Brooks SJ, Fenberg PB, Glover AG, James KE, Lister AM, Michel E, Spencer M, Todd JA, Valsami-Jones E, Young JR, Stewart JR (2011) Climate change and biosphere response: unlocking the collections vault. Bioscience 61:147–153. doi:10.1525/bio.2011.61.2.10

Jolly WM, Dobbertin M, Zimmermann NE, Reichstein M (2005) Divergent vegetation growth responses to the 2003 heat wave in the Swiss Alps. Geophys Res Lett 32:L18409. doi:10.1029/2005GL023252

Klein JA, Harte J, Zhao XQ (2004) Experimental warming causes large and rapid species loss, dampened by simulated grazing, on the Tibetan Plateau. Ecol Lett 7:1170–1179. doi:10.1111/j.1461-0248.2004.00677.x

Körner C (2003) Alpine plant life: functional plant ecology of high mountain ecosystems, 2nd edn. Springer, Berlin

Lavoie C, Lachance D (2006) A new herbarium-based method for reconstructing the phenology of plant species across large areas. Am J Bot 93:512–516. doi:10.3732/ajb.93.4.512

López-Pujol J, Zhang FM, Ge S (2006) Plant biodiversity in China: richly varied, endangered, and in need of conservation. Biodivers Conserv 15:3983–4026. doi:10.1007/s10531-005-3015-2

Mackinson S (2001) Integrating local and scientific knowledge: an example in fisheries science. Environ Man 27:533–545. doi:10.1007/s002670010168

McCarty JP (2001) Ecological consequences of recent climate change. Conserv Biol 15:320–331. doi:10.1046/j.1523-1739.2001.015002320.x

Menzel A, Sparks TH, Estrella N, Koch E, Aasa A, Ahas R, Kübler AK, Bissolli P, Braslavská O, Briede A (2006) European phenological response to climate change matches the warming pattern. Glob Change Biol 12:1969–1976. doi:10.1111/j.1365-2486.2006.01193.x

Molau U, Nordenhäll U, Eriksen B (2005) Onset of flowering and climate variability in an alpine landscape: a 10-year study from Swedish Lapland. Am J Bot 92:422–431. doi:10.3732/ajb.92.3.422

Mooney HA, Billings WD (1960) The annual carbohydrate cycle of alpine plants as related to growth. Am J Bot 47:594–598

Myers N, Mittermeier RA, Mittermeier CG, da Fonseca GAB, Kent J (2000) Biodiversity hotspots for conservation priorities. Nature 403:853–858. doi:10.1038/35002501

Parmesan C, Yohe G (2003) A globally coherent fingerprint of climate change impacts across natural systems. Nature 421:37–42. doi:10.1038/nature01286

Primack D, Imbres C, Primack RB, Miller-Rushing AJ, Tredici PD (2004) Herbarium specimens demonstrate earlier flowering times in response to warming in Boston. Am J Bot 91:1260–1264. doi:10.3732/ajb.91.8.1260

Robbirt KM, Davy AJ, Hutchings MJ, Roberts DL (2011) Validation of biological collections as a source of phenological data for use in climate change studies: a case study with the orchid Ophrys sphegodes. J Ecol 99:235–241. doi:10.1111/j.1365-2745.2010.01727.x

Rochow TF (1970) Ecological investigations of Thlaspi alpestre L. Along an elevational gradient in the central Rocky Mountains. Ecology 51:649–656

Salick J, Byg A (2007) Indigenous peoples and climate change. Tyndall Centre, Oxford

Shen MG (2011) Spring phenology was not consistently related to winter warming on the Tibetan Plateau. Proc Natl Acad Sci USA 108:E91–E92. doi:10.1073/pnas.1018390108

Sparks TH, Menzel A (2002) Observed changes in seasons: an overview. Int J Climatol 22:1715–1725. doi:10.1002/joc.821

Spomer GG, Salisbury FB (1968) Eco-physiology of Geum turbinatum and implications concerning alpine environments. Bot Gaz 129:33–49

Suzuki S, Kudo G (1997) Short-term effects of simulated environmental change on phenology, leaf traits, and shoot growth of alpine plants on a temperate mountain, northern Japan. Glob Change Biol 3:108–115. doi:10.1111/j.1365-2486.1997.gcb146.x

Wyka T (1999) Carbohydrate storage and use in an alpine population of the perennial herb, Oxytropis sericea. Oecologia 120:198–208. doi:10.1007/s004420050849

Yu HY, Luedeling E, Xu JC (2010) Winter and spring warming result in delayed spring phenology on the Tibetan Plateau. Proc Natl Acad Sci USA 107:22151–22156. doi:10.1073/pnas.1012490107
Acknowledgments
We thank all member herbaria of Chinese Virtual Herbarium for their specimen-digitalized contributions and the herbarium (PE), Institute of Botany, Chinese Academy of Sciences (IBCAS). We also take this opportunity to thank Drs. H. Sun, Z. K. Zhou, W. Y. Chen in Kunming Institute of Botany, CAS, Drs. H. N. Qin, L. Q. Li, B. J. Bao, Q. Lin in IBCAS, and Dr. G. Pan in Tibet Agricultural and Animal Husbandry College for their great support over the years. Special thanks are due to those invaluable efforts from many field botanists to herbarium collections in TAR. Their thoughtful suggestions from the anonymous referees and editors led to great improvements of the manuscript. This study was funded by the Ministry of Science and Technology (2007FY110100) and Tibet Biodiversity Assessment project by the Ministry of Environmental Protection of China to X. F. G., the National Natural Science Foundation of China (31150110471) and Chinese Academy of Sciences (XDA05050407) to Y. W.
Electronic supplementary material
Below is the link to the electronic supplementary material.
About this article
Cite this article
Li, Z., Wu, N., Gao, X. et al. Species-level phenological responses to 'global warming' as evidenced by herbarium collections in the Tibetan Autonomous Region. Biodivers Conserv 22, 141–152 (2013). https://doi.org/10.1007/s10531-012-0408-x
Received:

Accepted:

Published:

Issue Date:
Keywords
Climate warming

Flowering phenology

Herbarium specimens

Mixed model

Tibet autonomous region