Abstract
The goal of biodiversity hotspots is to identify regions around the world where conservation priorities should be focused. We undertake a geographic information system and remote sensing analysis to identify the rarest and least protected forests in biodiversity hotspots. World Wildlife Fund ecoregions with terrestrial forest were subset from 34 biodiversity hotspots and forest cover calculated from GlobCover data at a 300 m pixel resolution. There were 276 ecoregions in 32 biodiversity hotspots classified as containing terrestrial forests. When the first quartile of forest ecoregions was subset based on smallest extent of forest cover in protected areas, there were 69 rare forests identified within 20 biodiversity hotspots. Most rare forest ecoregions (45) occurred on islands or island archipelagos and 47 rare forest ecoregions contained less than 10 % forest cover in protected areas. San Félix-San Ambrosio Islands Temperate Forests, Tubuai Tropical Moist Forests, Maldives-Lakshadweep-Chagos Archipelago Tropical Moist Forests, and Yap Tropical Dry Forests were identified as the least protected and possibly most vulnerable forests within biodiversity hotspots. These ecoregions cover less than 500 km2, forest cover is less than 50 km2, and there are no protected areas. There is a need to update classifications and boundaries of protected areas, insure that islands are included in global land cover datasets, and identify levels of endemism and endangerment within forest ecoregions. This should improve our ability to compare, prioritize, and monitor forests in biodiversity hotspots.
Access options
Buy single article
Instant access to the full article PDF.
USD 39.95
Price excludes VAT (USA)
Tax calculation will be finalised during checkout.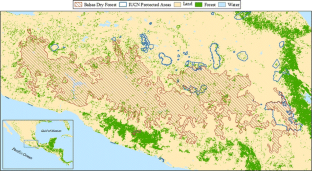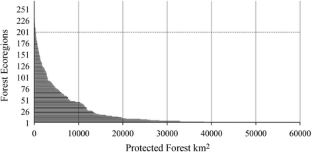 References
Archibald RD, Craig MD, Bialkowski K, Howe C, Burgess TI, Hardy GESJ (2011) Managing small remnants of native forest to increase biodiversity within plantation landscapes in the south west of Western Australia. Forest Ecol Manag 261:1254–1264

Bontemps S, Defourny P, Van Bogaret E, Arino O, Kalogirou V, Perez JR (2011) Globcover 2009 product description and validation report. https://globcover.s3.amazonaws.com/LandCover2009/GLOBCOVER2009_Validation_Report_2.2.pdf. Accessed 9 Dec 2011

Brooks TM, Mittermeier RA, Mittermeier CG, da Fonseca GAB, Rylands AB, Konstant WR, Flick P, Pilgrim J, Oldfield S, Magin G, Hilton-Taylor C (2002) Habitat loss and extinction in the hotspots of Biodiversity. Conserv Biol 16:909–923

Brook TM, Mittermeier RA, da Fonseca GAB, Gerlach J, Hoffmann M, Lamoreux JF, Mittermeier CG, Pilgrim JD, Rodrigues ASL (2006) Global biodiversity conservation priorities. Science 313:58–61

Caujapé-Castells J, Tye A, Crawford DJ, Santos-Guerra A, Sakai A, Beaver K, Lobin W, Florens FBV, Moura M, Jardim R, Gómes I, Kueffer C (2010) Conservation of oceanic island floras: present and future global challenges. Perspect Plant Ecol 12:107–129

CBD (2009) Convention on biological diversity. http://www.cbd.int. Accessed 2 Jan 2010

CBD (2012) Convention on biological diversity: Aichi biodiversity targets. http://www.cbd.int/sp/targets/. Accessed 2 March 2012

Church JA, White NJ, Hunter JR (2006) Sea-level rise at tropical Pacific and Indian Ocean islands. Glob Planet Change 53:155–168

Conservation International (2009) Biodiversity hotspots-resources-maps and GIS data. http://www.biodiversityhotspots.org/xp/Hotspots/resources/pages/maps.aspx. Accessed 9 Sept 2010

Diamond J (2006) Collapse: how societies choose to fail or succeed. Viking Books, New York

Duro D, Coops NC, Wulder MA, Han T (2007) Development of a large area biodiversity monitoring system driven by remote sensing. Prog Phys Geogr 31:235–260

European Space Agency (2009) GlobCover. http://ionia1.esrin.esa.int. Accessed 9 Sept 2010

Fa JE, Burn RW, Stanley Price MR, Underwood FM (2004) Identifying important endemic areas using ecoregions: birds and mammals in the Indo-Pacific. Oryx 38:91–101

FAO (2011) State of the world's forests 2011. Forestry Paper Food and Agriculture Organization, Rome

Fisher J, Lindenmayer DB (2007) Landscape modification and habitat fragmentation: a synthesis. Glob Ecol Biogeogr 16:265–280

Gaston KJ (1994) Rarity. Chapman and Hall, London

Gillespie TW, Foody GM, Rocchini D, Giorgi AP, Saatchi S (2008) Measuring and modeling biodiversity from space. Prog Phys Geogr 32:203–221

Greimler J, Lopez P, Stuessy TF, Dirnbock T (2002) The vegetation of Robinson Crusoe Island (Isla Masatierra) Juan Fernandez archipelago, Chile. Pac Sci 56:263–284

Hansen M, DeFries R, Townshend JR, Carroll M, Dimiceli C, Sohlberg R (2006) Vegetation continuous fields MOD44B, 2005 percent tree cover, collection 4. University of Maryland, College Park

IUCN (2010) Guidelines for using the IUCN red list categories and criteria. http://www.iucnredlist.org/documents/RedListGuidelines.pdf. Accessed 6 Sept 2011

IUCN (2011) The IUCN red list of threatened species. http://www.iucnredlist.org/. Accessed 6 Sept 2011

IUCN (2012) IUCN protected area management categories. http://www.iucn.org/about/work/programmes/pa/pa_products/wcpa_categories/. Accessed 10 August 2012

IUCN/UNEP (2009) The World Database on Protected Areas (WDPA). UNEP-WCMC. Cambridge, http://www.wdpa.org/. Accessed 20 Dec 2010

Kier G, Krefta H, Leeb TM, Jetzb W, Ibischc PL, Nowickic C, Mutkea J, Barthlotta W (2009) A global assessment of endemism and species richness across island and mainland regions. Proc Natl Acad Sci USA 106:9322–9327

MacArthur RH, MacArthur JW (1961) On bird species diversity. Ecology 42:594–598

MacArthur RH, Wilson EO (1967) The theory of island biogeography. Princeton University Press, Princeton

Miles L, Newton AC, DeFries R, Ravilious C, May I, Blyth S, Kapos V, Gordon JE (2006) A global overview of the conservation status of tropical dry forests. J Biogeogr 33:491–505

Mimura N, Nurse L, McLean RF, Agrad J, Briguglio L, Lefale P, Payet R, Sem G (2007) Small islands. In: Parry ML, Canziani OF, Palutikof JP, van der Linden PJ, Hanson CE (eds) Fourth assessment report of the intergovernmental panel on climate change. Cambridge University Press, Cambridge, pp 687–716

Mittermeier RA, Myers N, Mittermeier CG (1999) Hotspots. CEMEX, Mexico

Morgan CL (2011) Vulnerability assessment: a review of approaches. IUCN, Gland

Mueller-Dombois D, Fosberg FR (1998) Vegetation of the tropical pacific islands. Springer–Verlag, New York

Myers N (2003) Biodiversity hotspots revisited. Bioscience 53:916–917

Myers N, Mittermeier RA, Mittermeier CG, da Fonseca GA, Kent J (2000) Biodiversity hotspots for conservation priorities. Nature 403:853–858

Narisma GT, Pitman AJ (2003) The impact of 200 years of landcover change on the Australian near-surface climate. J Hydrometeor 4:424–436

Olander LP, Gibbs HK, Steininger M, Swenson JJ, Murray BC (2008) Reference scenarios for deforestation and forest degradation in support of REDD: a review of data and methods. Environ Res Lett 3:1–11

Olson DM, Dinerstein E, Wikramanayake ED, Burgess ND, Powell GVN, Underwood EC, D'amico JA, Itoua I, Strand HE, Morrison JC, Loucks CJ, Allnutt TF, Ricketts TH, Kura Y, Lamoreux JF, Wettengel WW, Hedao P, Kassem KR (2001) Terrestrial ecoregions of the world: a new map of life on earth. Bioscience 51:933–938

Pau S, Gillespie TW, Price JP (2009) Natural history, biogeography, and endangerment of Hawaiian dry forest trees. Biodivers Conserv 18:3167–3182

Portillo-Quintero CA, Sánchez-Azofeifa GA (2010) Extent and conservation of tropical dry forests in the Americas. Biol Conserv 143:144–155

Ranta P, Blom T, Niemela J, Joensuu E, Siitonen M (1998) The fragmented Atlantic rain forest of Brazil: size, shape and distribution of forest fragments. Biodivers Conserv 7:385–403

Rodríguez JP, Rodríguez-Clark KM, Baillie JEM, Ash N, Benson J, Boucher T, Brown C, Burgess ND, Collen B, Jennings M, Keith DA, Nicholson E, Revenga C, Reyers B, Rouget M, Smith T, Spalding M, Taber A, Walpole M, Zager I, Zamin T (2011) Establishing IUCN red list criteria for threatened ecosystems. Conserv Biol 25:21–29

Rolett B, Diamond J (2004) Environmental predictors of pre-European deforestation and Pacific islands. Nature 431:443–446

Schmitt CB, Burgess ND, Coad L, Belokurov A, Besançon C, Boisrobert L, Campbell AL, Gliddon D, Humphries K, Kapos V, Loucks C, Lysenko I, Miles L, Mills C, Minnemeyer S, Pistorius T, Ravilious C, Steininger M, Winkel G (2009) Global analysis of the protection status of the world's forests. Biol Conserv 142:2122–2130

Schödelbauerováa I, Roberts DL, Kindlmanna P (2009) Size of protected areas is the main determinant of species diversity in orchids. Biol Conserv 142:2329–2334

Shearman PL, Bryan J (2011) A bioregional analysis of the distribution of rainforest cover, deforestation and degradation in Papua New Guinea. Aust Ecol 36:9–24

Werneck FP, Costa GC, Colli GR, Prado DE, Sites JW (2011) Revisiting the historical distribution of seasonally dry tropical forests: new insight based on paleodistribution modeling and palynological evidence. Glob Ecol Biogeogr 20:272–288

Whittaker RJ, Fernández-Palacios JM (2007) Island biogeography: ecology, evolution, and conservation. Oxford University Press, Oxford

Williams-Linera G, Lorea F (2009) Tree species diversity driven by environmental and anthropogenic factors in tropical dry forest fragments of central Veracruz, Mexico. Biodivers Conserv 18:3269–3293

World Wildlife Fund (2009) Terrestrial ecoregions GIS database request. http://www.worldwildlife.org/science/data/item1875.html. Accessed 9 Sept 2010

World Wildlife Fund (2012) Wildfinder. http://www.worldwildlife.org/science/wildfinder/. Accessed 10 August 2012

Wright SJ, Sanchez-Azofeifa GA, Portillo-Quintero C, Davies D (2007) Poverty and corruption compromise tropical forest reserves. Ecol Appl 17:1259–1266
Acknowledgments
We thank Kelly Easterday, Greg Okin, Diane Rachels, Angela Forero, Amy Dhaliwal, Astuhito Nekoshima, Katie Gatlin, Naomi Chung, and Muntasir Khan for research assistance. We thank Jean-Yves Meyer, Kirstin O'Neill, Ana Paula Giorgi, and C. B. Schmitt for helpful comments on this manuscript. An anonymous reviewer provided excellent comments and suggestions that greatly improved the manuscript. The National Geographic Society, National Science Foundation BCS0455052, Department of Geography UCLA, and the California Center for Population Research UCLA funded this research.
Electronic supplementary material
Below is the link to the electronic supplementary material.
Forest ecoregions, terrestrial forest landcover types, forest cover, and forest cover in protected areas in biodiversity hotspots (XLSX 62 kb)
About this article
Cite this article
Gillespie, T.W., Lipkin, B., Sullivan, L. et al. The rarest and least protected forests in biodiversity hotspots. Biodivers Conserv 21, 3597–3611 (2012). https://doi.org/10.1007/s10531-012-0384-1
Received:

Accepted:

Published:

Issue Date:

DOI: https://doi.org/10.1007/s10531-012-0384-1
Keywords
Biodiversity hotspots

Forest conservation

Geographic information systems

ESA Globcover

Protected areas