Abstract
Bumble bees are an important group of wild pollinators in North America and considerable concern has been expressed over declines in their populations. However, before causes for declines can be assessed, it is essential that the geographical and chronological patterns of decline be discovered. Hitherto a lack of assessment of historical data has hindered our efforts to determine which species are most at risk. Here, the status of 21 North American bumble bee species (Hymenoptera: Apidae) occurring in the eastern nearctic biogeographic region is assessed using a specimen-level database from compiled museum and survey records dating back to the late nineteenth century from various institutional collections. Using a combination of measures, bumble bee declines were assessed over their entire native ranges. We report here that half of the selected fauna is in varying levels of decline (especially Bombus ashtoni, B. fervidus, and B. variabilis), with the remaining species exhibiting stable or increasing trends (e.g., B. bimaculatus, B. impatiens, and B. rufocinctus). Suggestions for prioritizing conservation efforts for this important group of pollinators are given.
Access options
Buy single article
Instant access to the full article PDF.
USD 39.95
Price excludes VAT (USA)
Tax calculation will be finalised during checkout.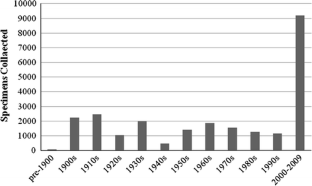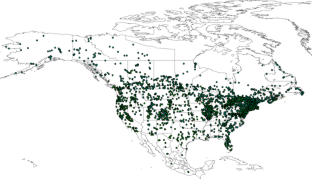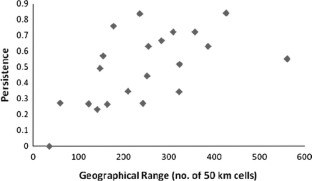 References
Aizen MA, Garibaldi LA, Cunningham SA, Klein AM (2009) How much does agriculture depend on pollinators? lessons from long-term trends in crop production. Ann Bot 103:1579–1588

Beismeijer JC, Roberts SPM, Reemer M, Ohlemuller R, Edwards M, Peeters T, Schaffers AP, Potts SG, Kleukers R, Kleukers CD, Settele J, Kunin WE (2006) Parallel declines in pollinators and insect-pollinated plants in Britain and Netherlands. Science 313:351–354

Berenbaum M, Bernhardt P, Buchmann S, Calderone N, Goldstein P, Inouye DW, Kevan P, Kremen C, Medellin RA, Ricketts T, Robinson GE, Snow AA, Swinton SM, Thein LB, Thomspson FC (2007) Status of pollinators in North America. National Academies Press, Washington

Cameron SA, Lozier JD, Strange JP, Koch JB, Cordes N, Solter LF, Griswold TL (2011) Patterns of widespread decline in North American bumble bees. Proc Nat Acad Sci. doi:10.1073/pnas.1014743108

Colla SR, Dumesh S (2010) Natural history notes for the bumble bees of southern Ontario. J Entomol Soc Ont 141:38–67

Colla SR, Packer L (2008) Evidence for decline in eastern North American bumblebees (Hymenoptera: Apidae), with special focus on Bombus affinis Cresson. Biodivers Conserv 17:1379–1391

COSEWIC (2010) COSEWIC assessment and status report on the Rusty-patched bumble bee Bombus affinis in Canada. Committee on the Status of Endangered Wildlife in Canada, Ottawa. vi + 34 pp. Online www.sararegistry.gc.ca/status/status_e.cfm. Accessed 19 Apr 2011

Dupont YL, Damgaard C, Simonsen V (2011) Quantitative historical change in bumblebee (Bombusspp.) assemblages of red clover fields. PLoS ONE 6:e25172

ESRI (2010). ArcGIS Desktop: Release 9.2. Redlands. Environmental Systems Research Institute, CA

Evans E, Thorp R, Jepsen S, Black SH (2008) Status review of three formerly common species of bumble bee in the subgenus Bombus. Produced by the Xerces Society for Invertebrate Conservation, Portland, Oregon. (Online) http://www.xerces.org/wpcontent/uploads/2009/03/xerces_2008_bombus_status_review.pdf. Accessed 19 Apr 2011

Fitzpatrick U, Murray TE, Paxton RJ, Breen J, Cotton D, Santorum V, Brown MJF (2007) Rarity and decline in bumblebees—a test of causes and correlates in the Irish fauna. Biol Conserv 136:185–194

Giles V, Ascher JS (2006) A survey of bees of the Black Rock forest preserve, New York (Hymenoptera: Apoidea). J Hymenoptera Res 15:208–231

Goulson D, Hanley ME, Darvill B, Ellis JS, Knight ME (2005) Causes of rarity in bumblebees. Biol Conserv 122:1–8

Grixti JC, Wong LT, Cameron SA, Favret C (2009) Decline of bumble bees (Bombus) in the North American Midwest. Biol Conserv 142:75–84

Heinrich B (2004) Bumblebee economics. Harvard University Press, USA 245 pp

IUCN, (2001) IUCN red list categories and criteria: Version 3.1. IUCN Species Survival Commission. IUCN, Gland, Switzerland and Cambridge UK. ii + 30 pp

Kearns CA, Inouye DW (1997) Pollinators, flowering plants and conservation biology. Bioscience 47:297–307

Kosior A, Celary W, Solarz W, Rasmont P, Fijal J, Krol W, Witkowski Z, Iserbyt S (2008) Long-term changes in the species composition and distribution of Bombini (Apidae) in Cracow since the mid 1850s. Annales de la Societe Entomologique de France 44:393–407

Laverty TM, Harder LD (1988) The bumble bees of eastern Canada. Canad Entomol 120:965–987

Maes D, Vareusal W, Jacobs I, Berwaerts K, VanDyck H (2012) Applying IUCN red list criteria at a small regional level: a test case with butterflies in Flanders (north Belgium). Biol Conserv 145:258–266

Morandin LA, Winston ML, Franklin MT, Abbott VA (2005) Lethal and sub-lethal effects of spinosad on bumble bees (Bombus impatiens Cresson). Pest Manag Sci 61:619–626

Otti O, Schmid-Hempel P (2008) A field experiment on the effect of Nosema bombi on colonies of Bombus terrestris. Ecol Entomol 33:577–582

Pyke GH, Ehrlich PR (2009) Biological collections and ecological/environmental research: a review, some observations and a look to the future. Biol Rev 85:247–266

Roubik DW, Wolda H (2001) Do competing honey bees matter? dynamics and abundance of native bees before and after honey bee invasion. Popul Ecol 43:53–62

Ruz L (2002) Bee pollinators introduced to Chile: a Review. In: Kevan P, Imperatriz Fonseca VL (eds) Pollinating bees—the conservation link between agriculture and nature. Ministry of Environment, Brasília. pp. 155–167

Sheffield CS, Kevan PG, Smith RF, Rigby SM, Rogers REL (2003) Bee species of Nova Scotia, Canada, with new records and notes on bionomics and floral relations (Hymenoptera: Apoidea). J Kansas Entomol Soc 76:357–384

Stefanescu C, Carnicer J, Panuelas J (2011) Determinants of species richness in generalist and specialist Mediterranean butterflies: the negative synergistic forces of climate and habitat change. Ecography 34:353–363

Thorp RW (2005) Bombus franklini Frison 1921 Franklin's Bumble Bee (Hymenoptera: Apidae: Apinae: Bombini). In: Shepherd MD, Vaughan M, Black SH (eds) Red list of pollinator insects of North America CD-ROM Version 1. Xerces Society for Invertebrate Conservation, Portland

Thorp RW, Shepherd MD (2005) Subgenus Bombus. Latreille, 1802 (Apidae: Apinae: Bombini). In Shepherd MD, Vaughan DM, Black SH (eds) Red list of pollinator insects of North America. CD-ROM Version 1. Portland, OR: The Xerces Society for Invertebrate Conservation. (Online) www.xerces.org/Pollinator_Red_List/Bees/Bombus_Bombus.pdf. Accessed March 2011

Wagner DLR, Van Driesche G (2010) Threats posed to rare and endangered insects by invasions of non-native species. Annu Rev Entomol 55:547–568

Whitehorn PR, Tinsley MC, Brown MJF, Darvill B, Goulson D (2009) Impacts of inbreeding on bumblebee colony fitness under field conditions. BMC Evol Biol 9:152

Williams PH (1982) The distribution and decline of British bumble bees (Bombus Latr.). J Apic Res 21:236–245

Williams PH (1989) Bumble bees—and their decline in Britain. Central Association of Bee-Keepers, Ilford

Williams PH (1996) Mapping variations in the strength and breadth of biogeographic transition zones using species turnover. Proc R Soc Lond Biol Sci 263:579–588

Williams PH (2005) Does specialization explain rarity and decline among British bumble bees? A response to Goulson et al. Conserv Biol 122:33–43

Williams PH, Osborne J (2009) Bumblebee vulnerability and conservation world-wide. Apidologie 40:367–387

Williams PH, Colla SR, Xie Z (2009) Bumblebee vulnerability: common correlates of winners and losers across three continents. Conserv Biol 23:931–940

Zayed A, Packer L (2005) Complementary sex determination substantially increases extinction proneness of haplodiploid populations. Proc Nat Acad Sci 102:10742–10746
Acknowledgments
This work would not have been possible without the use of valuable insect specimens from many well-curated collections and recent surveys. We thank additional data providers J. Ascher, Caroline Scully, Mike Arduser, Steve Javorek and Kevin Matteson. We would like to thank Michael Otterstatter for help with statistical analyses and Paul Williams, Ignasi Bartomeus, Sarina Jepsen and reviewers for valuable comments. We thank NSERC-CANPOLIN and NSERC CGS to Fawziah Gadallah and Sheila Colla respectively for providing funding for this work. Data capture at the American Museum of Natural History (AMNH), the University of Connecticut, Rutgers University, and Cornell University was supported by NSF DBI Grant (0956388, P. I. John S. Ascher), with additional support at AMNH from Robert G. Goelet and at University of Connecticut and the Peabody Museum of Natural History by a state wildlife Grant (09DEP10012AA, P.I. DLW). This is contribution No. 58 from the Canadian Pollination Initiative (NSERC-CANPOLIN).
About this article
Cite this article
Colla, S.R., Gadallah, F., Richardson, L. et al. Assessing declines of North American bumble bees (Bombus spp.) using museum specimens. Biodivers Conserv 21, 3585–3595 (2012). https://doi.org/10.1007/s10531-012-0383-2
Received:

Accepted:

Published:

Issue Date:

DOI: https://doi.org/10.1007/s10531-012-0383-2
Keywords
Pollinator decline

Bumble bees

Bombus

Grid cell

Museum data

Insect collections