Abstract
Communities of flower flies (Diptera: Syrphidae), bees (Hymenoptera: Apoidea), and flowering plants were compared between harvested and unharvested hardwood stands in Algonquin Provincial Park, Ontario, Canada. Group-selection silviculture (where groups of trees are removed from a forested matrix, rather than single trees), increased the abundance of pollinators and flowering stems, but only after leaf-out. Wild red raspberry (Rubus strigosus) and bees benefitted most from the creation of canopy gaps. The combination of increased light, warm, bare soils, and abundant nectar-rich raspberry flowers probably created ideal habitat for soil-nesting bees, factors which are relatively absent from unharvested stands. By contrast, before leaf-out, spring ephemerals and high light-levels were universal and pollinators were even across treatments. More pollinators were caught in canopy gaps than in forested areas, and the proportion of fertilized ovules of spring beauty (Claytonia caroliniana) was higher in gaps than in the forest, suggesting that pollinators prefer foraging in gaps, even in spring. Group-selection silviculture in hardwood forests proved beneficial to native pollinating insects, at least in the short-term.
Access options
Buy single article
Instant access to the full article PDF.
US$ 39.95
Tax calculation will be finalised during checkout.
Subscribe to journal
Immediate online access to all issues from 2019. Subscription will auto renew annually.
US$ 119
Tax calculation will be finalised during checkout.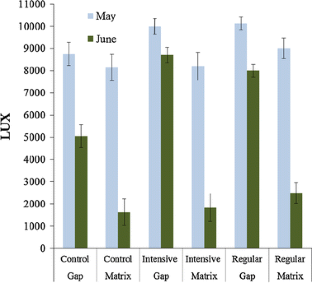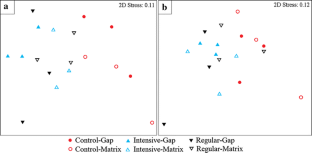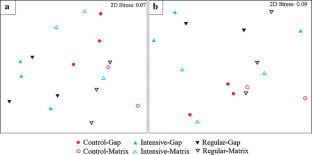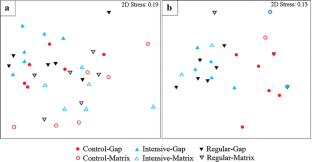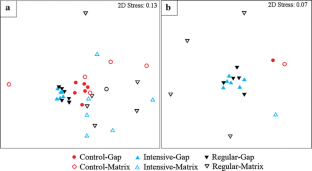 Abbreviations
ANOVA:

Analysis of variance

GSS:

Group-selection silviculture

PERMANOVA:

Permutational multivariate analysis of variance

MDS:

Multi-dimensional scaling

PGP:

Permanent growth plot

RGP:

Regeneration growth plot

SE:

Standard error
References
Aikens ML, Ellum D, McKenna JJ et al (2007) The effects of disturbance intensity on temporal and spatial patterns of herb colonization in a southern New England mixed-oak forest. For Ecol Manage 252:144–158

Anderson MJ (2001) A new method for non-parametric multivariate analysis of variance. Austral Ecol 26:32–46

Anderson MJ (2005) PERMANOVA: a FORTRAN computer program for permutational multivariate analysis of variance. Department of Statistics, University of Auckland, Auckland

Angers VA, Messier C, Beaudet M et al (2005) Comparing composition and structure in old-growth and harvested (selection and diameter-limit cuts) northern hardwood stands in Quebec. For Ecol Manage 217:275–293

Archambault L, Morisette J, Bernier-Cardou M (1998) Forest succession over a 20-year period following clearcutting in balsam fir-yellow birch ecosystems in eastern Quebec, Canada. For Ecol Manage 102:61–74

Batra SWT (1987) Ethology of the vernal eusocial bee, Dialyctus laevissimus (Hymenoptera: Halictidae). J Kans Entomol Soc 60:100–108

Beaudet M, Messier C (2002) Variation in canopy openness and light transmission following selection cutting in northern hardwood stands: an assessment based on hemispherical photos. Agric For Meteorol 110:217–228

Berg H, Redbo-Torstensson P (1998) Cleistogamy as a bet hedging strategy in Oxalis acetosella, a perennial herb. J Ecol 86:491–500

Bouget C, Duelli P (2004) The effects of windthrow on forest insect communities. Biol Conserv 118:281–299

Branquart E, Hemptinne JL (2000) Selectivity in the exploitation of floral resources by hoverflies (Diptera: Syrphinae). Ecography 23:732–742

Buchmann SL, Nabhan GP (1996) The forgotten pollinators. Island Press, Washington

Campbell JW, Hanula JL, Waldrop TA (2007) Effects of prescribed fire and fire surrogates on floral visiting insects of Blue Ridge province in North Carolina. Biol Conserv 134:393–404

Cane JH (1991) Soils of ground-nesting bees (Hymenoptera: Apoidea): texture, moisture, cell depth and climate. J Kans Entomol Soc 64:406–413

Canham CD, Denslow JS, Platt WJ et al (1990) Light regimes beneath closed canopies and tree-fall gaps in temperature and tropical forests. Can J For Res 20:620–631

Chambers B, Legasy KL, Bentley C et al (1996) Forest plants of central Ontario. Lone Pine Publishing, Edmonton

Clarke KR, Gorley RN (2006) PRIMER 6: user manual/tutorial. PRIMER-E Ltd, Plymouth

Clarke KR, Warwick RM (2001) Change in marine communities: an approach to statistical analysis and interpretation, 2nd edn. PRIMER-E Ltd, Plymouth

Coates DK, Burton PJ (1997) A gap-based approach for development of silvicultural systems to address ecosystem management objectives. For Ecol Manage 99:337–354

Cresswell JE, Osborne JL, Goulson D (2000) An economic model of the limits to foraging range in central place foragers with numerical solutions for bumblebees. Ecol Entomol 25:249–255

Crow TR, Buckley DS, Nauertz EA et al (2002) Effects of management on the composition and structure of northern hardwood forests in Upper Michigan. For Sci 48:129–145

Dafni A, Pacini E, Nepi M (2005) Pollen and stigma biology. In: Dafni A, Kevan P, Husband BC (eds) Practical pollination biology. Enviroquest, Cambridge

Dailey TB, Scott PE (2006) Nectar sources for solitary bees and flies in a landscape of deciduous forest and agricultural fields: production, variability, and consumption. J Torrey Bot Soc 133:535–547

Davis RJ (1966) North American perennial species of Claytonia. Brittonia 18:285–303

Deans AM, Malcolm JR, Smith SM et al (2005) Edge effects and the response of aerial insect assemblages to structural-retention harvesting in Canadian boreal peatland forests. For Ecol Manage 204:249–266

Deans AM, Smith SM, Malcolm JR et al (2007) Hoverfly (Syrphidae) communities respond to varying structural retention after harvesting in Canadian peatland black spruce forests. Environ Entomol 36:308–318

Didham RK, Ghazoul J, Stork NE et al (1996) Insects in fragmented forests: a functional approach. Trends Ecol Evol 11:255–260

Erickson KS, Morse DH (1997) Predator size and the suitability of a common prey. Oecologia 109:608–614

Falk K, Elliott KA, Burke DM et al (2010) Early seedling response to group selection harvesting in a northern hardwood forest. For Chron 86:100–109

Fleming TH, Muchhala N (2008) Nectar-feeding bird and bat niches in two worlds: pantropical comparisons of vertebrate pollination systems. J Biogeogr 35:764–780

Fukuhara T (1999) Seed and funicle morphology of Fumariaceae–Fumarioideae: systematic implications and evolutionary patterns. Int J Plant Sci 160:151–180

Fye RE (1972) The effect of forest disturbances on populations of wasps and bees in northwestern Ontario (Hymenoptera: Aculeata). Can Entomol 104:1623–1633

Gathmann A, Tscharntke T (2002) Foraging ranges of solitary bees. J Anim Ecol 71:757–764

Gibbs J (2010) Revision of the metallic species of Lasioglossum (Dialictus) in Canada (Hymenoptera, Halictidae, Halictini). Zootaxa 2591:1–382

Giles V, Ascher JS (2006) A survey of the bees of the Black Rock Forest Preserve, New York. J Hymenoptera Res 15:208–231

Gilliam FS (2007) The ecological significance of the herbaceous layer in temperate forest ecosystems. Bioscience 57:845–858

Gotelli NJ, Entsminger GL (2010) EcoSim: null models software for ecology. Version 7. Acquired Intelligence Inc. & Kesey-Bear, Jericho. http://garyentsminger.com/ecosim.htm. Accessed 10 May 2011

Griffith C (1996) Distribution of Viola blanda in relation to within-habitat variation in canopy openness, soil phosphorus, and magnesium. Bull Torrey Bot Club 123:281–285

Grimaldi D (1999) The co-radiations of pollinating insects and angiosperms in the Cretaceous. Ann Mo Bot Gard 86:373–406

Gullan PJ, Cranston PS (2005) The insects: an outline of entomology, 3rd edn. Blackwell Publishing Ltd., Malden

Hogg BN, Bugg RL, Daana KM (2011) Attractiveness of common insectary and harvestable floral resources to beneficial insects. Biol Control 56:76–84

Hopwood JL (2008) The contribution of roadside grassland restorations to native bee conservation. Biol Conserv 141:2632–2640

Hughes JW (1992) Effect of removal of co-occurring species on distribution and abundance of Erythronium americanum (Liliaceae), a spring ephemeral. Am J Bot 79:1329–1336

Jenkins MA, Webster CR (2009) Spatial patterning and population structure of a common woodland herb, Trillium erectum, in primary and post-logging secondary forests. For Ecol Manage 258:2569–2577

Kearns CA, Inouye DW, Waser NM (1998) Endangered mutualisms: the conservation of plant–pollinator interactions. Annu Rev Ecol Syst 29:83–112

Kevan PG (2001) Pollination: plinth, pedestal, and pillar for terrestrial productivity: the why, how, and where of pollination protection, conservation, and promotion. In: Stubbs CS, Drummond FA (eds) Bees and crop pollination: crisis, crossroads and conservation. Entomological Society of America, Lanham, pp 7–68

Kevan PG, Baker HG (1983) Insects as flower visitors and pollinators. Annu Rev Entomol 28:407–453

Krebs CJ (1989) Ecological methodology. Harper Collins, New York

Kreyer D, Oed A, Walther-Hellwig K et al (2004) Are forests potential landscape barriers for foraging bumblebees? Landscape scale experiments with Bombus terrestris agg. and Bombus pascuorum (Hymenoptera: Apidae). Biol Conserv 116:111–118

Kuusipalo J (1987) Relative importance of factors controlling the success of Oxalis acetosella: an example of linear modelling in ecological research. Vegetatio 70:171–179

Lapointe L (2001) How phenology influences physiology in deciduous forest spring ephemerals. Physiol Plant 113:151–157

Larkin LL, Neff JL, Simpson BB (2008) The evolution of a pollen diet: host choice and diet breadth of Andrena bees (Hymenoptera: Andrenidae). Apidologie 39:133–145

Larson BMH, Kevan PG, Inouye DW (2001) Flies and flowers: taxonomic diversity of anthophiles and pollinators. Can Entomol 133:439–465

LeBuhn G, Griswold T, Minckley R et al (2003) A standardized method for monitoring bee populations: the bee inventory plot. http://online.sfsu.edu/~beeplot/pdfs/Bee%20Plot%202003.pdf. Accessed 3 October 2011

Lorimer CG, White AS (2003) Scale and frequency of natural disturbances in the northeastern US: implications for early successional forest habitats and regional age distribution. For Ecol Manage 185:41–64

Marshall SA, Anderson RS, Roughley RE et al (1994) Terrestrial arthropod biodiversity: planning a study and recommended sampling techniques. Biological Survey of Canada (Terrestrial Arthropods), Ottawa

McClure JW, Lee TD, Leak WB (2000) Gap capture in northern hardwoods: patterns of establishment and height growth in four species. For Ecol Manage 127:181–189

McLachlan SM, Bazely DR (2001) Recovery patterns of understory herbs and their use as indicators of deciduous forest regeneration. Conserv Biol 15:98–110

Meier AJ, Bratton SP, Duffy DC (1995) Possible ecological mechanisms for loss of vernal-herb diversity in logged eastern deciduous forests. Ecol Appl 5:935–946

Motten AF, Campbell DR, Alexander DE et al (1981) Pollinator effectiveness of specialist and generalist visitors to a North Carolina Population of Claytonia virginica. Ecology 62:1278–1287

Neuendorff JK, Nagel LM, Webster CR et al (2007) Stand structure and composition in a northern hardwood forest after 40 years of single-tree selection. North J Appl For 24:197–202

Newell ST, Solbrig OT, Kincaid DT (1981) Studies on the population biology of the genus Viola: III. The demography of Viola blanda and Viola pallens. J Ecol 69:997–1016

Nol E, Douglas H, Crins WJ (2006) Responses of syrphids, elaterids and bees to single-tree selection harvesting in Algonquin Provincial Park, Ontario. Can Field Nat 120:15–21

Oleskevich C, Shamoun SF, Punja ZK (1996) The biology of Canadian weeds. 105. Rubus strigosus Michx, Rubus parviflorus Nutt, and Rubus spectabilis Pursh. Can J Plant Sci 76:187–201

Packer L, Genero JA, Sheffield CS (2007) The bee genera of eastern Canada. Can J Arthropod Identif 3:1–32

Packham JR, Willis AJ (1977) The effects of shading on Oxalis acetosella. J Ecol 65:619–642

Potts SG, Vulliamy B, Dafni A (2003) Response of plant–pollinator communities to fire: changes in diversity, abundance and floral reward structure. Oikos 101:103–112

Quinn NWS (2004) The presettlement hardwood forests and wildlife of Algonquin Provincial Park: a synthesis of historic evidence and recent research. For Chron 80:705–717

Quinn GP, Keough MJ (2002) Experimental design and data analysis for biologists. Cambridge University Press, Cambridge

Quintero C, Morales CL, Aizen MC (2010) Effects of anthropogenic habitat disturbance on pollinator diversity and species turnover across a precipitation gradient. Biodivers Conserv 19:257–274

Roberts MR (2004) Response of the herbaceous layer to natural disturbance in North America. Can J Bot 82:1273–1283

Roberts MR, Dong HY (1992) Effects of soil organic layer removal on regeneration after clear-cutting a northern hardwood stand in New Brunswick. Can J For Res 23:2093–2100

Robertson C (1928) Flowers and insects: lists of visitors of four hundred and fifty-three flowers. The Science Press Printing Co., Lancaster

Robson DB (2008) The structure of the flower-insect visitor system in tall-grass prairie. Botany 86:1266–1278

Romey WL, Asher JS, Powell DA et al (2007) Impacts of logging on midsummer diversity of native bees (Apoidea) in a northern hardwood forest. J Kans Entomol Soc 80:327–338

Roubik D (1989) Ecology and natural history of tropical bees. Cambridge University Press, New York

Ruel JC (1992) Effect of competition from raspberry (Rubus idaeus) and light demanding broad-leaved trees on the growth of fir (Abies balsamea) regeneration. Can J For Res 22:1408–1416

Schwartz JW, Nagel LM, Webster CR (2005) Effects of uneven-aged management on diameter distribution and species composition of northern hardwoods in Upper Michigan. For Ecol Manage 211:356–370

Seymour SS, White AS, deMaynadier PG (2002) Natural disturbance regimes in northeastern North America—evaluating silvicultural systems using natural scales and frequencies. For Ecol Manage 155:357–367

Sheffield CS, Kevan PG, Smith RF et al (2003) Bee species of Nova Scotia, Canada, with new records and notes on bionomics and floral relations (Hymenoptera: Apoidea). J Kans Entomol Soc 76:357–384

Shields JM, Webster CR (2007) Ground-layer response to group-selection with legacy-tree retention in a managed northern hardwood forest. Can J For Res 37:1797–1807

Smith KJ, Keeton WS, Twery MJ et al (2008) Understory plant responses to uneven-aged forestry alternatives in northern hardwood-conifer forests. Can J For Res 38:1303–1318

Sommaggio D (1999) Syrphidae: can they be used as environmental bioindicators? Agric Ecosyst Environ 74:342–356

Steffan-Dewenter I, Münzenberg U, Bürger C et al (2002) Scale-dependent effects of landscape context on three pollinator guilds. Ecology 83:1421–1432

Taki H, Kevan PG (2007) Does habitat loss affect the communities of plants and insects equally in plant–pollinator interactions? Preliminary findings. Biodivers Conserv 17:3147–3161

Taki H, Kevan PG, Ascher JS (2007) Landscape effects of forest loss in a pollination system. Landsc Ecol 22:1575–1587

Taki H, Kevan PG, Yamura Y (2008) Effects of forest cover on fruit set in the woodland herb, Maianthemum canadense (Liliaceae). Can Field Nat 122:234–238

Tewksbury JJ, Levey DJ, Haddad NM et al (2002) Corridors affect plants, animals, and their interactions in fragmented landscapes. Proc Natl Acad Sci USA 99:12923–12926

Thompson FC (2009) Handbook for the identification of flower flies (Syrphidae: Diptera) of northeastern United States and adjacent Canada. Smithsonian Institution, Washington

Tooker JF, Hauser M, Hanks LM (2006) Floral host plants of Syrphidae and Tachinidae (Diptera) of Central Illinois. Ann Entomol Soc Am 99:96–112

Vockeroth JR (1992) The flower flies of the subfamily Syrphinae of Canada, Alaska, and Greenland. The Insects and Arachnids of Canada, Part 18. Research Branch, Agriculture Canada, Publication 1867, Ottawa

Vockeroth JR, Thompson FC (1987) Syrphidae. In: McAlpine JF (ed) Manual of Nearctic Diptera, vol 2. Research Branch, Agriculture Canada, Monograph 28, Ottawa, pp 713–743

Vogler DW, Peretz S, Stephenson AG (1999) Floral plasticity in an iteroperous plant: the interactive effects of genotype, environment, and ontogeny in Campanula rapunculoides (Campanulaceae). Am J Bot 86:482–494

Whitney GG (1984) The reproductive biology of raspberries and plant–pollinator community structure. Am J Bot 71:887–894

Wiegmann SM, Waller DM (2006) Fifty years of change in northern upland forest understories: Identity and traits of "winner" and "loser" plant species. Biol Conserv 129:109–123

Williams NM, Minckley RL, Silveira FA (2001) Variation in native bee faunas and its implications for detecting community changes. Conserv Ecol 5(1). http://ecologyandsociety.org/vol5/iss1/art7/. Accessed 14 March 2012

Wolfe LM (1983) The effect of plant size on reproductive characteristics in Erythronium americanum (Liliaceae). Can J Bot 61:3489–3493

Zurbuchen A, Landert L, Klaiber J et al (2010) Maximum foraging ranges in solitary bees: only few individuals have the capability to cover long foraging distances. Biol Conserv 143:669–676
Acknowledgments
We would like to thank Dr. Cory Sheffield and Dr. Jason Gibbs for identifying the bees and Andrew Young for identifying our unknown Platycheirus. Dr. Doug Tozer, Karla Falk, Rhiannon Leshyk, Emony Nichols, Gillian Humphries, and Hugo Kitching helped in the field. Funding was provided by the National Science and Engineering Research Council and the Canadian Pollination Initiative, for which this is publication No. 43. In-kind support was provided by Algonquin Forestry Authority, Bancroft-Minden Forest Co., Canadian Forest Service, Canadian Wildlife Service, Enhanced Forest Productivity Science Program, Mazinaw-Lanark Forest Inc., Ontario Ministry of Natural Resources, Ottawa Valley Forest Inc., Tembec Inc., Trent University, and Westwind Forest Stewardship.
About this article
Cite this article
Proctor, E., Nol, E., Burke, D. et al. Responses of insect pollinators and understory plants to silviculture in northern hardwood forests. Biodivers Conserv 21, 1703–1740 (2012). https://doi.org/10.1007/s10531-012-0272-8
Received:

Accepted:

Published:

Issue Date:
Keywords
Apoidea

Bees

Claytonia caroliniana

Floral understory

Group-selection silviculture

Hardwood forest

Rubus strigosus

Spring ephemeral

Syrphidae