Abstract
Land use change and human population growth are accelerating the fragmentation and insularization of wildlife habitats worldwide. The conservation and management of wildlife in the resultant 'island' ecosystems in the context of global warming is challenging due to the isolation and reduced size of the ecosystems and hence the scale over which ecosystem processes can operate. We analyzed trends in numbers of nine large herbivores in Kenya's Lake Nakuru National Park to understand how rainfall and temperature variability, surrounding land use changes, and boundary fencing affected wildlife population dynamics inside the park during 1970–2011. Buffalo, zebra and Thomson's gazelle numbers increased persistently. Grant's gazelle and impala increased initially then gradually declined. Waterbuck and warthog numbers progressively declined to levels that potentially threatened their local population persistence. The total biomass of ungulates tripled from 1970 to 2011, with buffalo replacing waterbuck as the predominant species in biomass. Increased competition from buffalo and zebra, heightened predation and illicit human harvests probably all contributed to the declines by waterbuck and warthog. Density-dependent limitation of population growth within the park confines was evident for buffalo, impala, eland, giraffe, Grant's and Thomson's gazelles. Fluctuations in the lake level related to varying rainfall affected changes in animal abundance through expansion of the lake area and flooding of grasslands bordering the lake. Unusually, the most stressful conditions were associated with high water levels following high rainfall. There was also evidence of carry-over effects from prior habitat conditions affecting all species. The relatively stable populations of all species except warthog and waterbuck demonstrate the remarkable capacity of this small, insularized park to retain viable populations of most of the large herbivores, without much management intervention.
Access options
Buy single article
Instant access to the full article PDF.
USD 39.95
Price excludes VAT (USA)
Tax calculation will be finalised during checkout.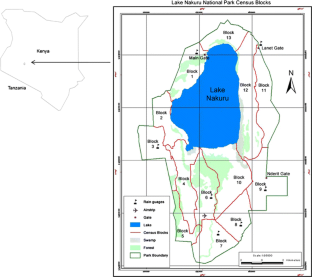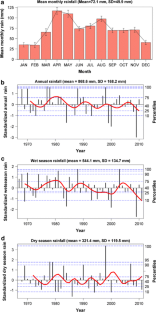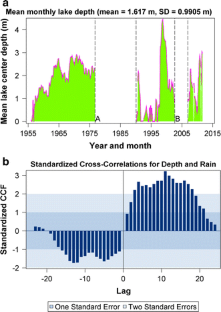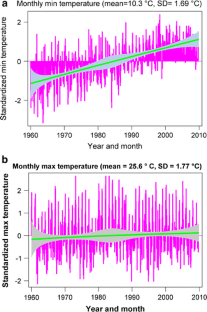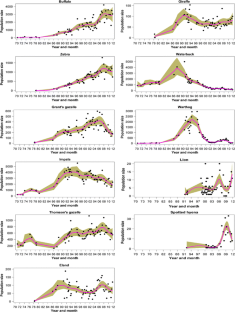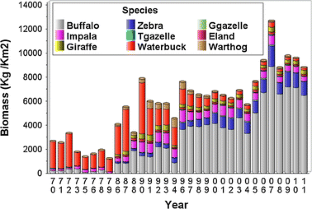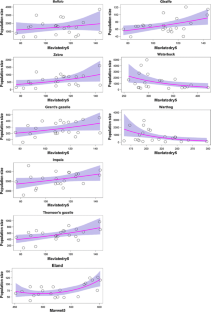 References
Baldyga TJ, Miller SN, Driese KL, Gichaba CM (2008) Assessing land cover change in Kenya's Mau forest region using remotely sensed data. Afr J Ecol 46:46–54

Bell RHV (1971) A grazing ecosystem in the Serengeti. Sci Am 224:86–93

Bell RHV (1982) The effect of soil nutrient availability on the community structure in African ecosystems. In: Huntley BJ, Walker BH (eds) Ecology of tropical savannas. Springer, Berlin, pp 193–216

Boutton TW, Tieszen LL, Imbamba SK (1988) Seasonal changes in the nutrient of East African grassland vegetation. Afr J Ecol 26:103–115

Burnham KP, Anderson DR (2002) Model selection and multi-model inference: a practical information-theoretic approach, 2nd edn. Springer, New York

Brenneman RA, Bagine RK, Brown DM, Ndetei R, Louis EE Jr (2009) Implications of closed ecosystem conservation management: the decline of Rothschild's giraffe (Giraffa camelopardalis rothschildi) in Lake Nakuru National Park, Kenya. Afr J Ecol 47:711–719

Caro T, Scholte P (2007) When protection falters. Afr J Ecol 45:233–235

Chapman A (1908) On safari. Edward Arnold, London

Coe MJ, Cumming DH, Phillipson J (1976) Biomass and production of large African herbivores in relation to rainfall and primary production. Oecologia 22:341–354

Craigie ID, Baillie JEM, Balmford A, Carbone C, Collen B, Green RE, Hutton JM (2010) Large mammal population declines in Africa protected areas. Biol Conserv 143:2221–2228

De Boor C (2001) A practical guide to splines, revised edition. Springer, New York

Desmukh IK (1984) A common relationship between precipitation and grassland peak biomass for East and southern Africa. Afr J Ecol 22:181–186

East R (1984) Rainfall, soil nutrient status and biomass of large African savanna mammals. Afr J Ecol 22:245–270

Eilers PHC, Marx BD (1996) Flexible smoothing with B-splines and penalties. Stat Sci 11:89–121

Eliot C (1905) The East African protectorate. Edward Arnold, London

Estes RD, East R (2009) Status of the wildebeest (Connochaetes taurinus) in the wild 1967–2005. WCS, working paper no. 37. www.wcs.org/science. Accessed 28 Nov 2010

Fritz H, Duncan P (1994) On the carrying capacity for large ungulates of African Savanna ecosystems. Proc R Soc B 256:77–82

Halley DJ, Minagawa M (2005) African buffalo diet in a woodland and bush-dominated biome as determined by stable isotope analysis. Afr Zool 40:160–163

Jumba IO, Kisia SM, Kock R (2007) Animal health problems attributed to environmental contamination in Lake Nakuru National Park, Kenya: a case study on heavy metal poisoning in the waterbuck Kobus ellipsiprymnus defassa (Ruppel 1835). Arch Environ Contam Toxicol 52:270–281

Kassa B, Libois R, Sinsin S (2007) Diet and food preference of the waterbuck (Kobus ellipsiprymnus defassa) in the Pendjari National Park, Benin. Afr J Ecol 46:303–310

Kutilek MJ (1974) The density and biomass of large mammals in Lake Nakuru National Park. E Afr Wildl J 12:201–212

Kutliek MJ (1979) Forage–habitat relations of nonmigratory African ungulates in response to seasonal rainfall. J Wildl Manag 43:899–908

Maskall J, Thornton I (1991) Trace element geochemistry of soils and plants in Kenyan conservation areas and implications for wildlife nutrition. Environ Geochem Health 13:93–107

Meinertzhagen CR (1957) Kenya diary 1902–1906. Oliver and Boyd, Edinburgh

Mwangi EM (1998a) Large herbivore dynamics in the face of insularization: the case of Lake Nakuru National Park, Kenya. Afr J Ecol 36:276–279

Mwangi EM (1998b) Habitat selection by large herbivores in Lake Nakuru National Park, Kenya. Biodivers Conserv 7:1–8

Mwangi SW (2000) Partnerships in urban environmental management: an approach to solving environmental problems in Nakuru, Kenya. Environ Urban 12:77–92

Mwangi EM, Western D (1998) Fluctuations in food supply in an insularized and heavily grazed savanna ecosystem in Kenya. Afr J Ecol 36:207–212

Mwasi SM (2002) Compressed nature: coexisting grazers in a small reserve in Kenya. PhD thesis Wageningen University, The Netherlands

Nelson YM, Thampy RJ, Motelin GK, Raini JA, Disante CI, Wilson L (1998) Model for trace metal exposure in filter feeding flamingos at alkaline Rift Valley lakes, Kenya. Environ Toxicol Chem 17:2302–2309

Newmark WD (1996) Insularization of Tanzanian parks and the local extinction of large mammals. Conserv Biol 10:1549–1556

Newmark WD (2008) Isolation of African protected areas. Front Ecol 6:321–328

Norton-Griffiths M (2000) Wildlife losses in Kenya: an analysis of conservation policy. Nat Resour Model 13:1–16

Norton-Griffiths M (2007) How many wildebeest do you need? World Econ 8:41–64

Odada EO, Raini JA, Ndetei R (2004) Lake Nakuru: experiences and lessons learned brief. ILEC 2005. Managing lakes and their basins for sustainable use. A report for lake basin managers and stakeholders. International Lake Environment Committee Foundation, Kusatsu, Japan. http://www.ilec.or.jp/eg/lbmi/pdf/18_Lake_Nakuru_27February2006.pdf. Accessed 4 Dec 2009

Ogallo LA (1988) Relationship between seasonal rainfall in East Africa and southern oscillation. J Climatol 8:34–43

Ogutu JO, Owen-Smith N (2003) ENSO, rainfall and temperature influences on extreme population declines among African savanna ungulates. Ecol Lett 6:412–419

Ogutu JO, Piepho H-P, Dublin HT, Bhola N, Reid RS (2007) El Niño-southern oscillation, rainfall, temperature and normalized difference vegetation index fluctuations in the Mara-Serengeti ecosystem. Afr J Ecol 46:132–143

Ogutu JO, Piepho H-P, Dublin HT, Bhola N, Reid RS (2008) Rainfall influences on ungulate population abundance in the Mara-Serengeti ecosystem. J Anim Ecol 77:814–829

Ogutu JO, Piepho H-P, Dublin HT, Bhola N, Reid RS (2009) Dynamics of Mara-Serengeti ungulates in relation to land use changes. J Zool 278:1–14

Ogutu JO, Owen-Smith N, Piepho H-P, Said MY (2011) Continuing wildlife population declines and range contraction in the Mara region of Kenya during 1977–2009. J Zool 285:99–109

Olang LO, Kundu PM (2011) Land degradation of the Mau forest complex in Eastern Africa: a review for management and restoration planning. http://www.intechopen.com/source/pdfs/22747/InTech-Land_degradation_of_the_mau_forest_complex_in_eastern_africa_a_review_for_management_and_restoration_planning.pdf. Accessed 23 Nov 2011

Otichillo WK, De Leeuw J, Skidmore AK, Prins HHT, Said MY (2000) Population trends of large, non-migratory wild herbivores and livestock in the Masai Mara ecosystem, Kenya, between 1977 and 1997. Afr J Ecol 38:202–216

Owaga ML (1975) The feeding ecology of wildebeest and zebra in Athi-Kaputi plains. Afr J Ecol 13:375–383

Percival AB (1924) A game ranger's notebook. Nisbett and Co Ltd, London

Percival AB (1928) A game ranger on safari. Nisbett and Co Ltd, London

Raini JA (2009a) Long-term trends in water quality, water quantity and biodiversity at Lake Nakuru, Kenya. Unpublished report. http://iodeweb1.vliz.be/odin/bitstream/1834/2071/1/WLCK-57-62.pdf. Accessed 27 Dec 2009

Raini JA (2009b) Impact of land use changes on water resources and biodiversity of Lake Nakuru catchment basin, Kenya. Afr J Ecol 47:39–45

Ruppert D, Wand MP, Carroll RJ (2003) Semiparametric regression. Cambridge University Press, Cambridge

Ruppert D, Wand MP, Carroll RJ (2009) Semiparametric regression during 2003–2007. Electron J Stat 3:1193–1256

Rutherford MC (1980) Annual plant production–precipitation relations in arid and semi-arid regions. S Afr J Sci 76:53–56

SAS Institute (2011) SAS system for Windows, version 9.3. SAS Institute, Carey

Schillings CG (1905) With flashlight and rifle. Hutchinson, London

Scholte P (2011) Towards understanding large mammal population declines in Africa's protected areas: a west-central African perspective. Trop Conserv Sci 1:1–11

Shivoga WA, Muchiri M, Kibichi S, Odanga J, Miller SN, Baldyga TJ, Enanga EM, Gichaba MC (2007) Influences of land use/cover on water quality in the upper and middle reaches of River Njoro, Kenya. Lakes Reserv Res Manag 12:97–105

Sinclair ARE (1977) The African buffalo: a study of resource limitation of populations. University of Chicago Press, Chicago

Spinage CA (1982) A territorial antelope: the Uganda waterbuck. Academic Press, London

Thampy RJ (2002) Wetland conservation and development: the Lake Nakuru case study. In: Gawler M (ed) Strategies for wise use of wetlands: best practices in participatory management. Proceedings of a workshop held at the 2nd international conference on wetlands and development (November 1998, Dakar, Senegal). Wetlands International IUCN, WWF Publication No. 56, Wageningen, The Netherlands, pp 111–116

Vareschi E (1982) The ecology of Lake Nakuru (Kenya). III. Abiotic factors and primary production. Oecologia 55:81–101

Watson RM, Turner MIM (1965) A count of the larger mammals of the Lake Manyara National Park: results and discussion. E Afr Wildl J 3:95–98

Western D, Russell S, Cuthill I (2009) The status of wildlife in protected areas compared to non-protected areas of Kenya. PLoS ONE 4:1–6

Wirtz P (1978) Results of three game counts at Lake Nakuru National Park. Bull East Afr Nat Hist Soc 108–109

Wirtz P (1979) A checklist of the larger mammals of Lake Nakuru National Park. Bull East Afr Nat Hist Soc 64–65

Wirtz P (1983) The biomass of the larger mammals of Lake Nakuru National Park. Bull East Afr Nat Hist Soc 5–7

Wirtz P, Kaiser P (1988) Sex differences and seasonal variation in habitat choice in a high density population of waterbuck Kobus ellipsiprimnus (Bovidae). Z Saeugetierkunde 53:162–169
Acknowledgments
We thank the Kenya Wildlife Service (KWS), in particular Drs. Richard Bagine and Samuel Kasiki, for permission to use the animal count data. JO was supported by an Alexander von Humboldt Research Fellowship at the University of Hohenheim, Stuttgart, Germany and grants from the US National Science Foundation (DEB 0342820 and BCS 0709671) to the International Livestock Research Institute (ILRI). Nina Bhola assisted with checking the count data for errors. Dr. Erastus Kanga also helped at various stages of the study.
About this article
Cite this article
Ogutu, J.O., Owen-Smith, N., Piepho, HP. et al. Dynamics of ungulates in relation to climatic and land use changes in an insularized African savanna ecosystem. Biodivers Conserv 21, 1033–1053 (2012). https://doi.org/10.1007/s10531-012-0239-9
Received:

Accepted:

Published:

Issue Date:

DOI: https://doi.org/10.1007/s10531-012-0239-9
Keywords