Abstract
Alpine landscapes are heavily influenced by ski run management, which can have severe impacts on alpine biodiversity. To assess these impacts on alpine Orthoptera, we compared species richness and species abundance in 41 plot pairs on ski runs and adjacent off-slope control plots in three ski resorts in Austria and Germany. A mixed modelling approach was used to assess the impacts of ski run preparation, artificial snow-making and environmental variables such as altitude, cover of dwarf shrubs and the application of fertilizer. Ski run plots showed a significantly lower species richness and number of individuals than control plots. Moreover, artificial snow led to a further decrease in species number. Hierarchical variance partitioning revealed that Orthoptera community composition is best predicted by environmental variables indirectly related to ski run management (fertilization, cover of dwarf shrubs) and to altitude. Only one out of five species significantly decreased in abundance after artificial snow-making. Other species were more sensitive to fertilizing and altitude. Dwarf shrubs were negatively associated with ski run management but positively associated with abundance of three species and species richness. Our data provide evidence for both direct and indirect consequences of ski runs and artificial snow-making on alpine Orthoptera. Overall, Orthoptera communities are suitable indicators for human-induced changes in alpine environments. In particular, a shift towards generalist species such as Chorthippus parallelus along with a decrease in typical alpine species gives cause for concern as this implies a homogenisation of biodiversity owing to ski run management.
Access options
Buy single article
Instant access to the full article PDF.
US$ 39.95
Tax calculation will be finalised during checkout.
Subscribe to journal
Immediate online access to all issues from 2019. Subscription will auto renew annually.
US$ 119
Tax calculation will be finalised during checkout.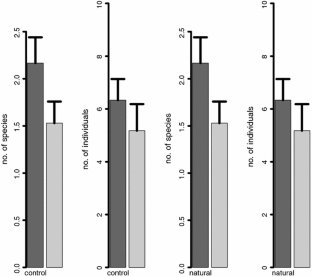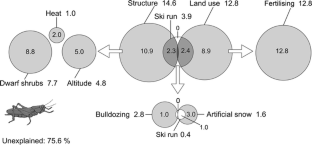 References
Abegg B, König U, Bürki R et al (1997) Climate impact assessment im tourismus. Die Erde 128:105–116

Andersen AN, Ludwig JA, Lowe LM et al (2001) Grasshopper biodiversity and bioindicators in Australian tropical savannas: responses to disturbance in Kakadu National Park. Austral Ecol 26:213–222

Auer I, Heim H, Werner R (2001) Niederschlag und Gewitter. In: Amt der Vorarlberger Landesregierung (ed) Klima von Vorarlberg II. Amt der Vorarlberger Landesregierung, Bregenz

Baldi A, Kisbenedek T (1997) Orthopteran assemblages as indicators of grassland naturalness in Hungary. Agric Ecosyst Environ 66:121–129

Baur B, Baur H, Roesti C et al (2006) Die Heuschrecken der Schweiz. Haupt Verlag, Bern

Bayfield NG (1996) Long-term changes in colonization of bulldozed ski pistes at Cairn Gorm, Scotland. J Appl Ecol 33:1359–1365

Bellmann H (2006) Der Kosmos Heuschreckenführer. Franckh-Kosmos Verlags-GmbH & Co KG, Stuttgart

Blick T (1994) Spinnen (Arachnida: Araneae) als Indikatoren für die Skibelastung von Almflächen. Verhand Ges Ökol 23:251–262

Böhm R, Heim H, Werner R (2001) Lufttemperatur/Bodentemperatur/Wassertemperatur. In: Amt der Vorarlberger Landesregierung (ed) Klima von Vorarlberg I. Amt der Vorarlberger Landesregierung, Bregenz

Borcard D, Legendre P, Drapeau P (1992) Partialling out the spatial component of ecological variation. Ecology 73:1045–1055

Braun-Blanquet J (1964) Pflanzensoziologie: Grundzüge der Vegetationskunde, 2nd edn. Springer, Vienna

Cernusca A, Angerer H, Newesely C et al (1990) Auswirkungen von Kunstschnee: eine Kausalanalyse der Belastungsfaktoren. Verh Ges Ökol 19:746–757

Crawley MJ (2005) Statistics: an introduction using R. John Wiley & Sons Ltd, Chichester

Delgado R, Sánchez-Maranón M, Martín-García JM et al (2007) Impact of ski pistes on soil properties: a case study from a mountainous area in the Mediterranean region. Soil Use Manage 23:269–277

Detzel P (1992) Heuschrecken als Hilfsmittel in der Landschaftsökologie. In: Trautner J (ed) Arten- und Biotopschutz in der Planung: Methodische Standards zur Erfassung von Tierartengruppen. J. Margraf, Weikersheim

Detzel P (1998) Die Heuschrecken Baden-Württembergs. Verlag Eugen Ulmer, Stuttgart

Dray S, Dufour AB (2007) The ade4 package: implementing the duality diagram for ecologists. J Stat Softw 22:1–20

Elsaesser H, Messerli P (2001) The vulnerability of the snow industry in the Swiss Alps. Mountain Res Develop 21:335–339

Fattorini M (2001) Establishment of transplants on machine-graded ski runs above timberline in the Swiss Alps. Restor Ecol 9:119–126

Fischer FP, Schulz U, Schubert H et al (1997) Quantitative assessment of grassland quality: acoustic determination of population sizes of orthopteran indicator species. Ecol Appl 7:909–920

Franzke A, Unsicker SB, Specht J et al (2010) Being a generalist herbivore in a diverse world: how do diets from different grasslands influence food plant selection and fitness of the grasshopper Chorthippus parallelus? Ecol Entom 35:126–138

Geiger R (1966) The climate near the ground. Harvard University Press, Cambridge

Geneletti D (2008) Impact assessment of proposed ski areas: a GIS approach integrating biological, physical and landscape indicators. Environ Impact Assess Rev 28:116–130

Hammelbacher K, Mühlenberg M (1986) Laufkäfer- (Carabidae) und Weberknechtarten (Opiliones) als Bioindikatoren für die Skibelastung auf Almflächen. Natur Landschaft 61:463–466

Harz K (1957) Die Geradflügler Mitteleuropas. VEB Gustav Fischer Verlag, Jena

Haslett J (1988) Qualitätsbeurteilung alpiner Habitate: Schwebfliegen (Diptera: Syrphidae) als Bioindikatoren für Auswirkungen des intensiven Skibetriebes auf alpinen Wiesen in Österreich. Zool Anzeiger 220:179–184

Holaus K, Partl C (1994) Beschneiung von Dauergrünland–Auswirkungen auf Pflanzenbestand, Massenbildung und Bodenstruktur. Verh Ges Ökol 23:269–276

Illich IP, Haslett J (1994) Responses of assemblages of Orthoptera to management and use of ski slopes on upper sub-alpine meadows in the Austrian Alps. Oecologia 97:470–474

Illich IP, Winding N (1989) Aut- und Synökologie der Feldheuschrecken (Acrididae: Orthoptera) einer subalpinen/alpinen Almweide (Gasteinertal, Hohe Tauern, Österreich): Habitat und Nahrung. Zool Jahrb 116:121–131

Ingrisch S, Köhler G (1998) Die Heuschrecken Mitteleuropas. Westarp Wissenschaften, Magdeburg

Jenni-Eiermann S, Arlettaz R (2008) Does ski tourism affect alpine bird fauna? Chimia 62:301

Kammer P (2002) Floristic changes in subalpine grasslands after 22 years of artificial snowing. J Nat Conserv 10:109–123

Kammer P, Hegg O (1990) Auswirkungen von Kunstschnee auf subalpine Rasenvegetation. Verh Ges Ökol 19:758–767

Kangas K, Tolvanen A, Kälkäjä T et al (2009) Ecological impacts of revegetation and management practices of ski slopes in Northern Finland. Environ Manage 44:408–419

Kati V, Devillers P, Dufrêne M et al (2004) Testing the value of six taxonomic groups as biodiversity indicators at a local scale. Conserv Biol 18:667–675

Kruess A, Tscharntke T (2002) Grazing intensity and the diversity of grasshoppers, butterflies, and trap-nesting bees and wasps. Conserv Biol 16:1570–1580

Laiolo P, Rolando A (2005) Forest bird diversity and ski-runs: a case of negative edge effect. Anim Conserv 7:9–16

Lemke P, Ren J, Alley RB et al (2007) Observations: changes in snow, ice and frozen ground. In: Solomon S, Qin D, Manning M et al (eds) Climate change 2007: the physical science basis. Contribution of working group I to the fourth assessment report of the intergovernmental panel on climate change. Cambridge University Press, Cambridge

Leps J, Smilauer P (2003) Multivariate analysis of ecological data using CANOCO. Cambridge University Press, Cambridge

Leyer I, Wesche K (2007) Anwendung multivariater Methoden in der Ökologie. Springer, Berlin

Maas S, Detzel P, Staudt A (2002) Gefährdungsanalyse der Heuschrecken Deutschlands. Landwirtschaftsverlag, Münster-Hiltrup

Nadig A (1990a) Heuschrecken (Orthoptera, Saltatoria). Ber Bot-Zool Ges Liechtenstein-Sargans-Werdenberg 18:257–278

Nadig A (1990b) Die Verbreitung der Heuschrecken (Orthoptera: Saltatoria) auf einem Diagonalprofil durch die Alpen (Inntal-Maloja-Bregaglia-Lago di Como-Furche). Jahresber Naturf Ges Graubünden 106:5–380

Negro M, Isaia M, Palestrini C et al (2010) The impact of high-altitude ski pistes on ground-dwelling arthropods in the Alps. Biodivers Conserv 19:1853–1870

Newesely C, Cernusca A (1999) Auswirkungen der künstlichen Beschneiung von Schipisten auf die Umwelt. Laufener Seminarbeiträge 6:29–38

Økland RH (1999) On the variation explained by ordination and constrained ordination axes. J Veg Sci 10:131–136

Oksanen J, Kindt R, Legendre P, et al. (2009) Vegan: community ecology package. R package version 1.15–4. R Develoment Core Team, Vienna

Patthey P, Wirthner S, Signorell N et al (2008) Impact of outdoor winter sports on the abundance of a key indicator species of alpine ecosystems. J Appl Ecol 45:1704–1711

Peres-Neto PR, Legendre P, Dray S et al (2006) Variation partitioning of species data matrices: estimation and comparison of fractions. Ecol 87:2614–2625

Pickering CM, Buckley RC (2010) Climate response by the ski industry: the shortcomings of snowmaking for Australian resorts. Ambio 39:430–438

Pignatti S (1993) Impact of tourism on the mountain landscape of central Italy. Landscape Urb Plan 24:49–53

Pinheiro J, Bates D (2000) Mixed effects models in S and S-Plus. Springer, New York

Pinheiro J, Bates D, DebRoy S et al (2009) nlme: Linear and nonlinear mixed effects models. R package version 3.1-96. R Development Core Team, Vienna

R Development Core Team (2010) R: a language and environment for statistical computing. R Foundation for Statistical Computing, Vienna

Rixen C, Stoeckli V, Ammann W (2003) Does artificial snow production affect soil and vegetation of ski pistes? A review. Perspect Plant Ecol Evol Syst 5:219–230

Rixen C, Haeberli W, Stoeckli V (2004) Ground temperatures under ski pistes with artificial and natural snow. Arct Antarct Alp Res 36:403–411

Rolando A, Caprio E, Rinaldi E et al (2007) The impact of high-altitude ski-runs on alpine grassland bird communities. J Appl Ecol 44:210–219

Schirmel J, Blindow I, Fartmann T (2010) The importance of habitat mosaics for Orthoptera (Caelifera and Ensifera) in dry heathlands. Eur J Entom 107:129–132

Schlumprecht H, Waeber H (2003) Heuschrecken in Bayern. Verlag Eugen Ulmer, Stuttgart

Strengbom J, Reich PB, Ritchi ME (2008) High plant species diversity indirectly mitigates CO2- and N-induced effects on grasshopper growth. Acta Oecol 34:194–201

Thiel D, Jenni-Eiermann S, Braunisch V et al (2008) Ski tourism affects habitat use and evokes a physiological stress response in capercaillie Tetrao urogallus: a new methodological approach. J Appl Ecol 45:845–853

Töglhofer C, Eigner F, Prettenthaler F (2011) Impacts of snow conditions on tourism demand in Austrian ski areas. Clim Res 46:1–14

Venables WN, Ripley BD (2002) Modern applied statistics with S, 4th edn. Springer, New York

Watson A, Moss R (2004) Impacts of ski-development on ptarmigan (Lagopus mutus) at Cairn Gorm, Scotland. Biol Conserv 116:267–275

West B, Welch KB, Galecki AT (2006) Linear mixed models: a practical guide using statistical software. Chapman & Hall/CRC, London

Wipf S, Rixen C, Freppaz M et al (2002) Ski piste vegetation under artificial and natural snow: patterns in multivariate analysis. In: Bottarin R, Tappeiner U (eds) Interdisciplinary mountain research. Blackwell Science, Berlin

Wipf S, Rixen C, Fischer M et al (2005) Effects of ski piste preparation on alpine vegetation. J Appl Ecol 42:306–316

Zuna-Kratky T, Karner-Ranner E, Lederer E et al (2009) Verbreitungsatlas der Heuschrecken und Fangschrecken Ostösterreichs. Naturhistorisches Museum Wien, Wien

Zuur AF, Ieno EN, Walker NJ et al (2009) Mixed effects models and extensions in ecology with R. Springer, New York
Acknowledgments
We thank K. Keßler, K. Körth and T. Berchtold for field assistance. A. Kröll and L. Schuster from "Das Höchste" provided maps and all information concerning ski slope management. We acknowledge the landowners and tenants of the estates "Lüchle", "Zwerenalpe" and "Bierenwang" for the permission to perform field work and for the information on land management, D. Huber and R. Longhurst gave useful comments on the manuscript. The comments of two reviewers helped to further improve this manuscript. W. Roloff prepared Fig. 2 and K. Vargas kindly checked our English.
About this article
Cite this article
Keßler, T., Cierjacks, A., Ernst, R. et al. Direct and indirect effects of ski run management on alpine Orthoptera. Biodivers Conserv 21, 281–296 (2012). https://doi.org/10.1007/s10531-011-0184-z
Received:

Accepted:

Published:

Issue Date:
Keywords
Allgäu Alps

Artificial snow-making

Bulldozing

Diversity

Dwarf shrubs

Homogenisation

Orthoptera

Ski run

Winter tourism