Abstract
Some species are very difficult to observe in the wild, and some of these present an apparently incongruent distribution, as is the case of the spur-thighed tortoise Testudo graeca in the southern Iberian Peninsula. This species has a discontinuous distribution with two main reproductive areas: one in the contiguous provinces of Almeria and Murcia, and the other in Huelva province. Both populations are thought to maintain reproductive isolation. However, we present new records obtained from two areas (the provinces of Malaga and Cadiz) which are outside their previously known range. Malaga province and Cadiz province are located between the two traditional reproductive areas. The new records were based on 16 interviews with shepherds as well as information provided by three naturalists. The aim of this work was to analyze the spatial distribution of areas favourable to the spur-thighed tortoise in the southern Iberian Peninsula, using different models with the same group of variables but with a different number of records: known records, new records and a combination of them. We obtained a distribution model for the species in Andalusia consistent with all observations, which was related to climatic stability, climatic disturbances, and spatial situation. This model presented three main favourable areas: two are coincident with the two known nuclei, and the other is situated in the southern part of the region, in the contiguous provinces of Cadiz and Malaga. We conclude that it is important to consider all the observations in the distribution models because records outside the traditional reproductive areas can include other environmental characteristics appropriate for the species.
This is a preview of subscription content, log in to check access.
Access options
Buy single article
Instant access to the full article PDF.
US$ 39.95
Price includes VAT for USA
Subscribe to journal
Immediate online access to all issues from 2019. Subscription will auto renew annually.
US$ 199
This is the net price. Taxes to be calculated in checkout.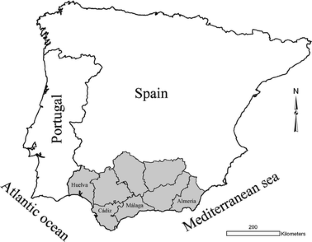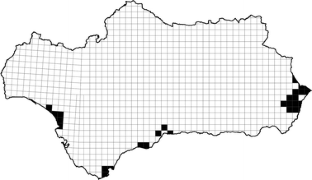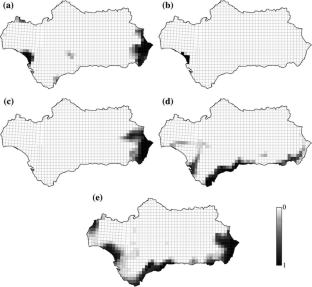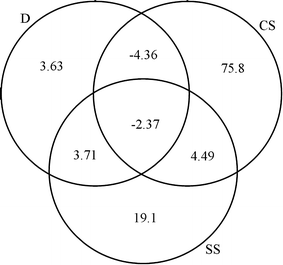 Abbreviations
AUC:

Area under the curve

CCR:

Correct classification rate

F:

Favourability function

FDR:

False discovery rate

LEK:

Local ecological knowledge

LR:

Logistic regression

OGU:

Operational geographical unit

P :

Probability of occurrence

SDM:

Species distribution modelling
References
Álvarez Y, Mateo JA, Andreu AC et al (2000) Mitochondrial DNA haplotyping of Testudo graeca on both continental sides of the Straits of Gibraltar. J Hered 91:39–41

Anadón JD, Giménez A, Martínez M et al (2006) Factors determining the distribution of the spur-thighed tortoise in south-east Spain: a hierarchical approach. Ecography 29:339–346

Anadón JD, Giménez A, Ballestar R et al (2009) Evaluation of local ecological knowledge as a method for collecting extensive animal abundance data. Conserv Biol 23:617–625

Anadón JD, Giménez A, Ballestar R (2010) Linking local ecological knowledge and habitat modelling to predict absolute species abundance on large scales. Biodivers Conserv 19:1443–1454

Andreu AC (2004) Testudo graeca Linnaeus, 1758. Tortuga mora. In: Pleguezuelos JM, Márquez R, Lizana M (eds) Atlas y libro rojo de los anfibios y reptiles de España. Dirección General de Conservación de la Naturaleza-Asociación Herpetológica Española, Madrid

Andreu AC, Díaz-Paniagua C, Keller C (2000) La tortuga mora (Testudo graeca L.) en Doñana. Monografías de Herpetología, Vol 5. Asociación Herpetológica Española, Barcelona

Báez JC, Torreblanca D (2007) Nuevos datos de la tortuga mora en Andalucía. Quercus 262:32–35

Báez JC, Torreblanca D (2008) Confirmada la presencia de tortuga mora en Málaga. Quercus 269:43–44

Báez JC, Báez M, Torreblanca D (2007) Presencia de la tortuga mora en la provincia de Málaga. Boletín de la Asoción Herpetológica Española 18:65

Bailón S (2001) Revisión de la asignación a Testudo cf. graeca del yacimiento del Pleistoceno superior de Cueva Horá (Darro, España). Revista Española de Herpetología 15:61–65

Benjamini Y, Hochberg Y (1995) Controlling the false discovery rate: a practical and powerful approach to multiple testing. J R Stat Soc B 57:289–300

Borcard D, Legendre P, Drapeau P (1992) Partialling out the spatial component of ecological variation. Ecology 73:1045–1055

Bustamante J (1997) Predictive models for lesser kestrel Falco naumanni distribution, abundance and extinction in southern Spain. Biol Conserv 80:153–160

Díaz-Paniagua C, Andreu AC (2009) Tortuga mora –Testudo graeca. In: Carrascal LM, Salvador A (eds) Enciclopedia Virtual de los Vertebrados Españoles. Museo Nacional de Ciencias Naturales, Madrid. Available from website: http://www.vertebradosibericos.org/searched on 20 May 2010

Estrada A, Real R, Vargas JM (2008) Using crisp and fuzzy modelling to identify favourability hotspots useful to perform gap analysis. Biodivers Conserv 17:857–871

Estrada A, Arroyo B, Márquez AL (2010) Possible changes in favourability areas for Montagu's and hen harriers in Spain according to climate change scenarios. Ardeola 57:123–128

Estrada A, Real R, Vargas JM (2011) Assessing coincidence between priority conservation areas for vertebrate groups in a Mediterranean hotspot. Biol Conserv 144:1120–1129

Font I (2000) Climatología de España y Portugal. Ediciones Universidad de Salamanca, Salamanca

Fritz U, Hundsdörfer AK, Široký P et al (2007) Phenotypic plasticity leads to incongruence between morphology-based taxonomy and genetic differentiation in western Palaearctic tortoises (Testudo graeca complex; Testudines, Testudinidae). Amphibia-Reptilia 28:97–121

Fritz U, Harris DJ, Soumia F et al (2009) Mitochondrial phylogeography of Testudo graeca in the Western Mediterranean: old complex divergence in North Africa and recent arrival in Europe. Amphibia-Reptilia 30:63–80

García LV (2003) Controlling the false discovery rate in ecological studies. Trends Ecol Evol 18:553–554

Giménez-Casalduero A, Esteve MA, Pérez-Ibarra I et al (2004) La tortuga mora en la región de Murcia. Conservación de una especie amenazada, Murcia

Hosmer DW, Lemeshow S (2000) Applied logistic regression, 2th edn. John Wiley and Sons Inc, New York

IGME (1979) Mapa hidrogeológico nacional. Explicación de los mapas de lluvia útil, de reconocimiento hidrogeológico y de síntesis de los sistemas acuíferos. Vol. 81, 2th edn. Instituto Geológico y Minero de España, Ministerio de Industria y Energía, Madrid

IGN (1999) Mapa de carreteras. Península Ibérica. Baleares y Canarias. Instituto Geográfico Nacional Ministerio de Fomento, Madrid

Legendre P (1993) Spatial autocorrelation: trouble or new paradigm? Ecology 74:1659–1673

Legendre P, Legendre L (1998) Numerical ecology, 2nd edn. Elsevier Science, Amsterdam

Loveridge A, Williams EE (1957) Revision of the African tortoises and turtles of the suborder cryptodira. Bull Mus Comp Zool 115:163–557

Lozier JD, Aniello P, Hickerson MJ (2009) Predicting the distribution of Sasquatch in western North America: anything goes with ecological niche modelling. J Biogeogr 36(9):1623–1627

Márquez AL, Real R, Olivero J et al. (2011) Combining climate with other influential factors for modelling the impact of climate change on species distribution. Climatic Change. doi:10.1007/s10584-010-0010-8 (in press)

Mayol J (1985) Réptils i amfibis de les Balears. Moll, Palma de Mallorca

Morales-Pérez JV, Sanchis-Serra A (2009) The quaternary fossil record of the genus Testudo in the Iberian Peninsula. Archaeological implications and diachronic distribution in the Western Mediterranean. J Archaeol Sci 36:1152–1162

Muñoz AR, Real R (2006) Assessing the potential range expansion of the exotic monk parakeet in Spain. Divers Distrib 12:656–665

Myers N, Mittermeier RA, Mittermeier CG et al (2000) Biodiversity hotspots for conservation priorities. Nature 403:853–858

Nespoulet R, El Hajraoui MA, Amani F et al (2008) Palaeolithic and neolithic occupations in the témara region (rabat, morocco): recent data on hominin contexts and behaviour. Afr Archaeol Rev 25:21–39

Perez-Ibarra I (2008) Aspectos sociales y culturales de la conservación de especies: el caso de la tortuga mora en el Sureste Ibérico. Ecosistemas 17:160–165

Pleguezuelos JM, Márquez R, Lizana M (eds) (2004) Atlas y Libro Rojo de los anfibios y reptiles de España. Dirección General de Conservación de la Naturaleza-Asociación Herpetológica Española, Madrid

Real R, Pleguezuelos JM, Fahd S (1997) Distribution patterns of reptiles in the Riff region, Northern Morocco. Afr J Ecol 35:312–325

Real R, Barbosa AM, Vargas JM (2006) Obtaining environmental favourability functions from logistic regression. Environ Ecol Stat 13:237–245

Real R, Márquez AL, Estrada A et al (2008) Modelling chorotypes of invasive vertebrates in mainland Spain. Divers Distrib 14:364–373

Real R, Barbosa AM, Rodríguez A et al (2009) Conservation biogeography of ecologically interacting species: the case of the Iberian lynx and the European rabbit. Divers Distrib 15:390–400

Real R, Márquez AL, Olivero J et al (2010) Species distribution models in climate change scenarios are still not useful for informing policy planning: an uncertainty assessment using fuzzy logic. Ecography 33:304–314

Schumacher J (2006) Selected infectious diseases of wild reptiles and amphibians. J Exot Pet Med 15:18–24

US Geological Survey (1996) GTOPO30 Land processes distributed active archive center. (http://edcdaac.usgs.gov/gtopo30/gtopo30.asp)

Whittaker J (1984) Model interpretation from the additive elements of the likelihood function. Appl Stat 33:52–64
Acknowledgments
We would like to thank the following individuals for their assistance in the field: Antonio R. Martínez García, Francisco Jiménez Casares and Vicente Zumel García. We would also like to thank the interviewees for their support. This study was supported by the project CGL2009-11316 (Ministerio de Ciencia e Innovación, Spain, and FEDER). A. Estrada has a postdoctoral contract jointly financed by the European Social Fund and by the Junta de Comunidades de Castilla-La Mancha (Spain), in the framework of the Operational Programme FSE 2007–2013.
About this article
Cite this article
Báez, J.C., Estrada, A., Torreblanca, D. et al. Predicting the distribution of cryptic species: the case of the spur-thighed tortoise in Andalusia (southern Iberian Peninsula). Biodivers Conserv 21, 65–78 (2012). https://doi.org/10.1007/s10531-011-0164-3
Received:

Accepted:

Published:

Issue Date:
Keywords
Biogeography

Conservation biology

Favourability

Spatial modelling