Abstract
Although molluscs feature prominently in the semi-popular and academic literature on marine biodiversity, field surveys largely ignore the small and rare species that form the majority of marine molluscan diversity. As a result of a massive effort to sample the benthic molluscs of a complex tropical coastal environment, 23,238 gastropod specimens representing 259 species of Triphoridae—a family with most adult species ranging from 2 to 10 mm—were obtained from a 45,000 hectares study area off the island of Espiritu Santo, Vanuatu. Most species are represented by fewer than 20 specimens and, despite the intensity of the sampling effort, 13% of the species are unique singletons. Spatial heterogeneity was high: out of 416 sampling events, 187 contained triphorids, and 42% of the species occurred at fewer than 5 stations. Most species were small (68% below 5 mm) or very small (22% below 3 mm). A faunal turnover was documented at around 10 m, and another at around 60 m, at the onset of the "twilight zone" that is particularly difficult to sample. On the order of 70% of the species are probably new to science. When dealing with taxonomically difficult groups a morphospecies segregation approach is operationally appropriate to detect patterns of richness, rarity and spatial turn-over. Very few, if any, conservation surveys have the human and funding resources to carry out baseline surveys of the intensity that generated the results presented here. However, as species numbers are often used to promote the conservation interest of a reef, a bay or a stretch of coast, it is essential to know how the numbers were generated: absolute numbers of species are meaningless unless sampling effort and techniques, area surveyed, and size classes targeted are described. This is very rarely the case, even in the academic literature.
Access options
Buy single article
Instant access to the full article PDF.
USD 39.95
Price excludes VAT (USA)
Tax calculation will be finalised during checkout.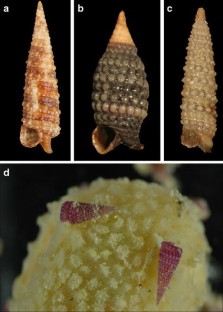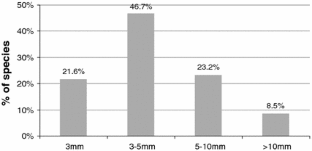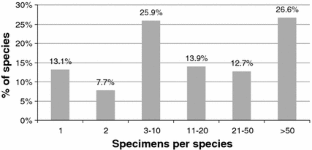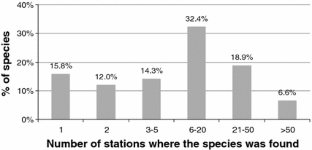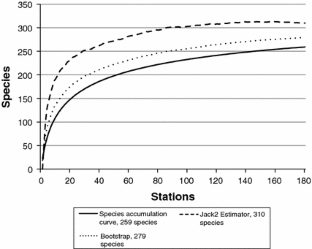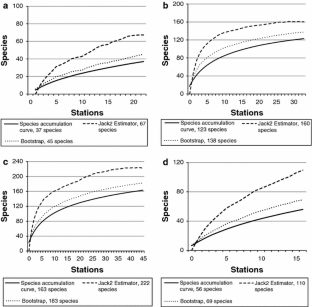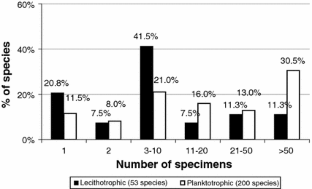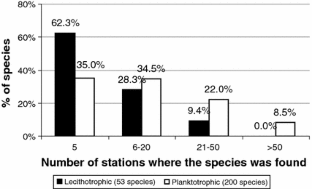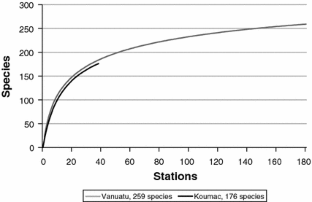 References
Barnes DKA, Barnes RSK, Smith DJ, Rothery P (2009) Littoral biodiversity across scales in the Seychelles, Indian Ocean. Mar Biodivers 39:109–119

Bouchet P (1985) Les Triphoridae de Méditerranée et du proche Atlantique (Mollusca, Gastropoda). Lavori della Società Italiana di Malacologia 21:5–58

Bouchet P (2009) From specimens to data, and from seashells to molluscs: the Panglao Marine Biodiversity Project. Vita Malacol 8:1–8

Bouchet P, Strong EE (2010) Historical name-bearing types in marine molluscs: An impediment to biodiversity studies? In: Polaszek A (ed) Systema naturae 250. CRC Press, London, pp 63–74

Bouchet P, Lozouet P, Maestrati P, Héros V (2002) Assessing the magnitude of species richness in tropical marine environments: exceptionally high numbers of molluscs at a New Caledonia site. Biol J Linn Soc 75:421–436

Bouchet P, Le Guyader H, Pascal O (2011a) The "making of" Santo 2006. In: Bouchet P, Le Guyader H, Pascal O (eds) The natural history of Santo. Patrimoines Naturels, vol 70. Muséum national d'Histoire naturelle, Paris; IRD, Marseille; Pro-Natura International, Paris, pp 529–548

Bouchet P, Héros V, Lozouet P, Maestrati P, von Cosel R (2011b) The marine molluscs of Santo. In: Bouchet P, Le Guyader H, Pascal O (eds) The natural history of Santo. Patrimoines Naturels, vol 70. Muséum national d'Histoire naturelle, Paris; IRD, Marseille; Pro-Natura International, Paris, pp 421–431

Brokovich E, Einbinder S, Shashar N, Kiflawi M, Kark N (2008) Descending to the twilight-zone: changes in coral reef fish assemblages along a depth gradient down to 65 m. Mar Ecol Prog Ser 371:253–262

Burnham KP, Overton WS (1979) Robust estimation of population size when capture probabilities vary among animals. Ecology 60:927–936

Cameron RAD, Pokryszko BM (2005) Estimating the species richness and composition of land mollusc communities: problems, consequences and practical advice. J Conchol 38:529–548

Chardy P, Chevillon C, Clavier J (1988) Major benthic communities of the south-west lagoon of New Caledonia. Coral Reefs 7:69–75

Clarke KR, Green RH (1988) Statistical design and analysis for a 'biological effects' study. Mar Ecol Prog Ser 46:213–226

CLEMAM (2011) Checklist of European marine mollusca. http://www.somali.asso.fr/clemam/biotaxis.php. Accessed 15 May 2011

Colwell RK (2006) EstimateS: statistical estimation of species richness and shared species from samples. Version 8. http://purl.oclc.org/estimates

Dekker H, Orlin Z (2000) Check-list of Red Sea mollusca. Spirula 47(suppl):2–46

Erwin TL (1982) Tropical forests: their richness in Coleoptera and other arthropod species. Coleopt Bull 36:74–82

Gage JD, Hughes DJ, Gonzalez Vecino JL (2002) Sieve size influence in estimating biomass, abundance and diversity in samples of deep-sea macrobenthos. Mar Ecol Prog Ser 225:97–107

Gladstone W (2002) The potential value of indicator groups in the selection of marine reserves. Biol Conserv 104:211–220

Grassle JJ, Maciolek NJ (1992) Deep-sea species richness: regional and local diversity estimates from quantitative bottom samples. Am Nat 139:313–341

Héros V, Lozouet P, Maestrati P, von Cosel R, Brabant D, Bouchet P (2007) Mollusca of New Caledonia. In: Payri CE, Richer de Forges B (eds) Compendium of marine species of New Caledonia. Documents Scientifiques et Techniques II7, 2nd edn. IRD, Nouméa, pp 199–254

Higo S, Callomon P, Goto Y (1999) Catalogue and bibliography of the marine shell-bearing Mollusca of Japan. Elle Scientific Publications, Osaka

Knowlton N (2001) Coral reef biodiversity—habitat size matters. Science 292:1493–1495

Knowlton N, Brainard RE, Fisher R, Moews R, Plaisance L, Caley MJ (2010) Coral reef biodiversity. In: McIntyre AD (ed) Life in the world's oceans: diversity abundance and distribution. Wiley-Blackwell, Oxford, pp 45–78

Lebour MV (1937) The eggs and larvae of the British prosobranchs with special reference to those living in the plankton. J Mar Biol Assoc UK 22:105–166

Liew T-S, Clements R, Schilthuizen M (2008) Sampling micromolluscs in tropical forests: one size does not fit all. Zoosymposia 1:271–280

Marshall BA (1983) A revision of the recent Triphoridae of Southern Australia. Rec Aust Mus (suppl 2):1–119

Marshall BA (1994) Results of the Rumphius Biohistorical Expedition to Ambon (1990). Part 2. An unusual triphorid (Mollusca: Gastropoda) from the Moluccas, Indonesia. Zool Meded 68:39–43

Mikkelsen PM, Cracraft J (2001) Marine biodiversity and the need for systematic inventories. Bull Mar Sci 69:525–534

Novotny V, Basset Y (2000) Rare species in communities of tropical insect herbivores: pondering the mystery of singletons. Oikos 89:564–572

Ødegaard F (2000) How many species of arthropods? Erwin's estimate revised. Biol J Linn Soc 71:583–597

Poore G, Wilson G (1993) Marine species richness. Nature 361:597–598

Poppe GT (ed) (2009) Philippine marine mollusks, vol 1. Conchbooks, Hackenheim

Pyle RL (2001) Assessing undiscovered fish biodiversity on deep coral reefs using advanced self-contained diving technology. Mar Technol Soc J 34:82–91

Roberts CM, McClean CJ, Veron JEN, Hawkins JP, Allen GR, McAllister DE, Mittermeier CG, Schueler FW, Spalding M, Wells F, Vynne C, Werner TB (2002) Marine biodiversity hotspots and conservation priorities for tropical reefs. Science 295:1280–1284

Rolan E, Fernández-Garcés R (2008) New data on the Caribbean Triphoridae (Caenogastropoda, Triphoroidea) with the description of 26 new species. Iberus 26:81–170

Rosenberg G (2009) Malacolog 4.1.1: a database of Western Atlantic marine mollusca. http://www.malacolog.org/. Cited 4 Nov 2010

Schlacher TA, Newell P, Clavier J, Schlacher-Hoenlinger MA, Chevillon C, Britton J (1998) Soft-sediment benthic community structure in a coral reef lagoon—the prominence of spatial heterogeneity and 'spot endemism'. Mar Ecol Prog Ser 174:159–174

Smith B (2003) Prosobranch gastropods of Guam. Micronesica 35–36:244–270

Smith SDA (2005) Rapid assessment of invertebrate biodiversity on rocky shores: where there's a whelk there's way. Biodivers Conserv 14:3565–3576

Smith EP, van Belle G (1984) Nonparametric estimation of species richness. Biometrics 40:119–129

Spencer HG, Willan RC, Marshall B, Murray TJ (2009) Checklist of the Recent Mollusca recorded from the New Zealand Exclusive Economic Zone. http://www.molluscs.otago.ac.nz/index.html. Cited 4 Nov 2010

Tan SK, Woo HPM (2010) A preliminary checklist of the molluscs of Singapore. Raffles Museum of Biodiversity Research, Singapore, p 82

Tattersfield P, Seddon MB, Lange CN (2001) Land-snail faunas in indigenous rainforest and commercial forestry plantations in Kakamega Forest, western Kenya. Biodivers Conserv 10:1809–1829

Terryn Y, Holford M (2008) The Terebridae of Vanuatu with a revision of the genus Granuliterebra, Oyama 1961. Visaya Suppl 3:1–96

Tröndlé J, Boutet M (2009) Inventory of marine molluscs of French Polynesia. Atoll Res Bull 570:1–87

Vellend M, Lilley PL, Starzomski BM (2008) Using subsets of species in biodiversity surveys. J Appl Ecol 45:161–169

Wells FE (1998) Marine molluscs of Milne Bay Province, Papua New Guinea. In: Werner TB, Allen GR (eds) A rapid biodiversity assessment of the coral reefs of Milne Bay Province, Papua New Guinea. RAP Working Papers 11. Conservation International, Washington, DC, USA, pp 35–38

Wells FE (2011) A rapid assessment of the marine molluscs of southeastern Santo. In: Bouchet P, Le Guyader H, Pascal O (eds) The natural history of Santo. Patrimoines Naturels, vol 70. Muséum national d'Histoire naturelle, Paris; IRD, Marseille; Pro-Natura International, Paris, pp 431–437
Acknowledgments
The core team that processed much of the samples in the field included Patrice Petit de Voize, Laurent Albenga, Marco Oliverio, Stefano Schiaparelli (brushing and suction sampling), Philippe Maestrati, Virginie Héros (sorting) and Ellen Strong (molecular sampling). Sofie Vanmaele performed the molecular analysis under the supervision of Nicolas Puillandre.
About this article
Cite this article
Albano, P.G., Sabelli, B. & Bouchet, P. The challenge of small and rare species in marine biodiversity surveys: microgastropod diversity in a complex tropical coastal environment. Biodivers Conserv 20, 3223–3237 (2011). https://doi.org/10.1007/s10531-011-0117-x
Received:

Accepted:

Published:

Issue Date:

DOI: https://doi.org/10.1007/s10531-011-0117-x
Keywords
Faunal surveys

Small body size

Rarity

Spatial heterogeneity

Depth zonation

Sampling strategy

Collecting devices