Abstract
Grazing is one of the prevalent human activities that even today are taking place inside protected areas with direct or indirect effects on ecosystems. In this study we analyzed the effects of grazing on plant species diversity, plant functional group (PFG) diversity and community composition of shrublands. We analyzed plant diversity data from 582 sampling plots located in 66 protected areas of the Greek Natura 2000 network, containing in total 1102 plant species and subspecies. We also classified a priori all plant species in seven PFGs: annual forbs, annual grasses/sedges, legumes, perennial forbs, perennial grasses/sedges, small shrubs and tall shrubs. For each site, grazing intensity was estimated in four classes (no grazing, low, medium and high grazing intensity). We found that, at the spatial and temporal scale of this study, as grazing intensity increased, so did total species richness. However, each PFG displayed a different response to grazing. Short-lived species (annual grasses or forbs and legumes) benefited from grazing and their species richness and proportion in the community increased with grazing. Perennial grasses and forbs species richness increased with grazing intensity, but their dominance decreased, since their proportion in the community declined. Short shrub species richness remained unaffected by grazing, while tall shrub diversity decreased. Finally, in sites without grazing the spatial pattern of species richness of the different PFGs was not congruent with each other, while in grazed sites they were significantly positively correlated (with the exception of tall shrubs). This finding may imply that grazing is a selective pressure organizing the community structure, and imposing a certain contribution of each PFG. So, in Mediterranean shrublands in protected areas with a long historical record of grazing, it seems that grazing promotes species diversity and its continuation on a portion of the landscape may be a necessary part of an effective management plan.
Access options
Buy single article
Instant access to the full article PDF.
US$ 39.95
Tax calculation will be finalised during checkout.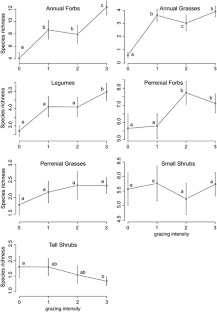 References
Aboling S, Sternberg M, Perevolotsky A et al (2008) Effects of cattle grazing timing and intensity on soil seed banks and regeneration strategies in a Mediterranean grassland. Commun Ecol 9:97–106

Agra H, Ne'eman G (2009) Woody species as landscape modulators: their effect on the herbaceous plants in a Mediterranean maquis. Plant Ecol 205:165–177

Alados CL, ElAich A, Papanastasis VP et al (2004) Change in plant spatial patterns and diversity along the successional gradient of Mediterranean grazing ecosystems. Ecol Modell 180:523–535

Bakker JP (1989) Nature management by grazing and cutting. Kluwer, Dordrecht

Bakker JP (1998) The impact of grazing to plant communities. In: Wallis De Vries MF, Bakker JP, Van Wieren SE (eds) Grazing and conservation management. Kluwer, Dordrecht, pp 137–184

Bergmeier E, Dimopoulos P (2003) The vegetation of islets in the Aegean and the relation between the occurrence of islet specialists, island size, and grazing. Phytocoenologia 33:447–474

Bergmeier E, Dimopoulos P (2004) Wood pasture in an ancient submediterranean oak forest. Ecol Medit 30:5–14

Chaideftou E, Thanos CA, Bergmeier E et al (2009) Seed bank composition and above-ground vegetation in response to grazing in sub-Mediterranean oak forests (NW Greece). Plant Ecol 201:255–265

Chaideftou E, Thanos CA, Bergmeier E et al (2011) The herb layer restoration potential of the soil seed bank in an overgrazed oak forest. J Biol Res 15:47–57

Cingolani AM, Posse G, Collantes MB (2005) Plant functional traits, herbivore selectivity and response to sheep grazing in Patagonian steppe grasslands. J Appl Ecol 42:50–59

Connell JH (1978) Diversity in tropical rainforests and coral reefs. Science 199:1302–1310

De Bello F, Leps J, Sebastia MT (2005) Predictive value of plant traits to grazing along a climatic gradient in the Mediterranean. J Appl Ecol 42:824–833

Di Castri F (1981) Mediterranean-type shrublands of the world. In: Di Castri F, Goodall DW, Specht RL (eds) Mediterranean-type shrublands. Elsevier, Amsterdam, pp 1–52

Diaz S, Noy-Meir I, Cabido M (2001) Can grazing response of herbaceous plants be predicted from simple vegetative traits? J Appl Ecol 38:497–508

Diaz S, Lavorel S, McIntyre S et al (2007) Plant trait responses to grazing—a global synthesis. Glob Change Biol 13:313–341

Dimitrakopoulos PG, Memtsas D, Troumbis AY (2004) Questioning the effectiveness of the Natura 2000 Special Areas of Conservation strategy: the case of Crete. Glob Ecol Biogeogr 13:199–207

Dimitrakopoulos PG, Galanidis A, Siamantziouras ASD et al (2005) Short-term invasibility patterns in burnt and unburnt experimental Mediterranean grassland communities of varying diversities. Oecologia 143:428–437

EU (2007) Interpretation Manual of European Union Habitats, EUR27. European Commision, DG Environment, Brussels, pp 144

Facelli JM, Springbett H (2009) Why do some species in arid lands increase under grazing? Mechanisms that favour increased abundance of Maireana pyramidata in overgrazed chenopod shrublands of South Australia. Austral Ecol 34:588–597

Grime JP (1973) Competitive exclusion in herbaceous vegetation. Nature 242:344–347

Hadar L, Noy-Meir I, Perevolotsky A (1999) The effect of shrub clearing and grazing on the composition of a Mediterranean plant community: functional groups versus species. J Veg Sci 10:673–682

Hay M, Kicklighter C (2001) Grazing, effects of encyclopedia of biodiversity. vol 3. Academic Press, San Diego, pp 265–276

Hijmans RJ, Cameron SE, Parra JL et al (2005) Very high resolution interpolated climate surfaces for global land areas. Int J Climatol 25:1965–1978

Hooper DU, Vitousek PM (1997) The effects of plant composition and diversity on ecosystem processes. Science 277:1302–1305

Huston M (1979) General hypothesis of species-diversity. Am Nat 113:81–101

Joshi J, Schmid B, Caldeira MC et al (2001) Local adaptation enhances performance of common plant species. Ecol Let 4:536–544

Kallimanis AS, Mazaris AD, Tzanopoulos J et al (2008) How does habitat diversity affect the species–area relationship? Glob Ecol Biogeogr 17:532–538

Landsberg J, Lavorel S, Stol J (1999) Grazing response groups among understorey plants in arid rangelands. J Veg Sci 10:683–696

Lavorel S, McIntyre S, Landsberg J et al (1997) Plant functional classifications: from general groups to specific groups based on response to disturbance. Trends Ecol Evol 12:474–478

Lavorel S, Rochette C, Lebreton JD (1999) Functional groups for response to disturbance in Mediterranean old fields. Oikos 84:480–498

McIntyre S, Lavorel S (1994) Predicting richness of native, rare, and exotic plants in response to habitat and disturbance variables across a variegated landscape. Conserv Biol 8:521–531

McIntyre S, Lavorel S, Tremont RM (1995) Plant life-history attributes—their relationship to disturbance responses in herbaceous vegetation. J Ecol 83:31–44

McIntyre S, Lavorel S, Landsberg J et al (1999) Disturbance response in vegetation towards a global perspective on functional traits. J Veg Sci 10:621–630

Milchunas DG, Lauenroth WK (1993) Quantitative effects of grazing on vegetation and soils over a global range of environments. Ecol Monogr 63:327–366

Milchunas DG, Sala OE, Lauenroth WK (1988) A generalized-model of the effects of grazing by large herbivores on grassland community structure. Am Nat 132:87–106

Montalvo J, Casado MA, Levassor C et al (1993) Species-diversity patterns in mediterranean grasslands. J Veg Sci 4:213–222

Mwendera EJ, Saleem MAM, Woldu Z (1997) Vegetation response to cattle grazing in the Ethiopian Highlands. Agric Ecosyst Environ 64:43–51

Naveh Z (1990) Ancient mans impact on the Mediterranean landscape in Israel—ecological and evolutionary perspectives. In: Bottema S, Entjes-Nieborg G, Van Zeist W (eds) Man's role in the shaping of the East Mediterranean Landscape. AA Balkema, Rotterdam, pp 43–50

Noy-Meir I (1995) Interactive effects of fire and grazing on structure and diversity of mediterranean grasslands. J Veg Sci 6:701–710

Noy-Meir I, Briske DD (2002) Response of wild wheat populations to grazing in Mediterranean grasslands: the relative influence of defoliation, competition, mulch and genotype. J Appl Ecol 39:259–278

Noy-Meir I, Oron T (2001) Effects of grazing on geophytes in Mediterranean vegetation. J Veg Sci 12:749–760

Noy-Meir I, Gutman M, Kaplan Y (1989) Responses of mediterranean grassland plants to grazing and protection. J Ecol 77:290–310

Olff H, Ritchie ME (1998) Effects of herbivores on grassland plant diversity. Trends Ecol Evol 13:261–265

Osem Y, Perevolotsky A, Kigel J (2007) Grazing effect on diversity of annual plant communities in a semi-arid rangeland: interactions with small scale spatial and temporal variation in primary productivity. J Ecol 90:936–946

Pakeman RJ (2004) Consistency of plant species and trait responses to grazing along a productivity gradient: a multi-site analysis. J Ecol 92:893–905

Petchey OL, Gaston KJ (2006) Functional diversity: back to basics and looking forward. Ecol Lett 9:741–758

Petraitis PS, Latham RE, Niesenbaum RA (1989) The maintenance of species-diversity by disturbance. Quart Rev Biol 64:393–418

Proulx M, Mazumder A (1998) Reversal of grazing impact on plant species richness in nutrient-poor vs. nutrient-rich ecosystems. Ecology 79:2581–2592

Shea K, Roxburgh SH, Rauschert ESJ (2004) Moving from pattern to process: coexistence mechanisms under intermediate disturbance regimes. Ecol Lett 7:491–508

Siegel S, Castellan JWJ (1988) Nonparametric statistics for the behavioural sciences. McGraw-Hill Book Company, New York

Sousa WP (1984) The role of disturbance in natural communities. Ann Rev Ecol Syst 15:353–391

Spehn EM, Hector A, Joshi J et al (2005) Ecosystem effects of biodiversity manipulations in European grasslands. Ecol Monogr 75:37–63

Sternberg M, Gutman M, Perevolotsky A et al (2000) Vegetation response to grazing management in a Mediterranean herbaceous community: a functional group approach. J Appl Ecol 37:224–237

Todd SW, Hoffman MT (2009) A fence line in time demonstrates grazing-induced vegetation shifts and dynamics in the semiarid Succulent Karoo. Ecol Appl 19:1897–1908

Troumbis AY, Dimitrakopoulos PG, Siamantziouras ASD et al (2000) Hidden diversity and productivity patterns in mixed Mediterranean grasslands. Oikos 90:549–559

Verdu JR, Moreno CE, Sanchez-Rojas G et al (2007) Grazing promotes dung beetle diversity in the xeric landscape of a Mexican Biosphere Reserve. Biol Conserv 140:308–317

Vesk PA, Leishman MR, Westoby M (2004) Simple traits do not predict grazing response in Australian dry shrublands and woodlands. J Appl Ecol 41:22–31
Acknowledgments
The work of ADM, ASK and JDP was partially supported by the EU FP7 SCALES project ('Securing the Conservation of biodiversity across Administrative Levels and spatial, temporal and Ecological Scales'; project #226852).
About this article
Cite this article
Papanikolaou, A.D., Fyllas, N.M., Mazaris, A.D. et al. Grazing effects on plant functional group diversity in Mediterranean shrublands. Biodivers Conserv 20, 2831 (2011). https://doi.org/10.1007/s10531-011-0112-2
Received:

Accepted:

Published:
Keywords
Mediterranean ecosystems

Grazing

Plant functional groups

Species richness

Community composition