Abstract
Livestock grazing is an important management tool of agri-environment schemes initiated within the European Union to maintain and restore biodiversity of grassland birds. However, grazing can affect bird populations negatively by depressing reproduction through nest trampling and increasing nest predation. These effects are, however, considered low when using recommended stocking rates. By simulating wader nests, we experimentally quantify and examine the causes of variation in trampling rates on managed Baltic coastal meadows. Secondly, we examine whether livestock presence increases nest predation of one management target, the critically endangered southern dunlin (Calidris alpina schinzii). Trampling rates of experimental nests were high. Only 21% of nests would have survived a three week incubating period early in the grazing season. Trampling rates were most severe at the onset of grazing and decreased with time. Thus, timing of grazing plays a crucial role in determining breeding success on managed meadows. Predation rates of dunlin nests were moderate and did not depend on livestock presence suggesting that incubating dunlin are not disturbed by cattle. While grazing is vital in habitat restoration and in conserving grassland biodiversity, our results suggest that grazing may also threaten the viability of populations if negative effects are underestimated. Therefore, management plans, especially for endangered species, should not only rely on general recommendations on stocking rates but instead planners need to evaluate the significance of negative effects in terms of local conditions (timing of breeding and grazing, space use of cattle and birds, measured trampling rates) and adjust grazing practises accordingly.
Access options
Buy single article
Instant access to the full article PDF.
USD 39.95
Price excludes VAT (USA)
Tax calculation will be finalised during checkout.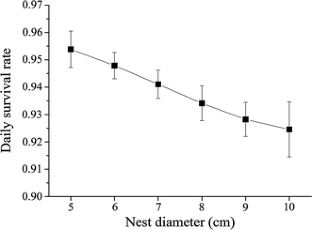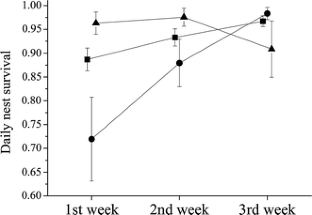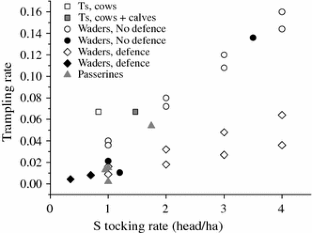 Notes
A standard measurement unit that allows the aggregation of the various categories of livestock in order to enable them to be compared. Livestock units are defined on the basis of the feed requirements. They are not related to the number of feet, i.e. one dairy cow with a calf constitutes one unit of LSU.
Abbreviations
LSU:

Livestock unit

GPS:

Global positioning system
References
Ausden M (2007) Habitat management for conservation: a handbook of techniques. Oxford University Press, Oxford

Baines D (1990) The roles of predation, food and agricultural practice in determining the breeding success of the lapwing Vanellus vanellus on upland grasslands. J Anim Ecol 59:915–929

Battin J (2004) When good animals love bad habitats: ecological traps and the conservation of animal populations. Conserv Biol 18:1482–1491

Beintema AJ, Müskens GJDM (1987) Nesting success of birds breeding in Dutch agricultural grasslands. J Appl Ecol 24:743–758

Burnham KP, Anderson DR (2002) Model selection and multimodel inference: a practical information-theoretic approach. Springer, New York

Dinsmore SJ, White GC, Knopf FL (2002) Advanced techniques for modeling avian nest survival. Ecology 83:3476–3488

Donald PF, Green RE, Heath MF (2001) Agricultural intensification and the collapse of Europe's farmland bird populations. Proc R Soc B 268:25–29

Durant D, Tichit M, Kerneis E, Fritz H (2008) Management of agricultural wet grasslands for breeding waders: integrating ecological and livestock system perspectives—a review. Biodivers Conserv 17:2275–2295

Evans KL (2004) The potential for interactions between predation and habitat change to cause population declines of farmland birds. Ibis 146:1–13

Evans DM, Redpath SM, Evans SA, Elston DA, Dennis P (2005) Livestock grazing affects the egg size of an insectivorous passerine. Biol Lett 1:322–325

Faaborg J (2004) Truly artificial nest studies. Conserv Biol 18:369–370

Fondell TF, Ball IJ (2004) Density and success of bird nests relative to grazing on western Montana grasslands. Biol Conserv 117:203–213

Green RE (1988) Effects of environmental factors on the timing and success of breeding of common snipe Gallinago gallinago (Aves: Scolopacidae). J Appl Ecol 25:79–93

Guthery FS, Bingham RL (1996) A theoretical basis for study and management of trampling by cattle. J Range Manag 49:264–269

Hart JD, Milsom TP, Baxter A, Kelly PF, Parkin WK (2002) The impact of livestock on Lapwing Vanellus vanellus breeding densities and performance on coastal grazing marshes. Bird Study 49:67–78

Isaksson D, Wallander J, Larsson M (2007) Managing predation on ground-nesting birds: the effectiveness of nest exclosures. Biol Conserv 136:136–142

Jackson DB, Fuller RJ, Campbell ST (2004) Long-term population changes among breeding shorebirds in the Outer Hebrides, Scotland, in relation to introduced hedgehogs (Erinaceus europaeus). Biol Conserv 117:151–166

Jehle G, Yackel AAY, Savidge JA, Skagen SK (2004) Nest survival estimation: a review of alternatives to the Mayfield estimator. Condor 106:472–484

Jensen HP, Rollins D, Gillen RL (1990) Effects of cattle stock density on trampling loss of simulated ground nests. Wildl Soc Bull 18:71–74

Kleijn D, Sutherland WJ (2003) How effective are European agri-environment schemes in conserving and promoting biodiversity? J Appl Ecol 40:947–969

Koivula K, Rönkä A (1998) Habitat deterioration and efficiency of antipredator strategy in a meadow-breeding wader, Temminck's Stint (Calidris temminckii). Oecologia 116:348–355

Lapointe S, Giroux J-F, Bélanger L, Filion B (2000) Benefits from rotational grazing and dense nesting cover for island-nesting waterfowl in southern Quebec. Agric Ecosyst Environ 78:261–272

Liker A, Székely T (1997) The impact of grazing and road use on hatching success of lapwings (Vanellus vanellus). Acta Zool Acad Sci Hung 43:85–92

MacDonald MA, Bolton M (2008) Predation on wader nests in Europe. Ibis 150(Suppl 1):54–73

Mayfield H (1975) Suggestions for calculating nest success. Wilson Bull 87:456–466

Moore RP, Robinson WD (2004) Artificial bird nests, external validity, and bias in ecological field studies. Ecology 85:1562–1567

Nack JL, Biric CA (2005) Apparent predation by cattle at grassland bird nests. Wilson Bull 117:56–62

Niemelä M, Huuskonen A, Jaakola S, Joki-Tokola E, Hyvärinen M (2008) Coastal meadows as pastures for beef cattle. Agric Ecosyst Environ 124:179–186

Nordström M, Högmander J, Laine J, Nummelin J, Laanetu N, Korpimäki E (2003) Effects of feral mink removal on seabirds, waders and passerines on small islands in the Baltic Sea. Biol Conserv 109:359–368

Norris K, Cook T, O'Dowd B, Durdin C (1997) The density of redshank Tringa totanus breeding on the salt-marshes of the Wash in relation to habitat and its grazing management. J Appl Ecol 34:999–1013

Norris K, Brindley E, Cook T, Babbs S, Brown CF, Yaxley R (1998) Is the density of redshank Tringa totanus nesting on saltmarshes in Great Britain declining due to changes in grazing management? J Appl Ecol 35:621–634

Olsen H, Schmidt NM (2004) Impacts of wet grassland management and winter severity on wader breeding numbers in eastern Denmark. Basic Appl Ecol 5:203–210

Ottvall R (2005) Boöverlevnad hos strandängshäckande vadare - den relativa betydelsen av predation och trampskador av betesdjur. Ornis Svecica 15:89–96

Ottvall R, Smith HG (2006) Effects of an agri-environment scheme on wader populations on coastal meadows in southern Sweden. Agric Ecosyst Environ 113:264–271

Paine L, Undersander DJ, Sample DW, Bartelt GA, Schatteman TA (1997) Comparison of simulated ground nest types for grazing/trampling research. J Range Manag 50:231–233

Pauliny A, Larsson M, Blomqvist D (2008) Nest predation management: effects on reproductive success in endangered shorebirds. J Wildl Manag 72:1579–1583

Pavel V (2004) The impact of grazing animals on nesting success of grassland passerines in farmland and natural habitats: a field experiment. Folia Zool 53:171–178

Rohrbaugh WR Jr, Reinking DL, Wolfe DH, Sherrod SK, Jenkins MA (1999) Effects of prescribed burning and grazing on nesting and reproductive success of three grassland passerine species in tallgrass prairie. Stud Avian Biol 19:165–170

Rönkä A, Koivula K, Ojanen M, Pakanen V-M, Pohjoismäki M, Rannikko K, Rauhala P (2006) Increased nest predation in a declining and threatened Temminck's Stint Calidris temminckii population. Ibis 148:55–65

Rotella JJ, Dinsmore SJ, Shaffer TL (2004) Modeling nest-survival data: a comparison of recently developed methods that can be implemented in MARK and SAS. Anim Biodiver Conserv 27:187–204

Sabatier R, Doyenc L, Tichit M (2010) Modelling trade-offs between livestock grazing and wader conservation in a grassland agroecosystem. Ecol Model 221:1292–1300

Schlaepfer MA, Runge MC, Sherman PW (2002) Ecological and evolutionary traps. Trends Ecol Evol 17:474–480

Shrubb M (1990) Effects of agricultural change on nesting lapwings Vanellus vanellus in England and Wales. Bird Study 37:115–127

Soikkeli M (1967) Breeding cycle and population dynamics in the Dunlin (Calidris alpina). Ann Zool Fenn 4:158–198

Soikkeli M, Salo J (1979) The bird fauna of abandoned shore pastures. Ornis Fenn 56:124–132

Thorup O (1995) The influence of nest controls, catching and ringing on the breeding success of Baltic Dunlin Calidris alpina. Wader Study Group Bull 78:26–30

Thorup O (1998) Ynglefuglene på Tipperne 1928–1992. Dansk Ornitol Forenings Tidsskrift 92:1–192

Thorup O (2006) Breeding waders in Europe 2000. International Wader Studies 14. International Wader Study Group, Thetford

Tichit M, Doyen L, Lemel JY, Renault O, Durant D (2007) A co-viability model of grazing and bird community management in farmland. Ecol Model 206:277–293

Tucker GM, Heath MF (1994) Birds in Europe: their conservation status. Birdlife Conservation Series No. 3. BirdLife International, Cambridge

van der Wal R, Palmer SCF (2008) Is breeding of farmland wading birds depressed by a combination of predator abundance and grazing? Biol Lett 4:256–258

Vickery JA, Tallowin JR, Feber RE, Asteraki EJ, Atkinson PW, Fuller RJ, Brown VK (2001) The management of lowland neutral grasslands in Britain: effects of agricultural practices on birds and their food resources. J Appl Ecol 38:647–664

White GC, Burnham KP (1999) Program MARK: survival estimation from populations of marked animals. Bird Study 46:120–139

Wilson A, Vickery J, Pendlebury C (2007) Agri-environment schemes as a tool for reversing declining populations of grassland waders: mixed benefits from Environmentally Sensitive Areas in England. Biol Conserv 136:128–135
Acknowledgments
We are grateful for Riku Halmeenpää, Juhani Karvonen, Antti Rönkä and Ville Suorsa for help in the field, and Petri Kärkkäinen and Matti Rauman for providing equipment. Robert L. Thomson, Laura Kvist, Antti Rönkä, Eduardo J. Belda and two anonymous referees made valuable comments on the manuscript. We thank Jorma Pessa (for providing altitude data), Sami Timonen, Johanna Helkimo and the cattle owners for co-operation in this study. This study was supported by the Finnish Cultural Foundation (VMP), the Kone Foundation (VMP), the Emil Aaltonen Foundation (VMP), the Tauno Tönning Foudation (VMP), the Finnish Environment Centre, the Academy of Finland (project 128384 KK) and the Thule Institute at the University of Oulu.
Appendices
Appendix 1
Examples of encounter histories used in the input files in MARK. First five entry points refer to k is the day the nest was found, l the last day the nest was checked alive, m the last day the nest was checked, information on the fate of the nest and the frequency of such nests (1 in all cases).
(1)

Modelling effect of nest size on survival from trampling
1 9 9 0 1 19.63 385.53;
Individual covariates: nest size in cm2, nest size2
(2)

Modelling survival from trampling for 8 cm diameter nests
1 1 9 1 1 1 0 0.2 443 1;
Individual covariates: 1st week, 2nd week, altitude (meters), distance to shore (meters), nest cover
(3)

Modelling nest survival from predation
24 40 40 0 1 1 0 1 0 0 0 0 0 21 0 0 0 0 0 0 0 0 0 0 0 0 0 0 0 0 0 0 0 0 0 0 0 11 12 13 14 15 16 17 18 19 20 21 22 23 24 25 26 27 0 0 0 0 0 0 0 0 0 0 0 0 0 0 0 0 0 0 0 0;
Individual covariates: Site1, Site2, Year1, Year2, Year3, Year4, Year5, Year6, Initiation date, following 60 day specific covariates for age of the nest starting from the encounter occasion it was found and continuing to hatching. Site effect had two parameters because the small sites were pooled into the larger sites due to small sample size.
(4)

Modelling the effect of cattle's presence on nest survival
9 9 20 1 1 0 1 1 0 0 0 0 0 12 0 0 0 0 0 0 0 0 5 6 7 8 9 10 11 12 13 14 15 16 17 18 19 20 21 22 23 24 25 26 27 0 0 0 0 0 0 0 0 0 0 0 0 0 0 0 0 0 0 0 0 0 0;
Individual covariates: Same as in part 3 but the first two covariates differ. The first denotes the cattle effect. There were two larger sites with cattle, thus only one covariate for site effect was needed.
(5)

Modelling researcher effects on nest survival
24 40 40 0 1 1 0 1 0 0 0 0 0 21 −13 0 0 0 0 0 0 0 0 0 0 0 0 0 0 0 0 0 0 0 0 0 0 0 0 0 0 0 1 1 1 1 0 0 0 0 0 0 0 0 0 0 0 0 0 0 0 0 0 0 0 0 0 0 0 0 0 0 0 0 0;
Individual covariates: Same as in part 3 but age is modelled as a function of age at the first encounter occasion, i.e. 8th of May (−13 in the example) and the 60 day specific covariates denote whether or not an incubating bird was caught at that day or the previous day.
Appendix 2
See Table 1.
Appendix 3
Few studies report daily trampling rate estimates that can be compared between studies. Trampling rates are mostly reported as a proportion of nests trampled without any reference to exposure to cattle. Furthermore, stocking rates are rarely reported explicitly. For the above reasons many studies reporting trampling cannot be compared to our study. Table 2 includes studies that give stocking rates and DTR or sufficient information to calculate them.
About this article
Cite this article
Pakanen, VM., Luukkonen, A. & Koivula, K. Nest predation and trampling as management risks in grazed coastal meadows. Biodivers Conserv 20, 2057–2073 (2011). https://doi.org/10.1007/s10531-011-0075-3
Received:

Accepted:

Published:

Issue Date:

DOI: https://doi.org/10.1007/s10531-011-0075-3
Keywords
Agri-environment scheme

Coastal meadows

Conservation management

Ecological trap

Livestock grazing

MARK

Dunlin