Abstract
In this paper we tested the hypothesis that logging effects in the adult tree community reverberate upon the regeneration contingent. We examined the differences on the tree community between forest reserves and 10 year-old logged areas in the Yucatan Peninsula. We used a paired design in three independent sites to estimate the effects of logging on tree species richness, diversity, composition and structure. Analyses were conducted differentiating individuals of four diameter-size classes: 1–5, 5–10, 10–25, and >25 cm DBH. We found out that there were differential effects by size. Species richness in the smaller and larger diameter-size classes was significantly lower in logged areas. Floristic composition was also different between logged and unlogged areas, with a trend towards more secondary forest associated species and less primary forest associated species in logged areas, and a higher density of species represented by a single individual in unlogged reserves. In terms of structure, trees DBH <10 cm, lianas, and re-sprouting stumps were more abundant in logged areas. Our findings suggest that 10 years after logging, harvested areas show alterations in structure, and potentially a reduction in species richness. We suggest that to make timber extraction and forest conservation compatible at this site, it is necessary to gain a better understanding of the ecology and regeneration requirements of the less abundant species, and to assess whether current logging practices might hinder their permanence in the study area.
Access options
Buy single article
Instant access to the full article PDF.
USD 39.95
Price excludes VAT (USA)
Tax calculation will be finalised during checkout.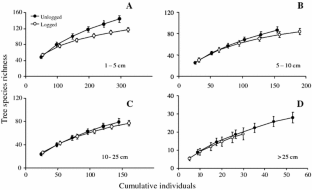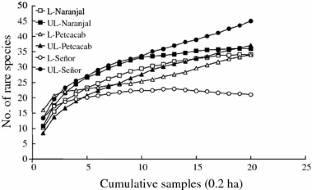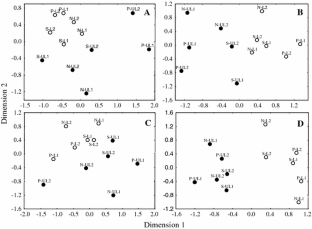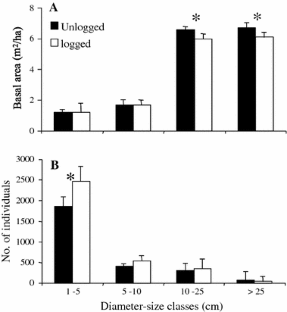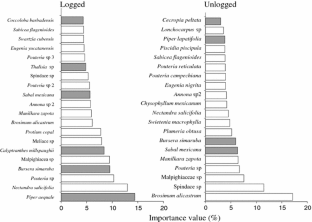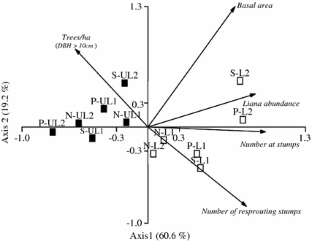 References
Bray DB, Merino-Pérez L, Negreros-Castillo P, Segura-Warnholtz J, Torres-Rojo M, Vester HFM (2003) Mexico's community-managed forests as a global model for sustainable landscapes. Conserv Biol 17:672–677

Brose U, Martinez ND, Williams RJ (2003) Estimating species richness: sensitivity to sample coverage and insensitivity to spatial patterns. Ecology 84:2364–2377

Brown K, Gurevitch J (2004) Long-term impacts of logging on forest diversity in Madagascar. Proc Natl Acad Sci USA 101:6045–6049

Cannon CH, Peart DR, Leighton M, Kartawinata K (1994) The structure of lowland rainforest after selective logging in West Kalimantan, Indonesia. For Ecol Manag 67:49–68

Cannon CH, Peart DR, Leighton M (1998) Tree species diversity in commercially logged Bornean rainforest. Science 281:1366–1368

Chao A, Chazdon RL, Colwell RK, Shen T-J (2005) A new statistical approach for assessing similarity of species composition with incidence and abundance data. Ecol Lett 8:148–159

Chazdon RL, Colwell RK, Denslow JS, Guariaguata MR (1998) Statistical methods for estimating species richness of woody regeneration in primary and secondary rain forest of Northeastern Costa Rica. In: Dallmeier F, Comiskey JA (eds) Forest biodiversity, research, monitoring and modeling. UNESCO and The Partenon Publishing Group, New York, pp 285–309

Christensen NL, Bartuska AM, Brown JH et al (1996) The Report of the Ecological Society of America Committee on the scientific basis for ecosystem management. Ecol Appl 6:665–691

Clinebell RR, Phillips OL, Gentry AH et al (1995) Prediction of neotropical tree and liana species richness from soil and climatic data. Biodivers Conserv 4:56–90

Colwell RK (2005) EstimateS: statistical estimation of species richness and shared species from samples. Ver 7.5. Persistent http://purl.oclc.org/estimates

Colwell RK, Coddington JA (1994) Estimating terrestrial biodiversity through extrapolation. Philos Trans R Soc Lond Ser B 345:101–118

Condit R, Hubbell SP, Lafrankie JV et al (1996) Species-area and species-individual relationships for tropical trees: a comparison of three 50-ha plots. J Ecol 84:549–562

Costa FRC, Magnusson WE (2003) Effects of selective logging on the diversity and abundance of flowering and fruiting understory plants in Central Amazonian forest. Biotropica 35:103–114

Cottam G (1949) The phytosociology of an oak wood in Southwestern Wisconsin. Ecology 30:271–287

Dickinson MB, Whigham DF, Hermann SM (2000) Tree regeneration in felling and natural treefall disturbances in a semideciduous tropical forest in Mexico. For Ecol Manag 134:137–151

Dirzo R, García MC (1992) Rates of deforestation in Los Tuxtlas, a neotropical area in southeast Mexico. Conserv Biol 6:84–90

Durán R, Campos G, Trejo JG et al (1998) Listado florístico de la Península de Yucatán. Centro de Investigación Científica de Yucatán A. C., México

Feldpausch TR, Jirka S, Passos CAM, Jasper F, Riha SJ (2005) When big trees fall: damage and carbon export by reduced impact logging in southern Amazonia. For Ecol Manag 219:199–215

Fredericksen TS, Licona JC (2000) Invasion of non-commercial tree species after selection logging in a Bolivian tropical forest. J Trop For Sci 13:252–263

Galletti HA (1999) La selva maya en Quintana Roo (1983–1996) trece años de conservación y desarrollo comunal. In: Primack RB, Bray D, Galletti HA, Ponciano I (eds) La selva maya, conservación y desarrollo. Siglo XXI editores, México, pp 53–73

Gentry AH (1982) Patterns of neotropical plant species diversity. J Evol Biol 15:1–84

Gerwing JJ (2001) Testing liana cutting and controlled burning as silvicultural treatments for a logged forest in the Eastern Amazon. J Appl Ecol 38:1264–1276

Günter S, Gonzalez P, Alvarez G et al (2009) Determinants for successful reforestation of abandoned pastures in the Andes: Soil conditions and vegetation cover. For Ecol Manag 258:81–91

Gutiérrez-Granados G (2009) Efectos directos e indirectos de la tala selectiva sobre la diversidad vegetal y la interacción planta-mamífero en la selva maya de Quintana Roo. Ph.D. Dissertation, Instituto de Ecología, UNAM, México, p 178

Hall J, Harris DJ, Medjibe V, Asthon PM (2003) The effects of selective logging on forest structure and tree species composition in a Central African forest: implications for management of conservation areas. For Ecol Manag 183:249–264

Holdridge LR (1967) Life zone ecology. Tropical Science Center, San José, Costa Rica

Holl KD (2002) Effect of shrubs on tree seedling establishment in an abandoned tropical pasture. J Ecol 90:179–187

Hortal J, Borges PA, Gaspar C (2006) Evaluating the performance of species richness estimators: sensitivity to sample grain size. J Anim Ecol 75:274–287

Huth A, Ditzer T (2001) Long-term impacts of logging in a tropical rain forest—a simulation study. For Ecol Manag 142:33–51

Jackson SM, Fredericksen TS, Malcolm JR (2002) Area disturbed and residual stand damage following logging in a Bolivian tropical forest. For Ecol Manag 166:271–283

Johns JS, Barreto P, Uhl C (1996) Logging damage during planned and unplanned logging operations in the eastern Amazon. For Ecol Manag 89:59–77

Jongman RHG, ter Braak CJF, van Tongeren OFR (1987) Data analysis in community and landscape ecology. Pudoc, Wageningen, Holand

Kammesheidt L (1998) Stand structure and spatial pattern of commercial species in logged and unlogged Venezuelan forest. For Ecol Manag 109:163–174

Köhler P, Huth A (2007) Impacts of recruitment limitation and canopy disturbance on tropical tree species richness. Ecol Model 203:511–517

Lawes MJ, Griffiths ME, Boudreau S (2007) Colonial logging and recent subsistence harvesting affect the composition and physiognomy of a podocarp dominated Afrotemperate forest. For Ecol Manag 247:48–60

Magurran AE (2004) Measuring biological diversity. Blackwell, Oxford

Makana J-R, Thomas SC (2005) Effects of light gaps and litter removal on the seedling performance of six African timber species. Biotropica 37:227–237

Mostacedo B, Fredericksen TS (1999) Regeneration status of important tropical forest tree species in Bolivia: assessment and recommendations. For Ecol Manag 124:263–273

Mostacedo B, Putz FE, Fredericksen TS, Villca A, Palacios T (2009) Contributions of root and stump sprouts to natural regeneration of a logged tropical dry forest in Bolivia. For Ecol Manag 258:978–985

Negreros-Castillo P, Mize CW (2008) Regeneration of mahogany and Spanish cedar in gaps created by railroad tie extraction in Quintana Roo, México. For Ecol Manag 255:308–312

Negreros-Castillo P, Snook L, Mize CW (2003) Regenerating mahogany (Swietenia macrophylla) from seed in Quintana Roo, Mexico: the effects of sowing method and clearing treatment. For Ecol Manag 183:351–362

Olmsted I, Durán R (1990) Vegetación de Sian Ka'na. In: Navarro DL, Robinson JG (eds) Diversidad Biológica en la reserva de la Biosfera de Sian Ka'an Quintana Roo, México. Centro de Investigaciones de Quintana Roo, México, pp 1–13

Paciorek CJ, Condit R, Hubbell SP et al (2000) The demographics of resprouting in tree and shrub species of a moist tropical forest. J Ecol 88:765–777

Panfil SN, Gullison RE (1998) Short term impacts of experimental timber harvest intensity on forest structure and composition in the Chimanes forest, Bolivia. For Ecol Manag 102:235–243

Parrota JA, Francis JK, Knowles OH (2002) Harvesting intensity affects forest structure and composition in an upland Amazonian forest. For Ecol Manag 169:243–255

Peña-Claros M, Peters EM, Justiniano MJ et al (2008) Regeneration of commercial tree species following silvicultural treatments in a moist tropical forest. For Ecol Manag 255:1283–1293

Pereira R, Zweede J, Asner GP, Keller M (2002) Forest canopy damage and recovery in reduced-impact and conventional selective logging in eastern Para, Brazil. For Ecol Manag 168:77–89

Pérez-Salicrup DR (2001) Effect of liana cutting on tree regeneration in a liana forest in Amazonian Bolivia. Ecology 82:389–396

Pérez-Salicrup DR (2004) Forest types and their implications. In: Turner BL II, Geoghegan J, Foster DR (eds) Integrated land-change science and tropical deforestation in the southern Yucatán: Final frontiers. Oxford University Press, Oxford, pp 63–80

Phillips O, Miller JS (2002) Global patterns of plant diversity: Alwyn H. Gentry's Forest Transect Data Set. Monographs in systematic botany from the Missouri Botanical Garden. Missouri Botanical Publisher, St. Louis

Pinard MA, Barker MG, Tay J (2000) Soil disturbance and post-logging forest recovery on bulldozer paths in Sabah, Malaysia. For Ecol Manag 130:213–225

Putz FE, Brokaw NVL (1989) Sprouting of broken trees on Barro Colorado Island, Panama. Ecology 70:508–512

Snook LK (1999) Aprovechamiento sostenido de la caoba (Swietenia macrophylla, King) en las selvas de la península de Yucatán México. In: Primack RB, Bray D, Galletti HA, Ponciano I (eds) La selva maya, conservación y desarrollo. Siglo XXI editores, México, pp 98–119

Sokal RR, Rohlf FJ (1995) Biometry. Freeman, New York

ter Steege H, Welch I, Roderick Z (2002) Long-term effect of timber harvesting in the Bartica Triangule, Central Guyana. For Ecol Manag 170:127–144

ter Steege H, Pitman N, Sabatier D et al (2003) A spatial model of tree α-diversity and tree density for the Amazon. Biodivers Conserv 12:2255–2277

Toledo M, Poorter L, Peña-Claros M et al (2011) Climate is a stronger driver of tree and forest growth rates than soil and disturbance. J Ecol 99:254–264

Toledo-Aceves T, Purata-Velarde S, Peters CM (2009) Regeneration of commercial tree species in a logged forest in the Selva Maya, Mexico. For Ecol Manag 258:2481–2489

Trejo I, Dirzo R (2002) Floristic diversity of Mexican seasonally dry tropical forests. Biodivers Conserv 11:2048–2063

Uhl C, Vieira ICG (1989) Ecological impacts of selective logging in the Brasilian Amazon: a case study from the Paragominas region of the state of Para. Biotropica 21:98–106

Vargas R, Allen EB, Allen MF (2009) Effects of vegetation thinning on above- and belowground carbon in a seasonally dry tropical forest in Mexico. Biotropica 41:302–311

Verissimo A, Barreto P, Mattos M, Tarifa R, Uhl C (1992) Logging impacts and prospects for sustainable forest management in an old Amazonian frontier: the case of Paragominas. For Ecol Manag 55:169–199

Villela DM, Nascimento MT, Aragão LEOC, Gama DM (2006) Effect of selective logging on forest structure and nutrient cycling in a seasonally dry Brazilian Atlantic forest. J Biogeogr 33:506–516

Webb EL (1997) Canopy removal and residual stand damage during controlled selective logging in lowland swamp forest of northeast Costa Rica. For Ecol Manag 95:117–129

Whigham DF, Olmsted I, Cabrera E et al (1991) The impact of hurricane Gilbert on trees, litterfall, and woody debris in a dry tropical forest in the northeastern Yucatan peninsula. Biotropica 23:434–441

Whitman AA, Brokaw NVL, Hagan JM III (1997) Forest damage caused by selection logging of mahogany (Swietenia macrophylla) in northern Belize. For Ecol Manag 92:87–96
Acknowledgments
This study was supported by Mexico's National Comission on Biodiversity (CONABIO, proyect BJ005). GGG was supported by a doctoral fellowship from CONACyT and UNAM through Posgrado en Ciencias Biológicas. We thank Praxedes Sinaca for his assistance in field work and Esteban Martínez from Herbario Nacional at UNAM (MEXU) for his help in plant identification. We also want to thank two anonymous reviewers for comments that greatly improved a previous version of this manuscript.
About this article
Cite this article
Gutiérrez-Granados, G., Pérez-Salicrup, D.R. & Dirzo, R. Differential diameter-size effects of forest management on tree species richness and community structure: implications for conservation. Biodivers Conserv 20, 1571–1585 (2011). https://doi.org/10.1007/s10531-011-0046-8
Received:

Accepted:

Published:

Issue Date:

DOI: https://doi.org/10.1007/s10531-011-0046-8
Keywords