Abstract
Misrepresentation of terminology is a major impediment for attempts at enhancing public conservation literacy. Despite being critically important for improving conservation practice, there have been few systematic analyses of the popular use of conservation terminology. This paper draws from science communication studies and metaphor analysis, to examine how keystone, flagship and umbrella species concepts are used and represented in non-academic contexts. 557 news articles containing these terms were systematically analyzed. Mammals featured in 60% of articles on keystones, 55% on flagships and 63% on umbrella species. Number of articles explaining the terms keystone (35%) and flagship (31%) was low, and keystones were the most misrepresented term. Keystones were metaphorically linked with balance, flagships with representation and umbrella species with protection. These metaphors influenced public interpretation of scientific terminology, oriented actions towards select species, and led to a valuation of such actions. Together, the findings highlight three important aspects of popular use of conservation terminology: (1) communication is largely biased towards mammals, (2) everyday language plays a vital role in the interpretation of concepts, and (3) metaphors influence peoples' actions and understanding. Conservation biologists need to engage with issues of language if public conservation literacy is to be improved. Further evaluations of concepts with high public and policy relevance, systematic identification of communication shortfalls, and linguistic assessments prior to promoting new terms are potential ways of achieving this.
This is a preview of subscription content,
to check access.
Access this article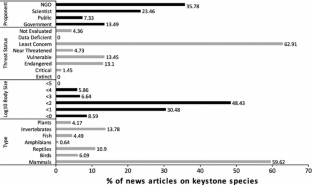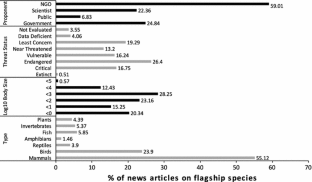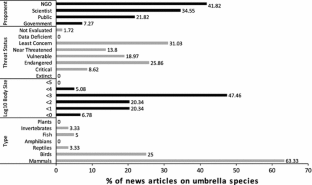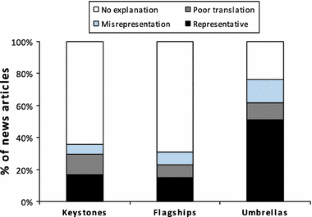 Notes
"Engineering" has an ecological basis, and some authorities consider ecosystem engineers as a distinct subset of keystone species (Caro 2010). Whilst keystone species should have disproportionate effects in comparison to their relative abundance, this is not necessarily true for ecosystem engineers.
Abbreviations
IUCN:

International Union for the Conservation of Nature and Natural Resources
References
Antilla L (2005) Climate of skepticism: US newspaper coverage of the science of climate change. Glob Environ Change 15:338–352

Armstrong D (2002) Focal and surrogate species: getting the language right. Conserv Biol 16(2):285–286

Ashlin A, Ladle R (2006) Environmental science adrift in the blogosphere. Science 312:201

Ashlin A, Ladle R (2007) "Natural disasters" and newspapers: post-tsunami environmental discourse. Environ Hazards 7:330–341

Barua M (2010) Whose issue? Representations of human-elephant conflict in Indian and international media. Sci Commun 32(1):55–75

Boykoff MT (2007) From convergence to contention: United States mass media representations of anthropogenic climate change science. Trans Inst Br Geogr 32:477–489

Cachelin A, Norvell R, Darling A (2010) Language fouls in teaching ecology: why traditional metaphors undermine conservation literacy. Conserv Biol 24(3):669–674

Carignan V, Villard M (2002) Selecting indicator species to monitor ecological integrity: a review. Environ Monit Assess 78:45–61

Caro TM (2010) Conservation by proxy. Island Press, Washington

Caro TM, O'Doherty G (1999) On the use of surrogate species in conservation. Conserv Biol 13:805–814

Caro T, Engilis A, Fitzherbert E et al (2004) Preliminary assessment of the flagship species concept at a small scale. Anim Conserv 7:63–70

Clucas B, McHugh K, Caro T (2008) Flagship species on covers of US conservation and nature magazines. Biodivers Conserv 17:1517–1528

Dumit J (2010) Inter-pill-ation and the instrumentalization of compliance. Anthropol Med 17(2):245–247

Gardezi T, da Silva J (1999) Diversity in relation to body size in mammals: a comparative study. Am Nat 153:110–123

Heywood VH (ed) (1995) Global biodiversity assessment. Cambridge University Press, Cambridge

Kotliar NB, Baker BW, Whicker AD et al (1999) A critical review of assumptions about the prairie dog as a keystone species. Environ Manag 24(2):177–192

Ladle RJ, Gilson L (2009) The (im)balance of nature: a public perception of time-lag? Public Underst Sci 18:229–242

Ladle RJ, Jepson P, Whittaker RJ (2005) Scientists and the media: the struggle for legitimacy in climate change and conservation science. Interdisc Sci Rev 30:231–240

Lakoff G (1995) Metaphor, morality, and politics. Or, why conservatives have left liberals in the dust. Social Res 62(2):1–22

Lakoff G, Johnson M (2003) Metaphors we live by, 2nd edn. University of Chicago Press, Chicago

Lamb BL, Cline K (2003) Public knowledge and perceptions of black-tailed prairie dogs. Hum Dimens Wildl 8:127–143

Leader–Williams N, Dublin HT (2000) Charismatic megafauna as 'flagship species'. In: Entwistle A, Dunstone N (eds) Priorities for conservation of mammalian diversity: has the panda had its day?. Cambridge University Press, Cambridge, UK, pp 53–84

Lybecker DL, Lamb BL, Ponds PD (2002) Public attitudes and knowledge of the black-tailed prairie dog: a common and controversial species. Bioscience 52(7):607–613

MacDonald DW, Tattersall FH, Brown ED et al (1995) Reintroducing the European beaver to Britain: nostalgic meddling or restoring biodiversity? Mammal Rev 25(4):161–200

Meffe G, Carroll CR (1997) Principles of conservation biology. Sinauer Associates, Sunderland

Nie M (2001) The sociopolitical dimensions of wolf management and restoration in the United States. Hum Ecol Rev 8(1):1–12

Nisbet MC, Brossard D, Kroepsch A (2003) Framing science: the stem cell controversy in an age of press/politics. Int J Press/Politics 8(2):36–70

Peterson MN, Birckhead JL, Leong K et al (2010) Rearticulating the myth of human-wildlife conflict. Conserv Lett 3:74–82

Salafsky N, Salzer D (2005) The unglamorous essential foundation of conservation science. Oryx 39(3):235–236

Shoemaker PJ, Reese SD (1991) Mediating the message: theories of influences on mass media content. Longman, White Plains

Silva M, Downing JA (1995) CRC handbook of mammalian body masses. CRC Press, Boca Raton

Simberloff D (1998) Flagships, umbrellas and keystones: is single species management passé in the landscape era? Biol Conserv 83:247–257

Simpson J, Weiner E (eds) (1989) Oxford English dictionary. Clarendon Press, Oxford

Trimble MJ, Van Aarde RJ (2010) Species inequality in scientific study. Conserv Biol 24(3):886–890

Trumbo B, Dunwoody S, Griffin RJ (1998) Journalists, cognition, and the presentation of an epidemiologic study. Sci Commun 19:238–265

Webb TJ, Raffaelli D (2008) Conversations in conservation: revealing and dealing with language differences in environmental conflicts. J Appl Ecol 45:1198–1204

Wiegold MF (2001) Communicating science: a review of the literature. Sci Commun 23:164–193
Acknowledgements
The author would like to thank Prof. Stuart Pimm for his invaluable suggestions in improving the manuscript, and Paul Jepson and Sushrut Jadhav for many stimulating conversations. This work was completed through the support of the University of Oxford Clarendon Fund, Felix and Wingate Scholarships.
Electronic supplementary material
Below is the link to the electronic supplementary material.
A complete list of explanations of keystone, flagship and umbrella species in the news articles (Appendix S1) is given below. (XLS 48 kb)
About this article
Cite this article
Barua, M. Mobilizing metaphors: the popular use of keystone, flagship and umbrella species concepts. Biodivers Conserv 20, 1427–1440 (2011). https://doi.org/10.1007/s10531-011-0035-y
Received:

Accepted:

Published:

Issue Date:

DOI: https://doi.org/10.1007/s10531-011-0035-y
Keywords