Abstract
Ecologists usually argue for a proactive approach to species conservation—it should start before a species is endangered and under substantial risk of extinction. In reality, however, conservation often only starts when species populations are already in a critical state. This may be the result of a policy process in which those actors who see only little or no benefits from conserving species try to delay conservation as long as possible to avoid its cost. A frequent consequence is that populations decline to critical levels so that once conservation policies set in due to legal obligations, political pressure or any other reason, additional conservation measures are required to re-establish the populations. We show that the costs associated with this policy process may be higher than those of a proactive policy. This is somewhat surprising because the costs of maintaining populations at a level at which they are not endangered may occur over a longer period. However, the costs of bringing species populations back to those levels may be so high that they outweigh the costs of the proactive approach. We develop simple cost functions that capture the main economic and ecological parameters relevant to our argument and apply them for an assessment of the costs of common hamster (Cricetus cricetus) conservation in the region of Mannheim, Germany. We find that a proactive approach would have saved between €17.2 and €36.4 mn compared to the existing policy where conservation was delayed until legal requirements forced local policy makers to implement a comprehensive hamster protection programme.
Access options
Buy single article
Instant access to the full article PDF.
USD 39.95
Price excludes VAT (USA)
Tax calculation will be finalised during checkout.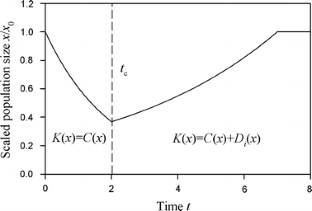 References
Ando A, Camm J, Polasky S, Solow A (1998) Species distribution, land values and efficient conservation. Science 279:2126–2128

Baumgärtner S, Becker C, Frank K, Müller B, Quaas M (2008) Relating the philosophy and practice of ecological economics. The role of concepts, models and case studies in inter- and transdisciplinary sustainability research. Ecological Economics 67:384–393

Costello C, Polasky S (2004) Dynamic reserve site selection. Resource and Energy Economics 26:157–174

Drechsler M, Wätzold F (2007) The optimal dynamic allocation of conservation funds under financial uncertainty. Ecological Economics 61:255–266

Drechsler M, Johst K, Wätzold F, Westphal M (2006) Integrating Economic Costs into the Analysis of Flexible Conservation Management. Ecol Appl 16:1959–1966

Drechsler M, Wätzold F, Johst K, Bergmann H, Settele J (2007a) A model-based approach for designing cost-effective compensation payments for conservation of endangered species in real landscapes. Biol Conserv 140:174–186

Drechsler M, Johst K, Ohl C, Wätzold F (2007b) Designing cost-effective payments for conservation measures to generate spatiotemporal habitat heterogeneity. Conserv Biol 21:1475–1486

EC (2006) Nature and biodiversity cases: ruling of the European court of justice. Office for official publications of the European Communities, Luxemburg

Eppink F, Wätzold F (2009) Comparing visible and less visible costs of the Habitats Directive: the case of hamster conservation in Germany. Biodivers Conserv 18(4):795–810

FN B (2005) Warum Naturschutz: fünf Gründe die Viele überraschen dürften. Bundesamt für Naturschutz, Bonn, Germany

Fuller T, Sánchez-Cordero V, Illoldi-Rangel P, Linaje M, Sarkar S (2007) The cost of postponing biodiversity conservation in Mexico. Biol Conserv 134:593–600

Gerowitt B, Isselstein I, Marggraf R (2003) Rewards for ecological goods—requirements and perspectives for agricultural land use. Agric Ecosyst Environ 98:541–547

Hanski I, Ovaskainen O (2002) Extinction debt at extinction threshold. Conserv Biol 16:666–673

Heal G (2007) Discounting: a review of the basic economics. The University of Chicago Law Review 74:59–77

Hysing E, Olsson J (2005) Sustainability through good advice? Assessing the Governance of Swedish forest biodiversity. Environmental Politics 14:510–526

MA (2005) Millenium ecosystem assesment: Ecosystems and human well-being: biodiversity synthesis. Technical Report, World Resources Institute, Washington, DC, USA

Martín-López M, Montes C, Ramírez L, Benayas J (2009) What drives policy decision-making related to species conservation? Biol Conserv 142:1370–1380

McDonald-Madden E, Bode M, Game ET, Grantham H, Possingham HP (2008) The need for speed: informed land acquisitions for conservation in a dynamic property market. Ecol Lett 11:1169–1177

MEDAD (2005) Plan d'action pour le Hamster commun (Cricetus cricetus) en Alsace: Tome 1 2007–2011. Ministère de l'écologie du développement et de l'aménagement durables. http://www.ecologie.gouv.fr/IMG/pdf/Hamster_tomeI.pdf

Meir E, Andelmann S, Possingham HP (2004) Does conservation planning matter in a dynamic and uncertain world? Ecol Lett 7:615–622

Menkhorst PW, Loyn RH, Brown PB (1990) Management of the Orange-bellied Parrot. In: Clark TW, Seebeck JH (eds) Management and conservation of small populations. Chicago Zoological Society, Chicago, IL, USA, pp 239–251

Naidoo R, Adamowicz WL (2006) Economic benefits of biodiversity exceed costs of conservation at an African rainforest. Proceedings of the National Academy of Sciences of the United States of America 102:16712–16716

Naidoo R, Balmford A, Ferraro PJ, Polasky S, Ricketts TH, Rouget M (2006) Integrating economic costs into conservation planning. Trends Ecol Evol 21:681–687

Nechay G (2000) Status of hamsters: Cricetus cricetus, Cricetus migratorius, Mesocricetus Newtoni and other hamster species in Europe. Nature and Environment Series 106, Council of Europe Publishing, Europe

Newburn D, Reed S, Berck P, Merenlender A (2005) Economics and land-use change in prioritizing private land conservation. Conserv Biol 19:1411–1420

Persson AS, Olsson O, Rundlöf M, Smith HG (2010) Land use intensity and landscape complexity—Analysis of landscape characteristics in an agricultural region in Southern Sweden. Agric Ecosyst Environ 136:169–176

Pressey RL, Cabeza M, Watts ME, Cowling RM, Wilson KA (2007) Conservation planning in a changing world. Trends Ecol Evol 22:583–592

Ruzic A (1977) Study of the population dynamics of common hamster (Cricetus cricetus L.) in Vojvodina. Plant Protection (Beograd) 28:289–300

Scott JM, Goble DD, Haines AM, Wiens JA, Neel MC (2010) Conservation-reliant species and the future of conservation. Conservation Letters 3:91–97

Shogren J, Tschirhart J, Anderson T, Ando AW, Beissinger SR, Brookshire D, Brown GM Jr, Coursey D, Innes R, Meyer SM, Polasky S (1999) Why economics matters for endangered species protection. Conserv Biol 13:1257–1261

SM (2002a) Beschlussvornahme 312/2002. Mannheim city council decision document. Mannheim, Germany

SM (2002b) Beschlussvorlage Stadt Mannheim 125/2002. Mannheim, Germany

Smales I, Brown PB, Menkhorst PW, Holdsworth M, Holz P (2007) Contribution of captive management of orange-bellied parrots to the recovery programme for the species in Australia. International Zoo Yearbook 37:171–178

Smith HG, Dänhardt J, Lindström Å, Rundlöf M (2010) Consequences of organic farming and landscape heterogeneity on species richness and abundance of farmland birds. Oecologia 162:1071–1079

Soulé ME (ed) (1990) Viable populations for conservation. Cambridge University Press, Cambridge, UK

Strange N, Thorsen BJ, Bladt J (2006) Optimal reserve selection in a dynamic world. Biol Conserv 131:33–41

SZ (2007) Die Baustopper. Sueddeutsche Zeitung. München, Germany 19 October

Tilman D, May RM, Lehman CL, Nowak MA (1994) Habitat destruction and the extinction debt. Nature 371(6492):65–66

Traill LW, Bradshaw JA, Brook BW (2007) Minimum viable population size: a meta-analysis of 30 years of published estimates. Biol Conserv 139:159–166

Tscharntke T, Klein AM, Kruess A, Steffen-Dewnter I, Thies C (2005) Land perspectives on agricultural intensification and biodiversity–ecosystem service management. Ecol Lett 8:857–874

Ulbrich K, Kayser A (2004) A risk analysis of the common hamster Cricetus cricetus. Biol Conserv 117:263–270

Wätzold F, Schwerdtner K (2005) Why be wasteful when preserving a valuable resource? A review article on the cost-effectiveness of European biodiversity conservation policy. Biol Conserv 123:327–338

Wätzold F, Drechsler M, Armstrong CW, Baumgärtner S, Grimm V, Huth A, Perrings C, Possingham HP, Shogren JF, Skonhoft A, Verboom-Vasiljev J, Wissel C (2006) Ecological-economic modeling for biodiversity management: potential, pitfalls, prospects. Conserv Biol 20:1034–1041

Weinhold U, Kayser A (2006) Der Feldhamster. Die neue Brehm-Bücherei, Hohenwarsleben, Germany
Acknowledgments
Valuable comments from an anonymous referee and Frank Krysiak and Stefan Baumgärtner on an earlier version of this paper are gratefully acknowledged.
About this article
Cite this article
Drechsler, M., Eppink, F.V. & Wätzold, F. Does proactive biodiversity conservation save costs?. Biodivers Conserv 20, 1045–1055 (2011). https://doi.org/10.1007/s10531-011-0013-4
Received:

Accepted:

Published:

Issue Date:

DOI: https://doi.org/10.1007/s10531-011-0013-4
Keywords
Common hamster

Conservation management

Conservation costs

Cost assessment

Proactive conservation