Abstract
Conservation of migratory shorebirds and waterfowl presents unique challenges due to extensive historic loss of wetland habitats, and current reliance on managed landscapes for wintering and migratory passage. We developed a spatially-explicit approach to estimate potential shorebird and waterfowl densities in California by integrating mapped habitat layers and statewide bird survey data with expert-based habitat rankings. Using these density estimates as inputs, we used the Marxan site-selection program to identify priority shorebird and waterfowl areas at the ecoregional level. We identified 3.7 million ha of habitat for shorebirds and waterfowl, of which 1.4 million ha would be required to conserve 50% of wintering populations. To achieve a conservation goal of 75%, more than twice as much habitat (3.1 million ha) would be necessary. Agricultural habitats comprised a substantial portion of priority areas, especially at the 75% level, suggesting that under current management conditions, large areas of agricultural land, much of it formerly wetland, are needed to provide the habitat availability and landscape connectivity required by shorebird and waterfowl populations. These habitats were found to be largely lacking recognized conservation status in California (96% un-conserved), with only slightly higher levels of conservation for priority shorebird and waterfowl areas. Freshwater habitats, including wetlands and ponds, were also found to have low levels of conservation (67% un-conserved), although priority shorebird and waterfowl areas had somewhat higher levels of conservation than the state as a whole. Conserving migratory waterfowl and shorebirds will require a diversity of conservation strategies executed at a variety of scales. Our modeled results are complementary with other approaches and can help prioritize areas for protection, restoration and other actions. Traditional habitat protection strategies such as conservation easements and fee acquisitions may be of limited utility for protecting and managing significant areas of agricultural lands. Instead, conservation strategies focused on incentive-based programs to support wildlife friendly management practices in agricultural settings may have greater utility and conservation effectiveness.
Access options
Buy single article
Instant access to the full article PDF.
USD 39.95
Price excludes VAT (USA)
Tax calculation will be finalised during checkout.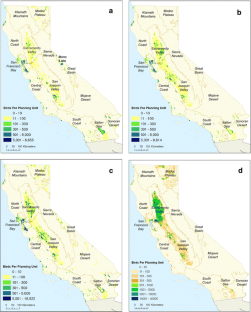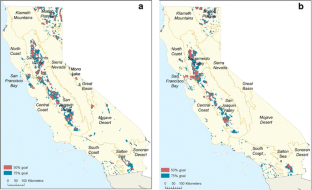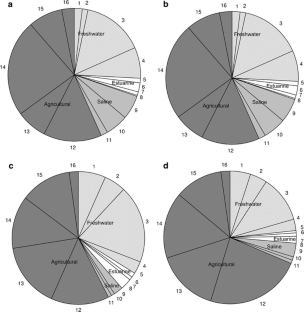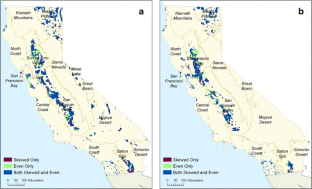 References
Bailey RG (1995) Description of the ecoregions of the United States, 2nd edn. Misc Pub 1391. USDA Forest Service, Washington, DC

Ball IR, Possingham HP, Watts M (2009) Marxan and relatives: software for spatial conservation prioritisation. In: Moilanen A, Wilson KA, Possingham HP (eds) Spatial conservation prioritisation: quantitative methods and computational tools. Oxford University Press, Oxford, UK

Banks RC, Springer PF (1994) A century of population trends of waterfowl in western North America. Stud Avian Biol 15:134–146

Brown S, Hickey C, Harrington B et al (2001) United States shorebird conservation plan, 2nd edn. Manomet Center for Conservation Sciences, Manomet, MA

Burger LW (2006) Creating wildlife habitat through federal farm programs: an objective-driven approach. Wildl Soc Bull 34(4):994–999

Cowling RM, Pressey RL, Sims-Castley R et al (2003) The expert or the algorithm?—comparison of priority conservation areas in the Cape Floristic Region identified by park managers and reserve selection software. Biol Conserv 112:147–167

CVJV (2006) Central Valley joint venture implementation plan—conserving bird habitat. U.S. Fish and Wildlife Service, Sacramento, CA

Dahl TE (1990) Wetlands losses in the United States 1780s to 1980s. U.S. Department of the Interior, Fish and Wildlife Service, Washington, DC, p 13

Davidson NC, Evans PR (1986) The role of man-made and man-modified wetlands in the enhancement of the survival of overwintering shorebirds. Colon Waterbirds 9:176–188

Eadie JM, Elphick CS, Reinecke KJ et al (2008) Section 1: wildlife values of North American Ricelands. In: Manley SW (ed) Conservation in ricelands of North America. The Rice Foundation, Stuttgart, AK

Eggeman DR, Johnson FA (1989) Variation in effort and methodology for the midwinter waterfowl inventory in the Atlantic Flyway. Wildl Soc Bull 17:227–233

Elphick CS (2000) Functional equivalency between rice fields and seminatural wetland habitats. Conserv Biol 14:181–191

Elphick CS (2008) Landscape effects on waterbird densities in California rice fields: taxonomic differences, scale-dependence, and conservation implications. Waterbirds 31:62–69

Elphick CS, Oring LW (1998) Winter management of Californian rice fields for waterbirds. J Appl Ecol 35:95–108

Farmer AH, Parent AH (1997) Effects of the landscape on shorebird movements at spring migration stopovers. Condor 99:698–707

Heitmeyer ME, Connelly DP, Pederson RL (1989) The Central, Imperial, and Coachella valleys of California. In: Smith LM, Pederson RL, Kiminski RM (eds) Habitat management for migrating and wintering waterfowl in North America. Texas Tech. Univ. Press, Lubbock, TX

Hickey C, Shuford WD, Page GW et al (2003) Southern Pacific shorebird conservation plan: a strategy for supporting California's central and coastal shorebird populations, vol 1.1. PRBO Conservation Science, Stinson Beach, CA

Margules CR, Pressey RL (2000) Systematic conservation planning. Nature 405:243–253

Meir E, Andelman S, Possingham HP (2004) Does conservation planning matter in a dynamic and uncertain world? Ecol Lett 7:615–622

Naugle DE, Johnson RR, Estey ME et al (2001) A landscape approach to conserving wetland bird habitat in the prairie pothole region of eastern South Dakota. Wetlands 21:1–17

NAWMP (2004) North American Waterfowl Management Plan 2004. Implementation framework: strengthening the biological foundation. Canadian Wildlife Service, U.S. Fish and Wildlife Service, Secretaria de Medio Ambiente y Recursos Naturales

Page GW, Gill RE (1994) Shorebirds in western North America: late 1800s to late 1900s. Stud Avian Biol 15:147–160

Page GW, Stenzel LE, Kjelmyr JE (1999) Overview of shorebird abundance and distribution in wetlands of the Pacific Coast of the contiguous United States. Condor 101:461–471

Pearce JL, Kirk DA, Lane CP et al (2008) Prioritizing avian conservation areas for the Yellowstone to Yukon Region of North America. Biol Conserv 141:908–924

Poor PJ (1999) The value of additional central flyway wetlands: the case of Nebraska's rainwater basin wetlands. J Agric Resour Econ 24:253–265

Possingham HP, Ball I, Andelman S (2000) Mathematical methods for reserve system design. In: Ferson S, Burgman M (eds) Quantitative methods for conservation biology. Springer, New York, NY

Pressey RL, Possingham HP, Day JR (1997) Effectiveness of alternative heuristic algorithms for identifying indicative minimum requirements for conservation reserves. Biol Cons 80:207–219

Reid FA, Heitmeyer ME (1995) Waterfowl and rice in California's Central Valley. Calif Agric 49:62

Reinecke KJ, Loesch CR (1996) Integrating research and management to conserve wildfowl (Anatidae) and wetlands in the Mississippi Alluvial Valley, USA. Gibier Faune Sauvage Game Wildl 13:927–940

Rilla E (2002) Landowners, while pleased with agricultural easements, suggest improvements. Calif Agric 56:21–25

Scott JM, Davis F, Csuti B et al (1993) Gap analysis: a geographic approach to protection of biodiversity. Wildl Monogr 123:1–41

Shuford WD, Page GW, Kjelmyr JE (1998) Patterns and dynamics of shorebird use of California's Central Valley. Condor 100:227–244

Skagen SK, Knopf FL (1993) Toward conservation of midcontinental shorebird migrations. Conserv Biol 7:533–541

Taft OW, Haig SM (2006) Landscape context mediates influence of local food abundance on wetland use by wintering shorebirds in an agricultural valley. Biol Conserv 128:298–307

Theobald D (2005) Landscape patterns of exurban growth in the USA from 1980 to 2020. Ecol Soc 10:1–32

Williams P, Gibbons D, Margules C et al (1996) A comparison of richness hotspots, rarity hotspots, and complimentary areas for conserving diversity of British birds. Conserv Biol 10:155–174
Acknowledgments
We thank the S. D. Bechtel Jr. Foundation for providing funding to conduct the analyses, multiple donors who supported the Pacific Flyway Project, and the contribution of midwinter waterfowl count data from the California Department of Fish and Game and U.S. Fish and Wildlife Service, facilitated by Dan Yparraguirre. We also thank numerous volunteers and PRBO Conservation Science staff who collected data that made this work possible. This manuscript benefited from reviews by Nils Warnock, Rebecca Shaw, Stacey Solie, and Christina Boldero, as well as two anonymous reviewers. This is PRBO contribution #1752.
Appendix
Appendix
See Tables 4, 5, 6 and Fig. 5.
About this article
Cite this article
Stralberg, D., Cameron, D.R., Reynolds, M.D. et al. Identifying habitat conservation priorities and gaps for migratory shorebirds and waterfowl in California. Biodivers Conserv 20, 19–40 (2011). https://doi.org/10.1007/s10531-010-9943-5
Received:

Accepted:

Published:

Issue Date:

DOI: https://doi.org/10.1007/s10531-010-9943-5
Keywords
Pacific Flyway

Conservation planning

Marxan

Gap analysis

Waterbirds