Abstract
The effects of habitat loss on local species richness depend on the characteristics of the endangered system (including its total species pool and the distribution of species among the habitats). The present study focuses on the species-poor southern Baltic marine benthic biota. Macrobenthic samples were collected in three habitats: (1) soft bottom covered with vegetation; (2) stony reefs; (3) unvegetated sands. Fourty one percent of 54 observed macrozoobenthic species were habitat specific, while 30% occurred in all three habitats. There were no significant differences in total species richness among the three habitats. The accumulation curves plotted for subsets of data with selected habitats excluded lay below the curve plotted for the whole dataset, but only in one case the 95% confidence intervals of the subset curve did not overlap with those plotted for the whole dataset. The exclusion of samples from selected habitats produced a species richness drop ranging from 9 to 13%. The present study showed that habitat loss in a species-poor area with a relatively large ratio of generalist species cannot produce local species richness declines similar to those predicted for diverse marine systems. However, it must be emphasized that in species-poor systems, the loss of ecological function accompanying habitat loss could be disproportionally higher than that predicted based on decreases in species richness, as some functions are performed by a single species.
Access options
Buy single article
Instant access to the full article PDF.
USD 39.95
Price excludes VAT (USA)
Tax calculation will be finalised during checkout.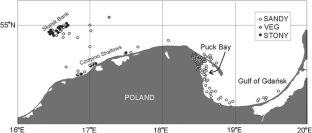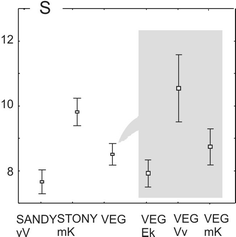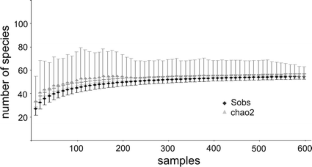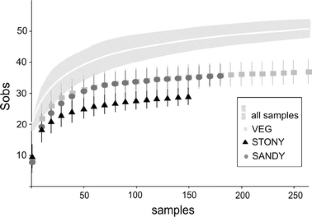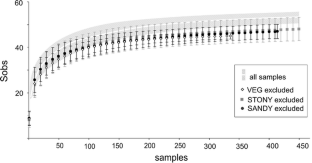 References
Airoldi L, Beck MW (2007) Loss, status and trends for coastal marine habitats of Europe. Ocean Mar Biol Ann Rev 45:345–405

Airoldi L, Balata D, Beck MW (2008) The gray zone: relationship between habitat loss and marine diversity and their applications in conservation. J Exp Mar Biol Ecol 366:8–15

Andrulewicz E, Wielgat M (1999) Selection of southern Baltic banks—future marine protected areas. Hydrobiologia 393:271–277

Andrulewicz E, Kruk-Dowgiallo L, Osowiecki A (2004) Phytobenthos and macrozoobenthos of the Slupsk Bank stony reefs, Baltic Sea. Hydrobiologia 514:163–170

Bonsdorf E (2006) Zoobenthic diversity-gradients in the Baltic Sea: continuous post-glacial succession in a stressed ecosystem. J Exp Mar Biol Ecol 330:383–391

Boström C, Bonsdorff E (1997) Community structure and spatial variation of benthic invertebrates associated with Zostera marina (L.) beds in the northern Baltic Sea. J Sea Res 37:153–166

Boström C, Jackson EL, Simenstand C (2006) Seagrass landscapes and their effects on associated fauna: a review. Est Coast Shelf Sci 68:383–403

Colwell RK (2005) EstimateS: statistical estimation of species richness and shared species from samples. Version 7.5. User's Guide and application published at: http:/purl.oclc.org/estimates

Colwell RK, Mao CX, Chang J (2004) Interpolating, extrapolating, and comparing incidence-based species accumulation curves. Ecology 85:2717–2727

Dobson A, Lodge D, Alder J, Cumming GS, Keymer J, McGlade J, Mooney H, Rusak JA, Sala O, Wolters V, Wall D, Winfree R, Xenopoulos MA (2006) Habitat loss, trophic collapse, and the decline of ecosystem services. Ecology 87:1915–1924

Dulvy NK, Sadovy Y, Reynolds JD (2003) Extinction vulnerability in marine populations. Fish Fish 4:25–64

Ellingsen KE, Hewitt JE, Thrush SF (2007) Rare species, habitat diversity and functional redundancy in marine benthos. J Sea Res 58:291–301

Elmgren R, Hill C (1997) Ecosystem function at low biodiversity—the Baltic example. In: Ormond RFG, Gage J, Angel M (eds) Marine biodiversity: patterns and processes. Cambridge University, Cambridge, pp 319–336

Gaston KJ (1994) Rarity. Chapman and Hall, London

Graham MH (2004) Effects of local deforestation on the diversity and structure of Southern California giant kelp forest food webs. Ecosystems 7:341–357

Gray JS (1997) Marine biodiversity: patterns, threats and conservation needs. Biodiv Conserv 6:153–175

HELCOM 2009, Biodiversity in the Balic sea—an integrated thematic assessment on biodiversity and nature conservation in the Baltic sea: executive summary. Baltic sea environmental proceedings No. 116A

Herbich J, Warzocha J (1998) Introduction to the marine and coastal environment of Poland. In: Nordheim H, Boedeker D (eds.) Red list of marine and coastal biotopes and biotope complexes of the Baltic sea, Belt sea and Kattegat. Baltic sea environment proceedings No. 75

Karlson K, Rosenberg R, Bonsdorf E (2002) Temporal and spatial large scale effects of eutrophication and oxygen deficiency on benthic fauna in Scandinavian and Baltic waters—a review. Oceanog Mar Biol Ann Rev 40:427–489

Kotta J, Möller T (2009) Important scales of distribution patterns of benthic species in the Gretagrund area, the central Gulf of Riga. Estonian J Ecol 58:259–269

Lepparänta M, Myrberg K (2009) Physical oceanography of the Baltic Sea. Springer-Verlag, Berlin

McKinney ML, Lockwood JL (1999) Biotic homogenization: a few winners replacing many losers in the next mass extinction. Trends Ecol Evol 14:450–453

Micheli F, Halpern BS (2005) Low functional redundancy in coastal marine assemblages. Ecol Lett 8:391–400

Nordheim H, Boedeker D (1998) Red list of marine and coastal biotopes and biotope complexes of the Baltic sea, Belt sea and Kattegat. Baltic sea environment proceedings No. 75

Norling K, Rosenberg R, Hulth S, Grémare A, Bonsdorff E (2007) Importance of functional biodiversity and species-specific traits of benthic fauna for ecosystem functions in marine sediments. Mar Ecol Pro Ser 332:11–23

Olenin S, Daunys D (2004) Coastal typology based on benthic biotope and community data: the Lithuanian case study. In: Schernewski G, Wielgat M (eds.) Baltic sea typology, coastline reports 4, p. 65–83

Piechura J (1985) Temperatura i zasolenie wod w polskiej strefie wylacznego rybolostwa w lipcu 1981. Rep Sea Fish Inst Gdynia 20:5–38

Plinski M, Florczyk I (1993) Macrophytobenthos. In: Korzeniewski K (ed) Puck Bay. Fundacja Uniwersytetu Gdanskiego, Gdansk, pp 416–421

Reed BJ, Hovel KA (2006) Seagrass habitat disturbance: how loss and fragmentation of eelgrass Zostera marina influences epifaunal abundance and diversity. Mar Ecol Prog Ser 326:133–143

Roberts CM, Hawkins JP (1999) Extinction risk in the sea. Trends Ecol Evol 14:241–246

Rönnbäck P, Kautsky N, Pihl L, Troell M, Söderqvist T, Wennhage H (2007) Ecosystem goods and services from Swedish coastal habitats: identification, valuation, and implications of ecosystem shifts. Ambio 36:534–544

Rosenzweig ML (1995) Species diversity in space and time. Cambridge University, Cambridge

Thrush S, Gray JS, Hewitt JE, Ugland KI (2006) Predicting the effects of habitat homogenization on marine biodiversity. Ecol Appl 16:1636–1642

Veber T, Kotta J, Lauringson V, Kotta I (2009) Influence of the local abiotic environmenta, weather and regioanl nutrient loading on macrobenthic invertebrate feeding groups in a shallow brackish water ecosystem. Oceanologia 51(4):541–559

Warzocha J (1994) Spatial distribution of macrofauna in the southern Baltic in 1983. Bull Sea Fisher Inst 1(131):47–59

Warzocha J (1995) Classification and structure of macrofaunal communities in the southern Baltic. Arch Fishery Mar Res 42:225–237

Węsławski JM, Warzocha J, Wiktor J, Urbanski J, Bradtke K, Kryla L, Tatarek A, Kotwicki L, Piwowarczyk J (2009) Biological valorisation of the southern Balic Sea (Polish Exclusive Economic Zone). Oceanologia 51(3):415–435

Wiktor K (1993) Macrozoobenthos. In: Korzeniewski K (ed) Puck Bay. Fundacja Uniwersytetu Gdanskiego, Gdansk, pp 442–454

Wolff WJ (2000) Causes of extirpations in the Wadden Sea, an estuarine area in the Netherlands. Conserv Biol 14:876–885
Acknowlegments
The present study was a part of the project "Ecosystem approach to marine spatial planning in Polish Marine Areas" PL0078, funded by Norway, Iceland and Lichtenstein through EEA Financial Mechanism. Samples have been collected and processed in the laboratories of Sea Fishery Institute, Marine Institute in Gdańsk and University of Gdańsk.
About this article
Cite this article
Włodarska-Kowalczuk, M., Węsławski, J.M., Warzocha, J. et al. Habitat loss and possible effects on local species richness in a species-poor system: a case study of southern Baltic Sea macrofauna. Biodivers Conserv 19, 3991–4002 (2010). https://doi.org/10.1007/s10531-010-9942-6
Received:

Accepted:

Published:

Issue Date:

DOI: https://doi.org/10.1007/s10531-010-9942-6
Keywords
Biodiversity

Habitat loss

Macrozoobenthos

Baltic Sea