Abstract
Invasive alien species pose one of the highest threats to biodiversity, especially in isolated oceanic islands where high rates of both endemism and extinction risk also usually prevail. Few studies have investigated the impact of invasive alien plants on butterflies in insular ecosystems, despite butterflies representing a key indicator group for terrestrial arthropod diversity. Using the Pollard Technique, we quantified butterfly species richness and abundance in eight wet lowland forest areas invaded by alien plants, principally the strawberry guava (Psidium cattleianum Sabine) on the tropical volcanic island of Mauritius, and compared the results with paired adjacent forest plots that had been weeded of alien plants between 2 and 12 years previously. Butterfly assemblages in weed-infested and weeded forests were distinctly different with higher species richness and much higher butterfly abundance in the latter. At least some of these differences seemed attributable to weed removal effects on forest structure, but understanding the precise mechanisms involved will require further study. The results suggest that alien plant invasion may have contributed to the extinction of certain endemic taxa and can increase the likelihood of butterfly species extinction by reducing population sizes through reduced habitat quality. Such a shift in a forest's butterfly assemblage is likely to have negative effects on both their indigenous predators and the plants they pollinate. It is argued that in order to maintain butterfly and other arthropod diversity and function in these forests, alien plant control must be maintained and extended beyond the current 1% of surviving forest remnants.
Access options
Buy single article
Instant access to the full article PDF.
USD 39.95
Price excludes VAT (USA)
Tax calculation will be finalised during checkout.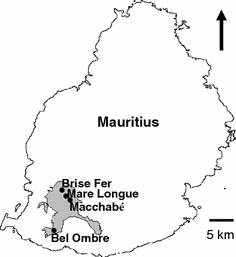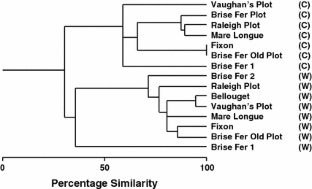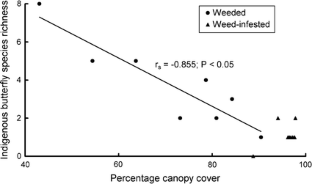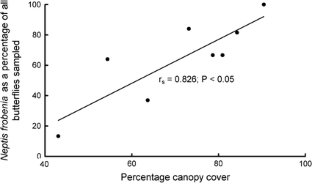 Abbreviations
asl:

Above sea level

CMA:

Conservation Management Area

dbh:

Diameter at breast height

IUCN:

International Union for the Conservation of Nature

km:

Kilometre

m:

Metre

M:

Million

mm:

Millimetre

MY:

Million years
References
Baider C, Florens FBV (2006) Current decline of the 'Dodo-tree': a case of broken-down interactions with extinct species or the result of new interactions with alien invaders? In: Peres C, Laurance W (eds) Emerging threats to tropical forests. Chicago University Press, Chicago

Beccaloni GW, Gaston KJ (1995) Predicting the species richness of neotropical forest butterflies: Ithomiinae (Lepidoptera: Nymphalidae) as indicators. Biol Conserv 71:77–86

Bossart JL, Opuni-Frimpong E, Kuudaar S et al (2006) Richness, abundance, and complementarity of fruit-feeding butterfly species in relict sacred forests and forest reserves of Ghana. Biodivers Conserv 15:333–359

Brockie RE, Loope LL, Usher MB et al (1988) Biological invasions of island nature reserves. Biol Conserv 44:9–36

Chittka L, Schurkens S (2001) Successful invasion of a floral market. Nature 411:653

Cleary DFR (2004) Assessing the use of butterflies as indicators of logging in Borneo at three taxonomic levels. J Econ Entomol 97:429–435

Cleary DFR, Mooers AO (2006) Burning and logging differentially affect endemic vs widely distributed species in Borneo. Divers Distrib 12:409–416

Clench HK (1966) Behavioural thermoregulation in butterflies. Ecology 47:1021–1034

Colwell RK (2006) EstimateS: statistical estimation of species richness and shared species from samples. Version 8. http://purl.oclc.org/estimates

CSO (2008) Mauritius in figures. Central Statistics Office, Ministry of Finance and Economic Empowerment, Mauritius

D'Antonio CM, Hughes RF, Mack M et al (1998) The response of native species to removal of invasive exotic grasses in a seasonally dry Hawaiian woodland. J Veg Sci 9:699–712

Davis PMH, Barnes MJC (1991) The butterflies of Mauritius. J Res Lepid 30:145–161

De Boisduval JBAD (1833) Faune entomologique de Madagascar, Bourbon et Maurice. Lépidoptères. Nouvelles Annales du Muséum d'Histoire Naturelle (Paris) 2:149–270

Dumbrell AJ, Hill JK (2005) Impacts of selective logging on canopy and ground assemblages of tropical forest butterflies: implications for sampling. Biol Conserv 125:123–131

Fabricius JC (1798) Entomologia systematica emendata et aucta. Supplementum. Hafniae: Proft & Storch

Florens FBV (2008) Ecologie des forêts tropicales de l'Ile Maurice et impact des espèces introduites envahissantes. Dissertation, Université de la Réunion

Florens FBV, Baider C (2007) Relocation of Omphalotropis plicosa (Pfeiffer, 1852), a Mauritius endemic landsnail believed extinct. J Molluscan Stud 73:205–206

Florens FBV, Daby D, Jones CG (1998) The impact of controlling alien plants and animals on the snail fauna of forests of Mauritius. J Conchol S2:87–88

Gauch HG (1982) Multivariate analysis in community ecology. Cambridge University Press, Cambridge

Ghazoul J (2004) Alien abduction: disruption of native plant pollinator interactions by invasive species. Biotropica 36:156–164

Griffiths OL, Florens FBV (2006) A field guide to the non-marine molluscs of the Mascarene Islands (Mauritius Rodrigues, Réunion) and the northern dependencies of Mauritius. Bioculture Press, Mauritius

Halais P, Davy EJ (1969) Notes on the 1:100,000 agroclimatic map of Mauritius. Mauritius Sugar Industry Research Institute Occasional paper No. 23. MSIRI, Mauritius

Hamer KC, Hill JK, Benedick S et al (2003) Ecology of butterflies in natural and selectively logged forests of northern Borneo: the importance of habitat heterogeneity. J Appl Ecol 40:150–162

Harvey CA, Medina A, Sanchez DM et al (2006) Patterns of animal diversity in different forms of tree cover in agricultural landscapes. Ecol Appl 16:1986–1999

Heywood VH (1979) The future of island floras. In: Bramwell D (ed) Plants and islands. Academic Press, London

Hirowatari T, Makihara H, Sugiarto (2007) Effects of fires on butterfly assemblages in lowland dipterocarp forest in East Kalimantan. Entomol Sci 10:113–127

Holloway JD, Stork NE (1991) The dimensions of biodiversity: the use of invertebrates as indicators of man's impact. In: Hawksworth DL (ed) The biodiversity of microorganisms and invertebrates: its role in sustainable agriculture. CABI, Wallingford

IUCN (2001) IUCN Red List categories and criteria, v 3.1. Gland, Switzerland

Kaiser-Bunbury CN, Muller CB (2009) Indirect interactions between invasive and native plants via pollinators. Naturwissenschaften 96(3):339–346

Koh LP (2007) Impacts of land use change on South-east Asian butterflies: a review. J Appl Ecol 44:703–713

Koh LP, Sodhi NS (2004) Importance of reserves, fragments and parks for butterfly conservation in an urban landscape. Ecol Appl 14:1695–1708

Kremen C (1992) Assessing the indicator properties of species assemblages for natural areas monitoring. Ecol Appl 2:203–217

Kremen C (1994) Biological inventory using target taxa: a case study of the butterflies of Madagascar. Ecol Appl 4:407–422

Lawton JH, Bignell DE, Bolton B et al (1998) Biodiversity inventories, indicator taxa and effects of habitat modification in tropical forests. Nature 391:72–76

Lien VV, Yuan DC (2003) The differences of butterfly (Lepidoptera, Papilionoidea) communities in habitats with various degrees of disturbance and altitudes in tropical forests of Vietnam. Biodivers Conserv 12:1099–1111

Lorence DH, Sussman RW (1986) Exotic species invasion into Mauritius wet forest remnants. J Trop Ecol 2:147–162

Manders N (1908) The butterflies of Mauritius and Bourbon. Trans Entomol Soc Lond 4:429–454

Montaggioni L, Nativel P (1988) La Réunion Ile Maurice: Géologie et aperçus biologiques. Guides Géologiques Régionaux, Masson

Motala SM, Krell F-T, Mungroo Y et al (2007) The terrestrial arthropods of Mauritius: a neglected conservation target. Biodivers Conserv 16:2867–2881

Mungroo Y (1997) Restoration of highly degraded and threatened native forests of Mauritius. In: Mungroo Y, Mauremootoo JR et al (eds) Proceedings of the workshop on Restoration of highly degraded and threatened native forests in Mauritius. Réduit, Mauritius

Myers N, Mittermeier RA, Mittermeier CG et al (2000) Biodiversity hotspots for conservation priorities. Nature 403:853–858

NBSAP (2006) National biodiversity strategy and action plan for the Republic of Mauritius 2006–2015. National Parks and Conservation Services, Mauritius

Padya BM (1989) Weather and climate of Mauritius. MGI, Moka, Mauritius

Page W, D'Argent G (1997) A vegetation survey of Mauritius. Mauritian Wildlife Foundation, Mauritius

Pollard E (1977) A method for assessing changes in the abundance of butterflies. Biol Conserv 12:115–134

Rouillard G, Guého J (1999) Les Plantes et leur histoire à l'île Maurice. MSM Ltd, Mauritius

Safford RJ (1997) A survey of the occurrence of native vegetation remnants on Mauritius in 1993. Biol Conserv 80:181–188

Safford RJ, Jones CG (1998) Strategies for land-bird conservation on Mauritius. Conserv Biol 12:169–176

Samways MJ, Taylor S (2004) Impacts of invasive alien plants on red-listed South African dragonflies (Odonata). S Afr J Sci 100:78–80

Samways MJ, Taylor S, Tarboton W (2005) Extinction reprieve following alien removal. Conserv Biol 19:1329–1330

Sokal RR, Rohlf FJ (1995) Biometry, 3rd edn. WH Freeman and Company, New York

Stork NE, Srivastava DS, Watt AD et al (2003) Butterfly diversity and silvicultural practice in lowland rainforests of Cameroon. Biodivers Conserv 12(3):387–410

Strahm WA (1993) The conservation and restoration of the flora of Mauritius and Rodrigues. Dissertation, University of Reading

Thomas JA (1983) A quick method for estimating butterfly numbers during surveys. Biol Conserv 27:195–211

Trimen R (1866) Notes on the butterflies of Mauritius. Trans Entomol Soc Lond 5:329–344

Uehara-Prado M, Brown KS, Freitas AVL (2007) Species richness, composition and abundance of fruit-feeding butterflies in the Brazilian Atlantic Forest: comparison between a fragmented and a continuous landscape. Glob Ecol Biogeogr 16:43–54

Vitousek PM (1986) Biological invasions and ecosystem properties: can species make a difference? In: Mooney HA, Drake JA (eds) Ecology of biological invasions of North America and Hawaii. Springer, New York

Vitousek PM, Loope LL, Stone CP (1987) Introduced species in Hawaii: biological effects ad opportunities for ecological research. Trends Ecol Evol 2:224–227

Walpole MJ, Sheldon IR (1999) Sampling butterflies in tropical rainforest: an evaluation of a transect walk method. Biol Conserv 87:85–91

Williams JR (2007) Butterflies of Mauritius. Bioculture Press, Mauritius

Williamson M (1981) Island populations. Oxford University Press, Oxford

Wood PA, Samways MJ (1991) Landscape element pattern and continuity of butterfly flight paths in an ecologically landscaped botanical garden, Natal, South Africa. Biol Conserv 58:149–166
Acknowledgments
We thank the National Parks and Conservation Service of Mauritius for giving access to study sites and Malika Virah Sawmy, Jean-Claude Sevathian and John Williams for varied assistance. Clare Towner-Mauremootoo helped in the field. Jon Sullivan, Dominique Strasberg, Jean-Yves Meyer, Steven Goodman, Pierre-Michel Forget and two anonymous reviewers provided useful comments to improve this paper. A British Ecological Society's Overseas Bursary awarded to the first author enabled the survey of plant communities.
About this article
Cite this article
Florens, F.B.V., Mauremootoo, J.R., Fowler, S.V. et al. Recovery of indigenous butterfly community following control of invasive alien plants in a tropical island's wet forests. Biodivers Conserv 19, 3835–3848 (2010). https://doi.org/10.1007/s10531-010-9930-x
Received:

Accepted:

Published:

Issue Date:

DOI: https://doi.org/10.1007/s10531-010-9930-x
Keywords
Arthropods

Biodiversity hotspot

Butterflies

Canopy cover

Conservation management

Exotic invasive plants

Forest restoration

Mauritius

Psidium cattleianum

Weed control