Abstract
Refuges are crucial for most animal species as they offer essential protection against predators and provide buffered environmental conditions to their occupants. Our data show that northern populations of the threatened ocellated lizard (Timon lepidus) depend on the availability of the burrows excavated by the European rabbit (Oryctolagus cuniculus). In the last decade, a severe decline in rabbit populations has had a disastrous effect on lizard numbers. To compensate for the lack of refuges, artificial shelters were constructed in autumn 2005 and 2007 and were monitored the following years (2006–2009). Most of the artificial refuges were rapidly occupied by lizards, notably juveniles, suggesting that this technique was successful to improve lizard habitat. Because other factors such as food resources might be also crucial, further assessments are required to determine if artificial refuges are sufficient to stem population decline. These results nonetheless provide an encouraging option to maintain and/or to restore threatened populations, for instance through a buffering of rabbit burrow fluctuations. More generally, the availability of suitable refuges (e.g. natural or artificial) is likely to be a central component for the conservation of many reptile species. The combination of empirical and experimental data further demonstrates that great attention must be paid to the structure and distribution of the refuges and that simple practical actions can effectively improve habitat quality for threatened species.
Access options
Buy single article
Instant access to the full article PDF.
US$ 39.95
Tax calculation will be finalised during checkout.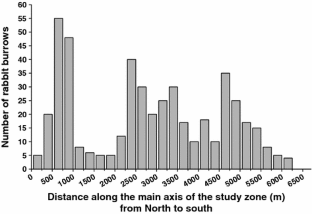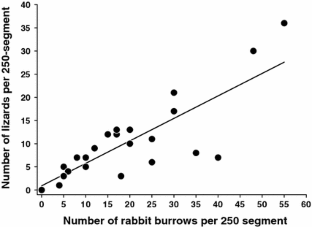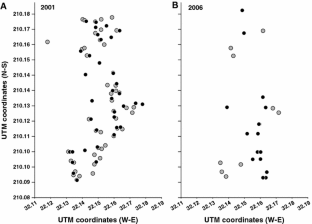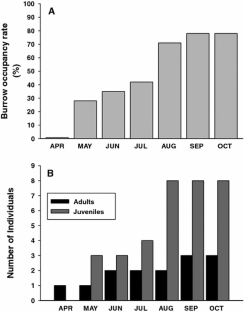 References
Alves PC, Ferrand N, Hackländer K (2008) Lagomorph biology: evolution, ecology, and conservation. Springer, Berlin, Heidelberg, p 414

Anderson PK (1986) Foraging range in mice and voles: the role of risk. Can J Zool 64:2645–2653

Armstrong JD, Griffiths SW (2001) Density-dependent refuge use among over-wintering wild Atlantic salmon juveniles. J Fish Biol 58:1524–1530

Beck DD, Jennings RD (2003) Habitat use by Gila monsters: the importance of shelters. Herpetol Monogr 17:111–129

Berryman AA, Hawkins BA (2006) The refuge as an integrating concept in ecology and evolution. Oikos 115:92–196

Bonnet X, Brischoux F (2008) Thirsty sea snakes forsake their shelter during rainfall. Austral Ecol 33:911–921

Bonnet X, Brischoux F, Pearson D, Rivalan P (2009) Beach-rock as a keystone habitat for sea kraits. Environ Conserv 36:62–70

Bulova SJ (2002) How temperature, humidity, and burrow selection affect evaporative water loss in desert tortoises. J Therm Biol 27:175–189

Cabral MJ, Almeida J, Almeida PR, Dellinger T, Ferrand de Almeida N, Oliveira ME, Palmeirim JM, Queiroz AI, Rogado L, Santos-Reis M (2005) Livro vermelho dos vertebrados de Portugal (red book of vertebrates of Portugal). Instituto de Conservação da Natureza, Lisboa, p 660

Callou C (1995) Modification de l'aire de répartition du lapin Oryctolagus cuniculus en France et en Espagne du Pléistocène à l'époque actuelle. Etat de la question. Anthropozoologica 21:95–114

Callou C (2003) De la garenne au clapier. Etude archéozoologique du lapin en Europe occidentale. Muséum National d'Histoire Naturelle, Paris, p 358

Castilla AM, Bauwens D, Llorente GA (1991) Diet composition of the lizard Lacerta lepida in Central Spain. J Herpetol 25:30–36

Cheylan M (1984) Croissance et détermination de l'âge chez le lézard ocellé (groupe Lacerta lepida, Sauria, Lacertidae) de France et du Maroc à partir de la squelettochronologie. Bull Mus Hist Nat Marseille 44:29–37

Cheylan M, Grillet P (2004) Le lézard ocellé. Collection Eveil Nature, Belin, Paris, p 95

Cheylan M, Grillet P (2005) Statut passé et actuel du lézard ocellé (Lacerta lepida, Sauriens, Lacertidés) en France. Implication en terme de conservation. Vie Milieu 55:15–30

Clobert J, Danchin E, Dhondt AA, Nichols JD (2001) Dispersal. Oxford University Press, Oxford

Clobert J, Le Galliard J-F, Cote J, Massot M, Meylan S (2009) Informed dispersal, heterogeneity in animal dispersal syndromes and the dynamics of spatially structured populations. Ideas and Perspectives. Ecol Lett 12:197–209

Cooper CE, Withers PC (2005) Physiological significance of the microclimate in night refuges of the numbat Myrmecobius fasciatus. Aust Mammal 27:169–174

Cosepac (2004) Evaluation et Rapport de situation du COSEPAC sur les couleuvres agiles à ventre jaune de l'Est et de l'Ouest (Coluber constrictor flaviventris et Coluber constrictor mormon) au Canada. Mise à jour. Comité sur la situation des espèces en péril au Canada. Ottawa. VII + 39 p. www.registrelep.gc.ca/Status/Status_f.cfm

Delibes-Mateos M, Delibes M, Ferreras P, Villafuerte R (2008) Key role of European rabbits in the conservation of the western Mediterranean basin hotspot. Conserv Biol 22:1106–1117

Diaz JA, Monasterio C, Salvador A (2006) Abundance, microhabitat selection and conservation of eyed lizards (Lacerta lepida): a radiotelemetric study. J Zool 268:295–301

Doré F (2008) Mise en place d'un suivi à long terme et caractérisation des habitats d'une population de Lézard ocellé Timon lepidus (Daudin, 1802) en limite nord de répartition sur l'île d'Oléron. Mémoire de Master 2. Ecole Pratique des Hautes Etudes, Montpellier, p 37

Gálvez Bravo L, Belliure J, Rebollo S (2009) European rabbits as ecosystem engineers: warrens increase lizard density and diversity. Biodivers Conserv 18:869–885

Goldsbrough CL, Hochuli DF, Shine R (2004) Thermal cues used for retreat-site selection by flat rock spiders confer fitness benefits. Ecology 85:1635–1641

Grillet P, Cheylan M, Dusoulier F (2006) Evolution des habitats et changement climatique : quelles conséquences pour les populations de lézard ocellé, Lacerta lepida (Saurien, Lacertidés), en limite nord de répartition? Ecol Mediterr 32:63–72

Grillet P, Doré F, Thirion JM, Cheylan M, Dauge C (2008) Etude et suivi de la population de Lézard ocellé Timon lepidus sur l'île d'Oléron. Rapport d'étude 2008. Office National des Forêts, Poitiers, p 94

Hódar JA, Campos F, Rosales BA (1996) Trophic ecology of the Ocellated Lizard Lacerta lepida in an arid zone of southern Spain: relationships with availability and daily activity of prey. J Arid Environ 33:95–107

Kessler J, Chambraud A (1990) La météo de la France. Tous les climats localité par localité. J.-C. Lattès, Paris

Kotler BP, Brown SJ, Bouskila A (2004) Apprehension and time allocation in gerbils: the effects of predatory risk and energetic state. Ecology 85:917–922

Lahondère C (1980) Les dunes du Centre-Ouest : le milieu physique. In La vie dans les dunes du Centre-Ouest, flore et faune. Bull Soc Bot Centre-Ouest (Numéro Spécial) 4:18–24

Letty J, Queney G, Gautier A, Marchandeau S (2005) Evaluation de l'efficacité des repeuplements par suivi génétique: l'exemple du lapin de garenne. Faune Sauvage 265:39–46

Lopez-Martinez N (2008) The Lagomorph Fossil record and the origin of the European Rabbit. In: Alves PC, Ferrand N, Hackländer K (eds) Lagomorph biology: evolution, ecology, and conservation. Springer, Berlin, Heidelberg, pp 27–46

Mateo JA (2008) Lagarto ocelado—Timon lepidus. In: Carrascal LM, Salvador A (eds) Enciclopedia virtual de los vertebrados Españoles. Museo Nacional de Ciencias Naturales, Madrid. http://www.vertebradosibericos.org

Millidine KJ, Armstrong JD, Metcalfe NB (2006) Presence of shelter reduces maintenance metabolism of juvenile salmon. Funct Ecol 20:839–845

Paulo OF (1988) Estudo eco-etologico da populaçao de Lacerta lepida (Daudin, 1802) da ilha de Berlenga. Relatorio de estagio de licencatura en biologia. FCUL, Lisboa, p 314

Paulo OS, Pinheiro J, Miraldo A, Bruford MW, Jordan WC, Nichols RA (2008) The role of vicariance vs. dispersal in shaping genetic patterns in ocellated lizard species in the western Mediterranean. Mol Ecol 17:1535–1551

Pleguezuelos JM, Márquez R, Lizana M (eds) (2002) Atlas y libro rojo de los Anfibios y los reptiles de España. Dirección General de Conservación de la Naturaleza—Asociación Herpetologica Española, Madrid, p 587

Read JL, Carter J, Moseby KM, Greenville A (2008) Ecological roles of rabbit, bettong and bilby warrens in arid Australia. J Arid Environ 72:2124–2130

Real J (1996) Biases in diet study methods in the Bonelli's eagle. J Wildlife Manag 60:632–638

Reichmann OJ, Smith ST (1990) Burrows and burrowing behaviour by mammals. In: Genoways HH (ed) Current mammalogy. Plenum Press, New York, pp 197–244

Roper TJ, Bennet NC, Conrad TL, Molteno AJ (2001) Environmental conditions in burrows of two species of African mole-rat, Georhychus capensis and Cryptomys damarensis. J Zool (Lond) 254:101–107

Schwarzkopf L, Alford RA (1996) Desiccation and shelter-site use in a tropical amphibian: comparing toads with physical models. Funct Ecol 10:193–200

Shine R, Bonnet X (2009) Reproductive biology, population viability and options for field management. In: Mullin SJ, Seigel RA (eds) Snakes: ecology and conservation. Cornell University Press, Ithaca, New York

Sih A (1997) To hide or not to hide? Refuge use in a fluctuating environment. TREE 12:375–376

Souter NJ, Bull CM, Hutchinson MN (2004) Adding burrows to enhance a population of the endangered pygmy blue tongue lizard Tiliqua adelaidensis. Biol Conserv 116:403–408

Thirion JM, Grillet P (2002) Le lapin de garenne : une espèce clé dans nos écosystèmes. Société Nationale de Protection de la Nature. Cour Nat 202:21–23

Thirion JM, Grillet P, Geniez Ph (2002) Les Amphibiens et les Reptiles du centre-ouest de la France. Région Poitou-Charentes et départements limitrophes. Collection Parthénope, Éditions Biotope, Mèze, p 144

Thirion JM, Grillet P, Cheylan M (2009) Composition et variation saisonnière du régime alimentaire du lézard ocellé Timon lepidus sur l'île d'Oléron (France) à partir des fèces. Revue d' Ecologie (la Terre et la Vie) 64:239–250

Vicente LA (1989). Sobre a historia natural dos repteis da ilha Berlenga, sindrome de insularidade. Dissertaçao de Doutoramento, Faculdad de Ciencias, Uuniversidade de Lisboa, 485 pp

Villafuerte R, Calvete C, Blanco JC, Lucientes J (1995) Incidence of viral hemorrhagic disease in wild rabbit populations in Spain. Mammalia 59:651–659

Ward D (2005). Reversing Rabbit Decline: one of the biggest challenges for nature conservation in Spain and Portugal. Field Reports. UICN/SSC, Lagomorph Specialist Group, 54 pp

Webb JK, Shine R (2000) Paving the way for habitat restoration: can artificial rocks restore degraded habitats for endangered reptiles? Biol Conserv 92:93–99

Williams JB, Tieleman BI, Shobrak M (1999) Lizard burrows provide thermal refugia for larks in the Arabian Desert. Condor 101:714–717
Acknowledgments
We thank P. Bayle, F. Dhermain, R. Cambag, M.D. Couturier, O. Lourdais and J. Sériot for useful comments and discussions. This study was funded by the ONF and partly supported by the ANR-05-BDIV-014.
About this article
Cite this article
Grillet, P., Cheylan, M., Thirion, JM. et al. Rabbit burrows or artificial refuges are a critical habitat component for the threatened lizard, Timon lepidus (Sauria, Lacertidae). Biodivers Conserv 19, 2039–2051 (2010). https://doi.org/10.1007/s10531-010-9824-y
Received:

Accepted:

Published:

Issue Date:
Keywords
Artificial burrow

Timon lepidus

Lizard conservation

Oryctolagus cuniculus

Refuge

Reptiles